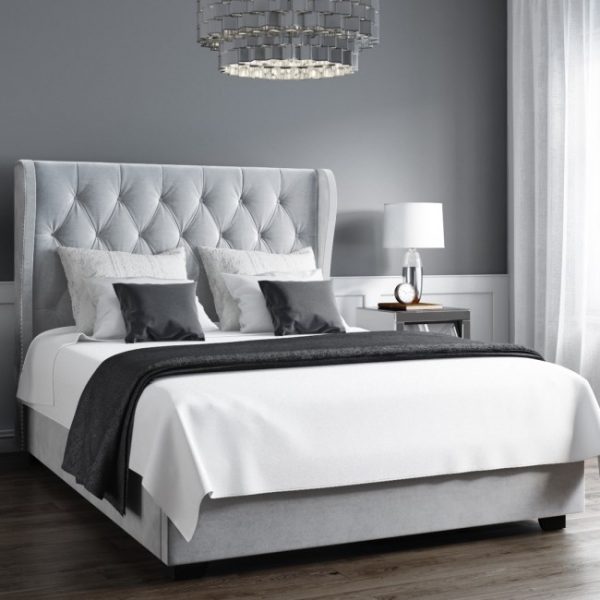 Safina Light Grey Velvet King Size Ottoman Bed with Winged Headboard + Mattress
Description
Features we love
Easy access front opening storage space with gas lift mechanism
Plenty of storage space, the entire area beneath the mattress can be used
Its solid base helps to protect your flooring, also helping to protect your items from dust
Studded winged headboard, creates an instant focal point in the bedroom
Silver grey finish makes it easy to coordinate with other bedroom furnishings and decor styles
The tall, deep button quilted headboard is great for comfortably propping yourself up
All about me
Functionality with uncompromised design, this Safina bed is sure to make a stunning impression in the bedroom. Whether you're lucky enough to have a spacious boudoir or put up with a pokey one, everyone can benefit from the wealth of storage space this ottoman bed brings to the bedroom. Get clutter free and discreetly store away absolutely anything from spare towels and bedding to an unsightly suitcase. Accessing your stored items is effortless as this front opening storage space has a gas lift mechanism for all the heavy lifting.
When it comes to style this storage bed has it going on, sporting an alluring winged headboard with deep button quilting. Not only does it give the bed a luxurious look it also adds comfort, it's great for propping yourself up in bed and relaxing in front of the TV or getting cosy with a good book. The tall headboard features double stud detailing down the sides for an added touch of glamour.
This bed is beautiful inside and out, with its quality build. It's been made with a durable wooden frame, padded and then upholstered with silver grey velvet. It has a wooden slat, sprung frame for great mattress support and central bar legs for added support and durability. Unlike some other ottomans, this Safina bed features a solid base that allows you to store more without damaging your flooring or carpet. It's more hardwearing than fabric based beds too, so you can enjoy added peace of mind that it will last you for years to come.
Need to know
Size: Standard UK King Size (5ft/150x200cm)
Dimensions: H132 x W165 x D216 cm
Storage Dimensions: H30 x W152 x D202 cm
Headboard: H127 x W165 cm
Base: Solid
Material: Metal & wood frame
Finish: silver grey velvet
More info
Easy to open, gas lift, front opening ottoman storage
Tall statement wing headboard with stud quilting
Wooden slatted bed base with central leg support
Durable woven material ottoman storage base
Fits a standard UK king size mattress (5ft/150x200cm)
| Winner Name | Ticket Number | Draw Date |
| --- | --- | --- |
| Lindsey Cackett | 301 | 29/04/2022 |
1-100
101-200
201-300
301-400
401-500
501-600
601-700
701-800
801-900
901-1000
1001-1100
| Ticket Number | Date | Name |
| --- | --- | --- |
| 1 | 2022-04-21 14:46:38 | Jasmin Etches |
| 2 | 2022-04-26 22:39:42 | Alison Cass |
| 3 | 2022-04-28 10:12:03 | Wendy Bailey |
| 4 | 2022-04-21 20:08:09 | Tracey Lear |
| 5 | 2022-04-27 16:26:04 | Kayleigh Breslan |
| 6 | 2022-04-26 00:48:56 | Moira Angel |
| 7 | 2022-04-26 18:34:27 | Hollie Hunt |
| 8 | 2022-04-27 12:54:40 | Heather Baker |
| 9 | 2022-04-21 20:08:09 | Tracey Lear |
| 10 | 2022-04-21 18:27:19 | Steve Rowley |
| 11 | 2022-04-21 20:08:09 | Tracey Lear |
| 12 | 2022-04-24 08:13:46 | Amanda Crispin |
| 13 | 2022-04-21 21:44:42 | Julie Webb |
| 14 | 2022-04-22 21:48:20 | Stella Virgin |
| 15 | 2022-04-28 23:53:53 | Joshua Dodd |
| 16 | 2022-04-21 14:46:38 | Jasmin Etches |
| 17 | 2022-04-22 21:48:20 | Stella Virgin |
| 18 | 2022-04-27 12:54:40 | Heather Baker |
| 19 | 2022-04-21 18:27:19 | Steve Rowley |
| 20 | 2022-04-29 15:23:15 | Gemma Ohanyelu |
| 21 | 2022-04-28 16:42:24 | Mica Jeremiah |
| 22 | 2022-04-24 18:40:18 | Courtney Quinlan |
| 23 | 2022-04-27 22:20:14 | Vicki Dunstone |
| 24 | 2022-04-21 20:08:09 | Tracey Lear |
| 25 | 2022-04-28 19:54:55 | Alison Cass |
| 26 | 2022-04-21 18:27:19 | Steve Rowley |
| 27 | 2022-04-21 21:44:42 | Julie Webb |
| 28 | 2022-04-21 21:11:59 | Rosie Huggins |
| 29 | 2022-04-29 09:36:06 | Gordon Macleod |
| 30 | 2022-04-29 12:58:00 | Simone Grose |
| 31 | 2022-04-22 13:20:43 | Jacqui Robinson |
| 32 | 2022-04-29 19:04:44 | Jodie Ravenhill |
| 33 | 2022-04-25 20:02:35 | Marc Baker |
| 34 | 2022-04-21 14:46:38 | Jasmin Etches |
| 35 | 2022-04-29 18:18:27 | Shelley Travers |
| 36 | 2022-04-27 17:26:36 | Michael O'connor |
| 37 | 2022-04-27 16:28:15 | Kayleigh Breslan |
| 38 | 2022-04-23 18:52:24 | Kelly Clarke-booth |
| 39 | 2022-04-21 14:46:38 | Jasmin Etches |
| 40 | 2022-04-21 14:46:38 | Jasmin Etches |
| 41 | 2022-04-22 16:07:12 | Amy Lee |
| 42 | 2022-04-21 20:32:55 | Debbie Hele |
| 43 | 2022-04-29 18:26:50 | Katherine Povey |
| 44 | 2022-04-29 13:15:06 | Alison Chappell |
| 45 | 2022-04-28 17:57:03 | Matthew Nickels |
| 46 | 2022-04-28 19:54:55 | Alison Cass |
| 47 | 2022-04-29 18:33:19 | Tammy Bird |
| 48 | 2022-04-28 22:14:11 | David Binmore |
| 49 | 2022-04-29 17:51:16 | Jane Evans |
| 50 | 2022-04-28 15:51:01 | Gemma Vaughan |
| 51 | 2022-04-29 14:52:36 | Sophie Hodge |
| 52 | 2022-04-21 20:08:09 | Tracey Lear |
| 53 | 2022-04-29 11:28:53 | Katrina IķStevens |
| 54 | 2022-04-29 18:24:05 | Darren greep |
| 55 | 2022-04-21 19:49:06 | Nicole Walsh |
| 56 | 2022-04-29 08:26:30 | Zoey Hinchcliffe |
| 57 | 2022-04-29 18:26:49 | Eleni Cottrell |
| 58 | 2022-04-29 10:07:43 | Kayleigh arnold |
| 59 | 2022-04-22 20:24:08 | Becca Wilmot |
| 60 | 2022-04-27 17:34:39 | Sophie Skinner |
| 61 | 2022-04-29 19:02:22 | Julie Phillips |
| 62 | 2022-04-27 17:25:45 | Emma Bartlett |
| 63 | 2022-04-21 17:09:30 | Maria Martin |
| 64 | 2022-04-29 18:53:37 | Sophie smith |
| 65 | 2022-04-29 12:49:43 | Mandy Crane |
| 66 | 2022-04-29 13:35:55 | Joanne Pennington |
| 67 | 2022-04-29 09:45:46 | Katie May |
| 68 | 2022-04-29 12:05:25 | John Sproston |
| 69 | 2022-04-29 11:58:13 | Chloe Brock |
| 70 | 2022-04-29 19:30:12 | Rachel Andrew |
| 71 | 2022-04-29 17:37:39 | George Senior |
| 72 | 2022-04-28 22:13:49 | Jessica Pratt |
| 73 | 2022-04-29 10:33:36 | Melissa Hockings |
| 74 | 2022-04-29 13:35:55 | Joanne Pennington |
| 75 | 2022-04-28 19:43:36 | Dawn SOLECKI |
| 76 | 2022-04-26 22:39:42 | Alison Cass |
| 77 | 2022-04-25 20:38:45 | Dannie Flynn |
| 78 | 2022-04-29 19:41:49 | Katherine Sheppard |
| 79 | 2022-04-29 17:05:13 | Jodie Ellis |
| 80 | 2022-04-21 20:47:36 | Teresa Mitchell |
| 81 | 2022-04-21 21:48:26 | Sonya Tye |
| 82 | 2022-04-22 00:41:33 | michaela vesely |
| 83 | 2022-04-28 21:56:24 | Marie Ferguson |
| 84 | 2022-04-21 18:27:19 | Steve Rowley |
| 85 | 2022-04-29 14:04:47 | Ian Garner |
| 86 | 2022-04-22 22:18:56 | Kayleigh Albayrak |
| 87 | 2022-04-23 15:28:34 | Lisa Morris |
| 88 | 2022-04-29 09:42:41 | Samantha Walker |
| 89 | 2022-04-25 06:43:53 | maxine menhennett |
| 90 | 2022-04-27 08:39:30 | Hannah Wilkinson-Tough |
| 91 | 2022-04-28 20:47:54 | Mandy Morris |
| 92 | 2022-04-28 20:47:54 | Mandy Morris |
| 93 | 2022-04-28 20:47:54 | Mandy Morris |
| 94 | 2022-04-29 06:32:25 | Marie Ferguson |
| 95 | 2022-04-29 19:40:39 | Gillian Farrell |
| 96 | 2022-04-22 20:57:09 | Rosemary Nickels |
| 97 | 2022-04-25 21:50:51 | laurel Ynzer |
| 98 | 2022-04-21 20:08:09 | Tracey Lear |
| 99 | 2022-04-29 14:52:36 | Sophie Hodge |
| 100 | 2022-04-27 16:28:15 | Kayleigh Breslan |