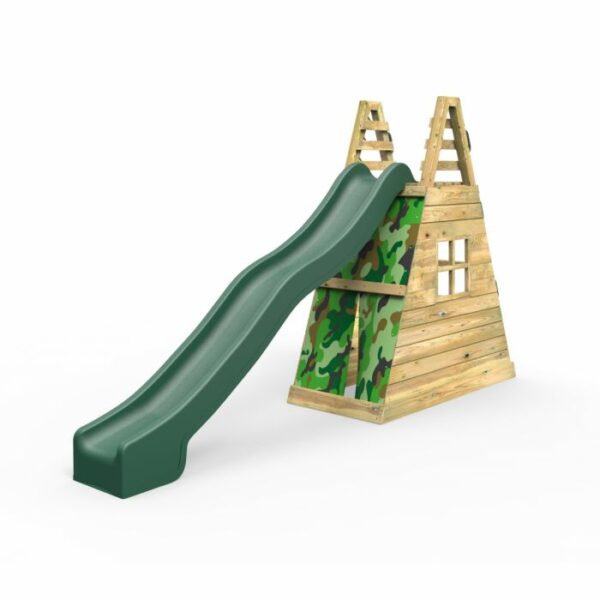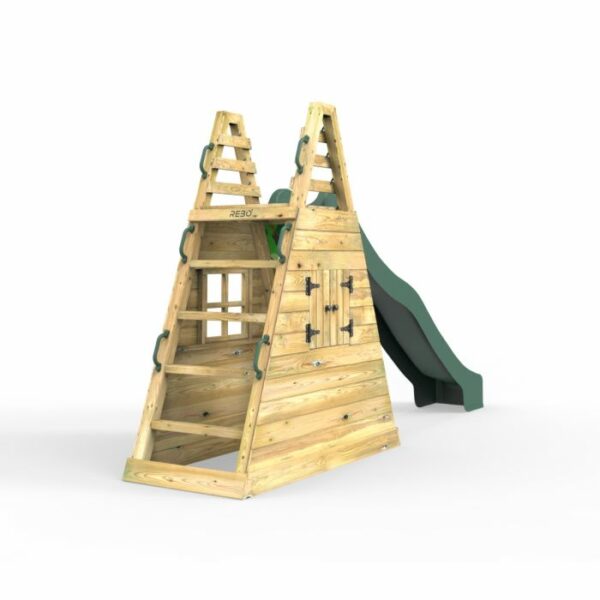 Rebo Wooden Free Standing Slide with 10ft Water Slide – with Den Pack
Description
Key Features
Den Pack edition
Wooden boards enclosing sides of slide
Canvas for opening
1 x Feature window
1 x Opening shuttered window
10ft slide
150cm platform height
Wooden platform
Pressure treated timber
Injection moulded slide
Durable and strong design
Grab handles included
Can be used as water slide
Hose attachment not included
Drill needed for waterslide feature
Wooden ladder to access slide platform
*Shop sets sold separately – Coming Soon
*Shop Pack Includes-
Blackboard, Shop Balcony, Canopy set
Den Pack edition turns the base of the platform into a secret hideaway underneath the slide. With wooden boards filling in the sides and a canvas opening it makes use of the space to add a playhouse in the same footprint as the slide, perfect for small gardens
The Den edition includes Wooden boards to enclose the sides of the slide, canvas to form the opening at the front, 1 x feature window and 1 x opening shuttered window.
This new free standing slide from Rebo is perfect for smaller gardens providing maximum play value in a small footprint. The 150cm deck height happily accommodates our 10ft injection moulded slide with its built-in water slide feature.
The platform frame is truly customisable too; want to keep it simply? It comes with wooden climbing rungs as standard to access the deck. Want something different? Upgrade to either the Climbing wall (with colourful climbing holds) or Adventure pack (with wooden footholds and climbing rope). And coming soon we will be introducing an additional shop pack for the Den to help inspire the imagination!
Please Note: Tools are required in the assembly of this item including a drill, wood is not pre-drilled but full instructions are provided.
Adventure and climbing wall cannot be used together. Den Pack can be used with either Adventure or Climbing Wall. Shop pack requires Den Pack
More Information

| | |
| --- | --- |
| Colour | Green |
| Slide Length | 10FT (300cm) |
| Brand | Rebo |
| Max Weight | 50kg |
| Warranty | 12 Months |
| Height | 210cm |
| Length | 360cm |
| Width | 79cm |
| Winner Name | Ticket Number | Draw Date |
| --- | --- | --- |
| Mandy Morris | 293 | 13/05/2022 |
1-100
101-200
201-300
301-400
401-500
501-600
601-700
701-800
801-900
| Ticket Number | Date | Name |
| --- | --- | --- |
| 1 | 2022-05-13 20:39:41 | Izzy Eveson |
| 2 | 2022-05-05 22:18:59 | Ann Hall |
| 3 | 2022-05-05 19:14:35 | Andy Webber |
| 4 | 2022-05-13 09:57:12 | Vikki Leicester |
| 5 | 2022-05-13 19:39:51 | Jay Fidler |
| 6 | 2022-05-05 19:14:35 | Andy Webber |
| 7 | 2022-05-05 19:22:44 | Levi Crutchley |
| 8 | 2022-05-13 19:33:30 | Kelly tucker |
| 9 | 2022-05-13 10:05:05 | Vikki Leicester |
| 10 | 2022-05-05 19:14:35 | Andy Webber |
| 11 | 2022-05-07 21:16:12 | Laura Carr |
| 12 | 2022-05-12 15:22:49 | Lisa Carnell |
| 13 | 2022-05-05 22:18:59 | Ann Hall |
| 14 | 2022-05-05 22:18:59 | Ann Hall |
| 15 | 2022-05-11 14:11:02 | Hannah Del-pizzo |
| 16 | 2022-05-13 09:57:12 | Vikki Leicester |
| 17 | 2022-05-13 17:07:54 | Daniel Cobain |
| 20 | 2022-05-13 10:05:05 | Vikki Leicester |
| 21 | 2022-05-05 22:18:59 | Ann Hall |
| 22 | 2022-05-13 09:38:53 | Emma & lee |
| 23 | 2022-05-13 19:31:14 | Aimee Rowbotham |
| 24 | 2022-05-13 10:05:05 | Vikki Leicester |
| 25 | 2022-05-13 14:57:50 | Susan Norton turner |
| 26 | 2022-05-05 19:58:27 | Danielle Leddie |
| 27 | 2022-05-13 10:05:05 | Vikki Leicester |
| 29 | 2022-05-11 14:11:02 | Hannah Del-pizzo |
| 31 | 2022-05-13 19:32:11 | N C |
| 32 | 2022-05-06 23:36:24 | Andrea Smale |
| 33 | 2022-05-10 01:09:54 | Marc Baker |
| 36 | 2022-05-13 17:07:54 | Daniel Cobain |
| 37 | 2022-05-05 19:00:38 | Lowri Adams |
| 38 | 2022-05-13 17:14:15 | Adam Wooll |
| 40 | 2022-05-13 12:11:54 | Katrina Bevan |
| 42 | 2022-05-13 19:40:21 | Sarah Tideswell |
| 43 | 2022-05-05 16:30:12 | Kelly Parker |
| 44 | 2022-05-13 09:57:12 | Vikki Leicester |
| 45 | 2022-05-12 17:39:54 | Hannah Goldrick |
| 46 | 2022-05-13 19:44:30 | Anni Cropper |
| 47 | 2022-05-13 19:40:21 | Sarah Tideswell |
| 49 | 2022-05-13 17:44:56 | M K |
| 50 | 2022-05-13 09:26:39 | Francesca Coldrick |
| 52 | 2022-05-12 21:44:03 | Jane Hasni |
| 56 | 2022-05-13 18:59:23 | Jeanette Anderson |
| 60 | 2022-05-06 18:52:32 | Samantha Yeates |
| 62 | 2022-05-13 12:11:56 | |
| 63 | 2022-05-13 19:44:32 | Karelyn Franke |
| 64 | 2022-05-12 21:44:03 | Jane Hasni |
| 66 | 2022-05-13 20:10:13 | April Mccaskie |
| 68 | 2022-05-13 18:51:21 | Olivia Kennard |
| 69 | 2022-05-08 20:41:33 | Faye Cunnington |
| 71 | 2022-05-13 18:37:11 | Claire Lou |
| 72 | 2022-05-13 20:28:08 | Amy Heryet |
| 74 | 2022-05-12 20:18:18 | Jasmine Hill |
| 76 | 2022-05-13 18:58:23 | Jacqueline Sandford |
| 78 | 2022-05-13 19:07:37 | Gemma Page |
| 80 | 2022-05-05 16:51:45 | Gail. Gilbert. |
| 84 | 2022-05-13 11:55:42 | Kelly Parker |
| 85 | 2022-05-13 13:15:24 | Lekel North |
| 87 | 2022-05-13 20:28:20 | N C |
| 91 | 2022-05-13 13:59:57 | Mandy Morris |
| 92 | 2022-05-13 13:59:57 | Mandy Morris |
| 93 | 2022-05-13 13:59:57 | Mandy Morris |
| 94 | 2022-05-13 16:50:38 | Tia Potter |
| 96 | 2022-05-13 09:57:12 | Vikki Leicester |
| 100 | 2022-05-13 20:35:34 | Lisa Pollard |