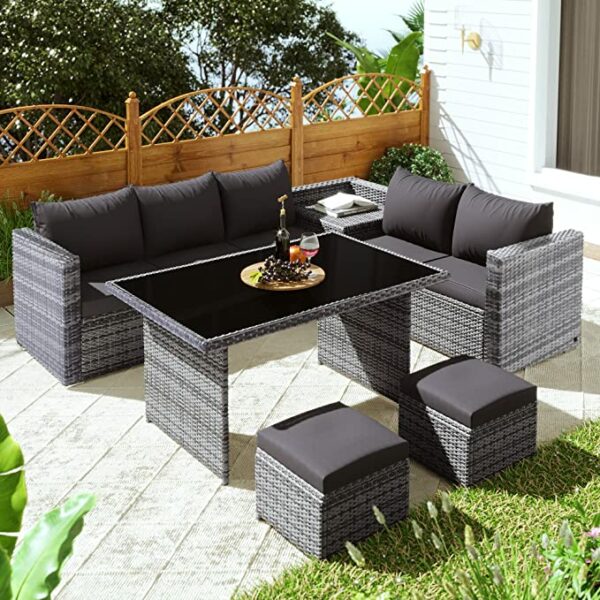 Rattan Garden Furniture Set, 7-seater Garden Corner Rattan Dining Sofa Set Outdoor with Corner Storage Box, Dining Table and 2 Stool
Description
Rattan Garden Furniture Set, 7-seater Garden Corner Rattan Dining Sofa Set Outdoor with Corner Storage Box, Dining Table and 2 Stool 
COMPACT DESIGN: This 7-seat Rattan Dining Room Sofa consists of a 5-seat L-shaped sofa with storage box, a dining table and 2 stools.

WONDERFULLY VERSATILE: The corner storage features with hinges can be used as a table and storage box, great for quickly and conveniently storing away any mess in a hurry. Ultra-deep capacity design for easy storage of sundries. Two extra stools can be stored under the dining table for a compact design.

High-Quality Material: Constructed with a PE rattan weave material, UV treated, fade resistant, weatherproof leave outside all year around, shower proof cushions.No maintenance required. The metal frame is sprayed with black anti-rust powder, suitable for any weather.

FOR REAL COMFORT-LOVERS: The soft cushions and the stools, which can be used as extra seats or comfortable footrests, ensure relaxed lounge vibes in the great outdoors.

QUICK ASSEMBLY: Includes all necessary hardware and detailed instructions; Each piece is engineered for easy assembly (Notice: Full set comes in 4 packages, which might not arrive at the same time. Contact us immediately if you find any damage caused during transport).
| Winner Name | Ticket Number | Draw Date |
| --- | --- | --- |
| Annette M | 383 | 23/06/2022 |
1-100
101-200
201-300
301-400
401-500
501-600
601-700
701-800
| Ticket Number | Date | Name |
| --- | --- | --- |
| 1 | 2022-06-20 14:12:27 | Tracy Langridge |
| 2 | 2022-06-21 11:02:16 | Suzi Gooding |
| 3 | 2022-06-20 14:37:28 | Siobhan Atkinson |
| 4 | 2022-06-21 13:15:37 | Lorraine Tandy |
| 5 | 2022-06-20 21:36:36 | Quai Ellis Elliott |
| 6 | 2022-06-20 13:33:41 | Kenneth Wilkins |
| 7 | 2022-06-21 11:02:16 | Suzi Gooding |
| 8 | 2022-06-20 12:24:53 | Heather Baker |
| 9 | 2022-06-22 11:42:07 | Keith Moore |
| 10 | 2022-06-20 20:01:03 | Lisa Balding |
| 11 | 2022-06-21 20:49:37 | Yvonne Sparkes |
| 12 | 2022-06-20 14:37:28 | Siobhan Atkinson |
| 13 | 2022-06-20 17:58:25 | Jacqui Robinson |
| 14 | 2022-06-21 23:38:22 | Claire Lou |
| 15 | 2022-06-21 04:19:33 | Justine Buckley |
| 16 | 2022-06-20 14:12:27 | Tracy Langridge |
| 17 | 2022-06-22 00:27:05 | Gemma Syms |
| 18 | 2022-06-21 10:04:53 | Jodie Ravenhill |
| 19 | 2022-06-22 07:56:34 | Caroline FairClough |
| 20 | 2022-06-21 22:22:11 | Katy Holleran |
| 21 | 2022-06-20 14:12:27 | Tracy Langridge |
| 22 | 2022-06-21 14:33:21 | REBEKAH MEYLER |
| 23 | 2022-06-20 19:46:35 | Suzanne Couch |
| 24 | 2022-06-21 21:57:45 | Emma Louise |
| 25 | 2022-06-22 17:10:13 | Lauren Gibson |
| 26 | 2022-06-20 14:12:27 | Tracy Langridge |
| 27 | 2022-06-22 17:10:13 | Lauren Gibson |
| 28 | 2022-06-22 15:07:18 | Angela Cross |
| 29 | 2022-06-21 20:49:37 | Yvonne Sparkes |
| 30 | 2022-06-21 20:49:37 | Yvonne Sparkes |
| 31 | 2022-06-20 14:23:31 | Lauren Wingfield |
| 32 | 2022-06-20 22:27:57 | Victoria Sealey |
| 33 | 2022-06-21 10:57:46 | Julie Allinson |
| 34 | 2022-06-21 17:51:39 | Gemma wills |
| 35 | 2022-06-22 16:27:53 | Gemma Hubbard |
| 36 | 2022-06-22 16:27:53 | Gemma Hubbard |
| 37 | 2022-06-20 20:46:54 | Tracy Mills |
| 38 | 2022-06-23 08:11:58 | Linda Beer |
| 39 | 2022-06-23 08:11:58 | Linda Beer |
| 40 | 2022-06-21 13:38:16 | Maxine Scott |
| 41 | 2022-06-22 11:33:36 | jemma Vooght |
| 42 | 2022-06-22 11:31:59 | Emma Burns |
| 43 | 2022-06-23 15:13:52 | Alice Tate |
| 44 | 2022-06-23 08:11:01 | Tanya Dennis |
| 45 | 2022-06-23 12:31:33 | Lisa Sayers |
| 46 | 2022-06-23 10:55:16 | Jessica Collings |
| 47 | 2022-06-22 22:58:21 | Sarah Fowler |
| 48 | 2022-06-23 14:49:05 | Michelle Teague |
| 49 | 2022-06-20 21:32:56 | Chloe Kershaw |
| 50 | 2022-06-20 13:33:41 | Kenneth Wilkins |
| 51 | 2022-06-23 16:12:09 | Keith Moore |
| 52 | 2022-06-23 17:32:49 | Katrina IķStevens |
| 53 | 2022-06-21 11:13:25 | Julie Frost |
| 54 | 2022-06-21 21:28:21 | Becky Holwell |
| 55 | 2022-06-20 21:15:52 | Mandy Cove |
| 56 | 2022-06-20 14:12:27 | Tracy Langridge |
| 57 | 2022-06-23 18:14:25 | Mandy Blake-Burke |
| 58 | 2022-06-22 16:22:00 | Jodie Ravenhill |
| 59 | 2022-06-20 14:37:28 | Siobhan Atkinson |
| 60 | 2022-06-22 21:22:55 | Laura Bouskill |
| 61 | 2022-06-23 18:18:41 | Katrina IķStevens |
| 62 | 2022-06-23 16:12:09 | Keith Moore |
| 63 | 2022-06-21 09:09:49 | jan blackler |
| 64 | 2022-06-22 15:46:21 | Richard Whatman |
| 65 | 2022-06-22 15:07:18 | Angela Cross |
| 66 | 2022-06-23 11:24:47 | Jamie Carruthers |
| 67 | 2022-06-22 11:33:36 | jemma Vooght |
| 68 | 2022-06-21 21:59:24 | Sarah Chalk |
| 69 | 2022-06-20 14:12:27 | Tracy Langridge |
| 70 | 2022-06-23 17:41:53 | Joanne Pennington |
| 71 | 2022-06-22 19:10:37 | Sarah Widdop |
| 72 | 2022-06-22 17:50:37 | Leah Cook |
| 73 | 2022-06-22 20:58:49 | Sophie Bailey |
| 74 | 2022-06-23 12:22:54 | Angela Cross |
| 75 | 2022-06-20 16:32:17 | Sharon lee |
| 76 | 2022-06-20 20:32:04 | Helen Norton |
| 77 | 2022-06-21 10:57:46 | Julie Allinson |
| 78 | 2022-06-23 13:36:28 | Samantha Hodge |
| 79 | 2022-06-23 09:58:05 | Annette M |
| 80 | 2022-06-23 08:01:37 | Aimee Povey |
| 81 | 2022-06-21 20:26:14 | Charlotte Foster |
| 82 | 2022-06-22 18:01:24 | Emma Ward |
| 83 | 2022-06-22 15:07:18 | Angela Cross |
| 84 | 2022-06-22 11:31:59 | Emma Burns |
| 85 | 2022-06-22 19:15:59 | Lekel North |
| 86 | 2022-06-23 09:12:28 | Rachel Scott |
| 87 | 2022-06-22 14:57:05 | Jackie West |
| 88 | 2022-06-23 08:01:37 | Aimee Povey |
| 89 | 2022-06-23 11:26:40 | Emma Davies |
| 90 | 2022-06-23 12:14:47 | Emma Jones |
| 91 | 2022-06-21 22:22:11 | Katy Holleran |
| 92 | 2022-06-22 20:20:57 | Georgia L |
| 93 | 2022-06-23 12:08:37 | Helen Turner |
| 94 | 2022-06-21 19:01:50 | Amy Collier |
| 95 | 2022-06-23 17:25:05 | Angela Cross |
| 96 | 2022-06-23 06:46:10 | Nichola Angwin |
| 97 | 2022-06-20 20:32:04 | Helen Norton |
| 98 | 2022-06-22 18:04:04 | Pauline Brown |
| 99 | 2022-06-22 13:32:41 | Donna Cooke |
| 100 | 2022-06-21 22:39:49 | Kellie Flaherty |