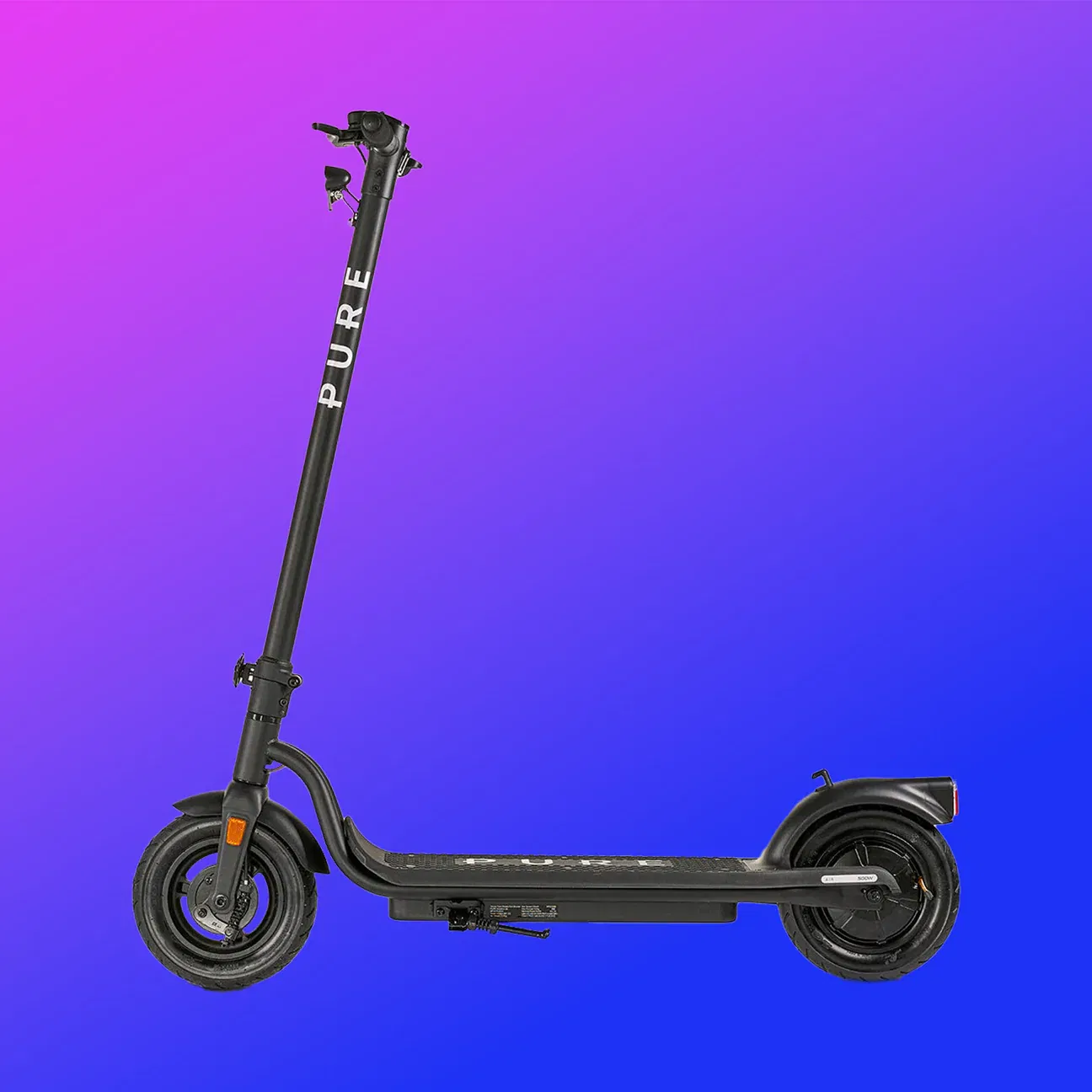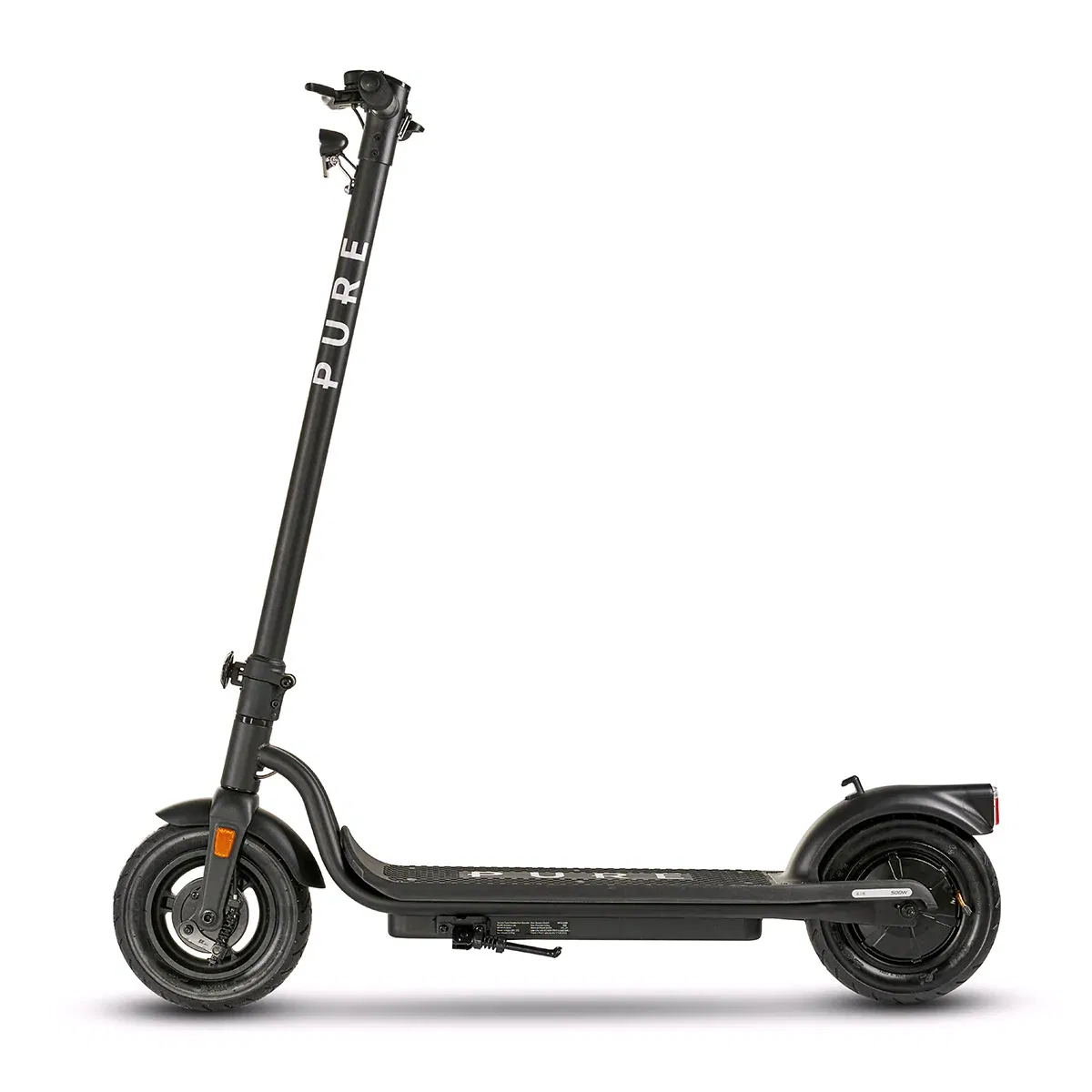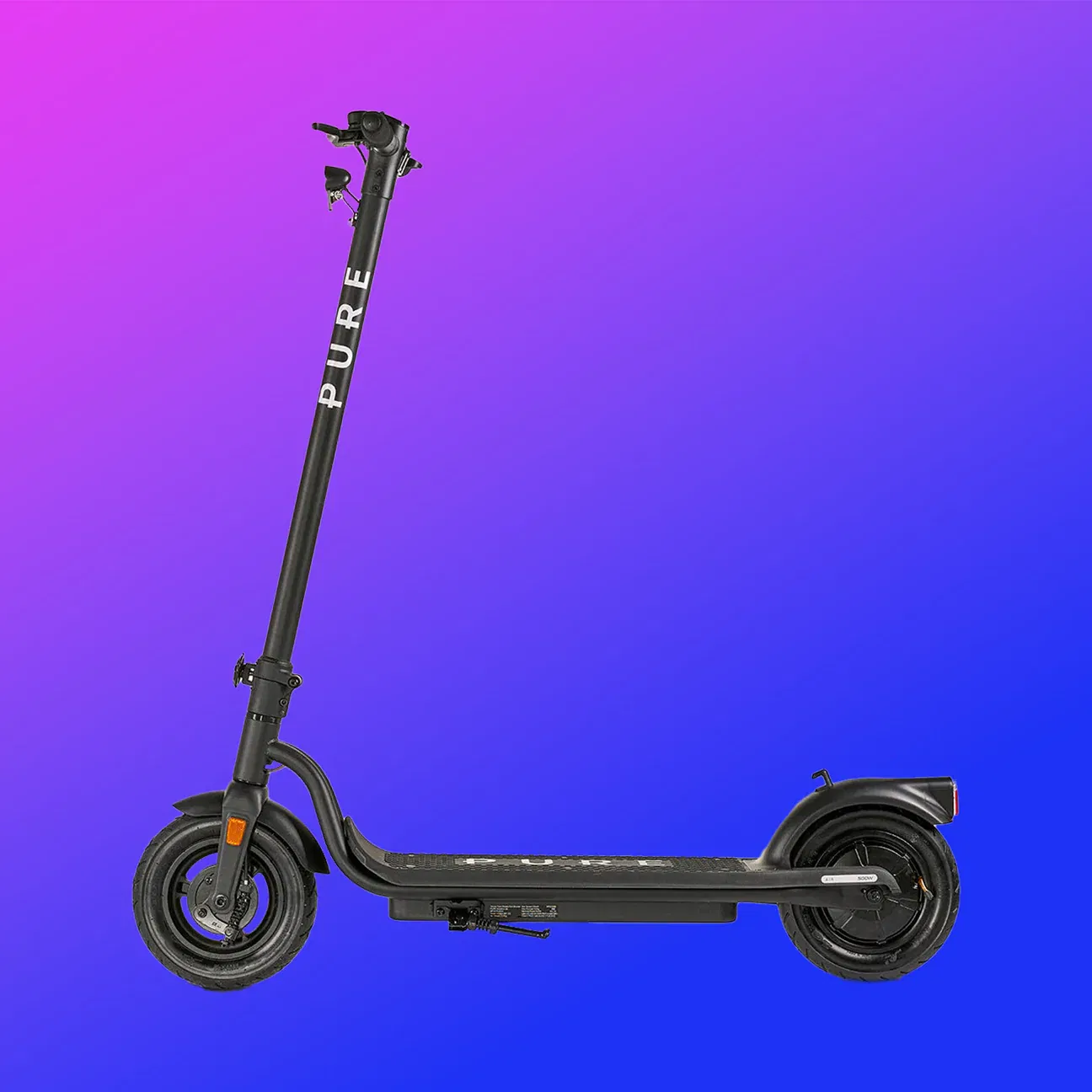 Pure Air Electric Scooter 2nd Gen
Description
Pure Air Electric Scooter 2nd Gen
Ideal For
Wet weather riding, climbing hills, regular use, loads of up to 120kg, beginners and advanced riders.
Key Features
30km range, fast 5.5 hour charge time
25km/h top speed, new powerful 500W (700W peak) rear wheel motor with three power modes
Premium ride with quality steel frame, featuring large 10-inch wheels, air-filled tyres and puncture prevention fluid for increased comfort and safety
Class-leading IP65 waterproof with warranty backing for reliable wet weather riding ability
17kg total weight
High 120kg load limit – perfect for heavier riders and luggage
Easy folding mechanism for quick pack down and storage
Handy smartphone USB charge port on the handlebar
Comprehensive one year manufacturer  warranty
Benefit from Pure Electric servicing expertise
UK-held replacement parts
Integrates with Pure companion app
Available in black and grey colourways
SKU: SCPUR0008-14251
Please note, privately-owned e-scooters can not be used on public highways (roads/pavements), and can only be used on private property with the landowner's consent. Appropriate protective equipment should be worn at all times. This e-scooter should not be ridden by persons under the age of 16 years.
| Winner Name | Ticket Number | Draw Date |
| --- | --- | --- |
| C H | 384 | 23/09/2022 |
| Ticket Number | Date | Name |
| --- | --- | --- |
| 1 | 2022-09-18 16:23:00 | Jessica weymouth |
| 3 | 2022-09-23 01:05:02 | Gina Bell |
| 4 | 2022-09-23 10:35:32 | Kim Ellis |
| 5 | 2022-09-23 19:25:36 | L D |
| 6 | 2022-09-21 20:27:32 | Nigel Paull |
| 7 | 2022-09-23 11:38:39 | Brett Ansell |
| 8 | 2022-09-16 19:45:48 | Sharon Symons |
| 9 | 2022-09-23 09:21:08 | Emma & lee |
| 11 | 2022-09-21 11:51:00 | Clarice Warden |
| 12 | 2022-09-22 20:26:03 | Duane Cole |
| 13 | 2022-09-18 16:33:46 | Gina Bell |
| 14 | 2022-09-20 23:52:47 | Kimberley Escott |
| 15 | 2022-09-16 19:45:48 | Sharon Symons |
| 16 | 2022-09-23 18:06:05 | Nicola Bird |
| 17 | 2022-09-21 19:48:56 | David Jones |
| 18 | 2022-09-21 22:50:35 | Georgia Hesketh |
| 19 | 2022-09-22 13:47:26 | Candy Light |
| 20 | 2022-09-23 20:07:36 | Nigel Paull |
| 21 | 2022-09-15 13:15:13 | Lisa Roberts |
| 22 | 2022-09-17 22:04:18 | Rachel Paine |
| 23 | 2022-09-21 16:59:05 | Jo Pennington |
| 24 | 2022-09-16 19:45:48 | Sharon Symons |
| 25 | 2022-09-23 07:19:59 | Alex Clarke |
| 26 | 2022-09-21 16:59:05 | Jo Pennington |
| 27 | 2022-09-23 19:09:52 | Nicholas Warnes |
| 28 | 2022-09-18 16:33:46 | Gina Bell |
| 29 | 2022-09-18 16:33:46 | Gina Bell |
| 30 | 2022-09-21 22:50:35 | Georgia Hesketh |
| 31 | 2022-09-23 20:15:27 | Alex Stowe |
| 33 | 2022-09-23 19:31:23 | Jade Howitt |
| 34 | 2022-09-23 19:41:34 | Jordan Dobbin |
| 36 | 2022-09-23 19:23:55 | D Dixon |
| 37 | 2022-09-23 19:58:38 | N C |
| 38 | 2022-09-23 15:13:53 | Mark Hamm |
| 42 | 2022-09-23 11:58:03 | Bradley Cartwright |
| 44 | 2022-09-23 16:33:25 | Jake Coley |
| 46 | 2022-09-23 19:36:20 | David Edward |
| 47 | 2022-09-23 19:29:57 | A P |
| 48 | 2022-09-23 20:47:00 | Lawrence Coombes |
| 49 | 2022-09-23 20:14:15 | J L |
| 50 | 2022-09-23 20:05:05 | James Wiltshire |
| 53 | 2022-09-22 13:47:26 | Candy Light |
| 54 | 2022-09-23 14:09:30 | J L |
| 55 | 2022-09-16 19:45:48 | Sharon Symons |
| 56 | 2022-09-23 20:23:28 | Kirsty Gates |
| 58 | 2022-09-23 16:33:25 | Jake Coley |
| 59 | 2022-09-23 20:16:50 | Ali Baba |
| 60 | 2022-09-23 20:16:50 | Ali Baba |
| 61 | 2022-09-17 09:23:09 | Kyle Jago |
| 62 | 2022-09-23 17:22:43 | callam morris |
| 63 | 2022-09-20 10:18:49 | Rebecca Harvey |
| 66 | 2022-09-23 20:07:36 | Nigel Paull |
| 67 | 2022-09-23 19:55:07 | Amy Hardware |
| 68 | 2022-09-21 22:50:35 | Georgia Hesketh |
| 69 | 2022-09-23 18:11:43 | Jones Natasha |
| 70 | 2022-09-23 20:47:00 | Lawrence Coombes |
| 71 | 2022-09-23 03:32:00 | Kimberley Escott |
| 72 | 2022-09-23 20:16:50 | Ali Baba |
| 75 | 2022-09-17 17:27:22 | Lianne Abercrombie |
| 76 | 2022-09-23 20:15:27 | Alex Stowe |
| 77 | 2022-09-22 00:18:25 | Tracey Webber |
| 78 | 2022-09-23 11:12:44 | Mary Cann |
| 82 | 2022-09-22 05:29:02 | Angela Coleman |
| 84 | 2022-09-23 18:17:24 | Jodie Webb |
| 85 | 2022-09-23 20:19:27 | T T D |
| 86 | 2022-09-23 09:47:41 | Lucy Roberts |
| 88 | 2022-09-16 19:45:48 | Sharon Symons |
| 89 | 2022-09-23 19:22:13 | Hannah Fuller |
| 91 | 2022-09-23 15:13:53 | Mark Hamm |
| 95 | 2022-09-23 08:21:35 | Samantha Grice |
| 96 | 2022-09-23 16:33:25 | Jake Coley |
| 99 | 2022-09-18 22:59:24 | C Honey |
| 101 | 2022-09-23 17:14:44 | Stephen Bourne |
| 102 | 2022-09-23 20:47:00 | Lawrence Coombes |
| 103 | 2022-09-23 19:25:36 | L D |
| 104 | 2022-09-23 19:26:10 | Mariesha Trant |
| 107 | 2022-09-23 19:29:57 | A P |
| 108 | 2022-09-22 13:01:00 | Mrs Linda Grimshaw |
| 110 | 2022-09-23 18:43:25 | N C |
| 111 | 2022-09-23 16:58:32 | Gemma Bush |
| 112 | 2022-09-23 19:56:40 | Darren Willis |
| 113 | 2022-09-23 19:56:40 | Darren Willis |
| 114 | 2022-09-23 15:15:41 | A P |
| 115 | 2022-09-23 20:37:29 | Samantha Grice |
| 116 | 2022-09-23 19:55:07 | Amy Hardware |
| 117 | 2022-09-23 20:23:41 | Helen Newman |
| 119 | 2022-09-22 13:47:26 | Candy Light |
| 120 | 2022-09-23 15:58:50 | Kerry Packer |
| 121 | 2022-09-23 19:15:05 | Millie E |
| 122 | 2022-09-20 10:18:49 | Rebecca Harvey |
| 123 | 2022-09-23 20:16:50 | Ali Baba |
| 124 | 2022-09-23 20:14:15 | J L |
| 125 | 2022-09-19 10:42:11 | Mr Peter Beal |
| 126 | 2022-09-21 22:50:35 | Georgia Hesketh |
| 127 | 2022-09-23 14:16:35 | Samantha Grice |
| 130 | 2022-09-23 20:16:50 | Ali Baba |
| 131 | 2022-09-23 19:25:36 | L D |
| 134 | 2022-09-23 15:13:53 | Mark Hamm |
| 136 | 2022-09-23 19:47:04 | Lea Painter |
| 139 | 2022-09-23 20:34:22 | Paul Goodenough |
| 141 | 2022-09-23 20:02:16 | Elaine Lewis |
| 143 | 2022-09-23 20:14:15 | J L |
| 146 | 2022-09-23 20:55:51 | Kayleigh Skinner |
| 147 | 2022-09-23 16:33:25 | Jake Coley |
| 150 | 2022-09-23 18:35:25 | Julie Heald |
| 152 | 2022-09-23 10:43:59 | Lindsey Evans |
| 153 | 2022-09-23 18:19:46 | Tracy Mills |
| 154 | 2022-09-23 11:38:39 | Brett Ansell |
| 155 | 2022-09-23 20:16:50 | Ali Baba |
| 160 | 2022-09-23 16:58:32 | Gemma Bush |
| 164 | 2022-09-23 19:55:07 | Amy Hardware |
| 168 | 2022-09-23 20:16:50 | Ali Baba |
| 170 | 2022-09-23 07:04:17 | Roxanne mcdonald |
| 171 | 2022-09-23 07:28:09 | Theresa Mitchell |
| 172 | 2022-09-23 19:15:44 | Nichola Wallace |
| 173 | 2022-09-23 16:33:25 | Jake Coley |
| 174 | 2022-09-23 18:17:13 | Megan Lee |
| 175 | 2022-09-23 01:05:02 | Gina Bell |
| 176 | 2022-09-22 15:45:45 | Mrs Linda Grimshaw |
| 177 | 2022-09-18 09:03:44 | Ria Dance |
| 178 | 2022-09-17 22:04:18 | Rachel Paine |
| 179 | 2022-09-23 15:41:21 | Martin Burley |
| 180 | 2022-09-23 20:40:33 | Adrian Uglow |
| 181 | 2022-09-20 15:04:23 | Rachel chalk |
| 182 | 2022-09-18 11:34:07 | Kristy Taylor |
| 183 | 2022-09-23 19:42:32 | Joe Khan |
| 185 | 2022-09-23 10:09:57 | Danielle Benn |
| 186 | 2022-09-23 20:09:20 | Lucy Roberts |
| 187 | 2022-09-21 14:09:52 | Claire Horrell |
| 189 | 2022-09-23 20:23:28 | Kirsty Gates |
| 190 | 2022-09-21 22:50:35 | Georgia Hesketh |
| 191 | 2022-09-17 09:06:30 | Lucie Dobeer |
| 192 | 2022-09-23 19:23:55 | D Dixon |
| 193 | 2022-09-23 19:06:06 | Andy Shout |
| 194 | 2022-09-23 16:33:25 | Jake Coley |
| 195 | 2022-09-23 18:59:36 | Marcel Massey |
| 196 | 2022-09-23 16:33:25 | Jake Coley |
| 198 | 2022-09-23 20:15:27 | Alex Stowe |
| 199 | 2022-09-23 15:13:53 | Mark Hamm |
| 200 | 2022-09-23 20:03:06 | Wayne Baxter |