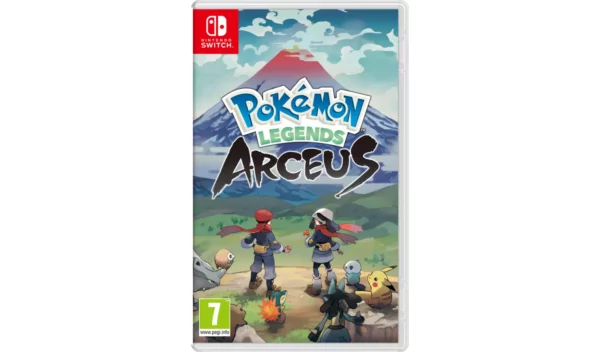 Pokémon Legends: Arceus Nintendo Switch Game
Description
Pokémon Legends: Arceus Nintendo Switch Game
Catch, survey and research wild Pokemon to create and complete the Sinnoh region's first Pokedex in Pokemon Legends: Arceus, coming to Nintendo Switch. Pokemon Legends: Arceus honours past Pokemon games' core gameplay while infusing new action and RPG elements.
You'll be brought to the Sinnoh region, the setting for Pokemon Diamond and Pokemon Pearl. But this story unfolds in a long-gone era, before ideas such as being a Pokemon Trainer or having a Pokemon League even existed. All around, you'll find Pokemon living wild in harsh environments that make for a Sinnoh unlike the region you may remember from the days of Pokemon Diamond and Pokemon Pearl.
To catch Pokemon in Pokemon Legends: Arceus, you can observe them to learn their behaviour, then carefully sneak up, aim your Poke Ball and let fly! You can also have your ally Pokemon battle wild Pokemon that you hope to catch. Just throw the Poke Ball holding your ally Pokemon near a wild Pokemon, and you'll seamlessly enter battle and command your Pokemon by choosing from moves it knows.
As you start off on your adventure to create the region's first Pokedex, you'll be able to choose Rowlet, Cyndaquil, or Oshawott as a partner. These three Pokemon arrived with a Pokemon Professor, who encountered them on research excursions to various regions.
Release date: 28 January 2022.
| Winner Name | Ticket Number | Draw Date |
| --- | --- | --- |
| Rebecca Wood | 12 | 11/07/2022 |
| Ticket Number | Date | Name |
| --- | --- | --- |
| 1 | 2022-07-11 20:01:30 | Lea Painter |
| 2 | 2022-07-10 16:18:18 | Tanya Bridger |
| 3 | 2022-07-11 13:47:03 | rebecca cox |
| 4 | 2022-07-09 22:55:24 | Mark Hamm |
| 5 | 2022-07-09 22:55:24 | Mark Hamm |
| 6 | 2022-07-07 06:31:19 | Lisa Riordan |
| 7 | 2022-07-11 20:17:54 | kerry b |
| 8 | 2022-07-09 19:58:03 | Natalie Anderson |
| 9 | 2022-07-11 19:58:55 | Kevin Hayes |
| 10 | 2022-07-11 16:43:49 | Tracy Owen |
| 11 | 2022-07-11 19:55:15 | Michael t O'connor |
| 12 | 2022-07-06 20:31:08 | Rebecca Wood |
| 13 | 2022-07-10 16:18:18 | Tanya Bridger |
| 14 | 2022-07-08 22:02:45 | helen bradford |
| 15 | 2022-07-11 19:25:51 | Chantel Whitford |
| 16 | 2022-07-09 19:58:03 | Natalie Anderson |
| 17 | 2022-07-11 16:16:46 | Charlotte Ocallaghan |
| 18 | 2022-07-11 18:55:18 | Hannah Bennett |
| 19 | 2022-07-09 22:55:24 | Mark Hamm |
| 20 | 2022-07-09 09:47:39 | Alison Cass |
| 21 | 2022-07-11 19:21:37 | Lisa Roberts |
| 22 | 2022-07-11 13:55:14 | Paul Jones |
| 23 | 2022-07-11 18:55:18 | Hannah Bennett |
| 24 | 2022-07-09 10:09:12 | Emma Louise |
| 25 | 2022-07-11 20:18:48 | Naomi Davis |
| 26 | 2022-07-10 16:18:18 | Tanya Bridger |
| 27 | 2022-07-10 16:18:18 | Tanya Bridger |
| 28 | 2022-07-11 16:43:49 | Tracy Owen |
| 29 | 2022-07-11 16:43:49 | Tracy Owen |
| 30 | 2022-07-07 08:46:48 | jan blackler |
| 31 | 2022-07-09 22:55:24 | Mark Hamm |
| 32 | 2022-07-11 20:23:41 | Lorraine Mcardle |
| 33 | 2022-07-09 19:58:03 | Natalie Anderson |
| 34 | 2022-07-11 17:42:31 | Danielle Lindsay |
| 35 | 2022-07-11 20:17:54 | kerry b |
| 36 | 2022-07-09 22:55:24 | Mark Hamm |
| 37 | 2022-07-11 10:51:32 | Joshua Perrett |
| 38 | 2022-07-10 21:25:54 | Vicki Benn |
| 39 | 2022-07-11 18:51:41 | Cahli Dodd |
| 40 | 2022-07-11 19:19:06 | Michelle Whatty |
| 41 | 2022-07-11 15:21:20 | Dean Angell |
| 42 | 2022-07-11 20:17:54 | kerry b |
| 43 | 2022-07-11 17:34:00 | Gemma Herrington |
| 44 | 2022-07-11 18:27:33 | Kelly A Russell |
| 45 | 2022-07-11 15:21:20 | Dean Angell |
| 46 | 2022-07-09 14:30:31 | Samantha Jordan |
| 47 | 2022-07-11 19:48:50 | Amy Hutchings |
| 48 | 2022-07-11 16:43:49 | Tracy Owen |
| 49 | 2022-07-09 22:55:24 | Mark Hamm |
| 50 | 2022-07-11 19:25:51 | Chantel Whitford |
| 51 | 2022-07-11 18:21:15 | Dean Benson |
| 52 | 2022-07-09 22:55:24 | Mark Hamm |
| 53 | 2022-07-07 12:56:55 | Sarah Durham |
| 54 | 2022-07-11 16:43:49 | Tracy Owen |
| 55 | 2022-07-11 19:17:10 | Joshua Highton |
| 56 | 2022-07-11 15:47:29 | Brad davies |
| 57 | 2022-07-07 12:56:55 | Sarah Durham |
| 58 | 2022-07-11 19:47:34 | Natalie Anderson |
| 59 | 2022-07-09 22:55:24 | Mark Hamm |
| 60 | 2022-07-11 20:17:54 | kerry b |
| 61 | 2022-07-07 22:10:45 | Talia Tucker |
| 62 | 2022-07-09 19:58:03 | Natalie Anderson |
| 63 | 2022-07-11 19:47:34 | Natalie Anderson |
| 64 | 2022-07-11 16:16:46 | Charlotte Ocallaghan |
| 65 | 2022-07-11 16:27:46 | Helen Gudgin |
| 66 | 2022-07-09 22:55:24 | Mark Hamm |
| 67 | 2022-07-11 16:27:46 | Helen Gudgin |
| 68 | 2022-07-09 19:58:03 | Natalie Anderson |
| 69 | 2022-07-11 17:34:00 | Gemma Herrington |
| 70 | 2022-07-11 20:18:48 | Naomi Davis |
| 71 | 2022-07-09 19:58:03 | Natalie Anderson |
| 72 | 2022-07-11 16:03:22 | jemma Vooght |
| 73 | 2022-07-11 19:48:50 | Amy Hutchings |
| 74 | 2022-07-11 20:01:30 | Lea Painter |
| 75 | 2022-07-09 22:55:24 | Mark Hamm |
| 76 | 2022-07-09 09:47:39 | Alison Cass |
| 77 | 2022-07-11 19:17:10 | Joshua Highton |
| 78 | 2022-07-11 20:17:54 | kerry b |
| 79 | 2022-07-10 16:23:49 | Trudi Parnell |
| 80 | 2022-07-11 16:03:22 | jemma Vooght |