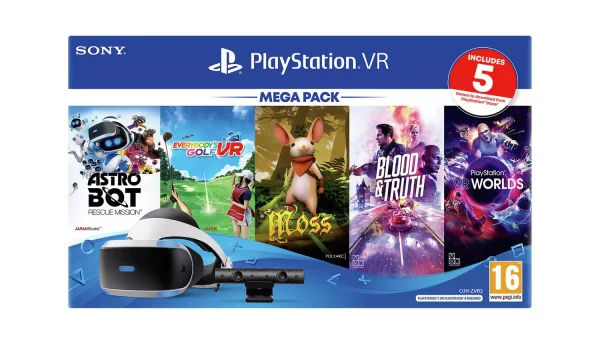 PlayStation VR Mega Pack
Description
PlayStation VR Mega Pack
Live the game with PS VR – the new great-value PlayStation VR Mega Pack takes you straight to the heart of five thrilling VR adventures. Immerse yourself in hundreds of mind-blowing virtual reality games and experiences. Travel through an endless universe, explore fantasy realms, blast your way through the criminal underworld, and lose yourself to the beat.
360 Vision – absorb every second of the action through a custom 5.7′ OLED screen with smooth visuals and super low latency. ASTRO BOT Rescue Mission and Moss require DualShock 4 wireless controller (DS4). Everybody's Golf VR, Blood & Truth and The London Heist (PlayStation VR Worlds) require PS Move controllers or DS4, sold separately.
3D Audio – Hear approaching footsteps or distant screams with pinpoint accuracy through cutting-edge surround sound.
Intuitive Controls – A complete tracking system follows every movement of the DUALSHOCK4 wireless controller, PlayStation Move motion controller(s) or PlayStation VR aim controller.
PS4 compatible.
PS5 compatible.
Wired.
Connects to console via USB.
| Winner Name | Ticket Number | Draw Date |
| --- | --- | --- |
| Crystal Taylor | 300 | 09/08/2022 |
| Ticket Number | Date | Name |
| --- | --- | --- |
| 2 | 2022-08-09 20:37:11 | Emma Jones |
| 3 | 2022-08-07 08:42:30 | Amy Collier |
| 4 | 2022-08-09 16:19:59 | Kasey Snell |
| 5 | 2022-08-09 20:15:05 | Steph Payne |
| 6 | 2022-08-07 09:23:10 | Jodie Ellis |
| 7 | 2022-08-09 20:44:05 | James Mardel |
| 8 | 2022-08-04 03:28:27 | Kayleigh Burt |
| 9 | 2022-08-09 11:41:30 | Amy Roberts |
| 10 | 2022-08-07 08:52:09 | Alana Williams |
| 11 | 2022-08-05 19:28:02 | Portia Horak-Fovargue |
| 12 | 2022-08-08 21:09:56 | Michelle Petricca |
| 13 | 2022-08-08 13:06:05 | Ben Stocker |
| 14 | 2022-08-09 20:44:35 | James Mardel |
| 15 | 2022-08-03 14:39:28 | Carly Mason |
| 16 | 2022-08-09 02:29:28 | Amanda Gerry-O'Connor |
| 17 | 2022-08-09 09:14:42 | Kelvin Courtenay |
| 18 | 2022-08-05 21:33:58 | Hayley Baker |
| 19 | 2022-08-09 08:45:54 | Jodie Webb |
| 20 | 2022-08-06 15:30:15 | Dean O'Connor |
| 21 | 2022-08-04 08:03:43 | Lisa Roberts |
| 22 | 2022-08-09 13:08:52 | Emma Louise |
| 23 | 2022-08-03 20:52:49 | Emma Louise |
| 24 | 2022-08-03 20:52:49 | Emma Louise |
| 25 | 2022-08-09 11:41:30 | Amy Roberts |
| 26 | 2022-08-09 10:59:42 | Kelvin Courtenay |
| 27 | 2022-08-07 16:55:28 | Amy Collier |
| 28 | 2022-08-08 17:52:02 | Sammy jo Smith |
| 29 | 2022-08-08 13:06:05 | Ben Stocker |
| 30 | 2022-08-09 20:42:52 | John Fishacre |
| 31 | 2022-08-09 20:42:52 | John Fishacre |
| 32 | 2022-08-03 14:39:28 | Carly Mason |
| 33 | 2022-08-07 16:55:28 | Amy Collier |
| 34 | 2022-08-09 09:14:42 | Kelvin Courtenay |
| 38 | 2022-08-09 13:25:07 | Charlotte Avery |
| 40 | 2022-08-09 20:15:05 | Steph Payne |
| 41 | 2022-08-07 09:23:10 | Jodie Ellis |
| 42 | 2022-08-06 11:50:54 | mark chapman |
| 43 | 2022-08-08 10:13:05 | Jodie Ellis |
| 44 | 2022-08-09 16:15:10 | Nicola Naylor |
| 45 | 2022-08-09 11:57:07 | Michaela Waddup |
| 46 | 2022-08-09 20:42:40 | Sarah Anstey |
| 47 | 2022-08-05 12:14:08 | Carly Mason |
| 48 | 2022-08-04 11:40:26 | David Binmore |
| 49 | 2022-08-08 21:42:52 | PATRICK Mills |
| 50 | 2022-08-09 11:23:41 | Ben Haynes |
| 53 | 2022-08-09 16:47:49 | Naomi Davis |
| 54 | 2022-08-09 20:15:44 | Maria Yelf |
| 55 | 2022-08-08 16:18:01 | claire-louise flanagan |
| 56 | 2022-08-09 09:14:42 | Kelvin Courtenay |
| 57 | 2022-08-05 00:16:40 | Stephen Mitchell |
| 58 | 2022-08-09 17:56:21 | Kirsty Gates |
| 59 | 2022-08-08 22:29:47 | Daniel Brant |
| 60 | 2022-08-09 20:15:05 | Steph Payne |
| 61 | 2022-08-08 10:13:05 | Jodie Ellis |
| 62 | 2022-08-07 22:07:38 | Jodie Ellis |
| 63 | 2022-08-08 18:46:17 | Joyce Hope |
| 64 | 2022-08-08 21:09:56 | Michelle Petricca |
| 66 | 2022-08-09 20:42:52 | John Fishacre |
| 67 | 2022-08-09 16:09:44 | Victoria Porter |
| 68 | 2022-08-09 20:12:34 | Tracy Mills |
| 69 | 2022-08-09 08:22:23 | Bobbie-lee Houghton |
| 70 | 2022-08-09 19:12:30 | Nicola Lant |
| 71 | 2022-08-09 09:42:20 | Usher Prowse |
| 72 | 2022-08-08 10:13:05 | Jodie Ellis |
| 73 | 2022-08-09 09:14:42 | Kelvin Courtenay |
| 75 | 2022-08-08 10:13:05 | Jodie Ellis |
| 76 | 2022-08-09 10:44:13 | Jo Butcher |
| 77 | 2022-08-09 20:37:31 | Laura Roche |
| 78 | 2022-08-09 20:11:11 | Emma Fort |
| 79 | 2022-08-09 11:41:30 | Amy Roberts |
| 80 | 2022-08-09 15:30:56 | Emma Jones |
| 81 | 2022-08-09 10:59:42 | Kelvin Courtenay |
| 82 | 2022-08-03 15:24:47 | Talia Tan |
| 83 | 2022-08-09 19:12:16 | Nicola Mchugh |
| 84 | 2022-08-03 14:39:28 | Carly Mason |
| 85 | 2022-08-09 09:57:27 | Lekel North |
| 87 | 2022-08-08 17:52:02 | Sammy jo Smith |
| 88 | 2022-08-09 09:14:42 | Kelvin Courtenay |
| 89 | 2022-08-07 07:17:16 | Harry Taylor |
| 90 | 2022-08-09 20:44:58 | Jayne Patten |
| 91 | 2022-08-09 13:13:17 | Rebecca Pink |
| 92 | 2022-08-03 14:39:28 | Carly Mason |
| 93 | 2022-08-09 20:31:20 | Ana Chard |
| 95 | 2022-08-09 10:59:42 | Kelvin Courtenay |
| 96 | 2022-08-07 22:07:38 | Jodie Ellis |
| 97 | 2022-08-08 19:20:51 | Jenna Mackellar |
| 98 | 2022-08-03 14:39:28 | Carly Mason |
| 99 | 2022-08-09 09:53:43 | Roxanne Walker |
| 100 | 2022-08-09 10:31:39 | Beth Quarmby |
| 101 | 2022-08-09 17:14:03 | Emily Connie |
| 106 | 2022-08-09 20:15:05 | Steph Payne |
| 107 | 2022-08-09 19:57:58 | Ollie Williams |
| 108 | 2022-08-09 09:14:42 | Kelvin Courtenay |
| 109 | 2022-08-09 20:13:04 | Rachael Dummett |
| 110 | 2022-08-09 15:22:00 | Kelly A Russell |
| 111 | 2022-08-03 14:39:28 | Carly Mason |
| 112 | 2022-08-08 10:13:05 | Jodie Ellis |
| 113 | 2022-08-09 19:57:58 | Ollie Williams |
| 114 | 2022-08-09 16:15:10 | Nicola Naylor |
| 115 | 2022-08-09 20:15:05 | Steph Payne |
| 116 | 2022-08-09 20:15:05 | Steph Payne |
| 118 | 2022-08-05 19:18:42 | Christopher Wannell |
| 119 | 2022-08-07 00:11:03 | Jodie Ellis |
| 120 | 2022-08-09 16:21:50 | Jayne Lofthouse |
| 121 | 2022-08-08 10:13:05 | Jodie Ellis |
| 122 | 2022-08-08 18:39:37 | Jess Ellis |
| 123 | 2022-08-09 20:12:34 | Tracy Mills |
| 124 | 2022-08-08 10:13:05 | Jodie Ellis |
| 125 | 2022-08-07 00:11:03 | Jodie Ellis |
| 127 | 2022-08-09 09:14:42 | Kelvin Courtenay |
| 128 | 2022-08-09 20:15:05 | Steph Payne |
| 129 | 2022-08-09 20:01:33 | Sharron Birds |
| 131 | 2022-08-05 09:36:48 | Matthew Gill |
| 132 | 2022-08-09 17:37:23 | Jodie Ellis |
| 133 | 2022-08-06 15:30:15 | Dean O'Connor |
| 134 | 2022-08-09 11:23:41 | Ben Haynes |
| 135 | 2022-08-09 20:15:05 | Steph Payne |
| 136 | 2022-08-09 20:15:05 | Steph Payne |
| 137 | 2022-08-07 18:17:51 | Vicki Coldrick |
| 138 | 2022-08-09 19:22:25 | Matt Hall |
| 139 | 2022-08-05 22:50:25 | Antonia Wilson |
| 143 | 2022-08-09 20:15:05 | Steph Payne |
| 144 | 2022-08-09 20:15:05 | Steph Payne |
| 145 | 2022-08-03 18:28:36 | Adam West |
| 146 | 2022-08-07 07:17:16 | Harry Taylor |
| 149 | 2022-08-07 22:07:38 | Jodie Ellis |
| 150 | 2022-08-08 10:13:05 | Jodie Ellis |
| 151 | 2022-08-09 09:14:42 | Kelvin Courtenay |
| 152 | 2022-08-09 14:20:31 | Tracy Garraway |
| 153 | 2022-08-08 10:13:05 | Jodie Ellis |
| 155 | 2022-08-06 11:50:54 | mark chapman |
| 156 | 2022-08-08 19:20:51 | Jenna Mackellar |
| 157 | 2022-08-09 11:13:08 | Carly Mason |
| 158 | 2022-08-09 09:14:42 | Kelvin Courtenay |
| 159 | 2022-08-07 09:23:10 | Jodie Ellis |
| 160 | 2022-08-09 10:31:39 | Beth Quarmby |
| 161 | 2022-08-05 22:52:51 | Lou Lister |
| 162 | 2022-08-06 15:36:37 | Victoria Rooke |
| 163 | 2022-08-08 20:55:07 | Yvonne Sparkes |
| 164 | 2022-08-09 20:42:52 | John Fishacre |
| 166 | 2022-08-08 21:43:06 | Tracy Mills |
| 167 | 2022-08-07 16:55:28 | Amy Collier |
| 168 | 2022-08-08 21:42:52 | PATRICK Mills |
| 169 | 2022-08-09 16:19:59 | Kasey Snell |
| 170 | 2022-08-09 19:23:06 | Lauren Woodhouse |
| 171 | 2022-08-09 18:34:25 | Lee Robinson |
| 172 | 2022-08-09 00:59:48 | Carter Perry |
| 174 | 2022-08-05 09:06:45 | Kim Bickham |
| 175 | 2022-08-09 09:14:42 | Kelvin Courtenay |
| 176 | 2022-08-09 08:14:42 | Kirsty Gates |
| 178 | 2022-08-07 19:49:20 | Luke Mulliss |
| 179 | 2022-08-09 19:29:03 | Kylie collins |
| 180 | 2022-08-06 22:00:10 | Richard Barnes |
| 181 | 2022-08-08 18:24:59 | Ginny Lea-Worth |
| 182 | 2022-08-08 18:24:59 | Ginny Lea-Worth |
| 184 | 2022-08-09 13:13:17 | Rebecca Pink |
| 185 | 2022-08-09 13:13:17 | Rebecca Pink |
| 186 | 2022-08-09 20:15:05 | Steph Payne |
| 187 | 2022-08-08 21:43:06 | Tracy Mills |
| 188 | 2022-08-09 09:10:04 | Nicole Chalmers |
| 189 | 2022-08-09 20:19:19 | Jayden Peters |
| 190 | 2022-08-09 13:32:50 | Kayleigh Leicester |
| 191 | 2022-08-08 22:24:09 | Alison Massey |
| 192 | 2022-08-09 10:13:33 | Sian Bolton |
| 193 | 2022-08-05 09:36:48 | Matthew Gill |
| 194 | 2022-08-03 14:39:28 | Carly Mason |
| 195 | 2022-08-09 20:12:40 | Roxanne Hill |
| 196 | 2022-08-03 14:39:28 | Carly Mason |
| 197 | 2022-08-09 20:15:05 | Steph Payne |
| 198 | 2022-08-09 11:58:03 | Ian Anslow |
| 199 | 2022-08-09 19:23:06 | Lauren Woodhouse |
| 200 | 2022-08-07 16:55:28 | Amy Collier |