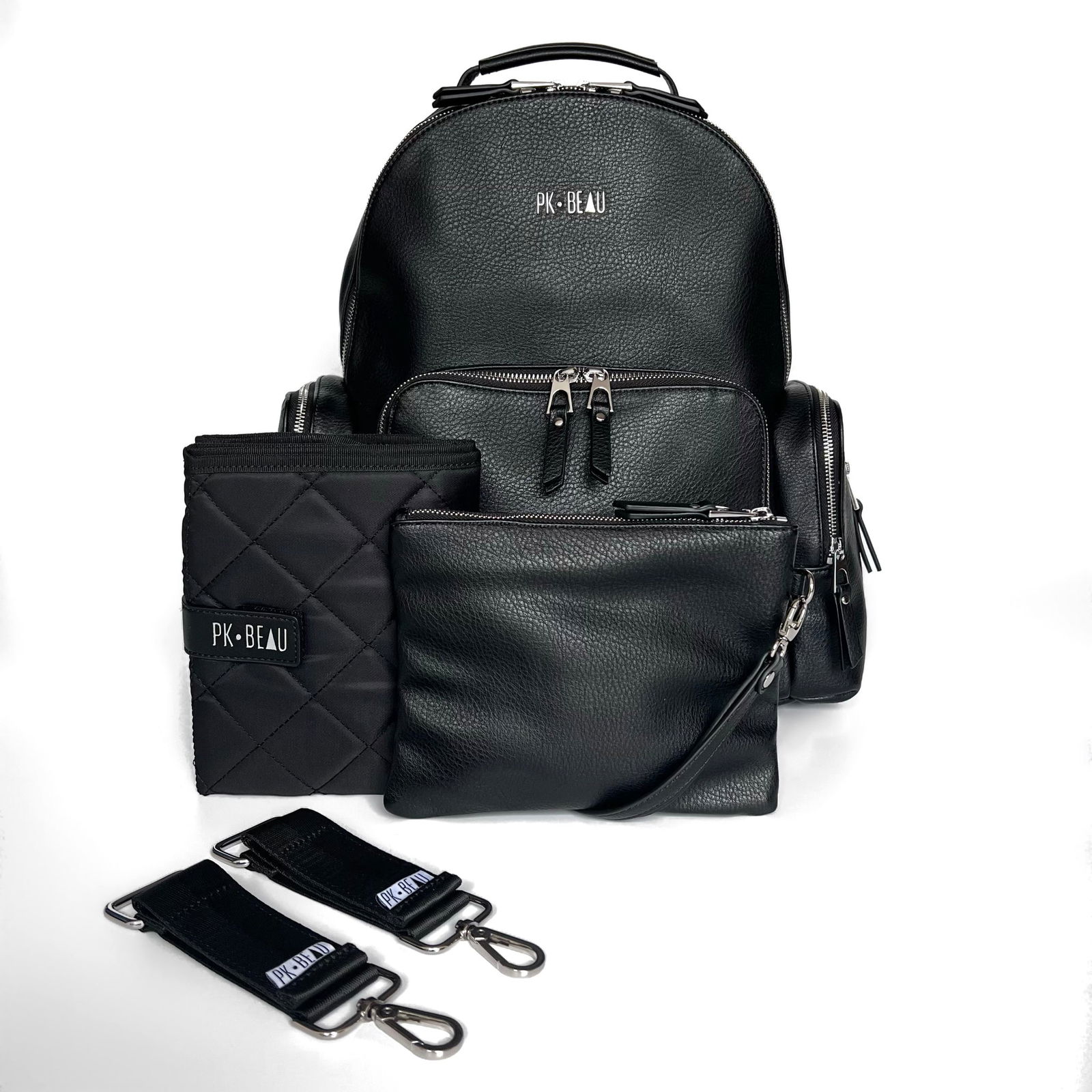 PK-BEAU-ARLO Baby Changing Backpack
Description
PK-BEAU-ARLO Baby Changing Backpack
The ARLO baby changing backpack has been carefully created for modern on-the-go parents.
Slightly larger than your average baby changing backpack, it's suitable for multiple Mini's. With lots of storage and a host of useful features, The ARLO baby changing bag is the ideal, hands-free choice for heading out and about as a family.
Luxurious vegan leather combined with wipeable linings and chunky durable metal zips, make the ARLO changing bag both fashionable and functional.
Included
Two insulated bottle holders
USB charging pocket for on the go power
Internal Power bank storage pocket ( power bank not included )
Three large internal pockets
Internal smart phone pocket
Rear safety pocket – for valuables when your in a busy place
D rings with matching branded stroller straps included
Luxury padded changing mat
coordinating water resistant clutch bag
Internal key storage clip
Padded laptop storage pocket
Internal zip safety pocket – for things you don't want little fingers to get with ease.
Adjustable padded shoulder straps with metal adjustors
Double pull zips with leather pulls for ease
Materials 
Exterior – 100% Faux leather
Interior – nylon with Faux leather moulding
Dimensions
H: 42cm W: 36cm D: 23cm
| Winner Name | Ticket Number | Draw Date |
| --- | --- | --- |
| Morgan Parsons | 108 | 11/05/2022 |
| Ticket Number | Date | Name |
| --- | --- | --- |
| 4 | 2022-05-11 20:35:59 | Maxine Knight |
| 6 | 2022-05-11 15:43:28 | Sophie Holt |
| 10 | 2022-05-11 16:27:41 | Caroline Cattermole |
| 13 | 2022-05-07 21:06:00 | Julie Webb |
| 15 | 2022-05-11 20:23:32 | Jemma Hearn |
| 16 | 2022-05-10 22:49:31 | Jessica Hervin |
| 17 | 2022-05-11 17:45:00 | Martyna Jaglowska |
| 20 | 2022-05-11 20:30:42 | G B |
| 21 | 2022-05-11 13:27:59 | Keedie Green |
| 22 | 2022-05-11 10:51:01 | Jem V |
| 23 | 2022-05-11 10:13:41 | Karen Atkins |
| 27 | 2022-05-07 21:06:00 | Julie Webb |
| 29 | 2022-05-11 19:56:50 | Hannah Del-pizzo |
| 30 | 2022-05-11 20:12:59 | Aim P |
| 32 | 2022-05-09 13:22:12 | Jodie Joyce |
| 35 | 2022-05-11 11:14:09 | Nicola Bird |
| 37 | 2022-05-11 20:34:42 | Linda Beer |
| 38 | 2022-05-10 22:49:31 | Jessica Hervin |
| 39 | 2022-05-06 22:40:40 | Amy Croydon |
| 40 | 2022-05-11 13:27:59 | Keedie Green |
| 44 | 2022-05-11 13:49:14 | Chloe Cheese |
| 47 | 2022-05-10 09:21:16 | Laura Lee |
| 49 | 2022-05-11 13:27:59 | Keedie Green |
| 51 | 2022-05-11 13:27:59 | Keedie Green |
| 52 | 2022-05-11 19:00:45 | Emma & lee |
| 60 | 2022-05-11 20:24:20 | Chloe Wills |
| 61 | 2022-05-09 15:00:50 | Usher Prowse |
| 67 | 2022-05-11 18:59:00 | Amie Manley |
| 69 | 2022-05-11 19:10:46 | Michael O'connor |
| 77 | 2022-05-11 17:45:00 | Martyna Jaglowska |
| 81 | 2022-05-11 20:35:59 | Maxine Knight |
| 82 | 2022-05-11 14:11:26 | G B |
| 83 | 2022-05-11 10:51:01 | Jem V |
| 85 | 2022-05-11 12:16:10 | Lekel North |
| 86 | 2022-05-11 20:38:29 | Emma Louise |
| 87 | 2022-05-11 19:02:46 | James Spence |
| 92 | 2022-05-11 14:11:26 | G B |
| 93 | 2022-05-10 07:27:01 | Natalie Parkes |
| 100 | 2022-05-10 21:21:55 | Nicola Trafford |