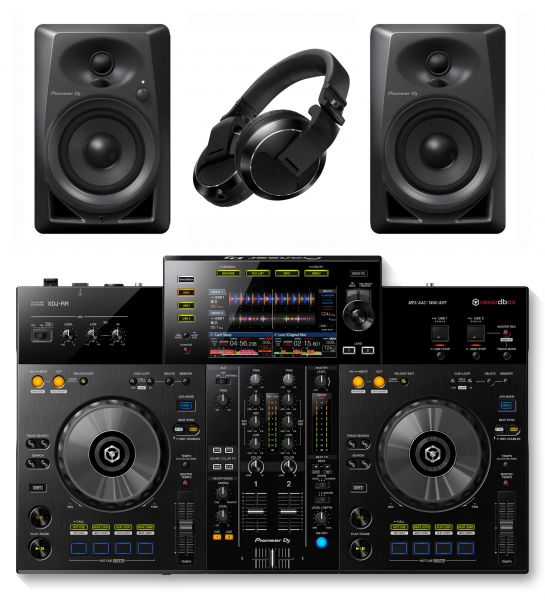 Pioneer DJ XDJ-RR, DM-40D & HDJ-X7 DJ Package
Description
Pioneer DJ XDJ-RR, DM-40D & HDJ-X7 DJ Package A complete package
This package comes complete with the Pioneer XDJ-RR All-in-one DJ system for rekordbox. This 2-channel DJ solution inherits design traits and essential features from our professional NXS2 multi player and mixer and packs it all into one lightweight, portable piece of kit. As a result, the XDJ-RR will help you become familiar with club-standard gear as you transition from DJing at home to commanding parties, bars, and soon, clubs.
Activate the bundled rekordbox dj licence key to experiment with different DJ styles and discover your favourite. You can perform with music stored on USB drives, access your library through Link Export or use Performance mode via your laptop – the choice is yours. The 7-inch colour screen enables you to keep an eye on your beats as you put your own spin on tracks using dedicated Beat FX and Sound Color FX. Equipped with everything you need to create unique mixes on the fly, you'll be filling dancefloors in no time.
Also included in this package are the the compact DM-40 desktop monitors which bring excellent audio quality to your home setup. They inherit the best from the professional S-DJX series and Pro Audio speakers, including a front-loaded bass reflex system for a rich, tight bass and DECO* technology for a wider reach and sweet spot.
We have also included the HDJ-X7 Professional over-ear DJ headphones. The HDJ-X7 model gives you clean monitoring even at high volumes. The independent ground wire in the 4-core twisted-structure cable ensures superior left and right channel separation, while the flexible headband means your headphones will be a perfect fit.
including the XDJ–RR controller, DM-40 active monitor speakers, HDJ-X7 head phones and all connecting cables.
| Winner Name | Ticket Number | Draw Date |
| --- | --- | --- |
| R❤ S💕 | 75 | 16/09/2022 |
1-200
201-400
401-600
601-800
| Ticket Number | Date | Name |
| --- | --- | --- |
| 2 | 2022-09-16 20:27:38 | Kelly Reed |
| 3 | 2022-09-11 09:13:47 | Lori Callow |
| 4 | 2022-09-16 20:33:55 | Chris Barnwell |
| 5 | 2022-09-13 17:53:58 | Ben Haynes |
| 6 | 2022-09-16 20:44:18 | Victoria Bearne |
| 7 | 2022-09-16 20:02:07 | Liam Murray |
| 8 | 2022-09-13 17:53:58 | Ben Haynes |
| 9 | 2022-09-16 14:05:30 | Emma Davies |
| 10 | 2022-09-16 20:23:25 | Lee Mayo |
| 11 | 2022-09-16 14:05:30 | Emma Davies |
| 12 | 2022-09-11 12:52:02 | Scott Lewis |
| 14 | 2022-09-16 19:10:56 | Victoria Forbes |
| 15 | 2022-09-16 14:15:22 | Andrew Gerry |
| 19 | 2022-09-16 20:52:44 | Michael O'connor |
| 20 | 2022-09-15 09:25:12 | Christopher Hill |
| 21 | 2022-09-11 16:57:12 | Lisa Roberts |
| 22 | 2022-09-16 12:32:09 | Emma Davies |
| 23 | 2022-09-16 18:20:19 | Jessica Cruickshank |
| 24 | 2022-09-11 08:44:54 | M E |
| 25 | 2022-09-16 19:10:56 | Victoria Forbes |
| 26 | 2022-09-16 20:52:44 | Michael O'connor |
| 27 | 2022-09-16 19:45:35 | Fleur Egington |
| 29 | 2022-09-16 20:00:46 | David rogerson |
| 30 | 2022-09-16 14:20:30 | Alice Cousins |
| 31 | 2022-09-16 19:10:56 | Victoria Forbes |
| 32 | 2022-09-16 20:00:46 | David rogerson |
| 33 | 2022-09-16 18:49:58 | Lekel North |
| 34 | 2022-09-16 20:00:46 | David rogerson |
| 40 | 2022-09-16 18:38:31 | David Fitzsimmons |
| 41 | 2022-09-16 20:27:38 | Kelly Reed |
| 42 | 2022-09-16 20:24:35 | Maria Hall |
| 43 | 2022-09-16 20:23:25 | Lee Mayo |
| 48 | 2022-09-16 20:27:38 | Kelly Reed |
| 49 | 2022-09-16 20:02:07 | Liam Murray |
| 52 | 2022-09-16 20:14:48 | Marie West |
| 53 | 2022-09-16 19:47:53 | Victor Chappell |
| 54 | 2022-09-16 20:44:00 | Darren Jolly |
| 55 | 2022-09-16 19:47:53 | Victor Chappell |
| 56 | 2022-09-16 10:58:30 | Jessica Hine |
| 57 | 2022-09-16 19:35:08 | Lucinda Parker |
| 60 | 2022-09-16 18:38:31 | David Fitzsimmons |
| 61 | 2022-09-16 14:06:28 | Lorraine Mcardle |
| 63 | 2022-09-16 17:04:37 | Jack Mallon |
| 64 | 2022-09-16 20:58:06 | Chris Carr |
| 66 | 2022-09-16 19:50:42 | rob denslow |
| 67 | 2022-09-16 18:27:49 | Tatman Japan |
| 69 | 2022-09-13 17:53:58 | Ben Haynes |
| 70 | 2022-09-11 14:02:12 | Jemma Lavercombe |
| 73 | 2022-09-16 17:19:03 | Rory Kneebone |
| 75 | 2022-09-16 20:34:07 | Rach Stevens |
| 77 | 2022-09-11 09:13:47 | Lori Callow |
| 79 | 2022-09-11 14:02:12 | Jemma Lavercombe |
| 80 | 2022-09-16 18:38:31 | David Fitzsimmons |
| 82 | 2022-09-16 17:04:37 | Jack Mallon |
| 85 | 2022-09-16 18:49:58 | Lekel North |
| 88 | 2022-09-16 20:32:16 | Graeme Dunn |
| 89 | 2022-09-16 20:23:25 | Lee Mayo |
| 91 | 2022-09-16 20:20:58 | Eddie Bent |
| 92 | 2022-09-16 20:56:42 | James Steven |
| 95 | 2022-09-16 15:51:48 | Joanne Stewart |
| 100 | 2022-09-16 18:38:31 | David Fitzsimmons |
| 104 | 2022-09-16 20:54:44 | Lee Mills |
| 107 | 2022-09-16 14:50:13 | David Lewis |
| 111 | 2022-09-11 09:13:47 | Lori Callow |
| 112 | 2022-09-16 13:19:03 | Tia potter |
| 113 | 2022-09-16 14:40:47 | Alan Gowland |
| 115 | 2022-09-16 20:25:28 | Adrian Uglow |
| 117 | 2022-09-11 09:25:13 | Julie Lavercombe |
| 118 | 2022-09-16 14:27:00 | Sam Fitzgerald |
| 120 | 2022-09-16 18:18:17 | Bonnie Van Beek |
| 122 | 2022-09-16 18:52:53 | Kirsty Finnerty |
| 129 | 2022-09-16 20:49:21 | Christina Gilley |
| 132 | 2022-09-16 18:45:40 | Lisa Hynes |
| 135 | 2022-09-16 20:27:38 | Kelly Reed |
| 140 | 2022-09-16 07:54:56 | Ian Lipscombe |
| 143 | 2022-09-11 09:13:47 | Lori Callow |
| 145 | 2022-09-16 11:59:13 | Elizabeth Halfyard |
| 146 | 2022-09-16 18:38:31 | David Fitzsimmons |
| 151 | 2022-09-16 19:45:42 | Deborah Cutland |
| 157 | 2022-09-15 20:32:38 | Christopher Hill |
| 165 | 2022-09-16 13:19:03 | Tia potter |
| 166 | 2022-09-16 19:47:53 | Victor Chappell |
| 168 | 2022-09-16 18:38:31 | David Fitzsimmons |
| 169 | 2022-09-16 17:06:29 | Chris Carr |
| 170 | 2022-09-15 09:25:12 | Christopher Hill |
| 171 | 2022-09-16 12:32:09 | Emma Davies |
| 173 | 2022-09-16 20:07:46 | Andrew Cule |
| 183 | 2022-09-13 19:20:53 | Loz Walker |
| 185 | 2022-09-16 18:18:17 | Bonnie Van Beek |
| 186 | 2022-09-16 20:23:25 | Lee Mayo |
| 187 | 2022-09-16 19:35:55 | Laura Wathes |
| 188 | 2022-09-16 12:32:09 | Emma Davies |
| 191 | 2022-09-16 20:20:58 | Eddie Bent |
| 192 | 2022-09-16 20:27:38 | Kelly Reed |
| 198 | 2022-09-11 09:11:44 | Lori Callow |
| 200 | 2022-09-16 14:05:30 | Emma Davies |