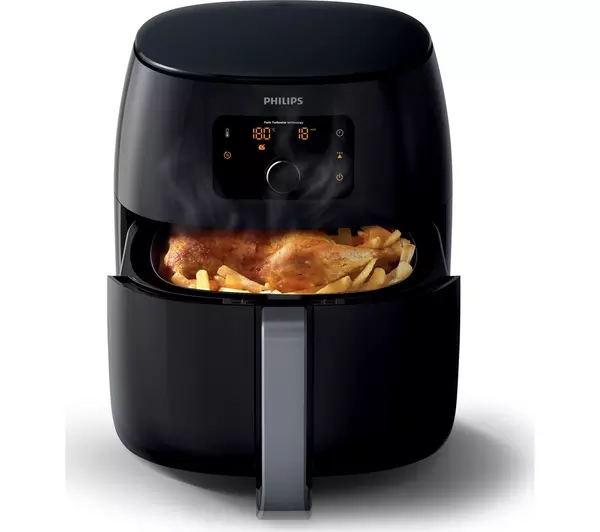 PHILIPS Viva Collection XXL HD9650/99 Air Fryer – Black
Description
PHILIPS Viva Collection XXL HD9650/99 Air Fryer – Black
The Philips Viva Collection XXL HD9650/99 Air Fryer gives you the same great results as deep fat fryers, sealing the outside of your ingredients and cooking the inside. However, it achieves this with hardly any oil, leaving you with healthier and delicious results.
Multiple cooking options
Choose from the multiple cooking options – from frying to baking and grilling and roasting, you have the choice on how you cook your meals for you and the whole family. You may start using it more than the oven.
| Winner Name | Ticket Number | Draw Date |
| --- | --- | --- |
| Jason Matthews | 497 | 19/05/2022 |
1-100
101-200
201-300
301-400
401-500
| Ticket Number | Date | Name |
| --- | --- | --- |
| 1 | 2022-05-19 20:35:56 | Lisa Darragh |
| 2 | 2022-05-18 22:07:52 | Karren Blatchford |
| 3 | 2022-05-19 19:36:30 | Michael O'connor |
| 4 | 2022-05-19 19:24:09 | Aimee Povey |
| 5 | 2022-05-18 20:47:39 | Martin Campbell |
| 6 | 2022-05-19 20:10:59 | Sophie Passmore |
| 7 | 2022-05-18 21:27:51 | Aimee Povey |
| 8 | 2022-05-19 07:40:44 | Caitlin Lane |
| 9 | 2022-05-16 20:59:28 | Nicole Humphrey |
| 10 | 2022-05-19 19:30:03 | JordanAdele Beresford |
| 11 | 2022-05-16 19:16:18 | Joanne Ison |
| 12 | 2022-05-19 20:14:19 | Alison Farley |
| 13 | 2022-05-19 07:40:44 | Caitlin Lane |
| 14 | 2022-05-19 20:41:17 | SHARON HOBDAY |
| 17 | 2022-05-18 11:38:14 | Oliver Keeler |
| 18 | 2022-05-19 16:08:57 | Amber Phillips |
| 19 | 2022-05-19 08:34:58 | Beth Eason |
| 21 | 2022-05-16 18:49:55 | Lisa Roberts |
| 22 | 2022-05-19 11:45:49 | Tiffany Pike |
| 23 | 2022-05-19 20:41:17 | SHARON HOBDAY |
| 24 | 2022-05-19 19:40:55 | jemma Vooght |
| 25 | 2022-05-19 17:12:48 | Emma Vann-sawicka |
| 34 | 2022-05-19 14:01:22 | Claire Darby |
| 35 | 2022-05-15 15:36:03 | Michael O'connor |
| 37 | 2022-05-15 13:27:48 | Sara Watson |
| 38 | 2022-05-19 15:51:58 | Hannah Maddison |
| 39 | 2022-05-19 20:26:04 | barbara warne |
| 40 | 2022-05-19 20:11:35 | Charlotte Ager |
| 41 | 2022-05-14 20:04:51 | Linda battishill |
| 43 | 2022-05-18 18:23:14 | Fran Dongworth |
| 47 | 2022-05-19 17:29:48 | Sian Stead |
| 48 | 2022-05-16 18:09:21 | Amanda Moore |
| 50 | 2022-05-15 19:41:25 | Nicola Green |
| 52 | 2022-05-19 11:45:49 | Tiffany Pike |
| 55 | 2022-05-13 16:26:47 | Amanda Ruddenham |
| 59 | 2022-05-16 09:41:41 | Mary Lee |
| 62 | 2022-05-16 12:54:49 | Stacey McCabe |
| 63 | 2022-05-19 16:08:57 | Amber Phillips |
| 66 | 2022-05-19 19:24:09 | Aimee Povey |
| 69 | 2022-05-18 21:43:31 | Nathan White |
| 71 | 2022-05-18 14:43:23 | Angela Dodd |
| 72 | 2022-05-19 01:15:23 | Deborah Talbot |
| 76 | 2022-05-19 14:33:35 | Joanne Payne |
| 78 | 2022-05-16 15:52:30 | Gail Gilbert |
| 79 | 2022-05-18 17:42:34 | Vicky Oliver |
| 81 | 2022-05-19 14:33:35 | Joanne Payne |
| 82 | 2022-05-16 12:54:49 | Stacey McCabe |
| 85 | 2022-05-19 19:35:11 | Lekel North |
| 92 | 2022-05-19 01:15:23 | Deborah Talbot |
| 93 | 2022-05-17 16:51:01 | Elliot White |
| 97 | 2022-05-14 08:45:10 | Michael O'connor |
| 99 | 2022-05-18 22:07:52 | Karren Blatchford |
| 100 | 2022-05-19 17:27:06 | Alison Proud |