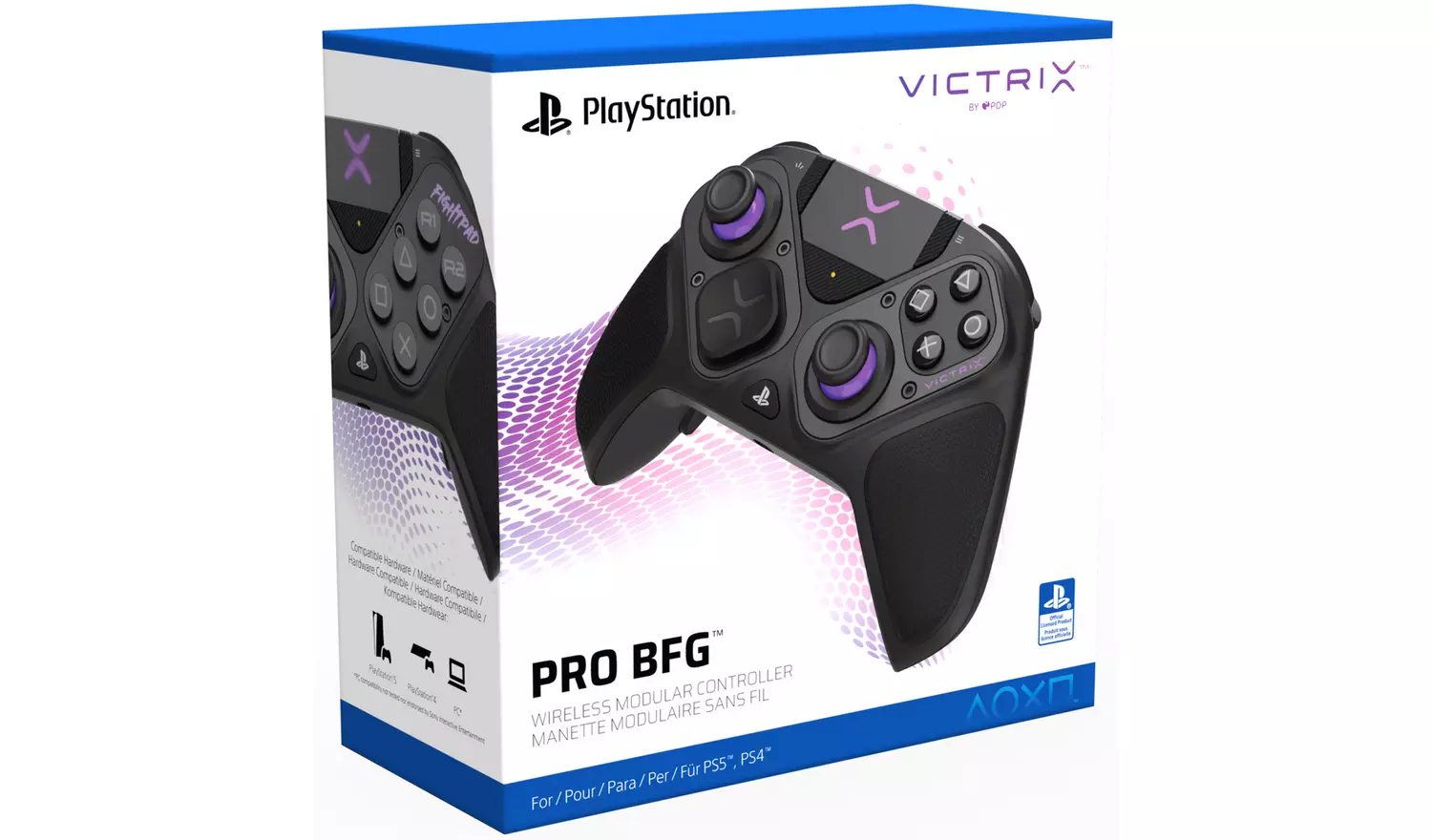 PDP Victrix Pro BFG PS5, PS4, PC Wireless Controller – Black – 22/11
Description
PDP Victrix Pro BFG PS5, PS4, PC Wireless Controller – Black – 22/11
Step-up your gaming experience with the most advanced controller for PlayStation. Full customisation and top performance give players the edge with precision thumbsticks, triggers and buttons for PS5, PS4, & PC. Built for all kinds of gameplay, Left Module can be flipped 180 degrees to personalise your style of play. The Right Module can be swapped out for standard or fight pad style control.
The back of controller has a profile button with LED allowing you to map the back buttons and switch through the 3 profiles settings that can be stored on the controller.
Ready to travel, includes sleek durable carrying case that holds all your cables, modules, and extra pieces like USB-C cable (3m) and Module Customisation Tool to install and remove modules.
6-button fight pad module. Reversible D-Pad and analogue stick module.
Includes 14 swappable components to transform the controller to match your game and your play style.
PS4 compatible.
PS5 compatible.
PC compatible.
Wireless.
Batteries required: 1 x rechargeable (included).
| Winner Name | Ticket Number | Draw Date |
| --- | --- | --- |
| Alex Bentley | 142 | 22/11/2023 |
| Ticket Number | Date | Name |
| --- | --- | --- |
| 1 | 2023-11-22 20:30:17 | Lee Wells |
| 2 | 2023-11-22 20:39:23 | G J |
| 4 | 2023-11-22 20:02:03 | Amanda Ohara |
| 5 | 2023-11-22 14:17:44 | Lisa Darragh |
| 6 | 2023-11-22 19:09:19 | Trudi Aitken |
| 7 | 2023-11-22 14:59:10 | Emma & lee |
| 8 | 2023-11-19 13:17:20 | Alan Gowland |
| 10 | 2023-11-22 20:41:44 | Chloe W |
| 16 | 2023-11-19 13:17:20 | Alan Gowland |
| 17 | 2023-11-22 09:25:29 | LL BB |
| 18 | 2023-11-20 07:44:31 | Jasmin Etches |
| 19 | 2023-11-22 20:27:27 | Leanne Smith |
| 21 | 2023-11-22 20:30:17 | Lee Wells |
| 22 | 2023-11-22 13:27:15 | Sharon White |
| 25 | 2023-11-22 19:00:19 | E L |
| 28 | 2023-11-22 20:25:11 | Antony Kelly |
| 29 | 2023-11-22 20:43:57 | Karley Coopey |
| 30 | 2023-11-22 20:17:41 | Shanon Jonas |
| 31 | 2023-11-22 17:46:20 | Darren Mclean |
| 32 | 2023-11-22 16:55:06 | Dianne H |
| 33 | 2023-11-20 20:32:11 | Hannah Jones |
| 36 | 2023-11-19 13:17:20 | Alan Gowland |
| 40 | 2023-11-22 12:58:22 | Kaylee Enevoldsen |
| 43 | 2023-11-22 20:25:11 | Antony Kelly |
| 45 | 2023-11-22 17:46:20 | Darren Mclean |
| 47 | 2023-11-22 19:09:14 | Cheryl White |
| 49 | 2023-11-22 20:25:11 | Antony Kelly |
| 50 | 2023-11-22 15:52:56 | Jem V |
| 51 | 2023-11-22 20:19:35 | Richard Higham |
| 55 | 2023-11-22 20:23:20 | Lee Wallace |
| 56 | 2023-11-22 20:08:26 | Jasmin Patten |
| 57 | 2023-11-21 17:49:20 | Jo Kestell |
| 58 | 2023-11-22 20:20:31 | Victoria Roberts |
| 59 | 2023-11-20 20:10:20 | Linda Green |
| 63 | 2023-11-22 18:01:33 | Stephanie Morton |
| 64 | 2023-11-22 13:58:56 | Kayleigh Williams |
| 65 | 2023-11-22 18:58:36 | sue fogarty |
| 69 | 2023-11-22 20:25:49 | Theresa Woodall |
| 71 | 2023-11-19 13:17:20 | Alan Gowland |
| 73 | 2023-11-22 17:10:33 | Harri Rowan |
| 75 | 2023-11-22 20:08:00 | Gemma Lambeth |
| 76 | 2023-11-22 20:25:11 | Antony Kelly |
| 77 | 2023-11-22 20:04:33 | Jess Simms |
| 78 | 2023-11-22 17:10:33 | Harri Rowan |
| 79 | 2023-11-22 20:04:29 | Gem A |
| 80 | 2023-11-22 18:26:35 | Jenny Pinnegar |
| 81 | 2023-11-22 20:27:27 | Leanne Smith |
| 82 | 2023-11-22 19:57:19 | T U |
| 85 | 2023-11-22 15:25:51 | Anthony Cole |
| 86 | 2023-11-22 16:55:06 | Dianne H |
| 88 | 2023-11-22 20:10:25 | Hazel Grant |
| 89 | 2023-11-22 20:30:17 | Lee Wells |
| 90 | 2023-11-22 19:58:37 | Michelle Searles |
| 91 | 2023-11-22 19:30:15 | Peter Britton |
| 98 | 2023-11-22 19:20:31 | Samantha Sweeney |
| 99 | 2023-11-22 20:29:26 | Clare Keating |
| 100 | 2023-11-22 15:52:56 | Jem V |
| 101 | 2023-11-22 20:25:11 | Antony Kelly |
| 103 | 2023-11-22 16:40:53 | Richard Rowlands |
| 104 | 2023-11-22 16:40:53 | Richard Rowlands |
| 106 | 2023-11-22 20:43:57 | Karley Coopey |
| 108 | 2023-11-20 07:44:31 | Jasmin Etches |
| 110 | 2023-11-22 20:30:17 | Lee Wells |
| 111 | 2023-11-22 20:59:48 | Joyce Hope |
| 112 | 2023-11-22 19:51:52 | kerry b |
| 114 | 2023-11-22 20:39:23 | G J |
| 116 | 2023-11-22 15:52:56 | Jem V |
| 117 | 2023-11-22 20:00:42 | David Fitzsimmons |
| 119 | 2023-11-22 20:40:58 | James Cliffe |
| 120 | 2023-11-22 19:47:12 | Stacey Miller |
| 121 | 2023-11-22 17:46:20 | Darren Mclean |
| 122 | 2023-11-19 21:26:38 | Kim Briggs |
| 123 | 2023-11-22 19:18:24 | Jodie Webb |
| 124 | 2023-11-22 20:41:44 | Chloe W |
| 125 | 2023-11-22 00:54:14 | Jodie Ellis |
| 127 | 2023-11-22 15:52:56 | Jem V |
| 130 | 2023-11-22 20:34:22 | Hayley Baker |
| 132 | 2023-11-22 18:16:51 | Sharon Archer |
| 133 | 2023-11-22 20:15:12 | Leonie Quennell |
| 136 | 2023-11-22 15:52:56 | Jem V |
| 138 | 2023-11-22 20:24:21 | Joanne Stewart |
| 139 | 2023-11-22 20:39:23 | G J |
| 140 | 2023-11-19 13:17:20 | Alan Gowland |
| 141 | 2023-11-22 20:04:29 | Gem A |
| 142 | 2023-11-22 20:07:49 | Alex Bentley |
| 143 | 2023-11-22 20:53:15 | Emma Lou |
| 144 | 2023-11-22 19:58:37 | Michelle Searles |
| 150 | 2023-11-22 19:30:15 | Peter Britton |
| 151 | 2023-11-22 20:26:48 | Andrew Macleod |
| 152 | 2023-11-22 20:40:11 | Jemma Lavercombe |
| 154 | 2023-11-22 11:21:00 | Jodie Ellis |
| 155 | 2023-11-22 20:30:17 | Lee Wells |
| 156 | 2023-11-22 20:00:42 | David Fitzsimmons |
| 157 | 2023-11-22 13:12:15 | Sacha Spencer |
| 159 | 2023-11-22 16:31:56 | Kylie Aveyard |