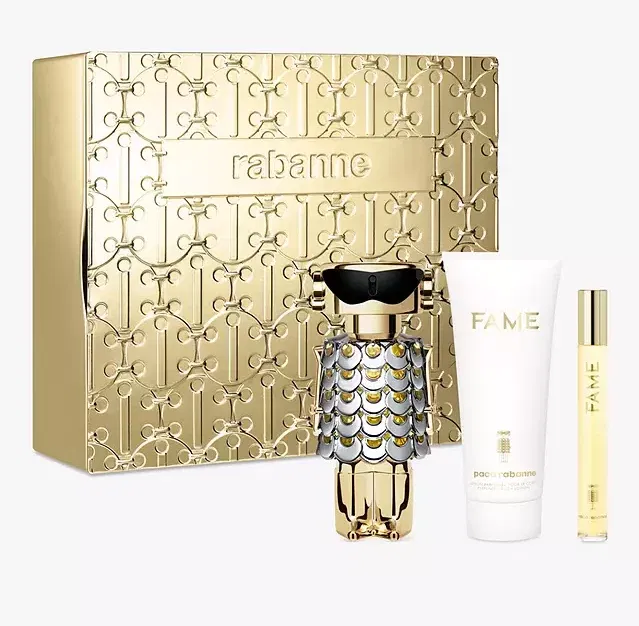 Paco Rabanne FAME Eau de Parfum 80ml Fragrance Gift Set – 07/11
Description
Paco Rabanne FAME Eau de Parfum 80ml Fragrance Gift Set – 07/11
Rabanne, the gift of enchanting savoir-faire.
Enter a twinkling world with this shimmering metallic gift set inspired by the House iconic design. Discover FAME Eau de Parfum, its Body Lotion and its Travel Spray for an absolutely dazzling holiday season.
The quintessence of avant-garde luxury, this perfume is a blend of exceptionally pure jasmine, succulent mango, and an addictively sensual, creamy incense.
Set contains:
FAME Eau de Parfum, 80ml
FAME Eau de Parfum, Travel Spraym 10ml
FAME Perfumed Body Lotion, 100ml
| Winner Name | Ticket Number | Draw Date |
| --- | --- | --- |
| D Dixon | 85 | 07/11/2023 |
| Ticket Number | Date | Name |
| --- | --- | --- |
| 1 | 2023-11-07 20:08:02 | Jill Higham |
| 2 | 2023-11-07 13:00:57 | D Dixon |
| 4 | 2023-11-07 17:19:41 | S E H |
| 5 | 2023-11-07 13:21:04 | No Christine Scarbrough |
| 6 | 2023-11-07 20:51:46 | Samantha Burt |
| 8 | 2023-11-07 13:00:57 | D Dixon |
| 9 | 2023-11-07 13:06:43 | Danielle Kinsella |
| 10 | 2023-11-07 19:23:42 | Kerri Crisp |
| 11 | 2023-11-07 11:46:35 | Keith Moore |
| 13 | 2023-11-07 12:15:59 | D T |
| 14 | 2023-11-07 17:19:41 | S E H |
| 16 | 2023-11-07 20:49:08 | Mandie Loxley |
| 17 | 2023-11-07 07:06:38 | Hassan Izmen |
| 18 | 2023-11-06 23:07:53 | T S |
| 19 | 2023-11-07 09:50:59 | Rachel Gilbert |
| 20 | 2023-11-07 17:19:41 | S E H |
| 21 | 2023-11-03 19:53:38 | Pauine Young |
| 22 | 2023-11-07 13:00:57 | D Dixon |
| 23 | 2023-11-06 23:07:53 | T S |
| 24 | 2023-11-07 17:23:20 | Ste C |
| 25 | 2023-11-07 10:22:50 | Lucy Bristow |
| 27 | 2023-11-07 20:15:19 | Rachel Dixon |
| 28 | 2023-11-07 20:36:36 | Elizabeth Williams |
| 29 | 2023-11-07 20:15:19 | Rachel Dixon |
| 31 | 2023-11-06 23:07:53 | T S |
| 32 | 2023-11-07 20:36:36 | Elizabeth Williams |
| 33 | 2023-11-07 20:16:28 | DHLB W |
| 36 | 2023-11-07 13:00:57 | D Dixon |
| 37 | 2023-11-07 20:01:55 | Candice Carrington |
| 39 | 2023-11-07 20:41:21 | Sara James |
| 40 | 2023-11-07 07:06:38 | Hassan Izmen |
| 41 | 2023-11-07 19:08:38 | Cameron Thompson |
| 42 | 2023-10-31 22:40:04 | Clare Keating |
| 43 | 2023-11-07 20:32:39 | Lorraine Williams |
| 45 | 2023-11-07 18:02:06 | Leanne Coles |
| 46 | 2023-11-07 18:11:13 | Mandy Adams |
| 47 | 2023-11-07 18:51:14 | Lindsey Smith |
| 48 | 2023-11-07 14:19:31 | Sharon Archer |
| 51 | 2023-11-07 20:15:19 | Rachel Dixon |
| 55 | 2023-11-07 13:00:57 | D Dixon |
| 57 | 2023-11-07 20:16:28 | DHLB W |
| 58 | 2023-11-07 13:29:55 | Sami Knott |
| 59 | 2023-11-07 18:23:05 | Michelle Soanes |
| 60 | 2023-11-07 19:53:05 | Lisa Darragh |
| 61 | 2023-11-07 20:15:19 | Rachel Dixon |
| 62 | 2023-11-07 17:45:11 | Donna Hawkins |
| 63 | 2023-11-07 20:54:44 | Sami Knott |
| 71 | 2023-11-07 20:36:36 | Elizabeth Williams |
| 72 | 2023-11-07 17:37:25 | Claire French |
| 73 | 2023-11-07 15:03:20 | holly m bewers |
| 75 | 2023-11-07 20:15:19 | Rachel Dixon |
| 77 | 2023-11-07 17:37:25 | Claire French |
| 78 | 2023-11-07 20:15:19 | Rachel Dixon |
| 81 | 2023-11-07 20:43:22 | Darren Ricketts |
| 83 | 2023-11-07 19:05:00 | Becci Vayle |
| 85 | 2023-11-07 13:00:57 | D Dixon |
| 86 | 2023-11-07 13:00:57 | D Dixon |
| 89 | 2023-11-07 18:32:26 | Robert Dilling |
| 98 | 2023-11-07 20:36:36 | N L H |
| 99 | 2023-11-07 20:51:19 | Kirsty Westwood |
| 101 | 2023-11-07 20:33:41 | L H |
| 104 | 2023-11-07 11:34:37 | Danielle McIntyre |
| 106 | 2023-11-07 16:55:09 | Danielle McIntyre |
| 107 | 2023-11-07 19:57:18 | Nicola Bowyer |
| 108 | 2023-11-07 20:46:46 | Kelly Samuels |
| 111 | 2023-11-07 15:20:49 | Emma & lee |
| 114 | 2023-11-07 20:36:36 | Elizabeth Williams |
| 115 | 2023-11-07 20:36:36 | Elizabeth Williams |
| 116 | 2023-11-07 18:02:06 | Leanne Coles |
| 117 | 2023-11-06 22:05:03 | Ross Newham |
| 118 | 2023-11-07 20:09:13 | E B |
| 119 | 2023-11-07 19:35:20 | Nadine Smallridge |
| 120 | 2023-11-07 20:15:19 | Rachel Dixon |