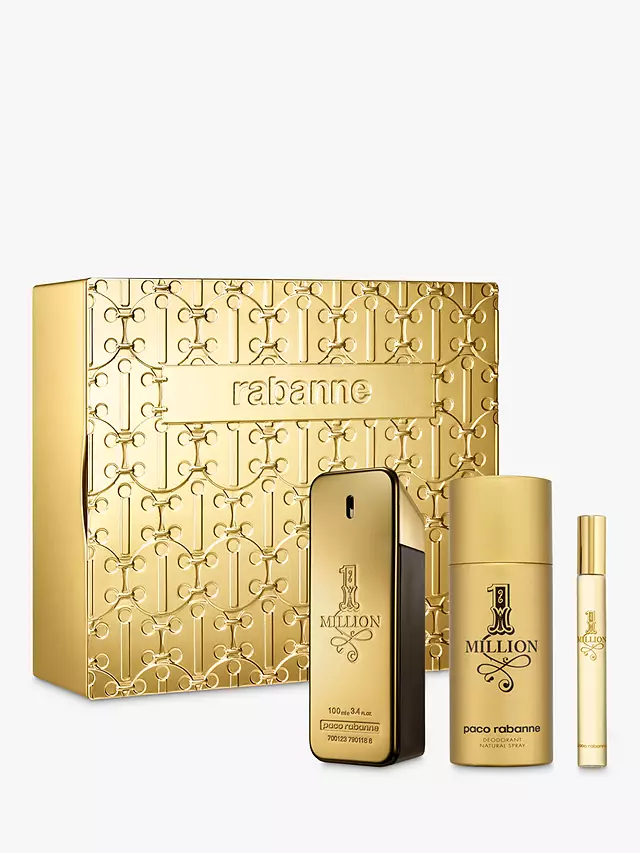 Paco Rabanne 1 Million Eau de Toilette 100ml Fragrance Gift Set
Description
Paco Rabanne 1 Million Eau de Toilette 100ml Fragrance Gift Set
Rabanne, the gift of enchanting savoir-faire.
Enter a twinkling world with this shimmering metallic gift set inspired by the House iconic design.
Discover 1 Million Eau de Toilette, its Deodorant and its Travel Spray for an absolutely dazzling holiday season.
1 Million Eau de Toilette is a fresh and spicy fragrance for men with notes of amber, leather, and tangerine.
Set contains
1 Million Eau de Toilette, 100ml
1 Million Eau de Toilette, Travel Spray, 10ml
1 Million Deodorant Spray, 150ml
| Winner Name | Ticket Number | Draw Date |
| --- | --- | --- |
| Lorraine Williams | 48 | 28/11/2023 |
| Ticket Number | Date | Name |
| --- | --- | --- |
| 1 | 2023-11-28 19:43:06 | Rachi B |
| 2 | 2023-11-28 01:35:30 | Carol Chappell |
| 3 | 2023-11-28 18:01:55 | Tracey Smith |
| 4 | 2023-11-28 05:12:48 | Jordan Edgecombe |
| 5 | 2023-11-28 09:46:33 | Nikki Stephens |
| 6 | 2023-11-28 16:13:38 | Deborah Ward |
| 7 | 2023-11-28 19:51:06 | Kim Murrell |
| 8 | 2023-11-28 17:38:55 | Lou Lister |
| 9 | 2023-11-28 19:46:46 | Don Hughes |
| 10 | 2023-11-28 17:26:06 | Darren Mclean |
| 11 | 2023-11-28 00:01:16 | Lee Gable |
| 12 | 2023-11-28 18:59:53 | Callum Breach |
| 13 | 2023-11-28 19:51:06 | Kim Murrell |
| 14 | 2023-11-28 18:59:53 | Callum Breach |
| 15 | 2023-11-28 16:02:38 | Lorraine Williams |
| 16 | 2023-11-27 21:33:55 | Natalie Jacobs |
| 17 | 2023-11-28 15:50:15 | Lorraine Yea |
| 18 | 2023-11-28 17:26:06 | Darren Mclean |
| 19 | 2023-11-28 19:45:39 | Amy Hardware |
| 20 | 2023-11-28 14:39:47 | Sharon Dicianni |
| 21 | 2023-11-28 15:50:15 | Lorraine Yea |
| 22 | 2023-11-28 09:07:48 | Emma & lee |
| 23 | 2023-11-28 16:19:13 | Avril Wotton |
| 24 | 2023-11-24 19:11:32 | Rachel Dixon |
| 25 | 2023-11-28 14:48:33 | P C |
| 26 | 2023-11-24 19:11:32 | Rachel Dixon |
| 27 | 2023-11-28 19:43:06 | Rachi B |
| 28 | 2023-11-28 05:12:48 | Jordan Edgecombe |
| 29 | 2023-11-28 18:20:19 | Julia Barrett |
| 30 | 2023-11-28 19:33:04 | Stacey Jary |
| 31 | 2023-11-28 14:34:59 | Rachel Evans |
| 32 | 2023-11-28 14:48:33 | P C |
| 33 | 2023-11-27 20:33:48 | Alison Collins |
| 34 | 2023-11-28 19:22:16 | Emily Deeley |
| 35 | 2023-11-28 05:12:48 | Jordan Edgecombe |
| 36 | 2023-11-28 14:48:33 | P C |
| 37 | 2023-11-28 14:34:59 | Rachel Evans |
| 38 | 2023-11-28 14:34:59 | Rachel Evans |
| 39 | 2023-11-28 18:01:26 | Deborah Ward |
| 40 | 2023-11-28 15:50:15 | Lorraine Yea |
| 41 | 2023-11-28 17:09:36 | Becci Vayle |
| 42 | 2023-11-28 14:34:59 | Rachel Evans |
| 43 | 2023-11-28 16:19:13 | Avril Wotton |
| 44 | 2023-11-28 09:38:02 | Matthew Drew |
| 45 | 2023-11-28 18:55:23 | Amy Lou |
| 46 | 2023-11-28 19:45:39 | Amy Hardware |
| 47 | 2023-11-28 19:25:04 | Lee Gable |
| 48 | 2023-11-28 16:02:38 | Lorraine Williams |
| 49 | 2023-11-26 19:37:16 | Leyann Meldrum |
| 50 | 2023-11-28 08:48:18 | Rachel chalk |
| 51 | 2023-11-28 18:12:42 | Kellie Imms |
| 52 | 2023-11-28 08:31:27 | Anna Benney |
| 53 | 2023-11-28 15:50:15 | Lorraine Yea |
| 54 | 2023-11-28 16:02:38 | Lorraine Williams |
| 55 | 2023-11-28 19:45:39 | Amy Hardware |
| 56 | 2023-11-28 18:36:16 | S S |
| 57 | 2023-11-28 17:26:06 | Darren Mclean |
| 58 | 2023-11-28 17:47:16 | Sarah Wallis |
| 59 | 2023-11-28 01:35:30 | Carol Chappell |
| 60 | 2023-11-27 19:29:35 | Danni Laffey |
| 61 | 2023-11-28 16:20:51 | Jenna Wadling |
| 62 | 2023-11-28 12:37:36 | K Kk |
| 63 | 2023-11-28 14:34:59 | Rachel Evans |
| 64 | 2023-11-28 05:12:48 | Jordan Edgecombe |
| 65 | 2023-11-28 05:12:48 | Jordan Edgecombe |
| 66 | 2023-11-28 19:44:40 | Rachel Dixon |
| 67 | 2023-11-28 10:35:14 | Alison Collins |
| 68 | 2023-11-28 08:18:18 | Lynne Deeley |
| 69 | 2023-11-28 09:07:48 | Emma & lee |
| 70 | 2023-11-27 20:31:17 | Simon Ballamy |
| 71 | 2023-11-28 19:43:06 | Rachi B |
| 72 | 2023-11-28 19:44:22 | Nicola Bird |
| 73 | 2023-11-28 17:50:49 | Jill Higham |
| 74 | 2023-11-28 18:39:25 | Dianne H |
| 75 | 2023-11-28 19:43:06 | Rachi B |
| 76 | 2023-11-28 15:50:15 | Lorraine Yea |
| 77 | 2023-11-28 19:43:06 | Rachi B |
| 78 | 2023-11-28 08:31:27 | Anna Benney |
| 79 | 2023-11-28 17:43:39 | Kerry McLean |
| 80 | 2023-11-28 19:45:39 | Amy Hardware |