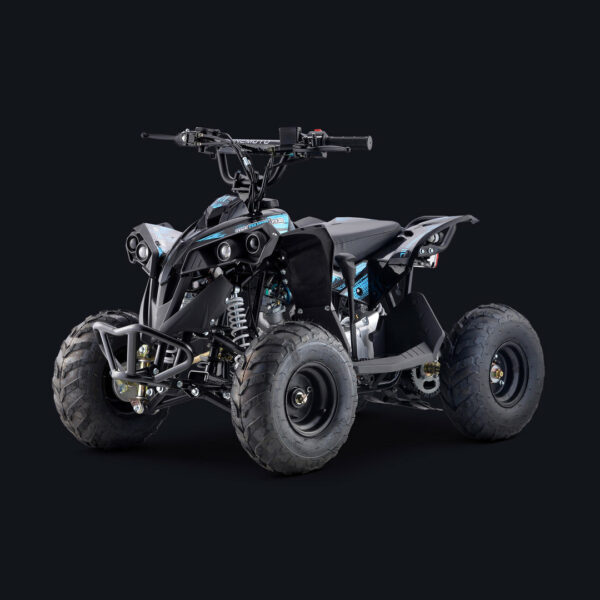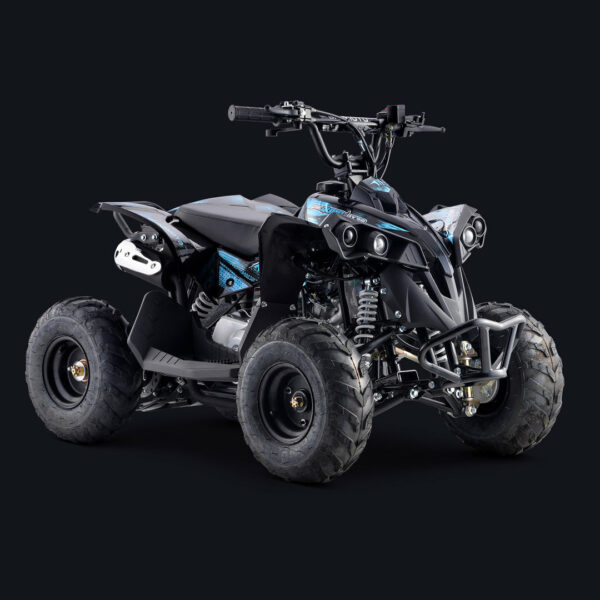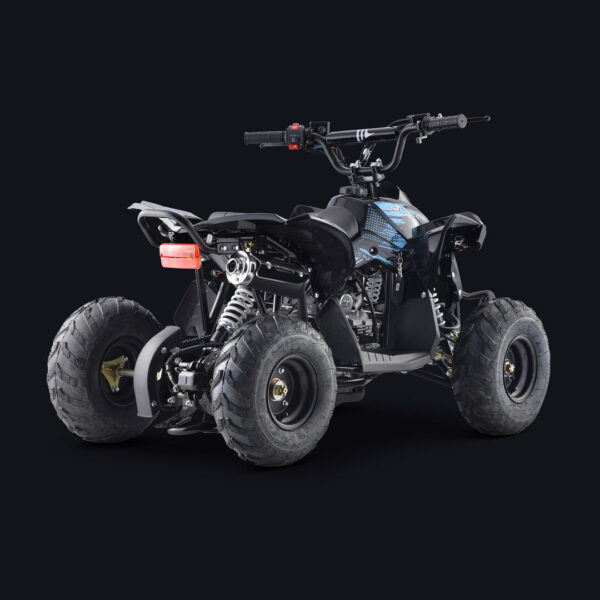 ONEQUAD™ | PX3S | 110CC | 4-STROKE | PETROL QUAD or £600 Cash Alternative
Description
ONEQUAD™ | PX3S | 110CC | 4-STROKE | PETROL QUAD or £600 Cash Alternative
Approx Max Speed: 55KM/H
Max Power: 1.25KW
Dry Weight: 68KG
Wheel Base: N/A
Front Wheel Size: 145/70-6
Rear Wheel Size: 145/70-6
Box Dimensions: 10 x 10 x 10CM
Box Weight: 10KG
Product Dimensions: 120 x 76 x 80CM
Product Weight: 68KG
Max User Weight: 100K
Speed Limiter: No
Transmission: Rear shock: Alloy rear shock
Gears: Automatic
Cylinders: Single
Stroke: 4-Stroke
Cooling Method: Air Cooled
Displacement: 110cc
Petrol Type: UnleadedExclusive to our OneMoto range, check out our OneQuad™ PX3S OneMoto Kids 110cc Petrol Quad Bike. This quad bike is much more powerful that its electric brothers and sisters. This means that it is much faster and the fun factor is doubled.
| Winner Name | Ticket Number | Draw Date |
| --- | --- | --- |
| HOLLY RING | 824 | 29/04/2022 |
1-100
101-200
201-300
301-400
401-500
501-600
601-700
701-800
801-900
901-1000
1001-1100
1101-1200
| Ticket Number | Date | Name |
| --- | --- | --- |
| 1 | 2022-04-26 22:39:42 | Alison Cass |
| 2 | 2022-04-20 22:12:50 | Alison Cass |
| 3 | 2022-04-22 00:50:36 | Aaron Deane |
| 4 | 2022-04-23 21:04:21 | Aaron Deane |
| 5 | 2022-04-19 18:59:36 | Adam Hackman |
| 6 | 2022-04-28 12:27:19 | Kenneth Wilkins |
| 7 | 2022-04-28 15:33:06 | Callum Mills |
| 8 | 2022-04-25 20:57:59 | Jack mcgrath |
| 9 | 2022-04-26 13:02:22 | Agnes Newman |
| 10 | 2022-04-19 16:17:12 | Christopher Axon |
| 11 | 2022-04-19 15:36:15 | Carol Mccourt |
| 12 | 2022-04-21 15:40:46 | John Sproston |
| 13 | 2022-04-26 06:38:37 | Jacqueline Sandford |
| 14 | 2022-04-28 19:29:08 | rob denslow |
| 15 | 2022-04-23 21:04:21 | Aaron Deane |
| 16 | 2022-04-25 21:22:11 | Aaron Deane |
| 17 | 2022-04-28 23:29:46 | Raymond Burgess |
| 18 | 2022-04-25 21:22:11 | Aaron Deane |
| 19 | 2022-04-29 09:37:06 | Bianca Gonzales Savage |
| 20 | 2022-04-19 15:36:15 | Carol Mccourt |
| 21 | 2022-04-20 08:11:35 | Lisa Roberts |
| 22 | 2022-04-20 07:19:25 | Steve Rowley |
| 23 | 2022-04-19 15:36:15 | Carol Mccourt |
| 24 | 2022-04-19 09:29:34 | Emma L |
| 25 | 2022-04-20 22:12:50 | Alison Cass |
| 26 | 2022-04-20 07:19:25 | Steve Rowley |
| 27 | 2022-04-28 23:53:53 | Joshua Dodd |
| 28 | 2022-04-19 11:11:06 | Kelly Walsh |
| 29 | 2022-04-29 09:41:17 | Emma Danks |
| 30 | 2022-04-29 12:36:35 | Ann Pentelow |
| 31 | 2022-04-20 07:19:25 | Steve Rowley |
| 32 | 2022-04-28 21:33:09 | Lucy Roberts |
| 33 | 2022-04-19 17:34:04 | rachael parramore |
| 34 | 2022-04-26 15:13:13 | Kelly Shears |
| 35 | 2022-04-27 18:47:43 | Amber Mccarthy |
| 36 | 2022-04-21 14:33:48 | James Bryant |
| 37 | 2022-04-27 10:35:17 | Mark Pengilly |
| 38 | 2022-04-29 20:20:35 | Mark Pengilly |
| 39 | 2022-04-29 18:47:19 | Cara Green |
| 40 | 2022-04-29 17:22:07 | Warren Kenny |
| 41 | 2022-04-29 12:22:42 | Sammy Waldron |
| 42 | 2022-04-29 20:01:34 | Tim Strugnell |
| 43 | 2022-04-29 11:19:57 | Caroline Cattermole |
| 44 | 2022-04-28 15:33:06 | Callum Mills |
| 45 | 2022-04-28 16:51:28 | Jayne Lofthouse |
| 46 | 2022-04-28 19:54:55 | Alison Cass |
| 47 | 2022-04-29 19:37:44 | kai rowe |
| 48 | 2022-04-28 02:55:30 | Kim Dudley |
| 49 | 2022-04-26 22:39:42 | Alison Cass |
| 50 | 2022-04-29 18:22:25 | Kathy Eagleton |
| 51 | 2022-04-29 19:18:51 | Charlotte Rowe |
| 52 | 2022-04-19 17:34:04 | rachael parramore |
| 53 | 2022-04-28 23:53:53 | Joshua Dodd |
| 54 | 2022-04-28 19:56:24 | Tor Down |
| 55 | 2022-04-29 15:32:38 | Mandy Cove |
| 56 | 2022-04-28 21:12:13 | Joshua Dodd |
| 57 | 2022-04-27 14:48:37 | Tidey Gemma |
| 58 | 2022-04-29 16:56:53 | Lauren Charlesworth |
| 59 | 2022-04-29 16:51:26 | Jade Roskilly |
| 60 | 2022-04-29 18:22:25 | Kathy Eagleton |
| 61 | 2022-04-26 13:02:22 | Agnes Newman |
| 62 | 2022-04-29 20:27:13 | Kirstie M |
| 63 | 2022-04-29 20:14:01 | Stephanie Mayo |
| 64 | 2022-04-24 20:55:55 | Claire Marks |
| 65 | 2022-04-28 14:42:55 | Emma Dixon |
| 66 | 2022-04-19 15:36:15 | Carol Mccourt |
| 67 | 2022-04-19 15:13:17 | Brett Ansell |
| 68 | 2022-04-20 11:53:00 | Kelly Parker |
| 69 | 2022-04-29 14:49:00 | Rachel Scott |
| 70 | 2022-04-29 19:01:58 | laurel Ynzer |
| 71 | 2022-04-27 18:23:43 | Jacey Doyle |
| 72 | 2022-04-29 20:41:17 | Dannielle Patterson |
| 73 | 2022-04-28 11:41:49 | Jade Roskilly |
| 74 | 2022-04-27 17:39:40 | Shannon Haley |
| 75 | 2022-04-20 22:12:50 | Alison Cass |
| 76 | 2022-04-19 10:48:19 | Jade Roskilly |
| 77 | 2022-04-29 11:37:40 | Caitlin Lane |
| 78 | 2022-04-29 12:54:11 | Emma Lane |
| 79 | 2022-04-29 05:50:24 | Adam Duckett |
| 80 | 2022-04-29 10:29:54 | jemma Vooght |
| 81 | 2022-04-29 14:47:18 | Vivien Valach |
| 82 | 2022-04-23 13:51:05 | Kirstie Darragh |
| 83 | 2022-04-23 13:51:05 | Kirstie Darragh |
| 84 | 2022-04-19 18:43:23 | Khadine Coyle |
| 85 | 2022-04-25 20:01:38 | Lekel North |
| 86 | 2022-04-29 19:56:38 | Joanne Stewart |
| 87 | 2022-04-29 17:49:52 | Nicola Cobain |
| 88 | 2022-04-19 15:54:51 | laurel Ynzer |
| 89 | 2022-04-29 20:35:26 | Kelly Cartmill |
| 90 | 2022-04-29 08:33:08 | Steve Archer |
| 91 | 2022-04-29 16:17:10 | Jane Netherway |
| 92 | 2022-04-19 10:11:29 | Deborah Talbot |
| 93 | 2022-04-19 10:11:29 | Deborah Talbot |
| 94 | 2022-04-20 22:12:50 | Alison Cass |
| 96 | 2022-04-21 15:40:46 | John Sproston |
| 97 | 2022-04-29 19:37:02 | Harley callow |
| 98 | 2022-04-29 19:46:36 | David Coyle |
| 99 | 2022-04-27 20:53:38 | Jessica Wallis |
| 100 | 2022-04-29 18:30:52 | Alisa Cunningham |