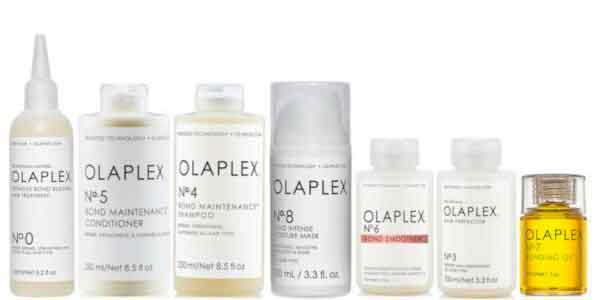 Olaplex The Complete Collection #2
Description
Olaplex The Complete Collection
Equipped with the full range of restorative haircare products, The Complete Collection from Olaplex is designed to transform dull, dehydrated and damaged hair. The seven-piece collection uses Olaplex patented bond-building technology to promote strong, shiny and manageable results.
Suitable for all hair types.
Vegan and cruelty-free.
Set Contents:
No. 0 Intensive Bold Building Hair Treatment 155ml
A bond-building treatment designed to prep hair to improve the absorption of subsequent products and achieve optimum reparative results. Acting as a primer for the No.3 Hair Perfector, it helps to strengthen for healthy-looking hair.
No. 3 Hair Perfector™ 100ml
The hair perfector is a conditioning treatment designed to rescue and restore damaged hair as a result of colouring, bleaching and styling. Formulated with a bond multiplying system, it works to minimise the risk of split ends and breakages.
No.4 Bond Maintenance™ Shampoo 250ml
This gentle shampoo works to cleanse and hydrate hair, while Olaplex technology helps to strengthen. The sulphate-free formula resists dryness, colour fading and oxidation, leaving your tresses glossy and refreshed.
No.5 Bond Maintenance™ Conditioner 250ml
The hydrating conditioner targets frizz, split ends and breakages and helps strengthen damaged hair and improve vibrancy. Perfect for hair weakened by frequent colouring, bleaching, chemical treatments and heat styling.
No.6 Bond Smoother™ 100ml
A smoothing styling cream that works to moisturise and strengthen. The leave-in treatment promotes faster blow-dry times, while helping to tame frizz and flyaways. Suitable for all hair types, including chemically-treated and coloured hair.
No.7 Bonding Oil 30ml
A nourishing hair oil designed to be used during styling to help tame frizz and flyaways and add a glossy shine. It helps to replenish dry and damaged hair, while providing heat protection of up to 232°C to reduce the risk of damage. Suitable for use on damp or dry hair.
No.8 Bond Repair Moisture Mask 100ml
This intensive hair mask works to moisturise and smooth hair, while enhancing volume and shine. Powered by Olaplex patented bond-building technology, it promotes healthy-looking hair.
The No.3 is free of DEA, aldehydes, formaldehyde and Butylphenyl Methylpropional (Lilial).
| Winner Name | Ticket Number | Draw Date |
| --- | --- | --- |
| Joanna Christoforou-Collins | 13 | 27/06/2022 |
| Ticket Number | Date | Name |
| --- | --- | --- |
| 1 | 2022-06-27 00:39:45 | Jodie Ellis |
| 2 | 2022-06-23 06:39:37 | Shanna Warner |
| 3 | 2022-06-23 23:11:05 | Joanna Christoforou-Collins |
| 4 | 2022-06-27 19:37:34 | Tracy Cramond |
| 5 | 2022-06-23 06:39:37 | Shanna Warner |
| 6 | 2022-06-27 20:19:13 | Nina Henton-Waller |
| 7 | 2022-06-23 23:11:05 | Joanna Christoforou-Collins |
| 8 | 2022-06-27 20:19:13 | Nina Henton-Waller |
| 9 | 2022-06-22 13:53:45 | Laura Holmes |
| 10 | 2022-06-27 18:16:33 | Hannah Brown |
| 11 | 2022-06-23 06:39:37 | Shanna Warner |
| 12 | 2022-06-27 19:34:59 | Chloe Petricca |
| 13 | 2022-06-23 23:11:05 | Joanna Christoforou-Collins |
| 14 | 2022-06-23 08:26:37 | Becca Hirst |
| 15 | 2022-06-27 20:49:21 | Ellie Squires |
| 16 | 2022-06-27 20:45:26 | Joanne Stewart |
| 17 | 2022-06-27 18:58:28 | Sarah Kallmeier |
| 18 | 2022-06-24 21:30:47 | Christina Doyle |
| 19 | 2022-06-22 20:03:42 | Jacqui Robinson |
| 20 | 2022-06-27 19:22:54 | Sian Bush |
| 21 | 2022-06-24 20:36:33 | Sunnita Snell |
| 22 | 2022-06-24 19:13:32 | Virginia Peachey |
| 23 | 2022-06-27 17:45:37 | Suzi Gooding |
| 25 | 2022-06-27 14:36:27 | John Beardon |
| 26 | 2022-06-23 21:27:02 | Kathryn Macleod |
| 27 | 2022-06-27 20:48:41 | Kim White |
| 28 | 2022-06-23 19:36:58 | Jade Higham |
| 30 | 2022-06-23 06:39:37 | Shanna Warner |
| 31 | 2022-06-27 17:20:42 | shelby Easterbrook |
| 33 | 2022-06-27 19:53:18 | Joanna Heasman |
| 34 | 2022-06-27 19:27:36 | Joanne Ison |
| 35 | 2022-06-27 20:49:18 | Sam Harper |
| 37 | 2022-06-27 14:36:27 | John Beardon |
| 39 | 2022-06-27 20:29:16 | samantha Moore |
| 41 | 2022-06-27 16:56:40 | Lucy Wallis |
| 42 | 2022-06-27 18:11:10 | louise Davis |
| 43 | 2022-06-27 12:42:11 | Samantha Basford |
| 44 | 2022-06-27 19:07:00 | G B |
| 45 | 2022-06-27 19:23:42 | T W |
| 50 | 2022-06-27 19:11:36 | Craig Derrick |
| 51 | 2022-06-27 00:17:17 | Emma Louise |
| 52 | 2022-06-27 19:36:11 | Lekel North |
| 53 | 2022-06-27 20:53:54 | Kelly Golding |
| 56 | 2022-06-27 10:35:22 | Jacqui Black |
| 59 | 2022-06-27 14:23:40 | Kimberly Smith |
| 60 | 2022-06-27 20:19:13 | Nina Henton-Waller |
| 61 | 2022-06-24 21:33:55 | Gail. Gilbert. |
| 62 | 2022-06-27 18:54:21 | Donna Bradley |
| 63 | 2022-06-26 21:14:27 | Jessica Foster |
| 64 | 2022-06-24 21:50:09 | Georgia Armour |
| 65 | 2022-06-22 18:26:29 | Samantha Head |
| 66 | 2022-06-25 12:17:04 | Rachel Gilbert |
| 67 | 2022-06-24 22:39:32 | anna heard |
| 68 | 2022-06-27 18:25:42 | Sarah jane Glover |
| 69 | 2022-06-27 18:51:47 | Chantelle Myers |
| 70 | 2022-06-27 16:45:41 | Nikki Brine |
| 73 | 2022-06-27 09:26:38 | Rachel Gilbert |
| 74 | 2022-06-27 19:30:18 | Jasmine Walsh |
| 75 | 2022-06-27 20:01:26 | Samantha Elleray |
| 76 | 2022-06-27 20:45:26 | Joanne Stewart |
| 77 | 2022-06-27 19:24:30 | Rachel Paine |
| 78 | 2022-06-24 21:33:55 | Gail. Gilbert. |
| 79 | 2022-06-27 19:33:34 | Michelle Butler |
| 80 | 2022-06-27 19:46:03 | Martin Matthews |
| 83 | 2022-06-27 15:19:49 | Sammie Eames |
| 84 | 2022-06-27 20:51:51 | Kelly Clarke-booth |
| 85 | 2022-06-27 18:25:42 | Sarah jane Glover |
| 86 | 2022-06-27 20:03:44 | Kallie Davies |
| 87 | 2022-06-27 20:19:13 | Nina Henton-Waller |
| 88 | 2022-06-23 06:39:37 | Shanna Warner |
| 89 | 2022-06-27 19:52:19 | Sonia Johnson |
| 90 | 2022-06-27 19:46:03 | Martin Matthews |
| 91 | 2022-06-22 13:51:53 | sarah phillimore |
| 92 | 2022-06-27 19:50:40 | D T |
| 93 | 2022-06-27 20:49:21 | Ellie Squires |
| 94 | 2022-06-27 19:23:46 | Claire Lang |
| 95 | 2022-06-24 19:13:32 | Virginia Peachey |
| 97 | 2022-06-27 00:39:45 | Jodie Ellis |