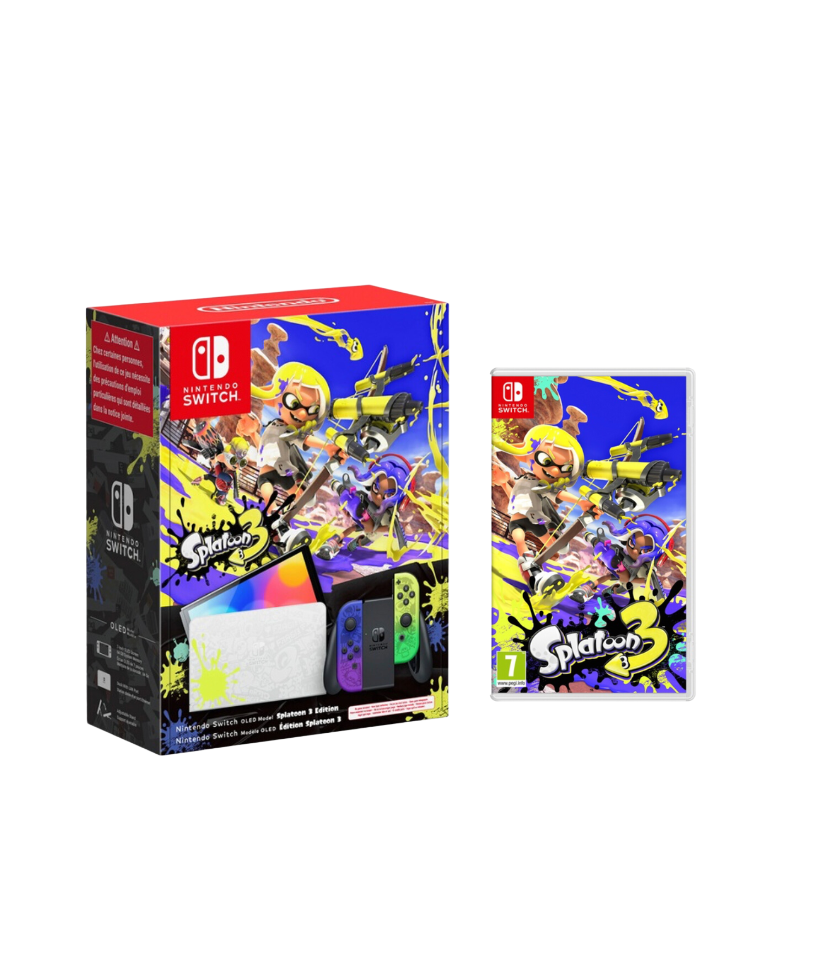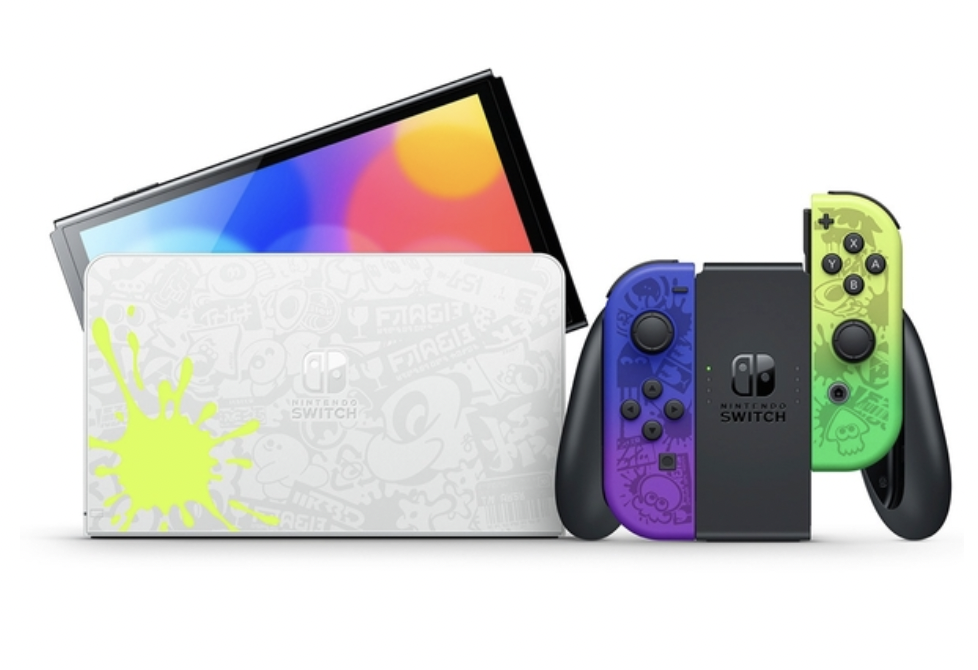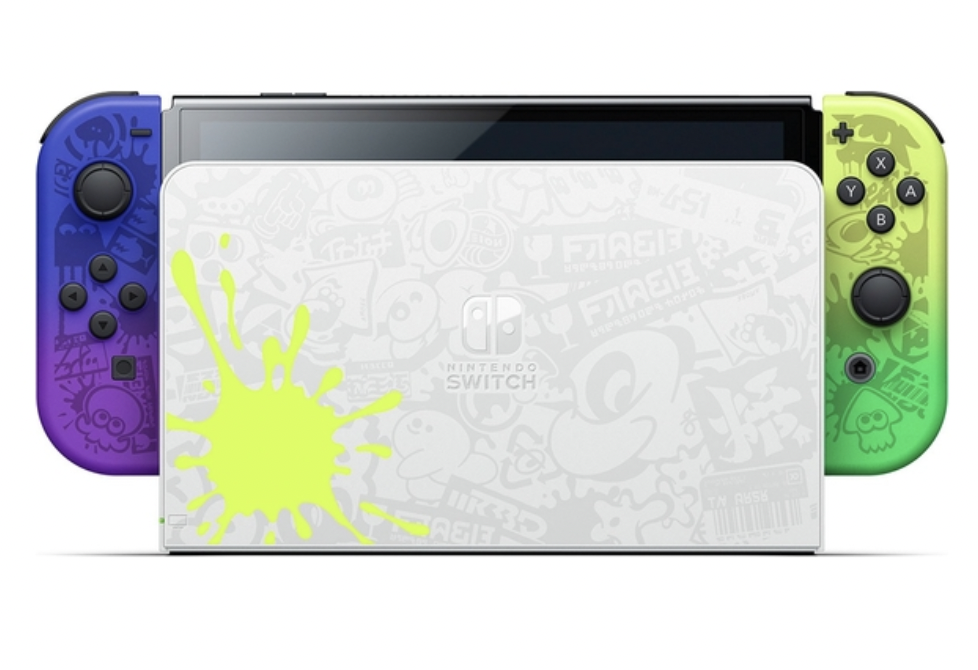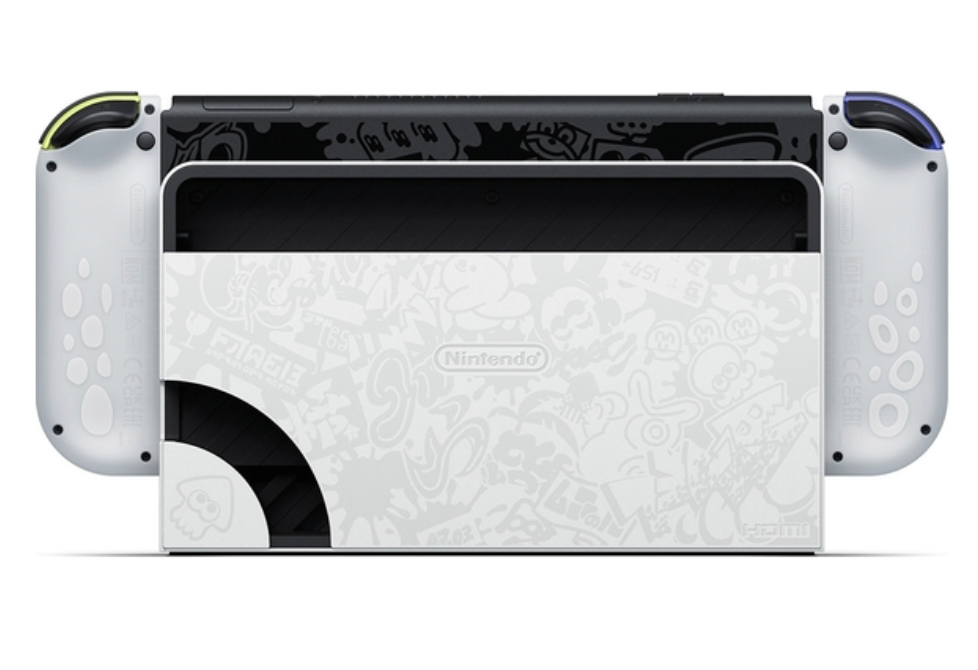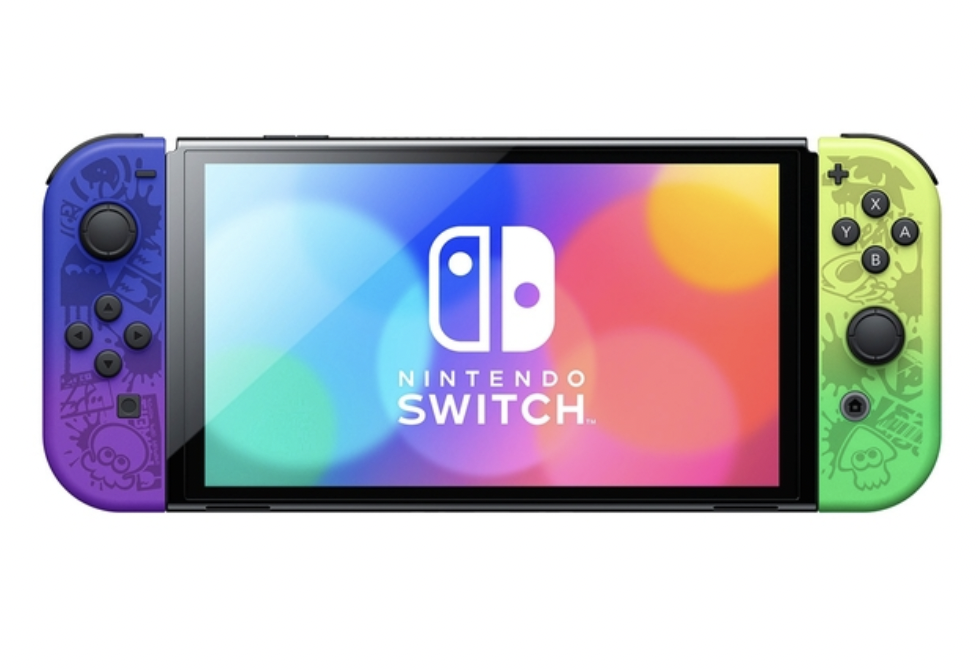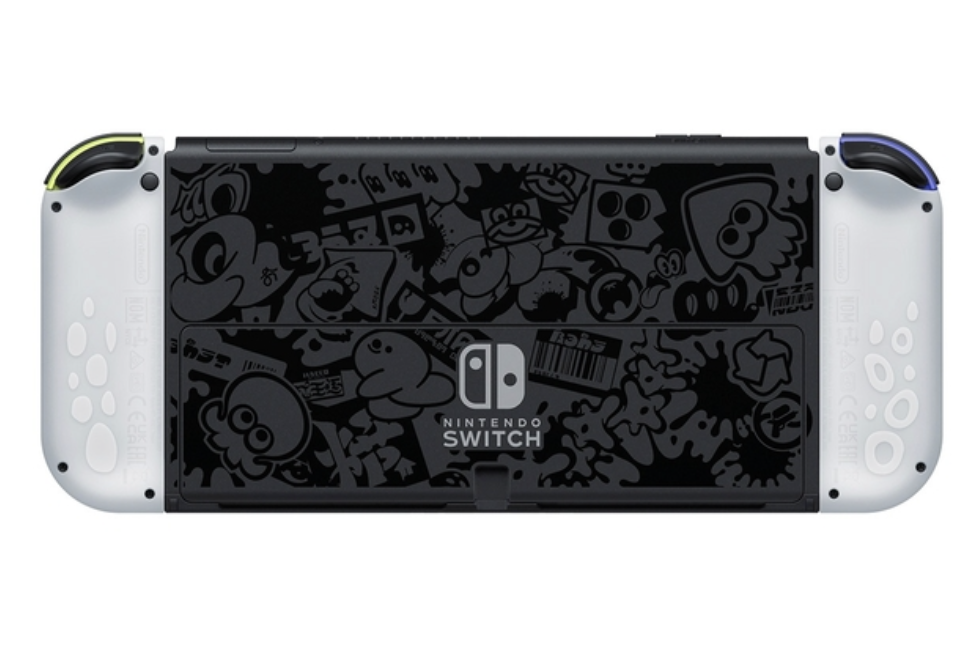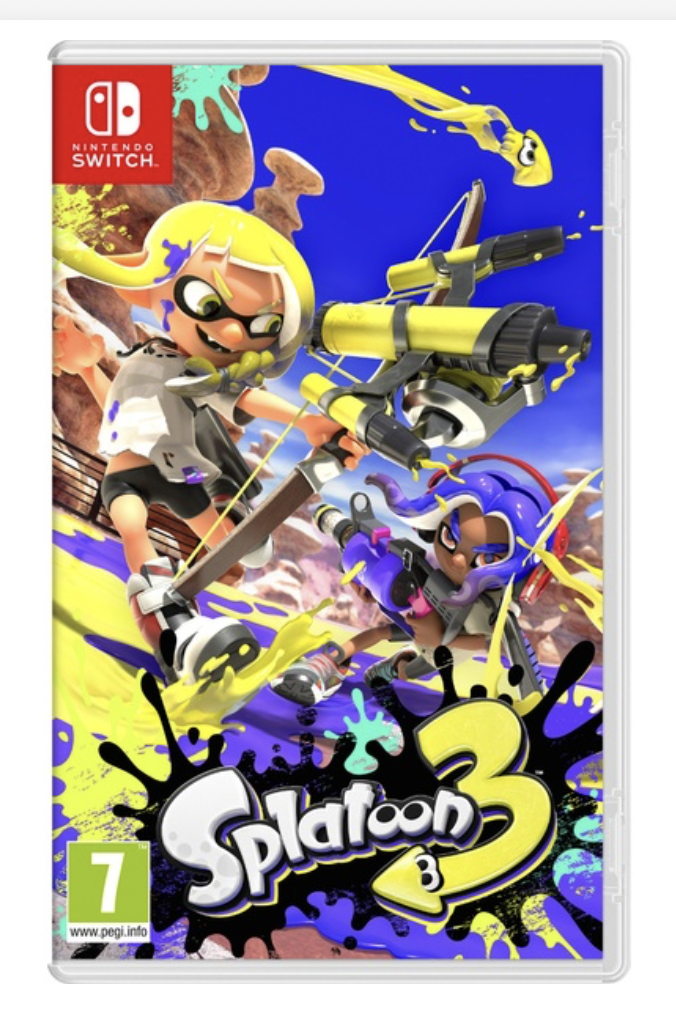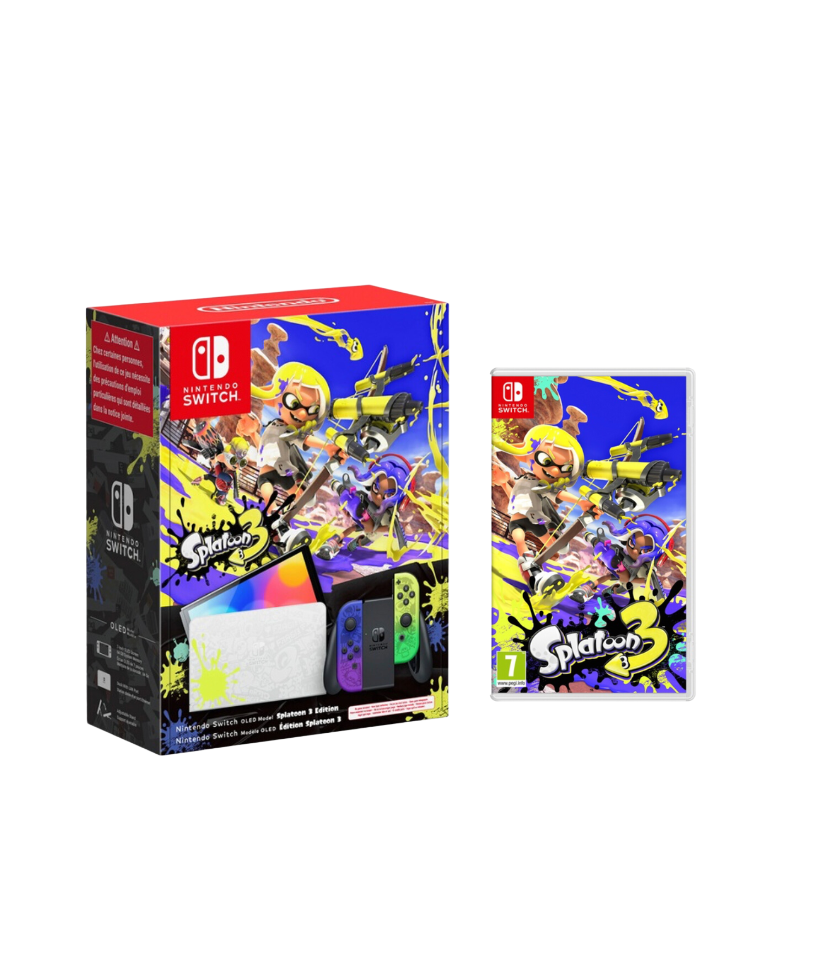 Nintendo Switch OLED Model Splatoon 3 Limited Edition Console & Splatoon 3 Game – 23/03
Description
Nintendo Switch OLED Model Splatoon 3 Limited Edition Console & Splatoon 3 Game
Ink up the Splatlands in the next Splatoon game!
Explore the Splatlands!
Enter the Splatlands, a sun-scorched desert inhabited by battle- hardened Inklings and Octolings. Splatsville, the city of chaos, is the adrenaline-fueled heart of this dusty wasteland. Even in this desolate environment, Turf War* reigns supreme and battles rage in new stages located in the surrounding wilds, such as the majestic Scorch Gorge.
So Many New Moves and Weapons!
Dynamic new moves help these fighters dodge attacks and cover more ground, along with a new bow-shaped weapon to sling ink and new special weapons, such as the scuttling Crab Tank.
Co-op Mode for Even More Fun
Turf War is back, but that's not all! With Salmon Run: Next Wave, you and your team can take on the Salmonid in a direct sequel to the original Salmon Run. However, gear up for new Boss Salmonids, and hold your ground with the new Egg Throw feature!
Maximum tickets per user: 36
| Ticket Number | Date | Name |
| --- | --- | --- |
| 2 | 2023-03-23 16:01:12 | Tracy Owen |
| 3 | 2023-03-18 13:51:46 | Carly Kelly |
| 4 | 2023-03-23 16:33:30 | Emma White |
| 6 | 2023-03-22 20:11:55 | Ashley Conduit |
| 8 | 2023-03-18 13:36:22 | Kelly Connolly |
| 9 | 2023-03-18 13:45:43 | Ashley Commins |
| 10 | 2023-03-23 16:33:30 | Emma White |
| 11 | 2023-03-22 20:25:26 | Emily Smith |
| 12 | 2023-03-18 13:45:43 | Ashley Commins |
| 13 | 2023-03-23 15:20:34 | Reece Gent |
| 14 | 2023-03-23 12:16:41 | Jade Dugmore |
| 16 | 2023-03-23 16:45:33 | Jasmine Penza |
| 17 | 2023-03-18 13:45:43 | Ashley Commins |
| 18 | 2023-03-18 13:45:43 | Ashley Commins |
| 19 | 2023-03-21 00:16:08 | kim watson |
| 21 | 2023-03-22 21:33:43 | Sophie Manupenu |
| 22 | 2023-03-23 15:20:04 | Mark Lofthouse |
| 23 | 2023-03-23 12:42:21 | Lisa Roberts |
| 24 | 2023-03-23 16:33:30 | Emma White |
| 26 | 2023-03-23 16:21:14 | Gavin Miller |
| 27 | 2023-03-18 13:36:22 | Kelly Connolly |
| 28 | 2023-03-23 17:21:45 | Mark Lofthouse |
| 29 | 2023-03-18 13:45:43 | Ashley Commins |
| 30 | 2023-03-23 17:21:45 | Mark Lofthouse |
| 33 | 2023-03-18 13:36:22 | Kelly Connolly |
| 34 | 2023-03-23 10:18:15 | Kaylee Clark |
| 36 | 2023-03-22 19:37:35 | Debbie Hallam |
| 37 | 2023-03-22 21:39:24 | Freya Greenwood |
| 38 | 2023-03-23 11:14:21 | Amanda Wright |
| 40 | 2023-03-23 14:26:11 | Jill Higham |
| 42 | 2023-03-22 20:14:49 | Daniel Cummings |
| 43 | 2023-03-23 17:10:33 | James Tucker |
| 44 | 2023-03-23 15:02:33 | Lynsey Wilreid |
| 47 | 2023-03-22 19:47:57 | Cameron Thompson |
| 48 | 2023-03-22 21:39:12 | Sarah Crook |
| 51 | 2023-03-18 13:02:36 | Jordan Dark |
| 53 | 2023-03-23 12:30:05 | Angie Goodyear |
| 54 | 2023-03-22 21:39:50 | Sarah Pilkington |
| 55 | 2023-03-22 20:11:55 | Ashley Conduit |
| 61 | 2023-03-22 23:29:36 | Holly Whittaker |
| 64 | 2023-03-23 11:32:55 | Sophie Hodge |
| 69 | 2023-03-23 17:15:57 | emma mccauley |
| 71 | 2023-03-23 17:10:33 | James Tucker |
| 74 | 2023-03-22 20:06:30 | Christopher Priest |
| 76 | 2023-03-23 16:01:12 | Tracy Owen |
| 79 | 2023-03-23 16:21:14 | Gavin Miller |
| 80 | 2023-03-23 17:10:33 | James Tucker |
| 83 | 2023-03-22 23:35:43 | Stevie Cambridge |
| 86 | 2023-03-18 13:36:22 | Kelly Connolly |
| 87 | 2023-03-20 22:04:37 | Richard Higham |
| 89 | 2023-03-23 13:01:43 | Amy Kelly |
| 90 | 2023-03-23 16:21:14 | Gavin Miller |
| 92 | 2023-03-23 17:10:33 | James Tucker |
| 96 | 2023-03-23 16:35:30 | Sami Knott |
| 99 | 2023-03-23 07:42:43 | Samantha Stainer |
| 101 | 2023-03-23 15:29:42 | Kathryn Gladman |
| 103 | 2023-03-23 17:21:45 | Mark Lofthouse |
| 105 | 2023-03-22 21:39:12 | Sarah Crook |
| 107 | 2023-03-23 11:14:21 | Amanda Wright |
| 110 | 2023-03-23 17:21:45 | Mark Lofthouse |
| 111 | 2023-03-19 09:00:44 | Amelia Reynolds |
| 112 | 2023-03-22 20:11:55 | Amanda Holtby 7 |
| 114 | 2023-03-23 11:53:35 | Timothy Hood |
| 115 | 2023-03-22 20:11:55 | Ashley Conduit |
| 116 | 2023-03-23 16:33:30 | Emma White |
| 118 | 2023-03-22 20:36:33 | Gemma Norgate |
| 119 | 2023-03-23 08:14:10 | Macauley Burgess |
| 121 | 2023-03-22 22:06:25 | Gary King |
| 123 | 2023-03-23 16:21:14 | Gavin Miller |
| 124 | 2023-03-23 17:28:05 | Samuel Davies |
| 125 | 2023-03-22 20:06:30 | Christopher Priest |
| 126 | 2023-03-23 17:10:33 | James Tucker |
| 127 | 2023-03-23 05:15:27 | Amy Wain |
| 128 | 2023-03-23 17:28:05 | Samuel Davies |
| 129 | 2023-03-23 17:15:09 | Jenna Mccaffer-ward |
| 135 | 2023-03-22 23:35:43 | Stevie Cambridge |
| 136 | 2023-03-23 17:28:05 | Samuel Davies |
| 142 | 2023-03-22 13:01:49 | Lisa Skilton |
| 145 | 2023-03-23 08:56:38 | Natalie Bailey |
| 147 | 2023-03-23 16:21:14 | Gavin Miller |
| 149 | 2023-03-18 13:02:36 | Jordan Dark |
| 150 | 2023-03-23 08:34:37 | Rebekah Morrison |
| 154 | 2023-03-18 13:45:43 | Ashley Commins |
| 159 | 2023-03-23 08:14:10 | Macauley Burgess |
| 163 | 2023-03-23 16:21:14 | Gavin Miller |
| 164 | 2023-03-23 16:01:12 | Tracy Owen |
| 166 | 2023-03-23 07:42:43 | Samantha Stainer |
| 167 | 2023-03-23 17:28:05 | Samuel Davies |
| 169 | 2023-03-22 23:06:54 | Georgia valentine |
| 170 | 2023-03-23 14:05:19 | Sharon marie Williams |
| 171 | 2023-03-22 20:06:30 | Christopher Priest |
| 172 | 2023-03-23 17:10:33 | James Tucker |
| 175 | 2023-03-23 08:07:20 | Samantha Thorne |
| 176 | 2023-03-23 11:37:38 | Chris Ballard |
| 179 | 2023-03-23 14:07:31 | Betsy Hughes |
| 180 | 2023-03-23 17:21:45 | Mark Lofthouse |