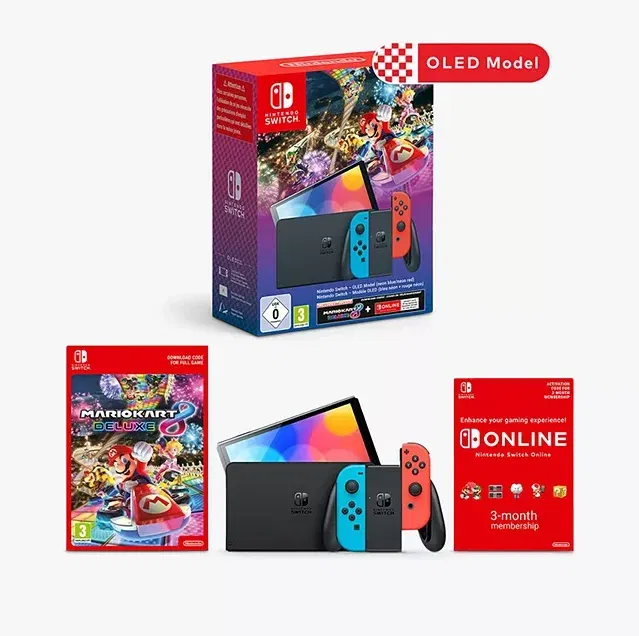 Nintendo Switch OLED 64GB Console with Joy-Con, Neon Red/Blue & Mario Kart 8 Deluxe Bundle
Description
Nintendo Switch OLED 64GB Console with Joy-Con, Neon Red/Blue & Mario Kart 8 Deluxe Bundle
Updated with a 7″ OLED touchscreen, 64GB of storage, thinner bezels, and enhanced audio, the newest member of the Nintendo Switch family continues to deliver the flexibility to play your favourite titles at home or on the go. This edition features a download code for Mario Kart 8 Deluxe and a 3 months Nintendo Switch Online membership (optional subscription fees apply thereafter). Internet access required for download.
Switch it up – 3 ways to play
TV mode – connect the Switch to your TV, like an ordinary console, and use the controllers to play all your favourite titles alone or with friends while you relax on the sofa
Tabletop mode – prop the console anywhere and use its built-in screen and detachable Joy-Con controllers to have fun on any flat surface.
Handheld mode – attach the Joy-Cons to the sides of the tablet console to create a completely portable gamer. You can also remove the Joy-Cons for 2 players to get involved.
OLED screen
The vivid colours and high contrast of the new 7″ OLED touchscreen deliver a rich handheld and tabletop gaming experience, bringing games to life whether you're racing at top speed or squaring off against enemies.
Battery life
You can play while you charge your device using the included AC adapter, but other USB Type-C chargers should work as well. The device can last approximately 4.5 and 9 hours on one charge, but this depends on the games you play and the number of gamers involved. For example, the battery will last around 5.5 hours for The Legend of Zelda: Breath of the Wild.
What's in the box?
Nintendo Switch Console
2 Joy-Con controllers
Nintendo Switch dock
Joy-Con grip
AC adapter
HDMI cable
Joy-Con straps
| Winner Name | Ticket Number | Draw Date |
| --- | --- | --- |
| Jasmin Patten | 55 | 30/11/2023 |
| Ticket Number | Date | Name |
| --- | --- | --- |
| 1 | 2023-11-30 12:25:48 | Andrea Hemmings |
| 2 | 2023-11-29 20:03:34 | Alex Walters |
| 3 | 2023-11-27 21:27:54 | Simon Soper |
| 4 | 2023-11-30 15:36:38 | Julie Clarke |
| 5 | 2023-11-30 13:55:11 | Bj M |
| 6 | 2023-11-27 22:57:09 | Joahanna Turvey |
| 7 | 2023-11-29 19:42:20 | Nicola Symons |
| 8 | 2023-11-28 10:52:49 | Rachel Hughes |
| 9 | 2023-11-28 10:32:00 | Amanda King |
| 10 | 2023-11-29 19:42:20 | Nicola Symons |
| 11 | 2023-11-28 15:00:45 | Mandy j Smith |
| 12 | 2023-11-30 16:17:22 | Jade Haley |
| 13 | 2023-11-29 18:54:57 | Keith Moore |
| 14 | 2023-11-29 09:42:11 | Karl Glover |
| 15 | 2023-11-29 21:52:13 | Carol Chappell |
| 16 | 2023-11-27 22:57:09 | Joahanna Turvey |
| 17 | 2023-11-28 15:00:45 | Mandy j Smith |
| 18 | 2023-11-29 14:04:16 | Victoria J |
| 19 | 2023-11-29 14:04:16 | Victoria J |
| 20 | 2023-11-29 14:04:16 | Victoria J |
| 21 | 2023-11-29 14:04:16 | Victoria J |
| 22 | 2023-11-29 20:03:34 | Alex Walters |
| 23 | 2023-11-29 21:52:13 | Carol Chappell |
| 24 | 2023-11-28 20:37:45 | Callum Northcott |
| 25 | 2023-11-30 17:25:08 | Shelby Daineanu |
| 26 | 2023-11-29 21:26:38 | Daisy Bambrick |
| 27 | 2023-11-28 11:36:08 | Oliver Lucas |
| 28 | 2023-11-30 10:31:08 | Darren Mclean |
| 29 | 2023-11-30 17:34:24 | JMS S |
| 30 | 2023-11-29 19:42:20 | Nicola Symons |
| 31 | 2023-11-28 15:00:45 | Mandy j Smith |
| 32 | 2023-11-30 16:03:35 | Lynn Kennedy |
| 33 | 2023-11-30 11:25:10 | Richard Legge |
| 34 | 2023-11-30 16:43:20 | W A |
| 35 | 2023-11-30 13:16:36 | Sarah Heal |
| 36 | 2023-11-30 12:29:58 | Amy Jennings |
| 37 | 2023-11-30 09:31:51 | Kym Dalziel |
| 38 | 2023-11-30 10:31:08 | Darren Mclean |
| 39 | 2023-11-30 18:24:25 | d k J |
| 40 | 2023-11-29 23:24:28 | Julie Soper |
| 41 | 2023-11-30 13:50:25 | Jill Higham |
| 42 | 2023-11-30 13:50:25 | Jill Higham |
| 43 | 2023-11-30 18:11:06 | Shelly Edwards |
| 44 | 2023-11-29 23:24:28 | Julie Soper |
| 45 | 2023-11-30 15:42:55 | Rachi B |
| 46 | 2023-11-30 10:31:08 | Darren Mclean |
| 47 | 2023-11-30 09:31:51 | Kym Dalziel |
| 48 | 2023-11-30 10:31:08 | Darren Mclean |
| 49 | 2023-11-30 14:51:27 | Keith Moore |
| 50 | 2023-11-30 07:40:38 | D T |
| 51 | 2023-11-29 17:42:03 | Keith Moore |
| 52 | 2023-11-29 21:32:27 | Rosemary Hill |
| 53 | 2023-11-29 21:17:03 | Kathleen Brolan |
| 54 | 2023-11-29 23:24:28 | Julie Soper |
| 55 | 2023-11-30 15:36:21 | Jasmin Patten |
| 56 | 2023-11-30 15:16:15 | S S |
| 57 | 2023-11-30 10:31:08 | Darren Mclean |
| 58 | 2023-11-30 06:14:32 | Rachi B |
| 59 | 2023-11-28 10:32:00 | Amanda King |
| 60 | 2023-11-30 17:34:24 | JMS S |
| 61 | 2023-11-30 15:05:56 | Ryan Bowyer |
| 62 | 2023-11-30 12:09:28 | Linda Mcgillivray |
| 63 | 2023-11-28 21:27:03 | Ivy Beasley |
| 64 | 2023-11-29 21:52:13 | Carol Chappell |
| 65 | 2023-11-30 14:51:57 | Kevin Hayes |
| 66 | 2023-11-30 12:44:42 | Leanne Pearce |
| 67 | 2023-11-30 09:31:51 | Kym Dalziel |
| 68 | 2023-11-30 14:59:24 | Michael Webb |
| 69 | 2023-11-28 22:19:28 | Amanda Doick |
| 70 | 2023-11-30 17:17:15 | Kaylie T |
| 71 | 2023-11-29 21:32:27 | Rosemary Hill |
| 72 | 2023-11-30 18:33:44 | Liam Mackenzie |
| 73 | 2023-11-30 06:14:32 | Rachi B |
| 74 | 2023-11-30 15:42:33 | Elizabeth Forshaw |
| 75 | 2023-11-30 18:49:10 | Miss Kimberley Sharman |
| 76 | 2023-11-30 18:49:10 | Miss Kimberley Sharman |
| 77 | 2023-11-30 06:17:08 | Simeon Miller |
| 78 | 2023-11-30 06:14:32 | Rachi B |
| 79 | 2023-11-30 06:17:08 | Simeon Miller |
| 80 | 2023-11-30 17:22:03 | Hayley Keszthelyi mason |
| 81 | 2023-11-30 19:22:06 | Robert Bailey |
| 82 | 2023-11-29 21:52:13 | Carol Chappell |
| 83 | 2023-11-30 17:13:27 | Nakita Finch |
| 84 | 2023-11-30 12:04:09 | Sharon Howe |
| 85 | 2023-11-30 16:54:03 | Will Wellings |
| 86 | 2023-11-29 19:24:53 | Sharon Gormley |
| 87 | 2023-11-30 09:31:51 | Kym Dalziel |
| 88 | 2023-11-30 13:45:34 | Siobhan Ward |
| 89 | 2023-11-30 18:39:49 | Kelly Thorne |
| 90 | 2023-11-30 19:25:36 | William Danks |
| 91 | 2023-11-30 14:51:27 | Keith Moore |
| 92 | 2023-11-30 08:39:30 | Staceyy C |
| 93 | 2023-11-29 20:04:42 | Paige Gibson |
| 94 | 2023-11-29 21:52:13 | Carol Chappell |
| 95 | 2023-11-30 18:38:10 | Lindsey Roberts |
| 96 | 2023-11-30 16:54:03 | Will Wellings |
| 97 | 2023-11-29 21:52:13 | Carol Chappell |
| 98 | 2023-11-30 17:22:11 | Claire Mitchell |
| 99 | 2023-11-30 07:40:38 | D T |
| 100 | 2023-11-30 16:48:16 | Jeffery Moseley |
| 101 | 2023-11-30 12:25:48 | Andrea Hemmings |
| 102 | 2023-11-30 16:54:03 | Will Wellings |
| 103 | 2023-11-30 16:54:03 | Will Wellings |
| 104 | 2023-11-29 21:23:40 | Jason Orourke |
| 105 | 2023-11-29 09:38:47 | Glyn Horton |
| 106 | 2023-11-30 16:31:50 | Shannon Lerwill |
| 107 | 2023-11-30 19:25:36 | William Danks |
| 108 | 2023-11-30 06:32:55 | Donna Brown |
| 109 | 2023-11-30 09:50:33 | Louise LeVaul-Grimwood |
| 110 | 2023-11-30 17:07:13 | Dionne Rendell |
| 111 | 2023-11-30 16:17:22 | Jade Haley |
| 112 | 2023-11-30 15:17:26 | Katie-Louise Chalk |
| 113 | 2023-11-30 14:56:09 | Sharron Birds |
| 114 | 2023-11-29 17:42:03 | Keith Moore |
| 115 | 2023-11-29 20:22:44 | Cherie Glover |
| 116 | 2023-11-30 18:24:25 | d k J |
| 117 | 2023-11-30 19:25:36 | William Danks |
| 118 | 2023-11-30 17:12:12 | K L |
| 119 | 2023-11-30 16:31:50 | Shannon Lerwill |
| 120 | 2023-11-30 16:52:41 | Jodie Southwell |
| 121 | 2023-11-30 16:48:16 | Jeffery Moseley |
| 122 | 2023-11-28 10:32:00 | Amanda King |
| 123 | 2023-11-30 17:13:27 | Nakita Finch |
| 124 | 2023-11-30 06:14:32 | Rachi B |
| 125 | 2023-11-30 19:22:06 | Robert Bailey |
| 126 | 2023-11-30 18:34:03 | Ayesha Davies |
| 127 | 2023-11-29 23:29:19 | Jessica Westcott |
| 128 | 2023-11-30 17:13:27 | Nakita Finch |
| 129 | 2023-11-30 18:39:49 | Kelly Thorne |
| 130 | 2023-11-30 15:04:08 | Rebecca Brewer |
| 131 | 2023-11-30 16:25:06 | Tracey Rowe |
| 132 | 2023-11-30 15:42:55 | Rachi B |
| 133 | 2023-11-30 19:26:49 | John Huteson |
| 134 | 2023-11-30 19:59:29 | Kirk Bay |
| 135 | 2023-11-30 18:34:03 | Ayesha Davies |
| 136 | 2023-11-29 00:17:50 | Jade Tucker |
| 137 | 2023-11-30 20:04:03 | Gracie Smith |
| 138 | 2023-11-29 18:54:13 | Sarah Elle |
| 139 | 2023-11-30 17:07:13 | Dionne Rendell |
| 140 | 2023-11-30 14:51:57 | Kevin Hayes |
| 141 | 2023-11-30 16:48:16 | Jeffery Moseley |
| 142 | 2023-11-30 16:25:06 | Tracey Rowe |
| 143 | 2023-11-30 18:39:49 | Kelly Thorne |
| 144 | 2023-11-30 18:50:56 | Danny Down |
| 145 | 2023-11-30 18:57:08 | Marcus Williams |
| 146 | 2023-11-30 17:00:59 | Gemma Norgate |
| 147 | 2023-11-29 20:28:01 | Lauren Smith |
| 148 | 2023-11-30 19:57:40 | John Wright |
| 149 | 2023-11-30 19:26:49 | John Huteson |
| 150 | 2023-11-30 19:21:40 | Crystal Taylor |
| 151 | 2023-11-30 18:34:03 | Ayesha Davies |
| 152 | 2023-11-30 17:07:13 | Dionne Rendell |
| 153 | 2023-11-30 11:43:01 | kaylee knight |
| 154 | 2023-11-30 09:24:22 | Rach T |
| 155 | 2023-11-30 09:43:40 | Samantha Ellwood |
| 156 | 2023-11-30 19:07:36 | Carlie Bastow |
| 157 | 2023-11-30 17:29:21 | Jamie Jones |
| 158 | 2023-11-30 19:20:01 | Sara Reilly |
| 159 | 2023-11-29 23:29:19 | Jessica Westcott |
| 160 | 2023-11-30 17:25:56 | Jamie Jones |
| 161 | 2023-11-30 13:06:21 | Jolene Collings |
| 162 | 2023-11-30 07:09:31 | Jeanette Anderson |
| 163 | 2023-11-29 15:11:07 | Tina Jarvis |
| 164 | 2023-11-30 17:06:09 | Zoe Chapman |
| 165 | 2023-11-30 11:59:52 | Roxanne Stevenson |
| 166 | 2023-11-27 21:27:54 | Simon Soper |
| 167 | 2023-11-30 18:01:35 | Karley Costick |
| 168 | 2023-11-30 11:02:35 | Alana Joslin |
| 169 | 2023-11-30 14:58:18 | Emma & lee |
| 170 | 2023-11-30 15:42:55 | Rachi B |
| 171 | 2023-11-30 19:26:49 | John Huteson |
| 172 | 2023-11-30 17:32:18 | Suzanne Cole |
| 173 | 2023-11-27 22:57:09 | Joahanna Turvey |
| 174 | 2023-11-30 19:45:16 | Layla Reed |
| 175 | 2023-11-30 19:25:36 | William Danks |
| 176 | 2023-11-29 15:11:07 | Tina Jarvis |
| 177 | 2023-11-30 19:59:29 | Kirk Bay |
| 178 | 2023-11-30 19:49:08 | Josh Wigmore |
| 179 | 2023-11-30 19:02:41 | Karissa Rouse |
| 180 | 2023-11-30 18:49:23 | Paula Rowland |
| 181 | 2023-11-30 16:22:25 | Margot Ahern |
| 182 | 2023-11-30 19:04:23 | melanie pedro |
| 183 | 2023-11-30 10:57:10 | kaci avis |
| 184 | 2023-11-30 19:26:49 | John Huteson |
| 185 | 2023-11-30 07:12:58 | Kerry Westcott |
| 186 | 2023-11-29 20:32:10 | Dan Hatch |
| 187 | 2023-11-30 19:21:10 | Will L |
| 188 | 2023-11-30 06:14:32 | Rachi B |
| 189 | 2023-11-30 18:51:25 | Oliver Gill |
| 190 | 2023-11-30 18:20:39 | Helen Turner |
| 191 | 2023-11-30 19:59:29 | Kirk Bay |
| 192 | 2023-11-30 18:07:52 | Christine Swift |
| 193 | 2023-11-30 17:25:45 | Jordan Gorman |
| 194 | 2023-11-28 22:19:28 | Amanda Doick |
| 195 | 2023-11-30 19:22:06 | Robert Bailey |
| 196 | 2023-11-30 17:07:13 | Dionne Rendell |
| 197 | 2023-11-30 19:59:14 | Jane Tipper |
| 198 | 2023-11-29 21:33:00 | Shona Barton |
| 199 | 2023-11-30 17:22:11 | Claire Mitchell |
| 200 | 2023-11-30 18:38:08 | Caroline Rideout |
| 201 | 2023-11-30 19:53:07 | Marie Leat |
| 202 | 2023-11-30 20:05:34 | Greg Manley |
| 203 | 2023-11-30 15:22:12 | Jasmin Bourne |
| 204 | 2023-11-30 17:25:56 | Jamie Jones |
| 205 | 2023-11-29 15:11:07 | Tina Jarvis |
| 206 | 2023-11-30 19:07:20 | Jade Pook |
| 207 | 2023-11-30 18:34:03 | Ayesha Davies |
| 208 | 2023-11-29 19:20:05 | AJ Shaw |
| 209 | 2023-11-30 19:38:52 | Amy Lou |
| 210 | 2023-11-30 19:36:50 | jodie singleton |
| 211 | 2023-11-30 19:14:47 | Angela Milford |
| 212 | 2023-11-30 17:24:18 | LJ Storer no |
| 213 | 2023-11-30 12:44:42 | Leanne Pearce |
| 214 | 2023-11-30 20:04:08 | Susan Foster |
| 215 | 2023-11-30 18:57:31 | Liam Bennett |
| 216 | 2023-11-30 19:20:11 | Stacey Karpinski |
| 217 | 2023-11-30 18:34:03 | Ayesha Davies |
| 218 | 2023-11-30 19:46:36 | Katrina Bevan |
| 219 | 2023-11-29 18:37:30 | Mandy j Smith |
| 220 | 2023-11-30 16:28:43 | Jennifer White |
| 221 | 2023-11-30 16:31:50 | Shannon Lerwill |
| 222 | 2023-11-30 19:28:45 | Elizabeth Williams |
| 223 | 2023-11-30 18:42:17 | Sarah Deakin |
| 224 | 2023-11-30 19:28:45 | Elizabeth Williams |
| 225 | 2023-11-30 19:22:06 | Robert Bailey |
| 226 | 2023-11-30 19:09:01 | Kimberley Dickson |
| 227 | 2023-11-30 18:51:25 | Oliver Gill |
| 228 | 2023-11-29 15:11:07 | Tina Jarvis |
| 229 | 2023-11-30 17:07:13 | Dionne Rendell |
| 230 | 2023-11-28 22:19:28 | Amanda Doick |
| 231 | 2023-11-30 17:42:04 | Amy Lou |
| 232 | 2023-11-30 15:22:16 | Samuel Bullen |
| 233 | 2023-11-30 16:17:39 | Jack leyshon |
| 234 | 2023-11-30 19:24:34 | Samuel Woodford |
| 235 | 2023-11-29 18:37:30 | Mandy j Smith |
| 236 | 2023-11-30 19:59:30 | Tracy Owen |
| 237 | 2023-11-30 17:07:13 | Dionne Rendell |
| 238 | 2023-11-30 17:13:27 | Nakita Finch |
| 239 | 2023-11-30 10:35:11 | Charmaine Blaiklock |
| 240 | 2023-11-30 13:40:34 | Jennie Barnard |
| 241 | 2023-11-29 19:39:56 | Kurt Edwards |
| 242 | 2023-11-30 15:22:16 | Samuel Bullen |
| 243 | 2023-11-30 14:15:57 | Jonathan Widdowson |
| 244 | 2023-11-30 18:39:04 | Sammy Watterson |
| 245 | 2023-11-30 17:43:32 | Kaley Merritt |
| 246 | 2023-11-30 14:44:38 | Shayla Woodward |
| 247 | 2023-11-30 14:00:41 | Lynne Swift |
| 248 | 2023-11-30 19:59:29 | Kirk Bay |
| 249 | 2023-11-30 20:04:24 | Janette Wilton |
| 250 | 2023-11-30 14:44:38 | Shayla Woodward |
| 251 | 2023-11-30 19:39:30 | Barbara white |
| 252 | 2023-11-30 17:13:27 | Nakita Finch |
| 253 | 2023-11-30 17:29:16 | Dee Williams |
| 254 | 2023-11-30 18:56:10 | Kelsey Shepherd |
| 255 | 2023-11-30 12:52:48 | christine morris |
| 256 | 2023-11-29 21:23:40 | Jason Orourke |
| 257 | 2023-11-29 21:31:24 | Sam 85 |
| 258 | 2023-11-30 19:26:49 | John Huteson |
| 259 | 2023-11-28 21:53:17 | Lyndsay Hesp |
| 260 | 2023-11-30 18:15:43 | becca Emily |
| 261 | 2023-11-29 20:21:19 | Clare Jamieson |
| 262 | 2023-11-29 18:54:13 | Sarah Elle |
| 263 | 2023-11-30 19:32:19 | Amanda Moore |
| 264 | 2023-11-29 23:24:28 | Julie Soper |
| 265 | 2023-11-30 19:03:51 | Jez Terry |
| 266 | 2023-11-28 20:37:45 | Callum Northcott |
| 267 | 2023-11-30 06:14:32 | Rachi B |
| 268 | 2023-11-30 14:59:59 | Amy Murphy |
| 269 | 2023-11-29 23:24:28 | Julie Soper |
| 270 | 2023-11-29 18:54:57 | Keith Moore |
| 271 | 2023-11-30 19:31:18 | Ayesha Broadhurst |
| 272 | 2023-11-30 15:42:55 | Rachi B |
| 273 | 2023-11-30 07:09:31 | Jeanette Anderson |
| 274 | 2023-11-30 16:17:22 | Jade Haley |
| 275 | 2023-11-30 19:39:30 | Barbara white |
| 276 | 2023-11-30 09:50:33 | Louise LeVaul-Grimwood |
| 277 | 2023-11-30 18:57:08 | Marcus Williams |
| 278 | 2023-11-30 10:09:17 | Emma Jones |
| 279 | 2023-11-30 15:42:55 | Rachi B |
| 280 | 2023-11-30 17:17:15 | Kaylie T |
| 281 | 2023-11-30 18:00:17 | Abigail Swift |
| 282 | 2023-11-30 19:47:42 | Phil Armer |
| 283 | 2023-11-30 20:05:34 | Greg Manley |
| 284 | 2023-11-30 18:34:03 | Ayesha Davies |
| 285 | 2023-11-30 15:42:55 | Rachi B |
| 286 | 2023-11-29 19:18:12 | Lynn Kennedy |
| 287 | 2023-11-30 19:11:36 | Cameron Thompson |
| 288 | 2023-11-30 19:58:02 | Hayley Stapleton |
| 289 | 2023-11-30 16:11:36 | Olivia Patchett |
| 290 | 2023-11-30 17:13:27 | Nakita Finch |
| 291 | 2023-11-30 19:38:52 | Amy Lou |
| 292 | 2023-11-30 19:07:10 | Anthony Rose |
| 293 | 2023-11-29 20:42:33 | Louise Craig |
| 294 | 2023-11-30 18:34:03 | Ayesha Davies |
| 295 | 2023-11-30 14:58:18 | Emma & lee |
| 296 | 2023-11-30 06:32:55 | Donna Brown |
| 297 | 2023-11-30 19:25:36 | William Danks |
| 298 | 2023-11-30 18:34:03 | Ayesha Davies |
| 299 | 2023-11-30 17:20:50 | Marie Tucker |
| 300 | 2023-11-30 06:14:32 | Rachi B |
| 301 | 2023-11-30 09:41:41 | Sami Knott |
| 302 | 2023-11-30 19:59:04 | Joshua Rowland |
| 303 | 2023-11-30 19:44:19 | Alfie James |
| 304 | 2023-11-30 19:44:09 | Teifi Geisler |
| 305 | 2023-11-30 17:42:04 | Amy Lou |
| 306 | 2023-11-29 20:42:33 | Louise Craig |
| 307 | 2023-11-30 06:14:32 | Rachi B |
| 308 | 2023-11-30 18:48:19 | Jeanette Anderson |
| 309 | 2023-11-30 18:07:52 | Christine Swift |
| 310 | 2023-11-30 07:07:05 | Shaun Gillard |
| 311 | 2023-11-30 19:39:49 | Catherine Whiting |
| 312 | 2023-11-30 11:25:10 | Richard Legge |
| 313 | 2023-11-30 11:25:10 | Richard Legge |
| 314 | 2023-11-29 20:03:34 | Alex Walters |
| 315 | 2023-11-30 15:42:55 | Rachi B |
| 316 | 2023-11-30 17:21:16 | Moira Jayne Angel |
| 317 | 2023-11-28 12:55:55 | Barbara white |
| 318 | 2023-11-30 19:26:49 | John Huteson |
| 319 | 2023-11-30 14:23:07 | Hannah Del-pizzo |
| 320 | 2023-11-30 19:00:50 | Oliver Lucas |
| 321 | 2023-11-30 17:24:18 | LJ Storer no |
| 322 | 2023-11-30 18:56:10 | Kelsey Shepherd |
| 323 | 2023-11-30 19:22:06 | Robert Bailey |
| 324 | 2023-11-30 17:23:07 | Lisa Giddy |
| 325 | 2023-11-30 17:11:34 | Kayleigh Skinner |
| 326 | 2023-11-30 19:03:17 | Roxanne Walker |
| 327 | 2023-11-30 18:58:04 | sophie cooper |
| 328 | 2023-11-29 18:57:57 | Abigail Clark |
| 329 | 2023-11-30 09:43:40 | Samantha Ellwood |
| 330 | 2023-11-30 15:07:47 | Kirsty Darke |
| 331 | 2023-11-30 19:29:46 | Adele Young |
| 332 | 2023-11-30 19:49:40 | Sarah Tritton |
| 333 | 2023-11-30 19:02:41 | Karissa Rouse |
| 334 | 2023-11-29 17:42:03 | Keith Moore |
| 335 | 2023-11-30 15:42:55 | Rachi B |
| 336 | 2023-11-30 20:04:36 | Maja Jablonska |
| 337 | 2023-11-30 19:26:49 | John Huteson |
| 338 | 2023-11-29 19:39:56 | Kurt Edwards |
| 339 | 2023-11-30 19:01:58 | Debbie Hands Hands |
| 340 | 2023-11-29 20:03:34 | Alex Walters |
| 341 | 2023-11-30 17:40:46 | Sam Hawkins |
| 342 | 2023-11-30 17:13:27 | Nakita Finch |
| 343 | 2023-11-30 19:26:49 | John Huteson |
| 344 | 2023-11-27 22:57:09 | Joahanna Turvey |
| 345 | 2023-11-30 19:16:17 | Ashley Hunt |
| 346 | 2023-11-30 18:01:55 | Kelly Parker |
| 347 | 2023-11-30 20:05:34 | Greg Manley |
| 348 | 2023-11-30 18:34:03 | Ayesha Davies |
| 349 | 2023-11-30 08:50:00 | Stu Collyer |
| 350 | 2023-11-30 13:02:34 | Zandra stone |
| 351 | 2023-11-30 11:15:35 | Sharon Foster |
| 352 | 2023-11-30 09:43:40 | Samantha Ellwood |
| 353 | 2023-11-30 17:42:03 | Nicole Svensson |
| 354 | 2023-11-30 18:34:03 | Ayesha Davies |
| 355 | 2023-11-30 18:25:57 | Tracey Smith |
| 356 | 2023-11-30 07:09:31 | Jeanette Anderson |
| 357 | 2023-11-30 09:09:12 | Lee Gable |
| 358 | 2023-11-30 17:06:09 | Zoe Chapman |
| 359 | 2023-11-30 19:26:49 | John Huteson |
| 360 | 2023-11-30 18:48:19 | Jeanette Anderson |
| 361 | 2023-11-30 06:32:55 | Donna Brown |
| 362 | 2023-11-30 19:11:58 | Andrea Sikorjakova |
| 363 | 2023-11-30 19:26:49 | John Huteson |
| 364 | 2023-11-29 22:16:15 | G G |
| 365 | 2023-11-30 19:16:43 | Alannah Tucker |
| 366 | 2023-11-30 19:32:35 | Sheryl Coulthirst |
| 367 | 2023-11-30 18:25:57 | Tracey Smith |
| 368 | 2023-11-30 12:49:45 | Carla Bradford |
| 369 | 2023-11-30 19:59:04 | Joshua Rowland |
| 370 | 2023-11-29 18:54:57 | Keith Moore |
| 371 | 2023-11-30 18:54:25 | Hollie Steer |
| 372 | 2023-11-29 16:22:12 | A B |
| 373 | 2023-11-30 07:12:58 | Kerry Westcott |
| 374 | 2023-11-30 18:57:08 | Marcus Williams |
| 375 | 2023-11-30 06:14:32 | Rachi B |
| 376 | 2023-11-30 19:59:29 | Kirk Bay |
| 377 | 2023-11-30 12:49:45 | Carla Bradford |
| 378 | 2023-11-30 19:43:50 | Ruth Fishleigh |
| 379 | 2023-11-30 04:20:32 | Laura Dymond |
| 380 | 2023-11-29 20:44:09 | U T |
| 381 | 2023-11-29 21:23:40 | Jason Orourke |
| 382 | 2023-11-30 17:21:16 | Moira Jayne Angel |
| 383 | 2023-11-30 18:16:37 | Amee Le Coadou |
| 384 | 2023-11-30 16:17:39 | Jack leyshon |
| 385 | 2023-11-30 15:04:43 | Karen louise Reed no |
| 386 | 2023-11-30 18:33:44 | Liam Mackenzie |
| 387 | 2023-11-27 22:18:41 | Amanda Grewcock |
| 388 | 2023-11-30 17:13:27 | Nakita Finch |
| 389 | 2023-11-28 11:18:15 | Scott Stewart |
| 390 | 2023-11-30 15:47:41 | Laura Smith |
| 391 | 2023-11-30 20:04:36 | Maja Jablonska |
| 392 | 2023-11-30 19:19:48 | Lisa Green |
| 393 | 2023-11-30 19:59:30 | Tracy Owen |
| 394 | 2023-11-30 16:23:45 | Becci Vayle |
| 395 | 2023-11-30 11:59:52 | Roxanne Stevenson |
| 396 | 2023-11-30 19:22:45 | Kelly Hack |
| 397 | 2023-11-30 17:11:34 | Kayleigh Skinner |
| 398 | 2023-11-30 14:59:24 | Michael Webb |
| 399 | 2023-11-30 08:39:30 | Staceyy C |
| 400 | 2023-11-30 17:23:07 | Lisa Giddy |
| 401 | 2023-11-30 19:26:49 | John Huteson |
| 402 | 2023-11-30 17:13:27 | Nakita Finch |
| 403 | 2023-11-30 18:01:35 | Karley Costick |
| 404 | 2023-11-29 15:11:07 | Tina Jarvis |
| 405 | 2023-11-29 19:23:21 | Michelle Essery |
| 406 | 2023-11-30 11:59:52 | Roxanne Stevenson |
| 407 | 2023-11-30 16:48:16 | Jeffery Moseley |
| 408 | 2023-11-30 20:04:36 | Maja Jablonska |
| 409 | 2023-11-30 19:14:47 | Angela Milford |
| 410 | 2023-11-30 17:14:49 | Lynette Tucker |
| 411 | 2023-11-30 06:14:32 | Rachi B |
| 412 | 2023-11-30 19:02:39 | Aaron Robinson |
| 413 | 2023-11-30 19:59:30 | Tracy Owen |
| 414 | 2023-11-30 18:23:55 | Matthew Sercombe |
| 415 | 2023-11-30 09:32:24 | Ian Lipscombe |
| 416 | 2023-11-29 23:24:28 | Julie Soper |
| 417 | 2023-11-30 19:48:11 | Debbie Sneap |
| 418 | 2023-11-28 15:08:06 | Dorothy Kingsley |
| 419 | 2023-11-30 16:25:06 | Tracey Rowe |
| 420 | 2023-11-30 16:22:25 | Margot Ahern |
| 421 | 2023-11-30 18:51:25 | Oliver Gill |
| 422 | 2023-11-30 17:22:11 | Claire Mitchell |
| 423 | 2023-11-30 15:29:34 | Justine Cooper |
| 424 | 2023-11-30 17:25:45 | Jordan Gorman |
| 425 | 2023-11-30 19:59:30 | Tracy Owen |
| 426 | 2023-11-30 19:38:52 | Amy Lou |
| 427 | 2023-11-30 06:14:32 | Rachi B |
| 428 | 2023-11-30 08:25:42 | Vikki Laws |
| 429 | 2023-11-30 11:25:10 | Richard Legge |
| 430 | 2023-11-30 19:26:49 | John Huteson |
| 431 | 2023-11-30 20:02:04 | Adam Bowman |
| 432 | 2023-11-28 15:09:31 | Tracey Hubble |
| 433 | 2023-11-30 09:09:12 | Lee Gable |
| 434 | 2023-11-30 07:09:31 | Jeanette Anderson |
| 435 | 2023-11-30 19:05:20 | Justin Lashley |
| 436 | 2023-11-29 09:38:47 | Glyn Horton |
| 437 | 2023-11-30 20:07:17 | Georgia Langdon |
| 438 | 2023-11-30 19:34:20 | Louise Cox |
| 439 | 2023-11-30 09:50:33 | Louise LeVaul-Grimwood |
| 440 | 2023-11-30 17:06:09 | Zoe Chapman |
| 441 | 2023-11-30 15:07:47 | Kirsty Darke |
| 442 | 2023-11-30 17:07:13 | Dionne Rendell |
| 443 | 2023-11-30 17:07:13 | Dionne Rendell |
| 444 | 2023-11-30 13:38:48 | haden Williams |
| 445 | 2023-11-30 17:07:13 | Dionne Rendell |
| 446 | 2023-11-30 18:02:55 | Stephanie Morton |
| 447 | 2023-11-30 18:57:46 | Lauren Parker |
| 448 | 2023-11-30 18:39:04 | Sammy Watterson |
| 449 | 2023-11-30 19:08:36 | Abbie Davey |
| 450 | 2023-11-30 16:48:16 | Jeffery Moseley |
| 451 | 2023-11-30 18:34:03 | Ayesha Davies |
| 452 | 2023-11-30 19:02:41 | Karissa Rouse |
| 453 | 2023-11-30 18:34:03 | Ayesha Davies |
| 454 | 2023-11-30 08:50:00 | Stu Collyer |
| 455 | 2023-11-30 13:02:34 | Zandra stone |
| 456 | 2023-11-30 15:04:08 | Rebecca Brewer |
| 457 | 2023-11-30 19:19:48 | Lisa Green |
| 458 | 2023-11-27 22:08:21 | Jenny Knight |
| 459 | 2023-11-30 19:59:29 | Kirk Bay |
| 460 | 2023-11-29 18:19:11 | Lisa Taylor |
| 461 | 2023-11-29 20:28:01 | Lauren Smith |
| 462 | 2023-11-30 17:20:50 | Marie Tucker |
| 463 | 2023-11-30 20:04:24 | Janette Wilton |
| 464 | 2023-11-30 19:31:18 | Ayesha Broadhurst |
| 465 | 2023-11-30 19:37:00 | Paul Dodd |
| 466 | 2023-11-30 09:50:33 | Louise LeVaul-Grimwood |
| 467 | 2023-11-30 10:09:17 | Emma Jones |
| 468 | 2023-11-30 16:26:46 | Emma Pick |
| 469 | 2023-11-30 17:07:13 | Dionne Rendell |
| 470 | 2023-11-29 19:40:44 | Ryan Lee |
| 471 | 2023-11-30 19:44:19 | Alfie James |
| 472 | 2023-11-30 19:11:34 | Alison Thomson |
| 473 | 2023-11-30 19:59:30 | Tracy Owen |
| 474 | 2023-11-30 17:42:04 | Amy Lou |
| 475 | 2023-11-30 19:26:49 | John Huteson |
| 476 | 2023-11-30 14:00:41 | Lynne Swift |
| 477 | 2023-11-30 19:59:30 | Tracy Owen |
| 478 | 2023-11-30 16:59:42 | Amy Hutchings |
| 479 | 2023-11-30 19:26:49 | John Huteson |
| 480 | 2023-11-30 11:15:35 | Sharon Foster |
| 481 | 2023-11-30 18:13:47 | J J |
| 482 | 2023-11-30 10:09:17 | Emma Jones |
| 483 | 2023-11-30 17:07:13 | Dionne Rendell |
| 484 | 2023-11-30 19:26:49 | John Huteson |
| 485 | 2023-11-30 08:50:00 | Stu Collyer |
| 486 | 2023-11-30 17:13:27 | Nakita Finch |
| 487 | 2023-11-30 17:40:46 | Sam Hawkins |
| 488 | 2023-11-30 19:57:40 | John Wright |
| 489 | 2023-11-30 16:46:02 | D Th |
| 490 | 2023-11-30 14:44:38 | Shayla Woodward |
| 491 | 2023-11-28 12:55:55 | Barbara white |
| 492 | 2023-11-30 06:14:32 | Rachi B |
| 493 | 2023-11-30 18:34:03 | Ayesha Davies |
| 494 | 2023-11-30 17:14:53 | Leanne Shrubb |
| 495 | 2023-11-30 19:22:06 | Robert Bailey |
| 496 | 2023-11-30 11:43:01 | kaylee knight |
| 497 | 2023-11-30 15:42:55 | Rachi B |
| 498 | 2023-11-30 11:43:01 | kaylee knight |
| 499 | 2023-11-30 19:08:00 | Kate Robbins |
| 500 | 2023-11-30 17:42:04 | Amy Lou |