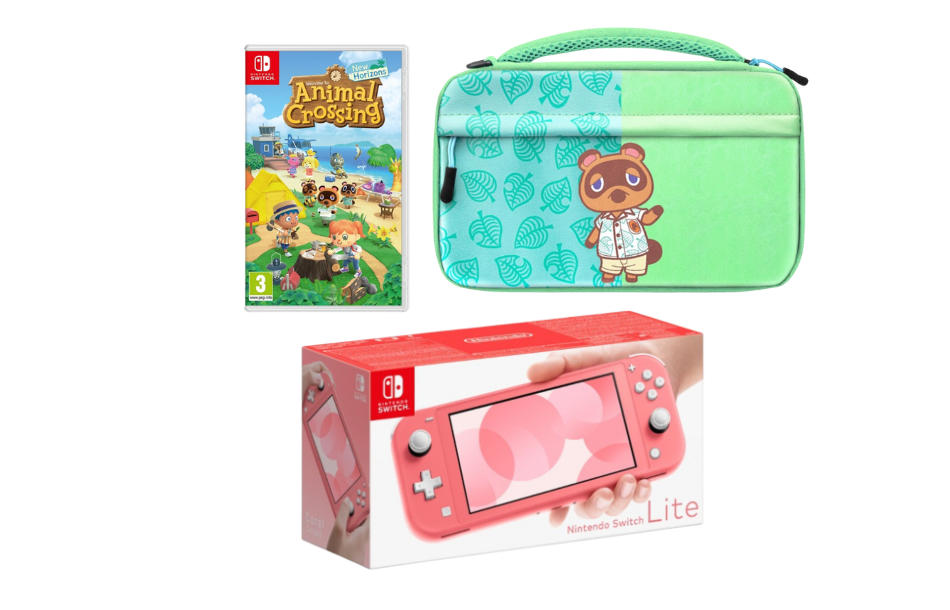 Nintendo Switch Lite Coral and Animal Crossing Switch Game & Case – 22/03
Description
Nintendo Switch Lite Coral and Animal Crossing Switch Game & Case – 22/03
Nintendo Switch Lite Coral 
The Nintendo Switch Lite was created for handheld play. Take your gaming on the go with the Lite version of the must-have console.
Gaming on the Go
This lightweight console lets gamers take their favourite Nintendo games wherever they go. The sleek, compact design makes it easy to take your Switch Lite wherever you go – whether you're relaxing in the park or gaming on the train. This streamlined console features integrated controllers for handheld gaming, including a +Control Pad.
Local multiplayer
Join in with friends or family playing on the original Nintendo Switch console with local multiplayer. Players can sync up to 8 Nintendo Switch or Nintendo Switch Lite consoles to play together.
Compatibility
Any Switch game that supports handheld play will work on Nintendo Switch Lite. For games not compatible with handheld mode, players can wirelessly connect Joy-Con controllers (sold separately). The Switch Lite does not output to TV, and some features will not be available using this Switch version alone.
*Battery life will depend on the game being played. For example, the battery will last approx. 4 hours playing The Legend of Zelda: Breath of the Wild.
Animal Crossing Switch Game
Step onto your very own island in Animal Crossing: New Horizons for Nintendo Switch. Life might be a little rustic at first – but paradise is what you make it, and new friends and opportunities are just waiting to be discovered.
PDP Gaming Commuter Case for Nintendo Switch – Animal Crossing
Whether you're traveling to a tournament or just taking an overnight trip, the Commuter Case allows you to take everything you need for your on-the-going gaming experience! The Commuter Case can store the Nintendo Switch, Switch Lite, or Switch OLED Model console, and has enough space for your Pro Controller, AC Adapter, Power Bank, additional Joy-Con controllers, 14 games, and other small gaming accessories. You can travel with your console comfortably with the padded carrying handle and removable shoulder strap. Show off your favorite Nintendo characters with the sleek, stylish design of the Animal Crossing Tom Nook Commuter Case. Whatever you take with you on on-the-go, this case will deliver a custom and secure fit for all your gear!
| Winner Name | Ticket Number | Draw Date |
| --- | --- | --- |
| Marnie Brown | 3888 | 22/03/2023 |
1-500
501-1000
1001-1500
1501-2000
2001-2500
2501-3000
3001-3500
3501-4000
4001-4500
4501-5000
5001-5500
5501-6000
| Ticket Number | Date | Name |
| --- | --- | --- |
| 1 | 2023-03-21 21:40:38 | Sarah Barlow |
| 2 | 2023-03-17 10:43:26 | Sonya Flack |
| 3 | 2023-03-18 08:38:22 | Danielle Wright |
| 4 | 2023-03-17 10:43:26 | Sonya Flack |
| 5 | 2023-03-20 14:01:26 | Toni Jago |
| 6 | 2023-03-21 12:31:22 | Christopher Priest |
| 7 | 2023-03-17 10:43:26 | Sonya Flack |
| 8 | 2023-03-17 10:43:26 | Sonya Flack |
| 9 | 2023-03-17 10:43:26 | Sonya Flack |
| 10 | 2023-03-17 10:43:26 | Sonya Flack |
| 11 | 2023-03-20 10:49:30 | Jade Haley |
| 12 | 2023-03-17 10:45:37 | Rebecca Wood |
| 13 | 2023-03-17 10:05:49 | Bernise Clark |
| 14 | 2023-03-18 21:06:52 | Shelly Smith |
| 15 | 2023-03-17 10:43:26 | Sonya Flack |
| 16 | 2023-03-17 10:43:26 | Sonya Flack |
| 17 | 2023-03-17 10:43:26 | Sonya Flack |
| 18 | 2023-03-17 10:43:26 | Sonya Flack |
| 19 | 2023-03-17 10:43:26 | Sonya Flack |
| 20 | 2023-03-17 10:05:49 | Bernise Clark |
| 21 | 2023-03-20 12:20:42 | LJ Storer no |
| 22 | 2023-03-20 12:20:42 | LJ Storer no |
| 23 | 2023-03-17 14:45:28 | Mollie Loughlin |
| 24 | 2023-03-17 10:05:49 | Bernise Clark |
| 25 | 2023-03-22 17:16:03 | Deborah Boyd |
| 26 | 2023-03-17 10:43:26 | Sonya Flack |
| 27 | 2023-03-17 10:21:16 | Caroline Western |
| 28 | 2023-03-22 14:25:40 | Amanda Royal |
| 29 | 2023-03-22 19:13:45 | Siobhan Timblin |
| 30 | 2023-03-21 21:06:46 | Jade Colley |
| 31 | 2023-03-22 19:26:47 | Charlotte Katsis |
| 32 | 2023-03-22 19:13:45 | Siobhan Timblin |
| 33 | 2023-03-20 15:11:00 | Trudi Ross |
| 34 | 2023-03-22 09:27:17 | Lori Sheldon |
| 35 | 2023-03-17 18:11:03 | Amanda Logue |
| 36 | 2023-03-20 18:45:43 | Helen Holloway |
| 37 | 2023-03-22 16:35:15 | Kelly Wilmott |
| 38 | 2023-03-17 11:14:10 | Kelly Parker |
| 39 | 2023-03-21 10:47:21 | Anthony Scales |
| 40 | 2023-03-17 10:43:26 | Sonya Flack |
| 41 | 2023-03-21 16:56:17 | Carita Widdicombe |
| 42 | 2023-03-20 14:01:26 | Toni Jago |
| 43 | 2023-03-17 16:18:36 | Abby-rose Davison |
| 44 | 2023-03-17 10:05:49 | Bernise Clark |
| 45 | 2023-03-19 22:46:56 | Emma Lawson |
| 46 | 2023-03-20 21:56:04 | Otilie Evans |
| 47 | 2023-03-17 11:59:36 | Steven Rogers |
| 48 | 2023-03-20 22:14:34 | Helen Norton |
| 49 | 2023-03-22 19:13:45 | Siobhan Timblin |
| 50 | 2023-03-22 19:26:12 | Shaun Lynch |
| 51 | 2023-03-22 00:21:01 | Juliette King |
| 52 | 2023-03-22 13:37:24 | Lorraine Rawles |
| 53 | 2023-03-22 18:24:52 | Sarah Faulkner-lloyd |
| 54 | 2023-03-17 11:16:26 | Kt White |
| 55 | 2023-03-22 13:28:02 | Antonia Darke |
| 56 | 2023-03-22 14:54:06 | Kate Forbear |
| 57 | 2023-03-18 13:51:46 | Carly Kelly |
| 58 | 2023-03-22 19:36:43 | Cameron Thompson |
| 59 | 2023-03-21 21:06:46 | Jade Colley |
| 60 | 2023-03-22 19:13:45 | Siobhan Timblin |
| 61 | 2023-03-22 20:03:18 | Loren Gunn |
| 62 | 2023-03-22 19:36:43 | Cameron Thompson |
| 63 | 2023-03-22 12:45:37 | Denise Skingle |
| 64 | 2023-03-17 10:05:49 | Bernise Clark |
| 65 | 2023-03-22 14:54:06 | Kate Forbear |
| 66 | 2023-03-21 20:50:39 | Stella Stoyle |
| 67 | 2023-03-22 19:13:45 | Siobhan Timblin |
| 68 | 2023-03-21 22:48:36 | Jodie Ellis |
| 69 | 2023-03-22 17:13:19 | Katie Smith |
| 70 | 2023-03-21 22:48:41 | Skye Moore |
| 71 | 2023-03-22 10:11:54 | Sharon Dicianni |
| 72 | 2023-03-22 10:11:54 | Sharon Dicianni |
| 73 | 2023-03-21 09:24:44 | Juliette King |
| 74 | 2023-03-22 16:00:19 | Carita Widdicombe |
| 75 | 2023-03-22 11:23:09 | Anwar Qantah |
| 76 | 2023-03-22 07:41:15 | Jo Butcher |
| 77 | 2023-03-22 17:02:01 | Michelle cooper |
| 78 | 2023-03-17 11:00:30 | Eileen Vayle |
| 79 | 2023-03-22 20:00:42 | Andrew Veale |
| 80 | 2023-03-22 19:36:43 | Cameron Thompson |
| 81 | 2023-03-21 16:56:17 | Carita Widdicombe |
| 82 | 2023-03-17 10:21:16 | Caroline Western |
| 83 | 2023-03-17 10:43:26 | Sonya Flack |
| 84 | 2023-03-17 10:05:49 | Bernise Clark |
| 85 | 2023-03-22 20:10:13 | Stacey Mcguinness |
| 86 | 2023-03-22 12:37:40 | Tatyana Parlikova |
| 87 | 2023-03-20 22:14:34 | Helen Norton |
| 88 | 2023-03-20 18:45:43 | Helen Holloway |
| 89 | 2023-03-22 19:36:43 | Cameron Thompson |
| 90 | 2023-03-22 19:36:43 | Cameron Thompson |
| 91 | 2023-03-21 00:46:50 | Marc Baker |
| 92 | 2023-03-21 21:22:48 | Nicole Chapman |
| 93 | 2023-03-21 21:06:46 | Jade Colley |
| 94 | 2023-03-22 20:58:11 | Kerri-Ann Clarkson |
| 95 | 2023-03-22 13:11:56 | Jeffery Moseley |
| 96 | 2023-03-21 21:06:46 | Jade Colley |
| 97 | 2023-03-19 06:05:13 | Karen Alder |
| 98 | 2023-03-21 22:48:41 | Skye Moore |
| 99 | 2023-03-22 13:16:18 | Jamie Jones |
| 100 | 2023-03-21 16:56:17 | Carita Widdicombe |
| 101 | 2023-03-22 12:45:37 | Denise Skingle |
| 102 | 2023-03-22 20:03:18 | Loren Gunn |
| 103 | 2023-03-22 20:24:12 | Fay Lees |
| 104 | 2023-03-17 10:55:29 | Nancy Parker |
| 106 | 2023-03-22 19:36:28 | Shaun Taylor |
| 107 | 2023-03-22 20:26:43 | Sharon Bray |
| 109 | 2023-03-22 20:01:35 | Luke lee |
| 110 | 2023-03-21 20:11:50 | Kim Dowrick |
| 111 | 2023-03-21 09:24:44 | Juliette King |
| 112 | 2023-03-22 19:13:45 | Siobhan Timblin |
| 113 | 2023-03-20 10:49:30 | Jade Haley |
| 114 | 2023-03-20 14:01:26 | Toni Jago |
| 115 | 2023-03-22 19:54:22 | Lauren Upcott |
| 116 | 2023-03-17 10:43:26 | Sonya Flack |
| 117 | 2023-03-22 19:13:45 | Siobhan Timblin |
| 120 | 2023-03-22 07:36:49 | Nicole Stewart |
| 121 | 2023-03-22 10:13:49 | Mrs S Padden |
| 122 | 2023-03-22 14:54:06 | Kate Forbear |
| 123 | 2023-03-20 21:47:49 | Lisa Bailey |
| 124 | 2023-03-18 18:32:42 | Mollie Loughlin |
| 125 | 2023-03-22 20:34:38 | Matt Dale |
| 126 | 2023-03-22 20:10:43 | April Andrews |
| 127 | 2023-03-17 10:21:16 | Caroline Western |
| 128 | 2023-03-17 10:05:49 | Bernise Clark |
| 129 | 2023-03-22 13:16:18 | Jamie Jones |
| 130 | 2023-03-22 20:58:11 | Kerri-Ann Clarkson |
| 131 | 2023-03-22 13:22:16 | Tracy Mills |
| 132 | 2023-03-22 20:58:11 | Kerri-Ann Clarkson |
| 133 | 2023-03-22 00:21:01 | Juliette King |
| 134 | 2023-03-22 16:32:42 | Beverley Coles |
| 135 | 2023-03-19 15:33:55 | Christine Swift |
| 137 | 2023-03-22 19:42:23 | Roxanne Cane |
| 138 | 2023-03-17 17:33:23 | Kelly Smale |
| 139 | 2023-03-22 20:16:39 | Emma Forshaw |
| 140 | 2023-03-22 19:30:46 | Amy selman |
| 141 | 2023-03-22 20:58:11 | Kerri-Ann Clarkson |
| 142 | 2023-03-17 10:05:49 | Bernise Clark |
| 143 | 2023-03-22 20:10:13 | Stacey Mcguinness |
| 144 | 2023-03-21 12:31:22 | Christopher Priest |
| 145 | 2023-03-22 20:51:55 | Jade Vickers |
| 146 | 2023-03-22 20:11:50 | Leo Moffatt |
| 147 | 2023-03-22 19:50:16 | T Jones |
| 148 | 2023-03-22 20:11:50 | Leo Moffatt |
| 149 | 2023-03-22 20:34:44 | Karyn Maplethorpe |
| 150 | 2023-03-22 00:27:22 | Donna Shute |
| 151 | 2023-03-22 18:47:28 | Alison Brown |
| 152 | 2023-03-22 20:58:11 | Kerri-Ann Clarkson |
| 153 | 2023-03-22 19:56:00 | Bernie Palmer |
| 154 | 2023-03-22 20:59:56 | Nicole Stewart |
| 156 | 2023-03-22 18:26:23 | Karren Shawkins |
| 157 | 2023-03-22 20:58:11 | Kerri-Ann Clarkson |
| 159 | 2023-03-21 22:48:41 | Skye Moore |
| 160 | 2023-03-22 19:48:08 | Leonora Stedman |
| 161 | 2023-03-22 20:58:11 | Kerri-Ann Clarkson |
| 162 | 2023-03-22 20:58:11 | Kerri-Ann Clarkson |
| 164 | 2023-03-22 20:28:42 | Helena Carlisle |
| 166 | 2023-03-21 20:50:39 | Stella Stoyle |
| 168 | 2023-03-22 20:58:11 | Kerri-Ann Clarkson |
| 169 | 2023-03-22 20:58:11 | Kerri-Ann Clarkson |
| 170 | 2023-03-22 19:57:45 | Daniel Paddington |
| 171 | 2023-03-20 14:01:26 | Toni Jago |
| 172 | 2023-03-22 14:35:44 | Ellie Martin |
| 173 | 2023-03-17 14:41:20 | Kerry Mace |
| 174 | 2023-03-22 19:36:28 | Shaun Taylor |
| 175 | 2023-03-22 19:36:28 | Shaun Taylor |
| 176 | 2023-03-18 18:45:03 | Kelsey Herriott |
| 177 | 2023-03-22 12:33:06 | Abby Evans |
| 178 | 2023-03-22 16:34:08 | Marie Tucker |
| 179 | 2023-03-22 20:16:17 | Holly Davis |
| 180 | 2023-03-22 20:01:46 | Jeanette Anderson |
| 183 | 2023-03-17 10:43:26 | Sonya Flack |
| 184 | 2023-03-22 15:46:51 | Kelly Sparkes |
| 186 | 2023-03-22 15:51:46 | Tegan Buckland |
| 188 | 2023-03-22 00:21:01 | Juliette King |
| 189 | 2023-03-20 21:47:49 | Lisa Bailey |
| 190 | 2023-03-22 19:46:27 | John Sutton |
| 191 | 2023-03-22 10:52:05 | Jade Papoutsis |
| 192 | 2023-03-22 20:59:56 | Nicole Stewart |
| 193 | 2023-03-22 20:58:11 | Kerri-Ann Clarkson |
| 194 | 2023-03-22 20:58:11 | Kerri-Ann Clarkson |
| 195 | 2023-03-22 12:05:58 | Sean Mulligan |
| 196 | 2023-03-22 13:30:03 | Kirsty Brown |
| 197 | 2023-03-22 20:11:50 | Leo Moffatt |
| 198 | 2023-03-22 20:58:11 | Kerri-Ann Clarkson |
| 199 | 2023-03-22 20:58:11 | Kerri-Ann Clarkson |
| 200 | 2023-03-22 20:24:12 | Fay Lees |
| 202 | 2023-03-21 05:50:02 | Angelique Mills |
| 203 | 2023-03-22 20:10:13 | Stacey Mcguinness |
| 204 | 2023-03-18 18:32:42 | Mollie Loughlin |
| 205 | 2023-03-17 22:29:55 | Kelly Chaplin |
| 206 | 2023-03-20 22:14:34 | Helen Norton |
| 207 | 2023-03-22 19:40:58 | Lorraine Williams |
| 209 | 2023-03-17 10:21:16 | Caroline Western |
| 210 | 2023-03-21 18:57:22 | Kelly Birkinshaw |
| 211 | 2023-03-22 20:33:27 | Lucy Mugford |
| 212 | 2023-03-22 20:26:07 | Amanda Jones |
| 213 | 2023-03-22 11:39:40 | Leanne Steward |
| 214 | 2023-03-22 19:53:45 | Amber Phillips |
| 215 | 2023-03-22 20:58:11 | Kerri-Ann Clarkson |
| 216 | 2023-03-22 20:59:56 | Nicole Stewart |
| 218 | 2023-03-21 17:59:32 | samantha Moore |
| 219 | 2023-03-22 20:16:17 | Holly Davis |
| 220 | 2023-03-22 20:59:56 | Nicole Stewart |
| 221 | 2023-03-22 20:33:50 | Michael O'connor |
| 222 | 2023-03-19 19:27:59 | Nicole Stewart |
| 223 | 2023-03-22 10:50:39 | Lucy Cronk |
| 224 | 2023-03-17 14:45:28 | Mollie Loughlin |
| 226 | 2023-03-22 10:50:39 | Lucy Cronk |
| 227 | 2023-03-17 10:21:16 | Caroline Western |
| 230 | 2023-03-22 20:24:06 | Kane Taylor |
| 231 | 2023-03-17 14:45:28 | Mollie Loughlin |
| 232 | 2023-03-17 18:11:03 | Amanda Logue |
| 233 | 2023-03-22 18:49:20 | liam squire |
| 234 | 2023-03-22 20:38:23 | Lilly Wick |
| 235 | 2023-03-22 19:36:28 | Shaun Taylor |
| 236 | 2023-03-22 20:06:30 | Christopher Priest |
| 239 | 2023-03-21 18:57:22 | Kelly Birkinshaw |
| 242 | 2023-03-22 20:10:43 | April Andrews |
| 243 | 2023-03-20 22:14:34 | Helen Norton |
| 244 | 2023-03-22 07:36:49 | Nicole Stewart |
| 245 | 2023-03-22 19:40:58 | Lorraine Williams |
| 246 | 2023-03-22 19:57:45 | Daniel Paddington |
| 247 | 2023-03-22 20:42:32 | Denise Willis |
| 248 | 2023-03-22 14:25:40 | Amanda Royal |
| 249 | 2023-03-19 08:39:30 | Kourtney Faulkner |
| 250 | 2023-03-22 20:59:56 | Nicole Stewart |
| 251 | 2023-03-22 19:46:27 | John Sutton |
| 253 | 2023-03-22 10:06:20 | Jazmin Johns |
| 256 | 2023-03-22 20:37:33 | Steven Soper |
| 257 | 2023-03-22 10:06:20 | Jazmin Johns |
| 258 | 2023-03-22 20:26:43 | Sharon Bray |
| 260 | 2023-03-22 20:36:48 | Chloe Mann |
| 261 | 2023-03-22 20:30:28 | Kendal riley |
| 262 | 2023-03-22 19:19:23 | Melissa davidson |
| 265 | 2023-03-22 19:53:29 | Barbara white |
| 268 | 2023-03-20 14:01:26 | Toni Jago |
| 269 | 2023-03-22 19:19:57 | Jodie Southwell |
| 270 | 2023-03-22 20:29:20 | Lucy Farrell |
| 273 | 2023-03-22 19:18:00 | Claire Allen |
| 274 | 2023-03-22 18:59:35 | Clare George |
| 275 | 2023-03-22 20:59:56 | Nicole Stewart |
| 276 | 2023-03-22 20:57:07 | Emily7 Hibberd |
| 279 | 2023-03-22 20:10:13 | Stacey Mcguinness |
| 280 | 2023-03-22 19:48:08 | Leonora Stedman |
| 281 | 2023-03-21 13:36:42 | Gemma McCarthy |
| 282 | 2023-03-22 20:07:47 | Alysha Jones |
| 283 | 2023-03-22 18:11:20 | Justine Cooper |
| 286 | 2023-03-22 20:34:38 | Matt Dale |
| 288 | 2023-03-22 19:39:42 | Annemarie Ohara |
| 289 | 2023-03-21 05:50:02 | Angelique Mills |
| 291 | 2023-03-21 10:47:21 | Anthony Scales |
| 293 | 2023-03-22 20:39:24 | Lorraine Williams |
| 294 | 2023-03-22 19:11:08 | Kaye Lowden |
| 295 | 2023-03-17 18:21:20 | Louise Baker |
| 297 | 2023-03-22 10:50:39 | Lucy Cronk |
| 298 | 2023-03-21 21:11:29 | Dawn Crawford |
| 299 | 2023-03-22 19:36:26 | Nicola Black |
| 301 | 2023-03-20 10:49:30 | Jade Haley |
| 302 | 2023-03-21 21:11:29 | Dawn Crawford |
| 304 | 2023-03-22 15:34:28 | Georgina Henley |
| 305 | 2023-03-21 08:12:03 | Ricky Jamieson |
| 306 | 2023-03-21 22:48:41 | Skye Moore |
| 307 | 2023-03-21 02:40:01 | Chelsea Ewart |
| 308 | 2023-03-17 11:00:30 | Eileen Vayle |
| 309 | 2023-03-17 18:06:15 | Jade Jago |
| 310 | 2023-03-18 15:34:53 | Kayleigh Garrett |
| 311 | 2023-03-20 21:18:13 | Jenni Kerr |
| 313 | 2023-03-22 20:29:45 | Sian Telford |
| 314 | 2023-03-22 11:37:22 | Sara Scott |
| 315 | 2023-03-22 20:36:48 | Chloe Mann |
| 316 | 2023-03-17 10:43:26 | Sonya Flack |
| 317 | 2023-03-20 14:35:40 | Emma Stoneman |
| 318 | 2023-03-22 19:46:27 | John Sutton |
| 319 | 2023-03-22 19:36:28 | Shaun Taylor |
| 320 | 2023-03-20 23:32:32 | Stephanie Pickford |
| 322 | 2023-03-22 20:00:42 | Andrew Veale |
| 323 | 2023-03-22 18:47:28 | Alison Brown |
| 327 | 2023-03-19 18:26:46 | Laura Currie |
| 329 | 2023-03-21 13:16:10 | Leah Clifford |
| 330 | 2023-03-22 12:37:40 | Tatyana Parlikova |
| 331 | 2023-03-22 14:46:56 | Natasha Hunter |
| 332 | 2023-03-21 09:24:44 | Juliette King |
| 333 | 2023-03-21 09:24:44 | Juliette King |
| 334 | 2023-03-21 09:24:44 | Juliette King |
| 335 | 2023-03-21 09:24:44 | Juliette King |
| 336 | 2023-03-20 14:01:26 | Toni Jago |
| 337 | 2023-03-22 10:53:05 | Gemma WR |
| 338 | 2023-03-22 18:59:35 | Clare George |
| 339 | 2023-03-20 22:14:34 | Helen Norton |
| 340 | 2023-03-22 11:23:09 | Anwar Qantah |
| 341 | 2023-03-21 10:47:21 | Anthony Scales |
| 342 | 2023-03-21 22:23:11 | Rebecca Beaven |
| 343 | 2023-03-21 18:57:22 | Kelly Birkinshaw |
| 344 | 2023-03-22 00:21:01 | Juliette King |
| 345 | 2023-03-22 00:21:01 | Juliette King |
| 346 | 2023-03-21 21:40:38 | Sarah Barlow |
| 347 | 2023-03-22 19:23:47 | Amy Wain |
| 348 | 2023-03-22 20:50:32 | Bethany Williams |
| 349 | 2023-03-21 05:50:02 | Angelique Mills |
| 351 | 2023-03-22 20:00:42 | Andrew Veale |
| 352 | 2023-03-20 21:18:13 | Jenni Kerr |
| 353 | 2023-03-22 18:47:28 | Alison Brown |
| 355 | 2023-03-22 19:50:57 | Fern Jackson |
| 356 | 2023-03-22 20:59:35 | Emma White |
| 357 | 2023-03-22 19:38:25 | Joel Wingrave Manns |
| 358 | 2023-03-22 17:08:12 | Leanne Jackson |
| 360 | 2023-03-22 19:51:53 | Emma Jones |
| 361 | 2023-03-22 20:16:18 | Melissa Broadbent |
| 362 | 2023-03-22 20:16:39 | Emma Forshaw |
| 363 | 2023-03-17 11:00:30 | Eileen Vayle |
| 364 | 2023-03-22 11:54:52 | Staceyy C |
| 365 | 2023-03-21 20:50:39 | Stella Stoyle |
| 366 | 2023-03-22 20:17:41 | Amy Wannell |
| 367 | 2023-03-22 16:54:35 | Lisa Hynes |
| 370 | 2023-03-22 13:16:18 | Jamie Jones |
| 371 | 2023-03-22 20:10:16 | Naomi Curtis |
| 372 | 2023-03-22 19:35:39 | Kym Davies |
| 373 | 2023-03-22 10:04:38 | Amy Newton |
| 374 | 2023-03-18 02:23:37 | Donna Ellis |
| 376 | 2023-03-22 20:04:47 | Danielle Delaney |
| 381 | 2023-03-22 19:24:49 | Natalie King |
| 382 | 2023-03-20 10:49:30 | Jade Haley |
| 383 | 2023-03-17 10:43:26 | Sonya Flack |
| 384 | 2023-03-17 21:51:26 | Lisa Sanders |
| 385 | 2023-03-22 20:34:38 | Matt Dale |
| 386 | 2023-03-22 18:36:04 | Hannah Allpress |
| 388 | 2023-03-18 09:51:36 | Amy Gow |
| 389 | 2023-03-22 20:34:38 | Matt Dale |
| 393 | 2023-03-22 14:46:56 | Natasha Hunter |
| 394 | 2023-03-20 22:14:34 | Helen Norton |
| 396 | 2023-03-21 22:48:41 | Skye Moore |
| 397 | 2023-03-22 17:16:53 | Kimberley Shawkins |
| 398 | 2023-03-22 11:48:22 | Sadie Mulgrue |
| 399 | 2023-03-22 15:22:45 | Tiegan Frayne |
| 401 | 2023-03-22 13:37:24 | Lorraine Rawles |
| 403 | 2023-03-22 20:01:43 | Stella Thomas |
| 405 | 2023-03-22 19:13:47 | Stacey Roberts |
| 406 | 2023-03-17 18:06:15 | Jade Jago |
| 407 | 2023-03-22 19:57:45 | Daniel Paddington |
| 409 | 2023-03-17 11:28:44 | avalon parkes-barton |
| 410 | 2023-03-22 16:34:08 | Marie Tucker |
| 414 | 2023-03-22 20:43:09 | Alison Massey |
| 416 | 2023-03-22 16:58:35 | Raymond Burgess |
| 417 | 2023-03-18 18:45:03 | Kelsey Herriott |
| 418 | 2023-03-22 18:59:35 | Clare George |
| 419 | 2023-03-22 19:54:22 | Lauren Upcott |
| 421 | 2023-03-22 16:05:52 | Jodie Southwell |
| 425 | 2023-03-22 15:51:46 | Tegan Buckland |
| 426 | 2023-03-22 16:46:27 | JESSICA Bradbury |
| 427 | 2023-03-22 20:20:49 | Sophie St-claire |
| 428 | 2023-03-22 20:16:38 | Leanne Lewis |
| 430 | 2023-03-22 19:40:08 | Bethany Brassington |
| 432 | 2023-03-21 15:31:25 | Melonie Jeffery |
| 435 | 2023-03-22 18:24:52 | Sarah Faulkner-lloyd |
| 436 | 2023-03-22 19:39:42 | Annemarie Ohara |
| 438 | 2023-03-18 18:45:03 | Kelsey Herriott |
| 439 | 2023-03-22 20:11:50 | Leo Moffatt |
| 441 | 2023-03-22 19:48:08 | Leonora Stedman |
| 444 | 2023-03-22 20:03:14 | Hayley Stevens |
| 445 | 2023-03-22 10:52:05 | Jade Papoutsis |
| 446 | 2023-03-22 20:34:38 | Matt Dale |
| 447 | 2023-03-22 18:46:28 | Jordana Hamilton |
| 448 | 2023-03-22 17:51:58 | Rebecca Booth |
| 450 | 2023-03-22 19:25:34 | Rachel Clarke |
| 451 | 2023-03-20 22:14:34 | Helen Norton |
| 452 | 2023-03-22 10:04:38 | Amy Newton |
| 454 | 2023-03-22 20:32:16 | Charlotte Shaw |
| 455 | 2023-03-22 20:10:13 | Stacey Mcguinness |
| 458 | 2023-03-20 19:25:32 | Sammy-jo Farley |
| 462 | 2023-03-22 18:59:35 | Clare George |
| 463 | 2023-03-22 20:16:39 | Emma Forshaw |
| 464 | 2023-03-22 20:01:43 | Stella Thomas |
| 465 | 2023-03-22 19:31:50 | Michelle Weller |
| 466 | 2023-03-22 20:59:56 | Nicole Stewart |
| 467 | 2023-03-22 20:59:56 | Nicole Stewart |
| 468 | 2023-03-22 12:37:40 | Tatyana Parlikova |
| 470 | 2023-03-22 15:51:46 | Tegan Buckland |
| 471 | 2023-03-22 20:45:36 | Alice Berriman |
| 474 | 2023-03-22 18:49:20 | liam squire |
| 475 | 2023-03-22 20:59:56 | Nicole Stewart |
| 476 | 2023-03-22 20:34:38 | Matt Dale |
| 477 | 2023-03-22 20:14:30 | Kasia Kyziol |
| 479 | 2023-03-22 14:39:32 | Charlotte Avery |
| 480 | 2023-03-22 19:14:04 | Natasha Furze |
| 481 | 2023-03-22 19:50:39 | Paige Bradshaw |
| 482 | 2023-03-22 20:58:11 | Kerri-Ann Clarkson |
| 483 | 2023-03-21 20:32:27 | Megan Ellis |
| 485 | 2023-03-22 19:24:49 | Natalie King |
| 486 | 2023-03-21 21:40:38 | Sarah Barlow |
| 487 | 2023-03-22 20:16:17 | Holly Davis |
| 488 | 2023-03-22 11:29:07 | Sarah Read |
| 489 | 2023-03-22 18:47:28 | Alison Brown |
| 490 | 2023-03-21 16:36:17 | Marie Tucker |
| 491 | 2023-03-18 21:44:30 | Caitlin Hadley |
| 492 | 2023-03-22 20:58:11 | Kerri-Ann Clarkson |
| 493 | 2023-03-22 20:58:11 | Kerri-Ann Clarkson |
| 494 | 2023-03-20 14:01:26 | Toni Jago |
| 495 | 2023-03-22 14:39:32 | Charlotte Avery |
| 496 | 2023-03-22 19:40:50 | Aaron Barnard |
| 497 | 2023-03-22 18:47:28 | Alison Brown |
| 498 | 2023-03-20 22:14:34 | Helen Norton |
| 499 | 2023-03-22 19:06:49 | Jessica Westcott |
| 500 | 2023-03-22 12:37:40 | Tatyana Parlikova |