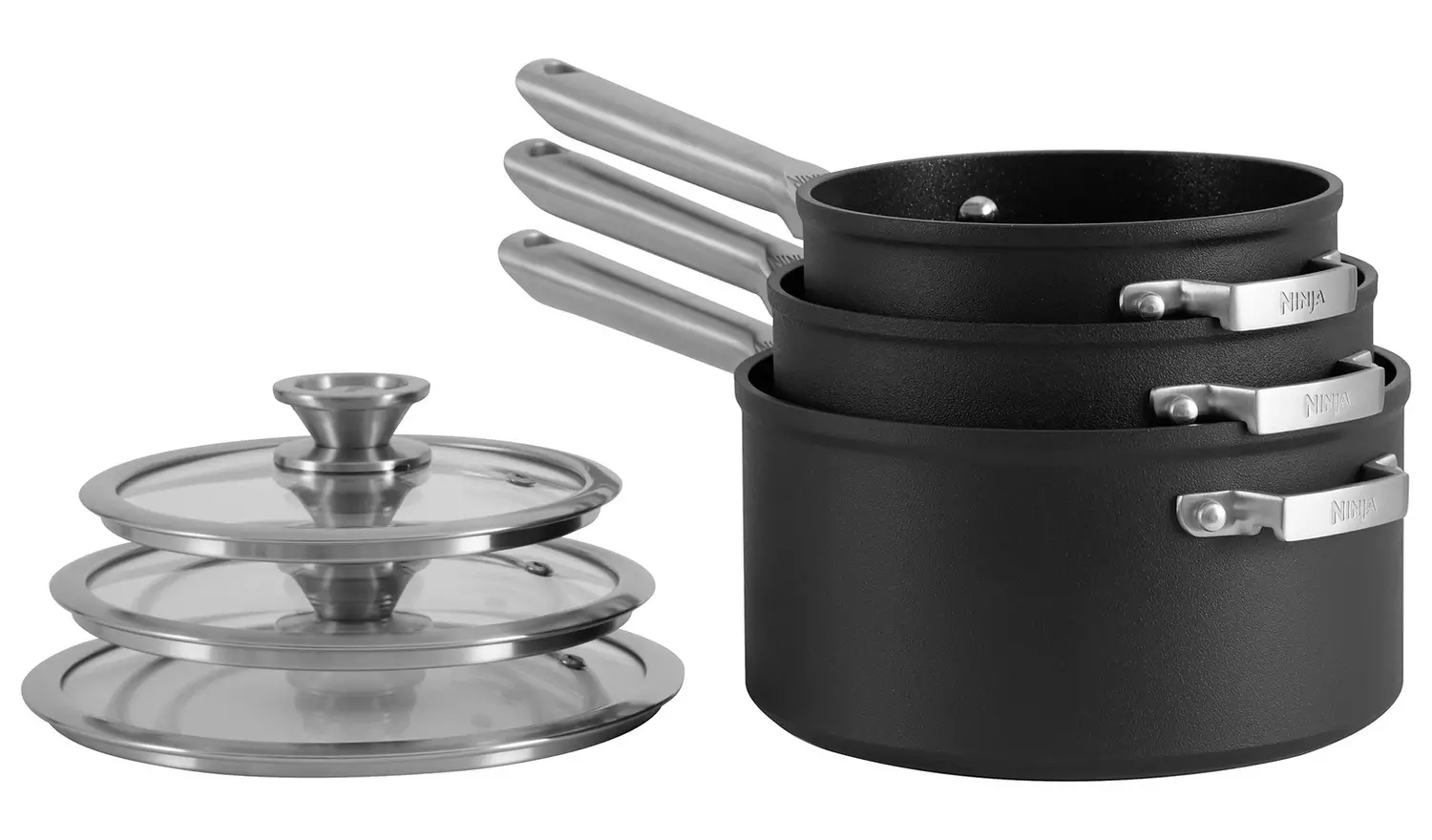 Ninja Zerostick Stackable 3 Piece Non Stick Pan Set
Description
Ninja Zerostick Stackable 3 Piece Non Stick Pan Set
Easily organise, protect and store your cookware with this nesting saucepan set, featuring Ninja's exclusive ZEROSTICK Technology – zero chip, flake or peel. ZEROSTICK combines ultra-high heat plasma ceramic bonding with a unique non-stick coating, meaning every pan stays flake and peel free. Durable and long-lasting, these pans are dishwasher safe, scratch resistant and metal utensil safe. Oven safe up to 260C. Suitable for all hob types, including induction. PFOA, lead and cadmium free.
This 3-piece stacking pan set includes 16cm, 18cm and 20cm saucepans with heat tempered glass lids and cast stainless steel handles. These space-saving pans securely nest together for compact, organised storage in your kitchen cupboards or drawers, while protecting the pans' cooking surfaces.
Even heating and no hot spots ensure perfectly cooked results. Cook using little to no oil. PFOA, lead and cadmium free. Ninja offers a 10 Year Replacement Guarantee, including the non-stick coating. Upon registration with Ninja. When used as directed in the use and care guide.
Pan set includes:
3 saucepans – diameter 16cm, 18cm, 20cm .
Pan set features:
Interior material: aluminium.
Exterior material: aluminium.
Glass lids.
Easy clean.
Non stick coating.
Oven safe up to 260°C.
Suitable for hob types: gas, electric, halogen, induction, ceramic and solid hotplates.
Dishwasher safe.
| Winner Name | Ticket Number | Draw Date |
| --- | --- | --- |
| Charlie Wickens | 115 | 28/11/2023 |
| Ticket Number | Date | Name |
| --- | --- | --- |
| 2 | 2023-11-28 20:37:08 | C A |
| 3 | 2023-11-28 20:53:33 | Darren Mclean |
| 4 | 2023-11-28 17:29:49 | Will Roberts |
| 5 | 2023-11-27 17:12:56 | Darren Stevens |
| 6 | 2023-11-28 18:20:19 | Julia Barrett |
| 7 | 2023-11-28 18:53:11 | Amanda Grewcock |
| 11 | 2023-11-28 11:34:56 | J t |
| 12 | 2023-11-28 20:39:30 | Laura Harvey |
| 13 | 2023-11-28 18:24:34 | Lee Milton |
| 14 | 2023-11-28 17:19:46 | Claire King |
| 15 | 2023-11-28 10:54:27 | Jen Glancy |
| 16 | 2023-11-28 11:41:41 | Jane Hasni |
| 17 | 2023-11-28 17:26:06 | Darren Mclean |
| 18 | 2023-11-28 17:26:06 | Darren Mclean |
| 19 | 2023-11-28 20:43:29 | Nadine Miller |
| 21 | 2023-11-27 22:13:22 | Clare Grant |
| 22 | 2023-11-28 12:32:00 | Emma & lee |
| 23 | 2023-11-28 20:11:10 | Mandy Morris |
| 25 | 2023-11-28 18:27:12 | Ayesha Davies |
| 26 | 2023-11-28 18:27:12 | Ayesha Davies |
| 27 | 2023-11-28 17:43:12 | Rebecca Davies |
| 29 | 2023-11-28 19:34:20 | Natalie Anderson |
| 30 | 2023-11-28 20:37:08 | C A |
| 32 | 2023-11-26 19:50:57 | Carolyne Harper |
| 33 | 2023-11-28 17:47:16 | Sarah Wallis |
| 34 | 2023-11-28 13:41:11 | Holly Gawrel |
| 36 | 2023-11-28 19:40:54 | Ayesha Davies |
| 38 | 2023-11-28 19:50:37 | Debbie Shore |
| 39 | 2023-11-28 19:11:57 | Jaque Shackleton |
| 40 | 2023-11-28 16:18:52 | Lauren Brown |
| 42 | 2023-11-28 19:08:18 | Michael O'connor |
| 43 | 2023-11-28 14:22:48 | Amy Holland |
| 44 | 2023-11-28 17:29:49 | Will Roberts |
| 45 | 2023-11-28 16:32:31 | Steven Wheway |
| 46 | 2023-11-28 14:45:35 | Tracey Yeldham |
| 48 | 2023-11-28 10:57:37 | Sarah Hughes |
| 49 | 2023-11-28 18:36:12 | Amber Rahsi |
| 51 | 2023-11-28 16:45:00 | Mrs S Padden |
| 53 | 2023-11-28 18:00:18 | R H |
| 54 | 2023-11-28 20:46:00 | Kelly Stewart |
| 56 | 2023-11-28 18:16:22 | Kirsty Haughton |
| 58 | 2023-11-28 20:46:00 | Kelly Stewart |
| 60 | 2023-11-28 14:34:59 | Rachel Evans |
| 61 | 2023-11-28 07:49:09 | Ayesha Davies |
| 63 | 2023-11-24 17:34:50 | Ann Chase |
| 66 | 2023-11-28 20:11:10 | Mandy Morris |
| 67 | 2023-11-28 18:26:28 | Tracey Evans |
| 69 | 2023-11-28 18:59:16 | Abbie Davey |
| 71 | 2023-11-28 20:57:16 | Ross Newham |
| 72 | 2023-11-28 14:22:48 | Amy Holland |
| 73 | 2023-11-28 20:53:33 | Darren Mclean |
| 74 | 2023-11-28 17:04:06 | Sally-ann Aplin |
| 75 | 2023-11-28 20:37:08 | C A |
| 77 | 2023-11-27 19:07:04 | Josh Newstead |
| 78 | 2023-11-28 17:50:25 | Ayesha Davies |
| 79 | 2023-11-28 12:42:05 | Jessica Cooney |
| 80 | 2023-11-28 17:09:38 | Victoria Sealey |
| 84 | 2023-11-28 20:54:35 | Sam Lillico |
| 86 | 2023-11-27 20:42:31 | Kimberley Watts |
| 87 | 2023-11-28 20:57:16 | Ross Newham |
| 88 | 2023-11-28 20:37:08 | C A |
| 92 | 2023-11-28 15:00:15 | Nadine Smallridge |
| 93 | 2023-11-28 17:50:25 | Ayesha Davies |
| 94 | 2023-11-28 17:43:39 | Kerry McLean |
| 95 | 2023-11-28 20:46:00 | Kelly Stewart |
| 96 | 2023-11-28 17:09:38 | Victoria Sealey |
| 97 | 2023-11-28 20:53:33 | Darren Mclean |
| 98 | 2023-11-28 17:50:25 | Ayesha Davies |
| 100 | 2023-11-28 18:27:12 | Ayesha Davies |
| 103 | 2023-11-28 20:52:49 | Josh Coulson |
| 104 | 2023-11-28 14:45:35 | Tracey Yeldham |
| 106 | 2023-11-28 20:40:54 | Devi Partha sarathi |
| 107 | 2023-11-27 19:53:41 | Sally Mcleod |
| 108 | 2023-11-28 20:47:29 | Lucy Breslan |
| 109 | 2023-11-28 14:34:59 | Rachel Evans |
| 110 | 2023-11-28 19:03:47 | Julie Cornford |
| 112 | 2023-11-28 20:57:16 | Ross Newham |
| 114 | 2023-11-28 20:53:33 | Darren Mclean |
| 115 | 2023-11-28 16:34:44 | Charlie Wickens |
| 117 | 2023-11-28 20:11:10 | Mandy Morris |
| 119 | 2023-11-27 19:26:21 | Lisa Skilton |
| 120 | 2023-11-28 20:53:33 | Darren Mclean |
| 122 | 2023-11-28 20:37:08 | C A |
| 123 | 2023-11-28 20:11:10 | Mandy Morris |
| 127 | 2023-11-28 19:08:18 | Michael O'connor |
| 129 | 2023-11-28 20:53:33 | Darren Mclean |
| 130 | 2023-11-28 20:53:33 | Darren Mclean |
| 133 | 2023-11-28 14:22:48 | Amy Holland |
| 136 | 2023-11-28 20:41:24 | Amber Probyn |
| 137 | 2023-11-28 19:23:07 | Claire Baker |
| 138 | 2023-11-28 20:11:10 | Mandy Morris |
| 143 | 2023-11-27 19:53:41 | Sally Mcleod |
| 147 | 2023-11-28 17:09:38 | Victoria Sealey |
| 149 | 2023-11-28 18:27:12 | Ayesha Davies |
| 153 | 2023-11-28 20:37:08 | C A |
| 154 | 2023-11-28 20:51:33 | Kerry McLean |
| 155 | 2023-11-28 20:41:24 | Amber Probyn |
| 156 | 2023-11-28 14:34:59 | Rachel Evans |
| 158 | 2023-11-28 19:40:54 | Ayesha Davies |
| 160 | 2023-11-28 14:34:59 | Rachel Evans |
| 162 | 2023-11-28 19:03:47 | Julie Cornford |
| 163 | 2023-11-28 17:30:48 | Ann Chase |
| 165 | 2023-11-28 17:29:49 | Will Roberts |
| 166 | 2023-11-28 14:34:59 | Rachel Evans |
| 168 | 2023-11-28 20:31:45 | Tom Speed |
| 169 | 2023-11-28 20:43:29 | Nadine Miller |