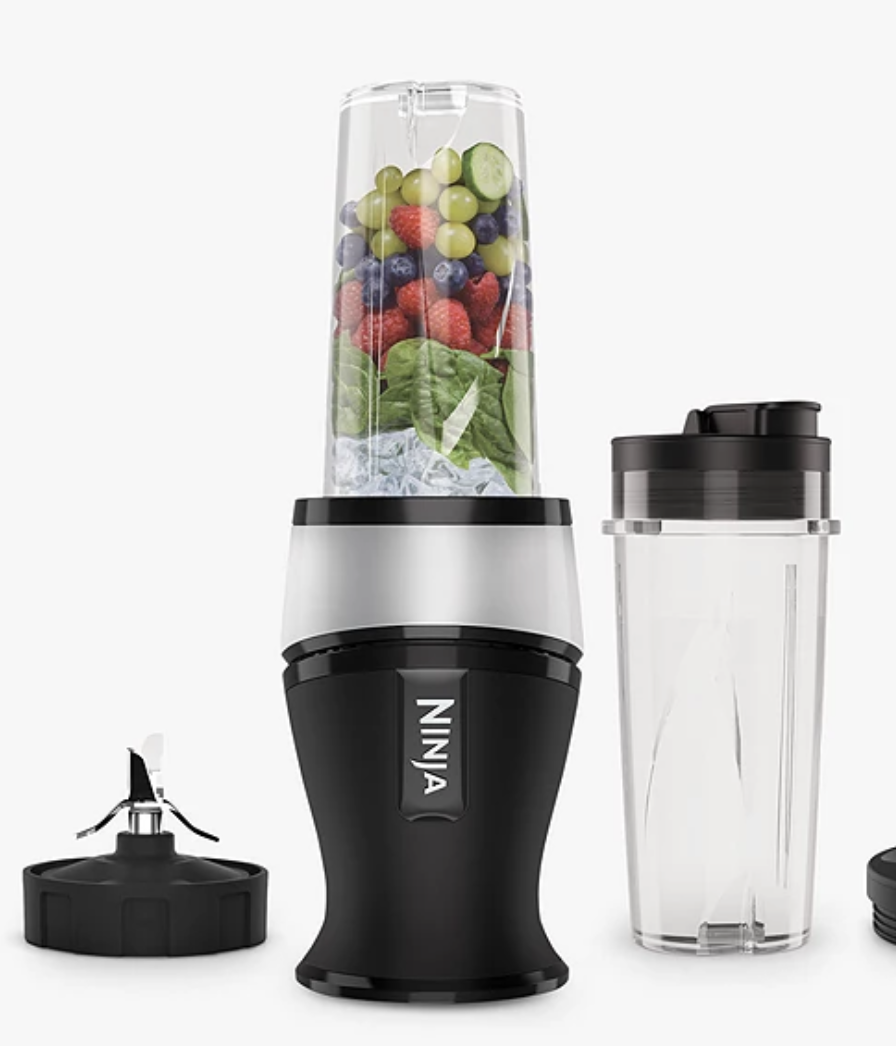 Ninja QB3001UKS Smoothie Maker, Black/Silver
Description
Ninja QB3001UKS Smoothie Maker, Black/Silver
Simple, fast, delicious. Pulse and blend your way to super smooth, ice-cool drinks and smoothies in seconds with this compact blender and smoothie maker.
700 watts of power
This slim blender combines a powerful 700-watt motor with Ninja's precision-engineered blades, easily blending your favourite fresh and frozen fruits and vegetables, nuts, seeds and even ice.
Pulse to blend
With Pulse Technology, simply pulse the cup to blend, creating super-smooth, delicious drinks and smoothies in just seconds.
Includes 2 Ninja cups
Complete with two BPA-free, dishwasher-safe cups and to-go lids, it's easy to enjoy your favourite drinks on the move.
| Winner Name | Ticket Number | Draw Date |
| --- | --- | --- |
| Sarah Ashton | 18 | 23/01/2023 |
| Ticket Number | Date | Name |
| --- | --- | --- |
| 1 | 2023-01-23 20:07:53 | Jamail Akhtar |
| 2 | 2023-01-23 19:13:31 | jeanette rich |
| 3 | 2023-01-19 17:43:35 | Michaela Nodwell |
| 4 | 2023-01-23 20:04:34 | Morgan johnson |
| 5 | 2023-01-23 20:04:34 | Morgan johnson |
| 6 | 2023-01-19 10:56:33 | Sarah Ashton |
| 7 | 2023-01-23 11:09:09 | Ben Fawcett |
| 8 | 2023-01-19 20:28:31 | Alisha Rooke |
| 9 | 2023-01-23 15:29:51 | Patricia Clarkson |
| 10 | 2023-01-22 19:37:52 | Toni Rowe |
| 11 | 2023-01-21 22:00:37 | Maisie Andrews |
| 12 | 2023-01-23 17:26:55 | Sarah Frost |
| 13 | 2023-01-23 15:09:47 | Ellie Donald |
| 14 | 2023-01-23 15:34:23 | Lau X |
| 15 | 2023-01-23 20:01:52 | Jessica Gameson |
| 16 | 2023-01-22 21:12:02 | Caroline White |
| 17 | 2023-01-20 19:01:16 | Kelly Barrett |
| 18 | 2023-01-19 10:56:33 | Sarah Ashton |
| 19 | 2023-01-23 11:07:28 | Alison Proud |
| 20 | 2023-01-23 15:29:51 | Patricia Clarkson |
| 21 | 2023-01-22 19:22:32 | Patricia Clarkson |
| 22 | 2023-01-23 11:17:37 | LJ Storer |
| 23 | 2023-01-21 12:06:38 | Amanda Moore |
| 24 | 2023-01-23 18:36:38 | Liam Short |
| 25 | 2023-01-21 22:00:37 | Maisie Andrews |
| 26 | 2023-01-23 15:29:51 | Patricia Clarkson |
| 27 | 2023-01-23 11:34:52 | Naomi Rose |
| 28 | 2023-01-22 19:40:59 | Karen Bumby |
| 29 | 2023-01-23 19:27:30 | Jacqueline Sandford |
| 30 | 2023-01-23 19:18:14 | Jolene Collings |
| 31 | 2023-01-23 20:50:17 | Sophie Wright |
| 32 | 2023-01-20 07:17:18 | Claire Cockram |
| 33 | 2023-01-19 19:39:18 | Sam Fitzsimmons |
| 34 | 2023-01-23 19:03:18 | David Watkiss |
| 35 | 2023-01-23 16:54:07 | Martin Pinkney |
| 36 | 2023-01-22 21:33:23 | Tara Evans |
| 37 | 2023-01-19 10:56:33 | Sarah Ashton |
| 38 | 2023-01-23 17:53:00 | Ellie Donald |
| 39 | 2023-01-20 11:15:47 | Kim Loosemore |
| 40 | 2023-01-22 20:50:43 | Megan White |
| 41 | 2023-01-22 21:12:02 | Caroline White |
| 42 | 2023-01-23 16:07:14 | Sami Knott |
| 43 | 2023-01-23 20:02:39 | Kathryn Broom |
| 44 | 2023-01-23 16:36:53 | Louise Ghanmi |
| 45 | 2023-01-23 20:04:34 | Morgan johnson |
| 46 | 2023-01-23 20:04:34 | Morgan johnson |
| 47 | 2023-01-23 20:04:34 | Morgan johnson |
| 48 | 2023-01-19 14:03:56 | Annamai Martinot |
| 49 | 2023-01-23 18:16:54 | Zoe Fowler |
| 50 | 2023-01-23 17:53:00 | Ellie Donald |
| 51 | 2023-01-23 20:18:38 | Alison Crust |
| 52 | 2023-01-23 19:15:05 | Elisabeth Balding |
| 53 | 2023-01-23 11:09:09 | Ben Fawcett |
| 54 | 2023-01-23 11:20:38 | Sarah jane Glover |
| 55 | 2023-01-23 19:03:14 | Tegan Wilkins |
| 56 | 2023-01-23 19:57:50 | Sarah Baker |
| 57 | 2023-01-21 22:00:37 | Maisie Andrews |
| 58 | 2023-01-21 13:09:03 | Moira stokes |
| 59 | 2023-01-23 20:02:19 | Roxanne Hill |
| 60 | 2023-01-23 12:53:02 | Sue Parramore |
| 61 | 2023-01-23 19:47:36 | Ayesha Davies |
| 62 | 2023-01-23 20:04:34 | Morgan johnson |
| 63 | 2023-01-22 12:41:03 | Michelle Soanes |
| 64 | 2023-01-23 19:02:04 | Kate Mills |
| 65 | 2023-01-23 17:15:25 | Moira Jayne Angel |
| 66 | 2023-01-22 21:12:02 | Caroline White |
| 67 | 2023-01-23 20:04:34 | Morgan johnson |
| 68 | 2023-01-19 10:56:33 | Sarah Ashton |
| 69 | 2023-01-23 08:21:09 | Rachi B |
| 70 | 2023-01-23 17:55:49 | Daniel Dennis |
| 71 | 2023-01-23 12:01:43 | Sian Grimshaw |
| 72 | 2023-01-23 18:36:38 | Liam Short |
| 73 | 2023-01-23 20:04:34 | Morgan johnson |
| 74 | 2023-01-22 10:18:44 | Stefan Guy |
| 75 | 2023-01-19 10:56:33 | Sarah Ashton |
| 76 | 2023-01-22 21:33:23 | Tara Evans |
| 77 | 2023-01-23 20:04:34 | Morgan johnson |
| 78 | 2023-01-22 09:34:36 | Zoe Sokolowski |
| 79 | 2023-01-23 11:11:15 | Jenna Gordon |
| 80 | 2023-01-23 19:19:58 | Amber Probyn |
| 81 | 2023-01-23 20:04:34 | Morgan johnson |
| 82 | 2023-01-21 22:14:48 | Claire Westwood |
| 83 | 2023-01-23 19:47:36 | Ayesha Davies |
| 84 | 2023-01-23 19:19:58 | Amber Probyn |
| 85 | 2023-01-23 11:09:09 | Ben Fawcett |
| 86 | 2023-01-23 20:02:39 | Kathryn Broom |
| 87 | 2023-01-20 11:15:47 | Kim Loosemore |
| 88 | 2023-01-23 11:20:38 | Sarah jane Glover |
| 89 | 2023-01-23 20:14:28 | Anne Rich |
| 90 | 2023-01-23 20:18:38 | Alison Crust |
| 91 | 2023-01-23 12:53:02 | Sue Parramore |
| 92 | 2023-01-23 20:22:47 | Teresa Marshall-Owen |
| 93 | 2023-01-18 19:30:29 | Philip Colbourne |
| 94 | 2023-01-23 16:36:49 | MISS K.B |
| 95 | 2023-01-23 19:23:06 | Trudi Aitken |
| 96 | 2023-01-23 11:09:09 | Ben Fawcett |
| 97 | 2023-01-23 11:09:09 | Ben Fawcett |
| 98 | 2023-01-23 13:02:07 | Gary Cattell |
| 99 | 2023-01-23 16:36:16 | Lisa Cogavin |
| 100 | 2023-01-21 19:50:30 | Angela Dodd |
| 101 | 2023-01-23 13:02:07 | Gary Cattell |
| 102 | 2023-01-23 19:51:39 | Sharon Jordain |
| 103 | 2023-01-22 19:22:32 | Patricia Clarkson |
| 104 | 2023-01-23 17:49:17 | Roxanne Hill |
| 105 | 2023-01-23 20:01:20 | MISS K.B |
| 106 | 2023-01-23 20:02:19 | Roxanne Hill |
| 107 | 2023-01-23 18:17:55 | TINA BROWN |
| 108 | 2023-01-23 20:01:52 | Jessica Gameson |
| 109 | 2023-01-23 15:11:47 | Kelly Dinsdale |
| 110 | 2023-01-22 18:32:07 | Jackie Staines |