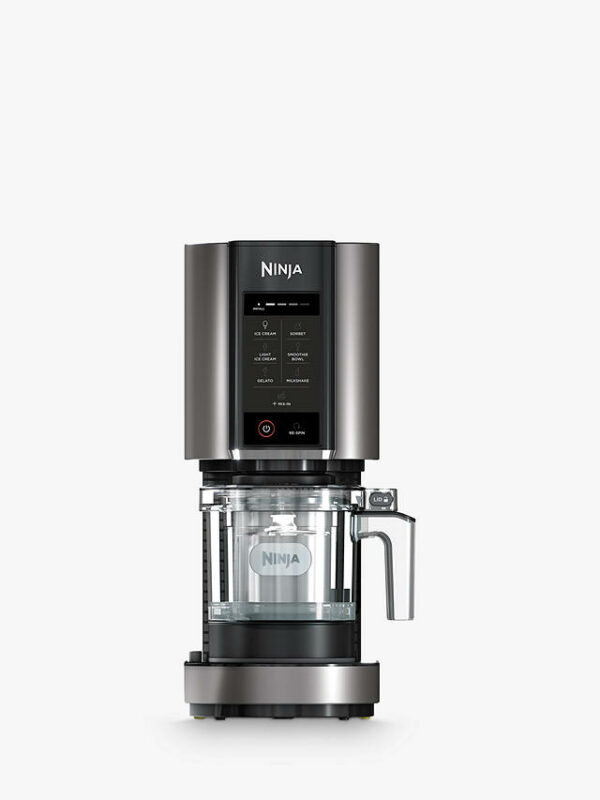 Ninja NC300UK Ice Cream Machine #3
Description
Discover a new way to create homemade ice cream, frozen desserts and more! Create and customise delicious treats with this Ninja Ice Cream & Dessert Maker. Enjoy indulgent ice cream, smooth gelato, luxurious milkshakes, fruit sorbets, frozen yoghurt and guilt-free smoothie bowls, exactly as you like them.
Fill, freeze, process & enjoy
Simply fill a Dessert Tub with ingredients and pop in the freezer for 24 hours. When you're ready to serve, add the tub into the Ice Cream Maker and the rotating Dessert Paddle transforms your frozen base into a creamy treat in minutes!
Your desserts, your way
Make your treats exactly as you like them – indulgent, low sugar, dairy free, keto, vegan. The choice is yours. Complete with 3 Dessert Tubs, you can make up to 1.4L of delicious ice cream to please every palette. Fill your tubs and keep them in the freezer to have your favourite treats ready to process and enjoy in minutes! There's a Recipe Guide included in the box, packed with delicious ideas to suit every taste.
Customise with mix-ins
Enjoy delicious bursts of flavour and texture all the way through your dessert. After processing your frozen base, simply add extra ingredients such as chocolate chips, sweets, nuts, biscuit pieces, cereal and more, then run the specially designed Mix-In program to evenly distribute them throughout your tub with precision and control. Create a personalised treat to rival any shop bought ice cream – with mix-ins in every bite!
More than ice cream
Enjoy limitless options with 7 preset programs – Ice Cream, Gelato, Sorbet, Smoothie Bowl, Light Ice Cream, Milkshake & Mix-Ins. Not just for dessert, create delicious treats for all times of day, from ice cream parlour classics and soft-serve gelato to a fruity smoothie bowl or zesty lemon sorbet.
Easy to use
Simple touchscreen controls make it easy to select your program. A handy progress bar on the display screen indicates how close you are to enjoying your treat. This sleek, compact machine is a stylish addition to any kitchen.
Easy to clean
The tubs, lids and paddle are top rack dishwasher safe for hassle-free cleaning, or simply wash by hand with soapy water.
| Winner Name | Ticket Number | Draw Date |
| --- | --- | --- |
| Emma Vann-sawicka | 110 | 19/05/2022 |
| Ticket Number | Date | Name |
| --- | --- | --- |
| 1 | 2022-05-19 20:35:56 | Lisa Darragh |
| 2 | 2022-05-16 21:52:19 | Alison Cass |
| 4 | 2022-05-14 12:07:20 | Alison Cass |
| 5 | 2022-05-14 12:07:20 | Alison Cass |
| 9 | 2022-05-19 17:04:05 | Gail Gilbert |
| 11 | 2022-05-14 12:07:20 | Alison Cass |
| 14 | 2022-05-19 17:44:37 | Juliet Phillips |
| 21 | 2022-05-14 12:07:20 | Alison Cass |
| 22 | 2022-05-17 09:51:34 | Emma Davies |
| 24 | 2022-05-14 12:07:20 | Alison Cass |
| 27 | 2022-05-19 11:52:56 | Carol Jones |
| 29 | 2022-05-19 19:21:07 | Joanne Pursey |
| 32 | 2022-05-14 21:33:43 | Tina Tunkin |
| 33 | 2022-05-19 19:36:30 | Michael O'connor |
| 36 | 2022-05-19 20:28:00 | Vikki Gyde |
| 38 | 2022-05-17 20:11:40 | Alison Hack |
| 44 | 2022-05-19 19:08:15 | James Bennellick |
| 45 | 2022-05-16 21:52:19 | Alison Cass |
| 48 | 2022-05-13 23:18:37 | David Binmore |
| 50 | 2022-05-19 06:33:00 | Grace Cox |
| 51 | 2022-05-19 18:27:46 | Kelly Parker |
| 52 | 2022-05-19 20:19:43 | Marie West |
| 53 | 2022-05-19 19:36:30 | Michael O'connor |
| 54 | 2022-05-18 21:34:35 | phyllis steer |
| 57 | 2022-05-18 19:13:58 | Alice Hill |
| 58 | 2022-05-18 11:08:20 | Jackie Dyer |
| 60 | 2022-05-19 19:15:03 | David Orrey |
| 62 | 2022-05-19 20:19:43 | Marie West |
| 63 | 2022-05-19 20:19:46 | Victoria Brown |
| 64 | 2022-05-13 19:55:46 | Matt Joyce |
| 66 | 2022-05-18 11:05:36 | Jen Ataylia |
| 68 | 2022-05-19 19:08:15 | James Bennellick |
| 69 | 2022-05-19 20:21:31 | Craig Lomas |
| 70 | 2022-05-16 08:08:23 | Debra Hamilton |
| 73 | 2022-05-19 19:31:25 | Carol Jones |
| 74 | 2022-05-13 20:37:20 | Daniel Brown |
| 75 | 2022-05-16 21:52:19 | Alison Cass |
| 76 | 2022-05-14 12:07:20 | Alison Cass |
| 78 | 2022-05-19 19:35:34 | Gail Gilbert |
| 79 | 2022-05-19 14:46:20 | Keira Bradford-jones |
| 80 | 2022-05-19 17:01:43 | Lisa Darragh |
| 82 | 2022-05-19 19:31:25 | Carol Jones |
| 85 | 2022-05-19 17:30:58 | Matthew Nickels |
| 88 | 2022-05-19 20:40:03 | James Bennellick |
| 89 | 2022-05-19 13:54:55 | Jodie Southwell |
| 90 | 2022-05-19 20:28:00 | Vikki Gyde |
| 94 | 2022-05-16 21:52:19 | Alison Cass |
| 96 | 2022-05-19 19:21:07 | Joanne Pursey |
| 100 | 2022-05-19 19:31:25 | Carol Jones |