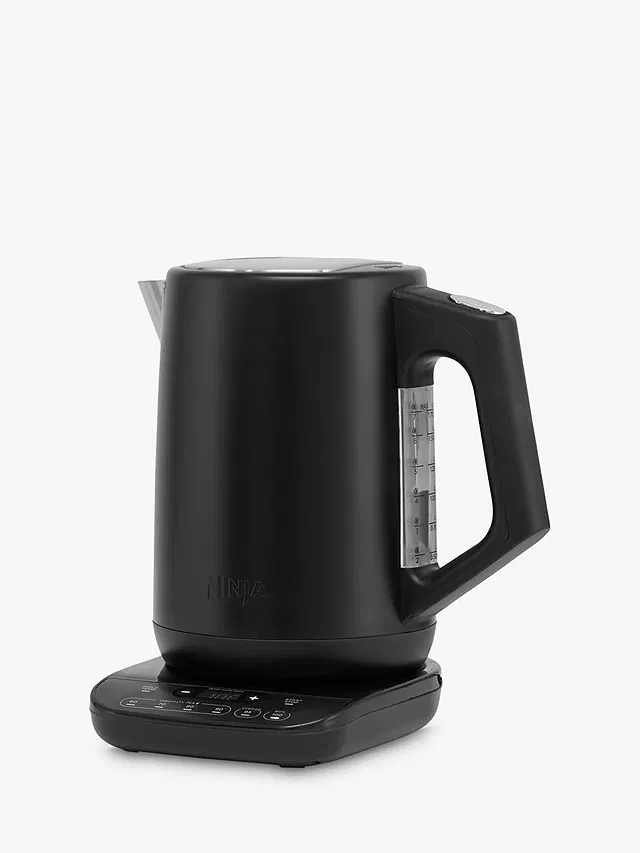 Ninja KT200UK Perfect Temperature Kettle, 1.7L, Black
Description
Ninja KT200UK Perfect Temperature Kettle, 1.7L, Black
Brew the perfect cup every time
Every hot drink has an optimal brewing temperature that brings out the most flavour. This kettle from Ninja gives you complete control over your hot drinks, from breakfast tea and green tea to hot chocolate and freshly ground coffee.
6 pre-set temperatures
Select from 6 pre-set temperatures ranging from 60°C to 100°C, with simple controls on the digital base. Between 60°C and 90°C is perfect for speciality teas such as oolong, green and white tea. 95°C is perfect for French Press and instant coffee, while 100°C is ideal for black tea, Earl Grey, hot chocolate, chai, instant soup, fruit teas and more.
Complete temperature control
Want to find the perfect temp for your favourite brew? You can also manually increase or decrease the temperature selection in 5°C increments, from 40°C to 100°C.
Rapid Boil
Quickly boil 1 cup in under 50 seconds with 3000W of power. The digital screen displays real-time information as the temperature climbs to your selected pre-set.
Hold Temp for 30 minutes
The clever Hold Temp feature maintains your selected water temperature for up to 30 minutes. Ideal for making a second drink as delicious as the first – no need to re-boil your kettle.
Easy to use
With a large 1.7L capacity, enough for 7 cups, this kettle is easy to fill to your desired level thanks to the handy water window with blue illumination. It's BPA-free for your peace of mind, and the spout features a removable scale filter for easy cleaning.
Includes drinks guide
If you're not sure what temperature to use for your favourite drink, check the drinks guide included in the box, featuring handy temperature charts and delicious inspiration.
| Winner Name | Ticket Number | Draw Date |
| --- | --- | --- |
| Patrick Farmer | 72 | 16/10/2023 |
| Ticket Number | Date | Name |
| --- | --- | --- |
| 1 | 2023-10-16 14:03:09 | Kelly Johnson |
| 2 | 2023-10-14 14:38:57 | Kerri-Ann Clarkson |
| 3 | 2023-10-15 21:02:57 | Chloe Raisey |
| 4 | 2023-10-16 14:18:43 | Julie McPhillips |
| 5 | 2023-10-16 19:38:05 | Carol Ferris |
| 6 | 2023-10-13 16:51:43 | Anne Willis |
| 7 | 2023-10-16 07:28:11 | Lynda Buswell89 |
| 8 | 2023-10-15 21:02:57 | Chloe Raisey |
| 9 | 2023-10-12 08:09:02 | Mel knight |
| 10 | 2023-10-14 17:07:52 | Zoe Arthurs |
| 11 | 2023-10-15 22:22:28 | Dee Payne |
| 12 | 2023-10-16 17:15:56 | Miss Kimberley Sharman |
| 13 | 2023-10-15 22:41:36 | Clair mcculloch |
| 14 | 2023-10-16 19:28:44 | Gary Morrish |
| 15 | 2023-10-16 19:49:30 | Sarah Widdop |
| 16 | 2023-10-11 21:48:52 | Sam Harper |
| 17 | 2023-10-14 09:26:41 | Kerry Westcott |
| 18 | 2023-10-14 15:21:41 | Jackie Young |
| 19 | 2023-10-16 16:57:20 | Sarah Kallmeier |
| 20 | 2023-10-16 12:46:49 | sue fogarty |
| 21 | 2023-10-16 19:40:49 | Leanne Whetnall |
| 22 | 2023-10-15 21:02:57 | Chloe Raisey |
| 23 | 2023-10-16 19:31:14 | Jane Olding |
| 24 | 2023-10-10 14:50:28 | Emma Lou |
| 25 | 2023-10-16 20:14:48 | Bill Danks |
| 26 | 2023-10-16 07:28:11 | Lynda Buswell89 |
| 27 | 2023-10-15 00:23:20 | Kerri-Ann Clarkson |
| 28 | 2023-10-16 17:15:56 | Miss Kimberley Sharman |
| 29 | 2023-10-16 14:09:27 | Leah Knight |
| 30 | 2023-10-16 15:58:44 | Natalie Anderson |
| 31 | 2023-10-16 17:15:56 | Miss Kimberley Sharman |
| 32 | 2023-10-16 20:40:02 | Sindy Whittaker |
| 33 | 2023-10-16 14:32:34 | Sarah jane Glover |
| 34 | 2023-10-16 19:28:44 | Gary Morrish |
| 35 | 2023-10-16 19:28:44 | Gary Morrish |
| 36 | 2023-10-15 16:00:39 | Alison Jeffries |
| 37 | 2023-10-16 20:14:48 | Bill Danks |
| 38 | 2023-10-16 20:18:08 | Holly Ring |
| 39 | 2023-10-16 19:48:24 | Hetty Couch |
| 40 | 2023-10-15 20:13:11 | Colin Honey |
| 41 | 2023-10-16 20:40:14 | Sharon Bray |
| 42 | 2023-10-16 20:58:29 | Richard Williams |
| 43 | 2023-10-16 19:38:05 | Carol Ferris |
| 44 | 2023-10-16 20:19:06 | Paula Carter |
| 45 | 2023-10-16 20:43:54 | Amy Shoyer |
| 46 | 2023-10-16 19:13:16 | Steve Ellis |
| 47 | 2023-10-15 20:13:11 | Colin Honey |
| 48 | 2023-10-16 19:24:54 | J R |
| 49 | 2023-10-16 19:28:44 | Gary Morrish |
| 50 | 2023-10-16 19:24:54 | J R |
| 51 | 2023-10-16 19:49:30 | Sarah Widdop |
| 52 | 2023-10-15 16:00:39 | Alison Jeffries |
| 53 | 2023-10-16 19:28:44 | Gary Morrish |
| 54 | 2023-10-15 12:44:19 | Marriette Hewitt |
| 55 | 2023-10-16 20:52:38 | Natalie Anderson |
| 56 | 2023-10-16 20:18:08 | Holly Ring |
| 57 | 2023-10-13 16:51:43 | Anne Willis |
| 58 | 2023-10-16 20:05:41 | Kate Lovejoy |
| 59 | 2023-10-16 18:40:20 | Grace Cox |
| 60 | 2023-10-16 14:36:45 | Jordan Clark |
| 61 | 2023-10-16 20:34:34 | Annette Cross |
| 62 | 2023-10-16 20:14:54 | Kim Wilson |
| 63 | 2023-10-16 19:50:09 | Shannon Hale |
| 64 | 2023-10-16 07:22:54 | Jacob Hellier |
| 65 | 2023-10-16 19:41:25 | Stacey Karpinski |
| 66 | 2023-10-16 20:14:48 | Bill Danks |
| 67 | 2023-10-16 17:23:15 | Jemma Matthews |
| 68 | 2023-10-15 22:22:28 | Dee Payne |
| 69 | 2023-10-16 20:43:54 | Amy Shoyer |
| 70 | 2023-10-16 09:51:23 | Claire Adams |
| 71 | 2023-10-16 18:44:24 | Peter Brain |
| 72 | 2023-10-16 20:02:09 | Patrick Farmer |
| 74 | 2023-10-16 20:36:43 | Sarah Barlow |
| 75 | 2023-10-16 19:42:26 | mandy Courtisk no |
| 76 | 2023-10-16 19:24:54 | J R |
| 77 | 2023-10-16 19:10:09 | Kenneth Hamer |
| 78 | 2023-10-16 19:32:15 | Claire Thomas |
| 79 | 2023-10-16 19:30:30 | Emma Vann-sawicka |
| 80 | 2023-10-16 20:43:54 | Amy Shoyer |
| 81 | 2023-10-16 19:28:44 | Gary Morrish |
| 82 | 2023-10-15 21:02:57 | Chloe Raisey |
| 83 | 2023-10-16 19:48:25 | Izzy Carne |
| 84 | 2023-10-16 18:24:32 | Carol King |
| 85 | 2023-10-16 18:38:56 | Debbie Sneap |
| 86 | 2023-10-16 14:07:33 | Claire Westwood |
| 87 | 2023-10-16 15:30:59 | Christine Swift |
| 88 | 2023-10-16 15:58:44 | Natalie Anderson |
| 89 | 2023-10-15 12:44:19 | Marriette Hewitt |
| 90 | 2023-10-12 22:35:44 | Sarah Mutch |
| 91 | 2023-10-16 07:28:11 | Lynda Buswell89 |
| 92 | 2023-10-16 19:09:33 | Becky Tidbury |
| 93 | 2023-10-16 14:32:34 | Sarah jane Glover |
| 94 | 2023-10-16 07:28:11 | Lynda Buswell89 |
| 95 | 2023-10-16 14:14:37 | Joanne Langmaid |
| 96 | 2023-10-16 19:59:37 | Alan Steer |
| 97 | 2023-10-16 12:20:25 | Emma & lee |
| 98 | 2023-10-16 14:14:37 | Joanne Langmaid |
| 99 | 2023-10-16 19:09:33 | Becky Tidbury |
| 100 | 2023-10-16 14:10:10 | Vicki Brace |