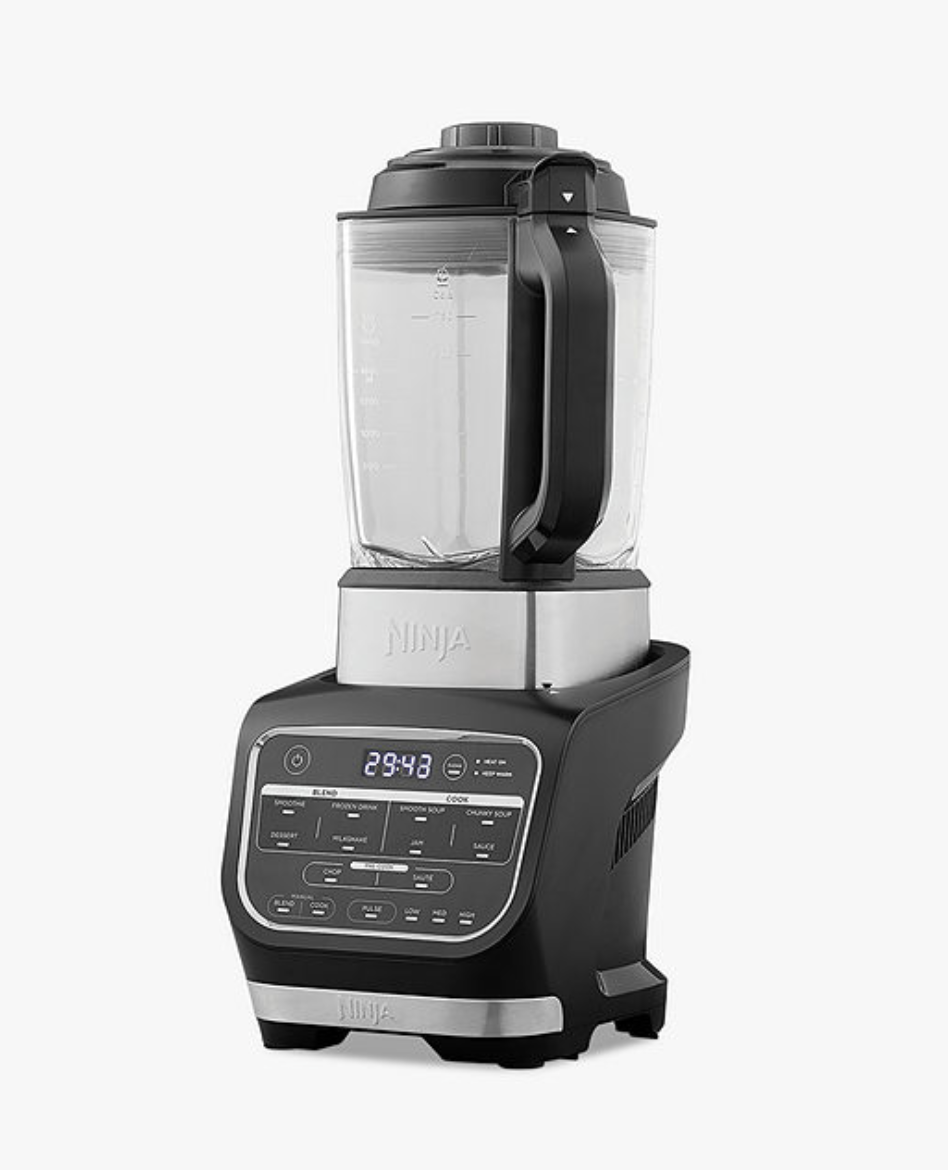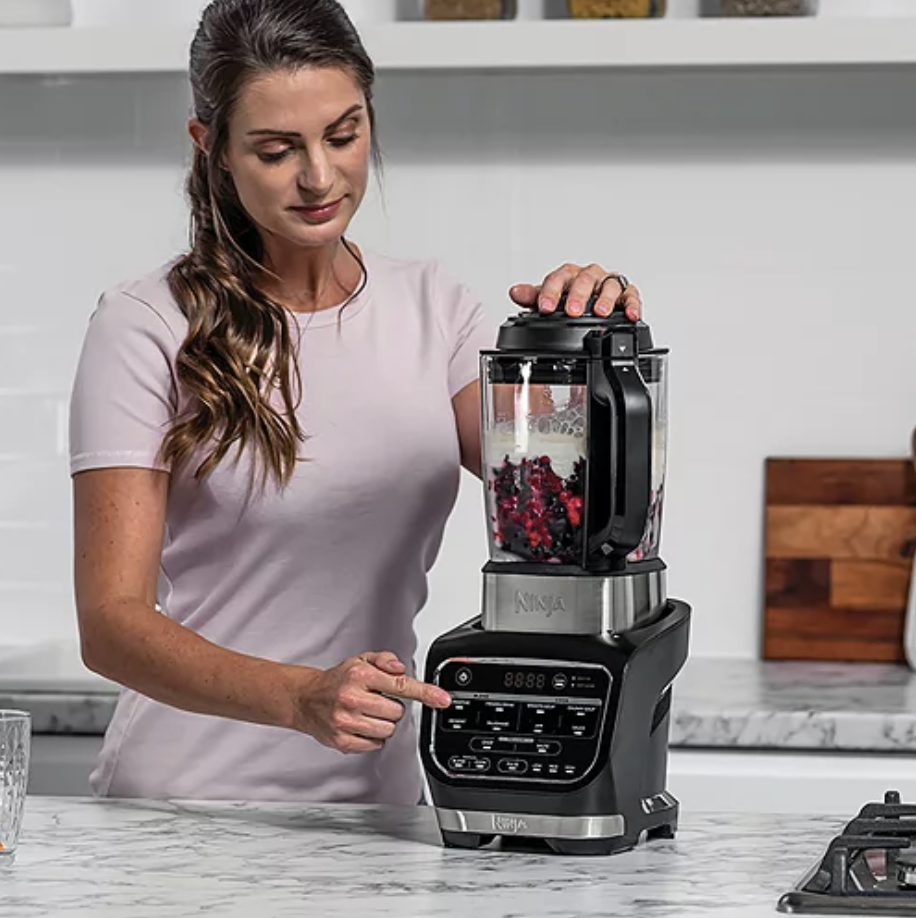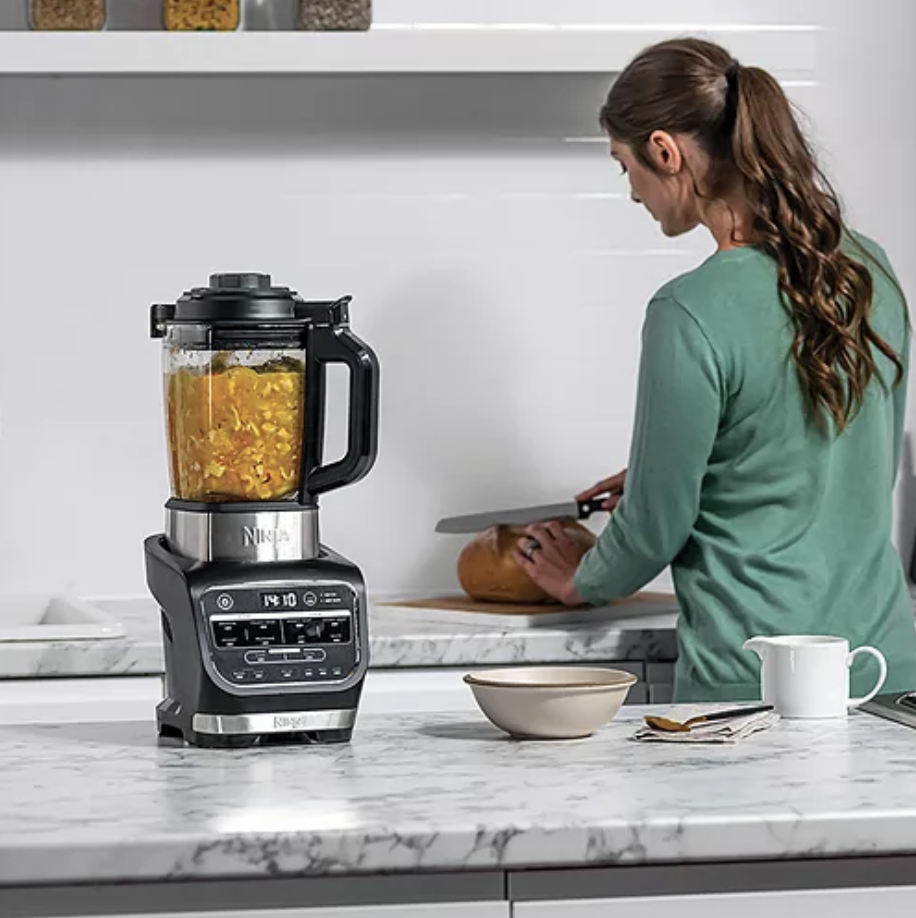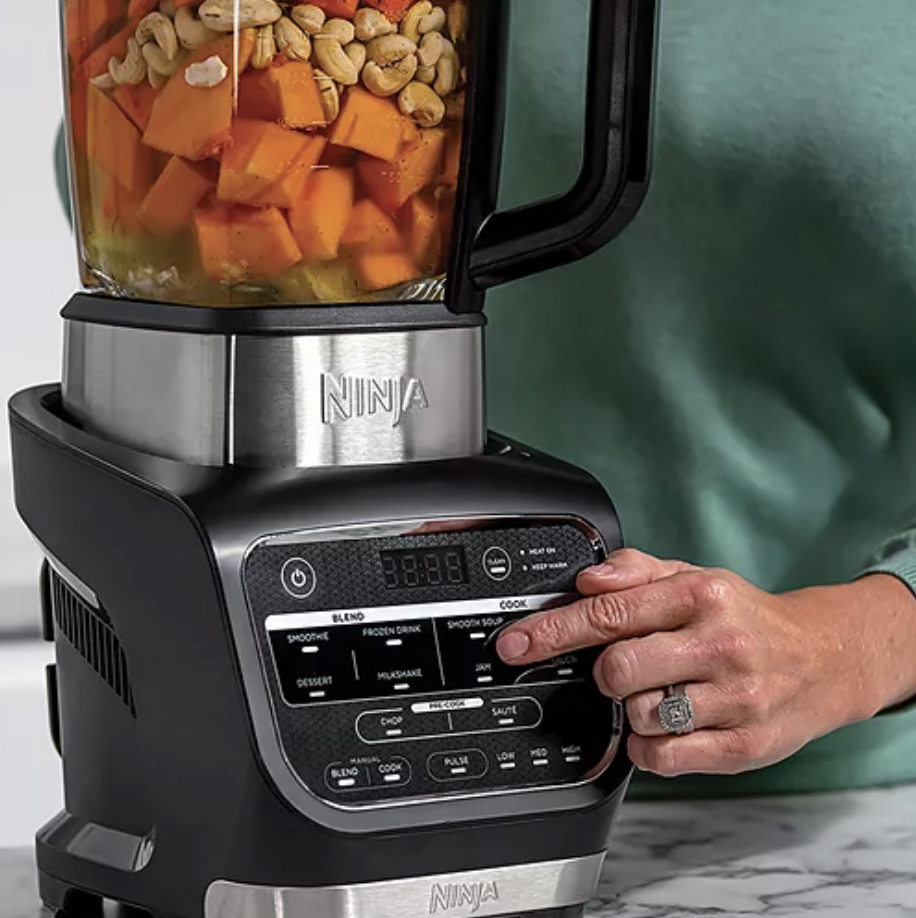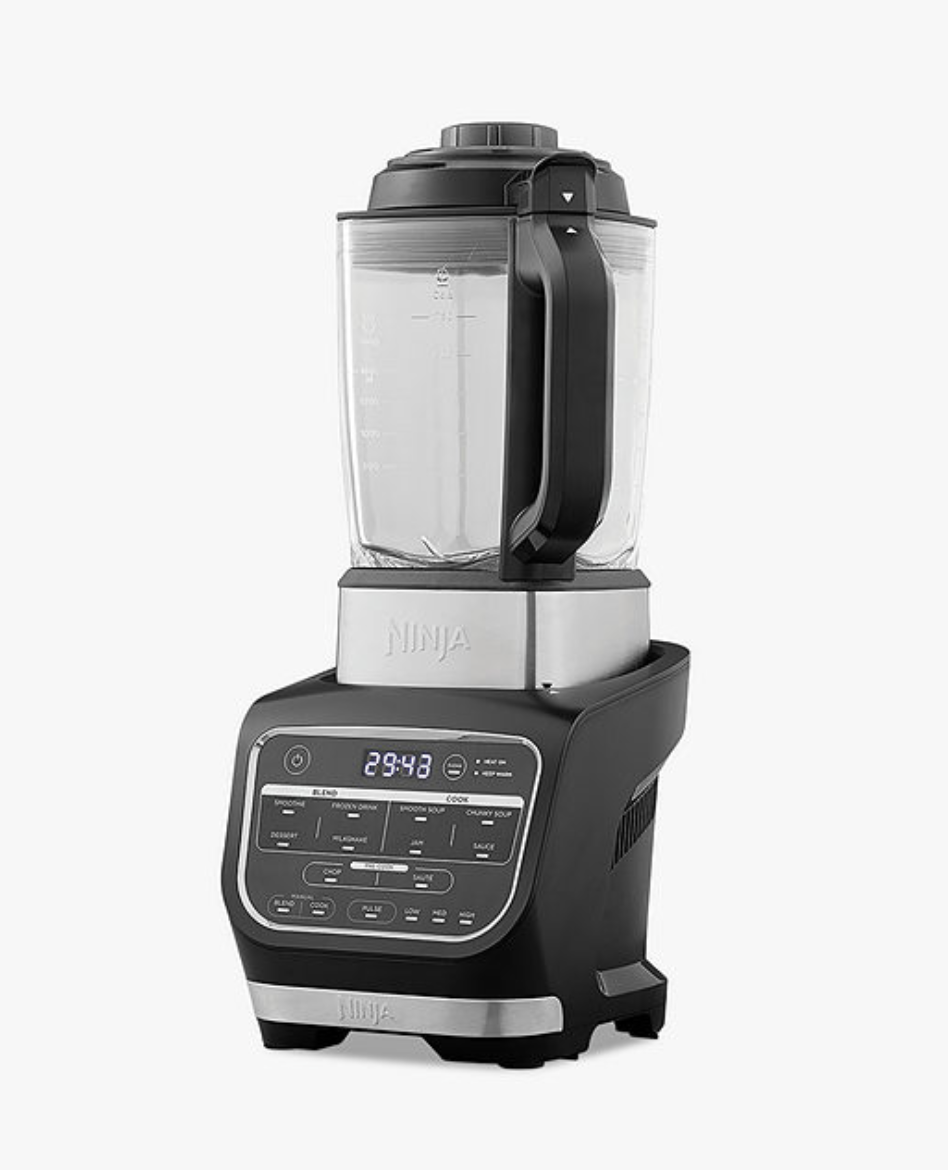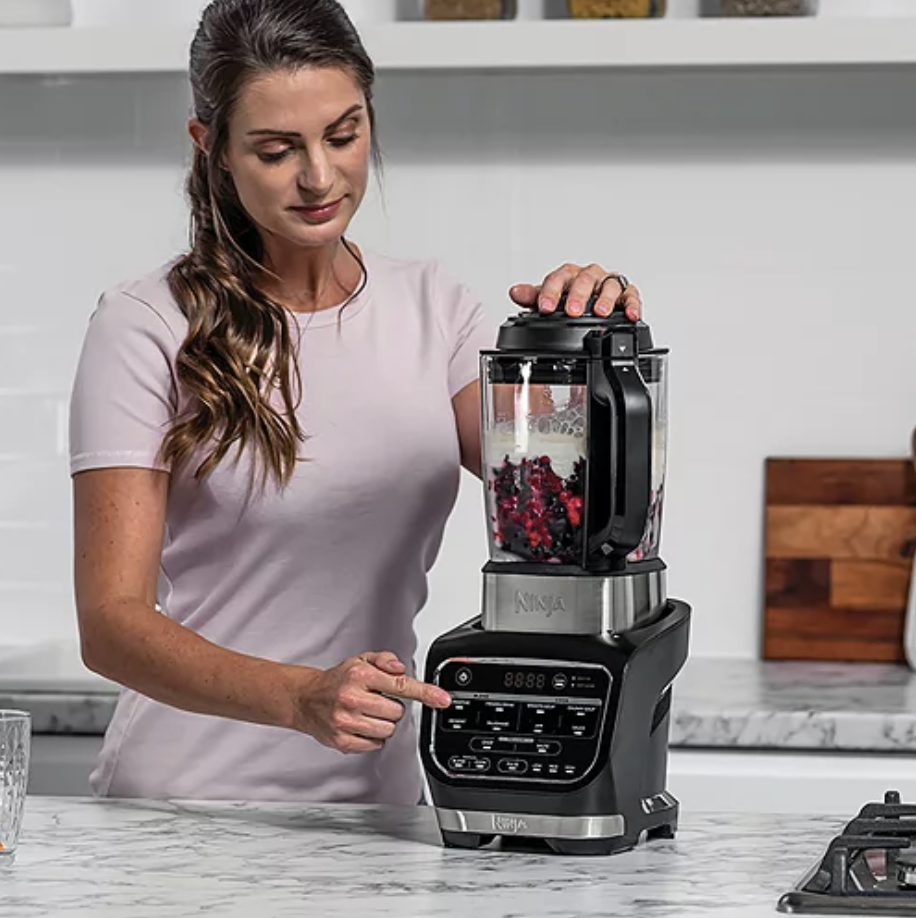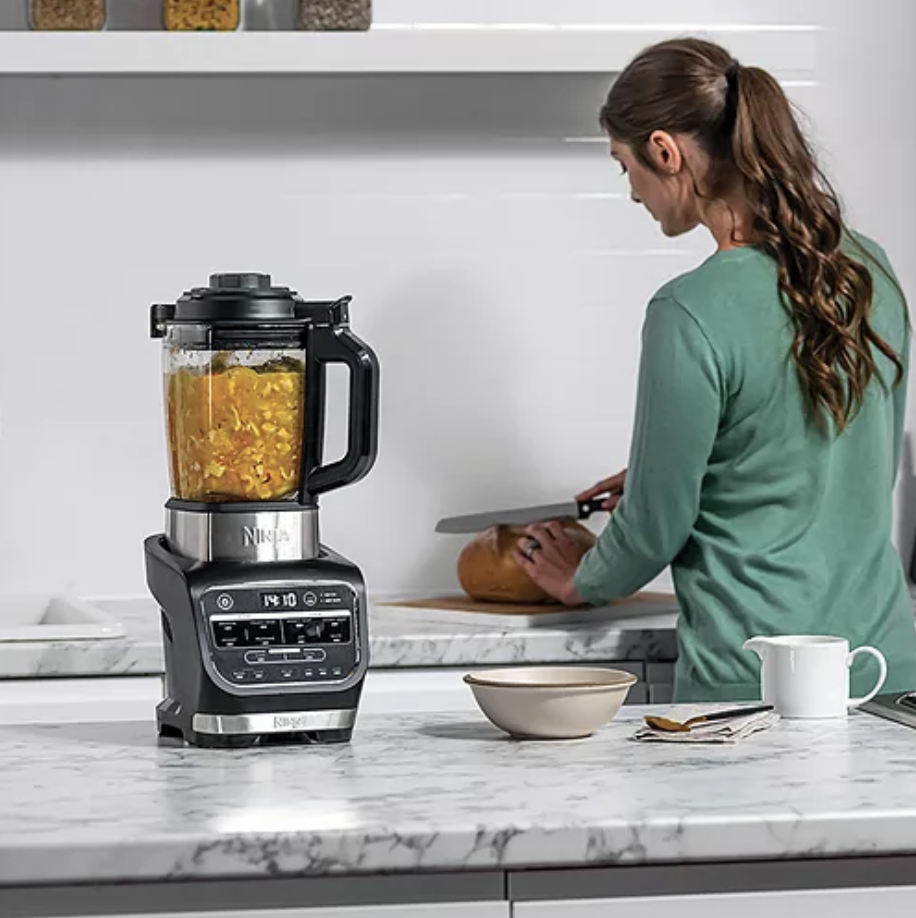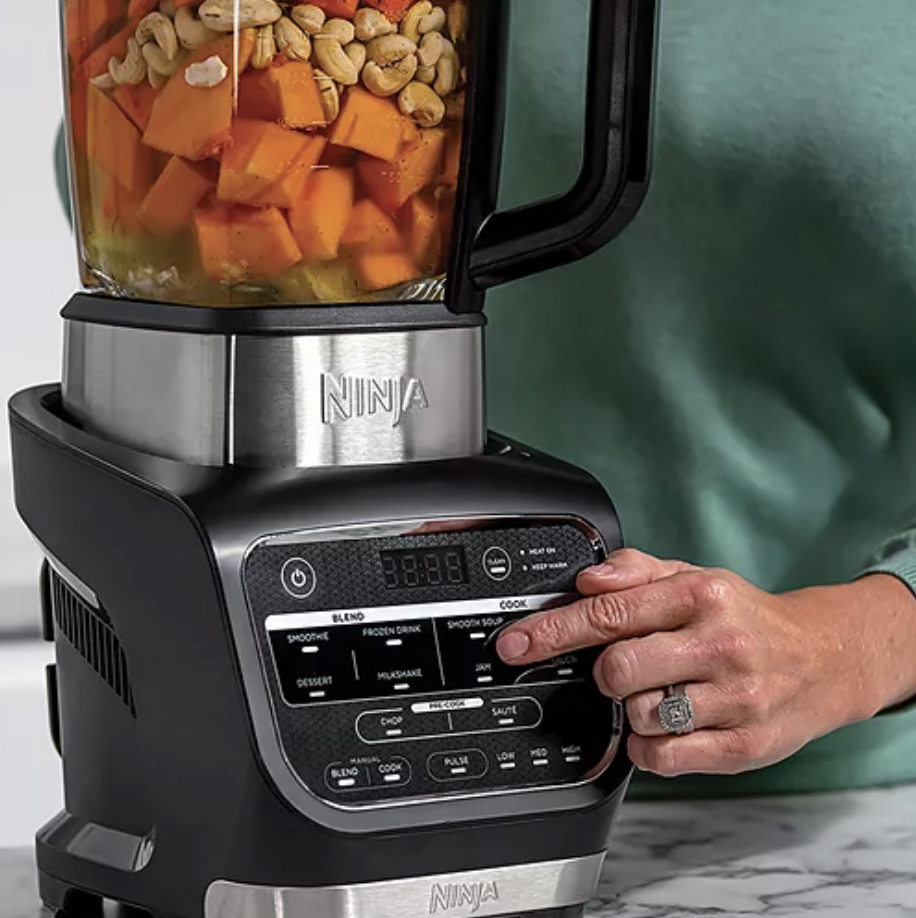 Ninja HB150UK Blender and Soup Maker – 22/03
Description
Ninja HB150UK Blender and Soup Maker – 22/03
This 2-in-1 appliance allows you to blend and cook at the same time, you can quickly and easily create a variety of dishes and drinks. Prepare homemade soup, pasta sauces, jams, chutneys, chunky dips, chocolate fondue desserts and rich hot chocolate, as well as ice-cold milkshakes, healthy fruit smoothies, frozen cocktails and sorbets using fresh ingredients.
Cook soup in 20 minutes
A built-in heating element rapidly cooks fresh ingredients to perfection. Whether you prefer creamy tomato, hearty vegetable or soothing chicken-noodle soup, cook your favourite smooth and chunky soup recipes from fresh ingredients in the jug and serve straight to the table.
Chop, sauté, blend and then cook
Dedicated Pre-Cook settings quickly chop and sauté ingredients directly in the jug, perfect for preparing onions and fresh herbs before cooking. Simply add the rest of your ingredients before blending to your desired texture and cooking, letting precision temperature controls and pre-set Auto-iQ programmes do the hard work for you. Plus, Auto-Stir helps food to cook evenly without sticking.
Hot and cold blending
Driven by an impressive 1000-watt motor, Ninja's purposefully-designed High Speed Crushing Blades easily blend both hot and cold ingredients including fibrous fruit and vegetables, nuts, seeds and even ice.
10 Auto-iQ programmes
You can combine pre-set pulse, pause and blend patterns with precise temperature controls, and take control with 6 manual settings.
Larg glass jug
The heat-resistant glass jug has a non-stick coating for easy cleaning and no taste transfer. It blends up to 1.7L cold and 1.4L hot. The splash-free lid features a built-in measuring cup to easily add extra ingredients, while safety features ensure blending stops if the lid is removed.
Easy cleaning
It has a dedicated cleaning programme that rinses out the jug at the touch of a button. Once finished, simply wipe over and safely clean around the blades with the purposefully-designed Cleaning Brush.
| Winner Name | Ticket Number | Draw Date |
| --- | --- | --- |
| Richard Williams | 278 | 22/03/2023 |
1-100
101-200
201-300
301-400
401-500
501-600
| Ticket Number | Date | Name |
| --- | --- | --- |
| 1 | 2023-03-22 11:54:14 | sue fogarty |
| 2 | 2023-03-22 09:25:18 | jeanette rich |
| 3 | 2023-03-22 19:39:53 | Dannii mae Ward |
| 4 | 2023-03-22 11:54:14 | sue fogarty |
| 5 | 2023-03-22 20:47:47 | Jo Pennington |
| 6 | 2023-03-20 19:20:56 | Paula Horrocks |
| 7 | 2023-03-22 19:09:38 | Elizabeth Hill |
| 8 | 2023-03-22 11:54:14 | sue fogarty |
| 9 | 2023-03-21 19:19:35 | Kelly Miles |
| 10 | 2023-03-22 19:01:56 | Domm Hulme |
| 11 | 2023-03-22 08:39:23 | Catherine Marsh |
| 12 | 2023-03-22 19:39:53 | Dannii mae Ward |
| 13 | 2023-03-22 09:25:18 | jeanette rich |
| 14 | 2023-03-22 19:14:04 | Claire King |
| 15 | 2023-03-22 19:01:56 | Domm Hulme |
| 17 | 2023-03-22 17:02:39 | Miss T |
| 18 | 2023-03-22 19:25:04 | Nicholas Thorne |
| 19 | 2023-03-22 19:55:34 | Lauren Wills |
| 21 | 2023-03-22 20:21:41 | Barry Miller |
| 22 | 2023-03-22 11:26:47 | Justine Hazlewood |
| 23 | 2023-03-22 12:36:16 | Dawn Nelis |
| 24 | 2023-03-22 20:15:40 | Karen Carnell |
| 25 | 2023-03-22 10:06:44 | Judith Vincent |
| 26 | 2023-03-21 19:19:35 | Kelly Miles |
| 27 | 2023-03-22 13:38:41 | Karen Sprules |
| 28 | 2023-03-22 10:48:27 | Roxanne Hill |
| 29 | 2023-03-22 06:27:07 | Emma Jones |
| 31 | 2023-03-22 20:18:40 | Emma Brosnan |
| 32 | 2023-03-22 19:19:52 | Jackie bowman |
| 33 | 2023-03-20 20:40:34 | Dawn Foley |
| 34 | 2023-03-22 13:11:56 | Jeffery Moseley |
| 35 | 2023-03-22 17:42:36 | Deborah Carling |
| 36 | 2023-03-20 20:40:34 | Dawn Foley |
| 37 | 2023-03-20 20:40:34 | Dawn Foley |
| 38 | 2023-03-22 20:09:11 | Emma Clarke |
| 39 | 2023-03-22 20:29:45 | Sian Telford |
| 43 | 2023-03-21 19:19:35 | Kelly Miles |
| 44 | 2023-03-22 19:47:42 | Kevin Cornillet |
| 45 | 2023-03-22 20:08:50 | Stephen Atkinson |
| 46 | 2023-03-22 19:01:56 | Domm Hulme |
| 47 | 2023-03-22 19:25:04 | Nicholas Thorne |
| 50 | 2023-03-22 20:22:52 | Jane Olding |
| 52 | 2023-03-22 13:00:21 | Michelle Mccourt |
| 53 | 2023-03-22 20:47:47 | Jo Pennington |
| 54 | 2023-03-22 19:57:02 | Simon Hawkins |
| 55 | 2023-03-21 10:12:16 | Nicjy Howarth |
| 57 | 2023-03-22 11:17:22 | Pauline Mills |
| 58 | 2023-03-22 19:01:56 | Domm Hulme |
| 59 | 2023-03-22 19:01:56 | Domm Hulme |
| 63 | 2023-03-22 08:39:23 | Catherine Marsh |
| 64 | 2023-03-21 16:57:32 | Katie Parker |
| 66 | 2023-03-18 22:10:40 | Clare Mattthews |
| 69 | 2023-03-21 22:27:33 | Gary King |
| 70 | 2023-03-20 21:27:11 | Connie Thomas |
| 71 | 2023-03-22 20:49:04 | Jo Pennington |
| 72 | 2023-03-22 14:31:05 | Kerry Roach |
| 73 | 2023-03-22 19:01:56 | Domm Hulme |
| 75 | 2023-03-22 19:50:54 | Debbie jessup |
| 76 | 2023-03-21 19:19:35 | Kelly Miles |
| 77 | 2023-03-22 19:09:38 | Elizabeth Hill |
| 78 | 2023-03-22 20:45:39 | DANIEL STONELAKE |
| 79 | 2023-03-22 10:15:15 | M W |
| 80 | 2023-03-22 10:48:27 | Roxanne Hill |
| 83 | 2023-03-20 20:40:34 | Dawn Foley |
| 84 | 2023-03-22 14:39:32 | Charlotte Avery |
| 86 | 2023-03-22 18:45:59 | Sam Fitzsimmons |
| 87 | 2023-03-22 20:29:10 | Paula Johans |
| 88 | 2023-03-22 20:29:10 | Paula Johans |
| 90 | 2023-03-18 08:06:49 | C C |
| 93 | 2023-03-22 08:39:23 | Catherine Marsh |
| 94 | 2023-03-22 20:24:16 | Michelle Murphy |
| 96 | 2023-03-22 19:47:42 | Kevin Cornillet |
| 97 | 2023-03-22 11:17:22 | Pauline Mills |
| 99 | 2023-03-22 20:22:52 | Jane Olding |
| 100 | 2023-03-22 09:25:18 | jeanette rich |