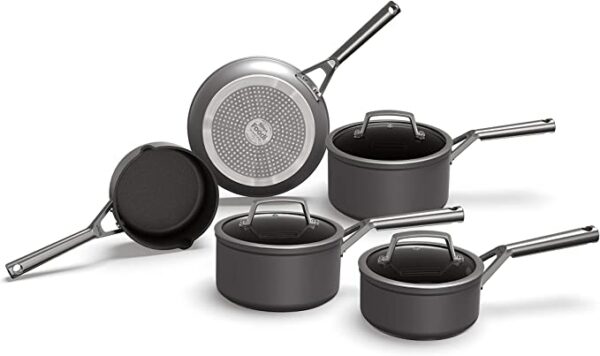 Ninja Foodi ZEROSTICK Hard Anodised Aluminium Non-Stick Frying Pan & Saucepan Set, 5 Piece #2
Description
Ninja Foodi ZEROSTICK Hard Anodised Aluminium Non-Stick Frying Pan & Saucepan Set, 5 Piece #2
Built to last, this five-piece Ninja Foodie pan set is made from forged aluminium with a hard-anodised exterior. The robust ZEROSTICK non-stick won't chip, flake or peel and it's safe to wash in the dishwasher, scratch-resistant, metal utensil safe and designed to withstand high-heat cooking.
Made in the UK, the set cooks everything from homemade sauces and soups, pasta and tasty stir-fries to sizzling steaks, golden caramel and perfectly cooked pancakes. Simply sear and caramelise ingredients using little to no oil, then watch your creations easily slide from the pan to the plate. The saucepans come with glass lids, tempered for strength and with steam vents.
ZEROSTICK combines plasma ceramic bonding with a unique coating so that every pan stays flake and peel-free. Precision engineered at 17,000°C, plasma ceramic particles are fused to the surface of the pan, creating a robust textured surface that interlocks with the non-stick coating to form a superior bond. The cookware has cast stainless-steel handles and is oven safe to 260°C. It's suitable for all hob types, including induction, gas, electric and ceramic. Enjoy even heating and no hot spots for perfectly cooked results.
Key benefits:
16cm, 18cm, 20cm saucepans
16cm milk pan, 24cm frying pan
Forged aluminium with a hard-anodised exterior
Cast stainless-steel handles
Dishwasher safe
Oven safe to 260°C
Scratch-resistant, metal utensil-safe non-stick
High-quality heat-tempered glass saucepan lids with steam vents
PFOA, lead and cadmium free
Suitable for use on all hobs, including induction
| Winner Name | Ticket Number | Draw Date |
| --- | --- | --- |
| Deanne Melhuish | 280 | 25/08/2022 |
1-100
101-200
201-300
301-400
| Ticket Number | Date | Name |
| --- | --- | --- |
| 1 | 2022-08-23 20:21:38 | Natalie Anderson |
| 2 | 2022-08-24 22:58:16 | Linda Beer |
| 3 | 2022-08-25 16:38:58 | Lisa Sayers |
| 4 | 2022-08-25 12:45:01 | Suzanne Hart |
| 5 | 2022-08-24 14:51:26 | Philippa Blair |
| 6 | 2022-08-25 09:54:48 | Danielle Hooper |
| 7 | 2022-08-16 13:52:12 | Kate Upsher |
| 8 | 2022-08-23 14:01:04 | Helen Dent |
| 9 | 2022-08-21 07:56:48 | Sharon Williams |
| 10 | 2022-08-17 23:16:45 | Gemma Botham |
| 11 | 2022-08-16 16:47:37 | Michelle Collins |
| 12 | 2022-08-22 19:27:09 | Paul George |
| 13 | 2022-08-20 14:02:09 | Ben Stocker |
| 14 | 2022-08-16 13:52:12 | Kate Upsher |
| 15 | 2022-08-17 19:56:42 | Bev O'Connor |
| 16 | 2022-08-18 21:46:42 | Nicola Hamilton |
| 17 | 2022-08-25 20:03:38 | Jeni Chown |
| 18 | 2022-08-22 16:40:33 | Amanda Ruddenham |
| 19 | 2022-08-25 18:50:53 | Chris Chalk |
| 20 | 2022-08-23 14:01:04 | Helen Dent |
| 21 | 2022-08-16 13:06:28 | Lisa Roberts |
| 22 | 2022-08-24 12:30:09 | joyce black |
| 23 | 2022-08-24 21:24:07 | Karen Larder |
| 24 | 2022-08-18 11:33:11 | Lucy F |
| 25 | 2022-08-22 14:37:37 | Lisa Donoghue |
| 26 | 2022-08-25 09:48:45 | Debs Hamilton |
| 27 | 2022-08-17 19:26:55 | Lucy Houghton |
| 28 | 2022-08-22 19:14:11 | Vincent Horak |
| 29 | 2022-08-25 11:49:36 | Angela Cross |
| 30 | 2022-08-16 13:52:12 | Kate Upsher |
| 31 | 2022-08-25 18:04:49 | Debra Cassidy |
| 32 | 2022-08-23 12:59:38 | Heather Baker |
| 33 | 2022-08-25 07:51:05 | Rachel chalk |
| 34 | 2022-08-25 17:29:41 | Lewis Ware |
| 35 | 2022-08-17 01:20:45 | Marie Day |
| 36 | 2022-08-25 09:08:52 | Laura Lee |
| 37 | 2022-08-24 22:23:19 | Linda Beer |
| 38 | 2022-08-23 19:17:05 | Keith Archer |
| 39 | 2022-08-24 17:52:57 | Linda Beer |
| 40 | 2022-08-21 23:34:19 | Jill Higham |
| 41 | 2022-08-25 19:50:58 | Natalie Anderson |
| 42 | 2022-08-25 17:00:59 | Carrie Hirst |
| 43 | 2022-08-25 20:27:24 | Michelle Harvey |
| 44 | 2022-08-24 16:14:06 | Miriam Fletcher |
| 45 | 2022-08-25 13:27:09 | Sarah Gerry |
| 46 | 2022-08-17 07:58:17 | Kirsty Shaw |
| 47 | 2022-08-17 07:42:02 | Vicky Ring |
| 48 | 2022-08-19 15:27:53 | Debs Hamilton |
| 49 | 2022-08-25 10:47:34 | Jane Hasni |
| 50 | 2022-08-25 07:55:29 | Lauren Sleeman |
| 51 | 2022-08-25 19:24:02 | David Orrey |
| 52 | 2022-08-20 11:26:42 | Lisa Donoghue |
| 53 | 2022-08-23 12:34:51 | Sharon lee |
| 54 | 2022-08-25 19:27:22 | Lauren cattermole |
| 55 | 2022-08-25 07:47:59 | Vicky Ring |
| 56 | 2022-08-25 14:29:23 | Kelvin Courtenay |
| 57 | 2022-08-17 12:27:18 | Ian Lipscombe |
| 58 | 2022-08-24 12:17:03 | Alan Cross |
| 59 | 2022-08-22 19:14:11 | Vincent Horak |
| 60 | 2022-08-21 21:07:28 | Jodie England |
| 61 | 2022-08-21 07:56:48 | Sharon Williams |
| 62 | 2022-08-25 08:05:27 | Jade Ward |
| 63 | 2022-08-24 20:18:45 | Tina Bylett |
| 64 | 2022-08-25 19:50:58 | Natalie Anderson |
| 65 | 2022-08-17 17:28:44 | Roxanne Hill |
| 66 | 2022-08-25 10:09:32 | Nikki Stephens |
| 67 | 2022-08-19 21:04:35 | Joyce Hope |
| 68 | 2022-08-25 13:27:09 | Sarah Gerry |
| 69 | 2022-08-22 19:27:09 | Paul George |
| 70 | 2022-08-22 19:14:11 | Vincent Horak |
| 71 | 2022-08-25 17:05:06 | Samantha Sedgbeer |
| 72 | 2022-08-24 12:30:09 | joyce black |
| 73 | 2022-08-17 08:15:16 | Rachel Stevens |
| 74 | 2022-08-24 20:38:04 | Jaque Shackleton |
| 75 | 2022-08-24 10:36:55 | Oliwia Bednarska |
| 76 | 2022-08-23 07:52:19 | Kim Moon |
| 77 | 2022-08-25 19:28:28 | Aimee Povey |
| 78 | 2022-08-25 07:16:29 | Nicola Bird |
| 79 | 2022-08-25 14:34:35 | ima.robot . |
| 80 | 2022-08-22 16:50:09 | Tina Light |
| 81 | 2022-08-25 19:36:07 | Yazz Tranckle |
| 82 | 2022-08-17 10:07:54 | Jo Disley |
| 83 | 2022-08-25 08:07:34 | Paul Hodgson |
| 84 | 2022-08-25 17:00:59 | Carrie Hirst |
| 85 | 2022-08-25 14:48:27 | Lekel North |
| 86 | 2022-08-25 18:48:40 | K M |
| 87 | 2022-08-22 19:27:09 | Paul George |
| 88 | 2022-08-22 11:45:57 | Vicky Ring |
| 89 | 2022-08-18 11:27:04 | Nicola Green |
| 90 | 2022-08-25 20:31:23 | E L |
| 91 | 2022-08-25 17:57:33 | Natasha Lawrence |
| 92 | 2022-08-16 22:35:47 | Suzanne Pike |
| 93 | 2022-08-23 20:21:38 | Natalie Anderson |
| 94 | 2022-08-24 17:52:57 | Linda Beer |
| 95 | 2022-08-21 07:56:48 | Sharon Williams |
| 96 | 2022-08-25 11:49:36 | Angela Cross |
| 97 | 2022-08-22 19:27:09 | Paul George |
| 98 | 2022-08-25 18:29:15 | Lynne Deeley |
| 99 | 2022-08-21 21:16:56 | Mandy Morris |
| 100 | 2022-08-22 20:21:01 | Michelle Tucker |