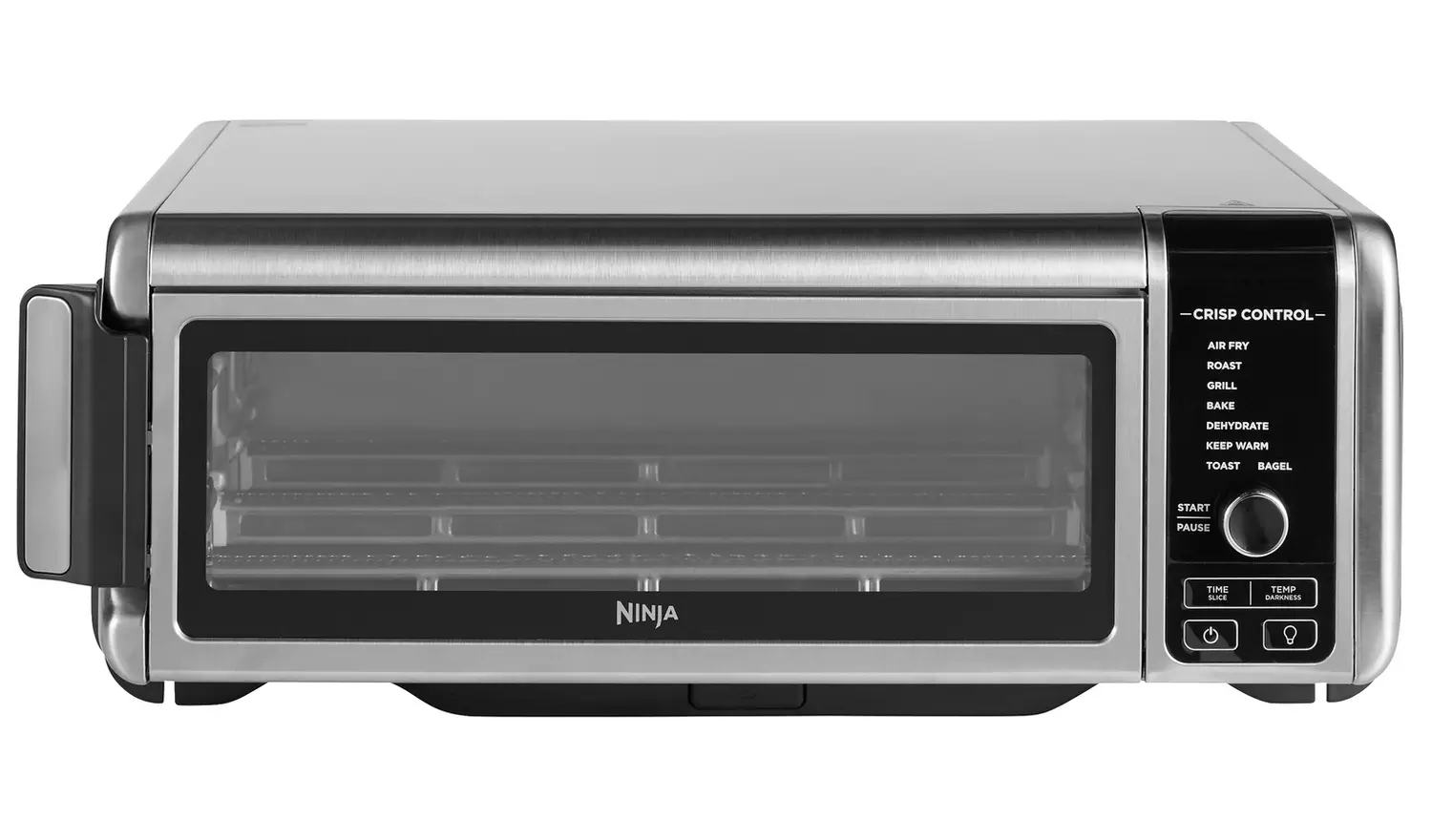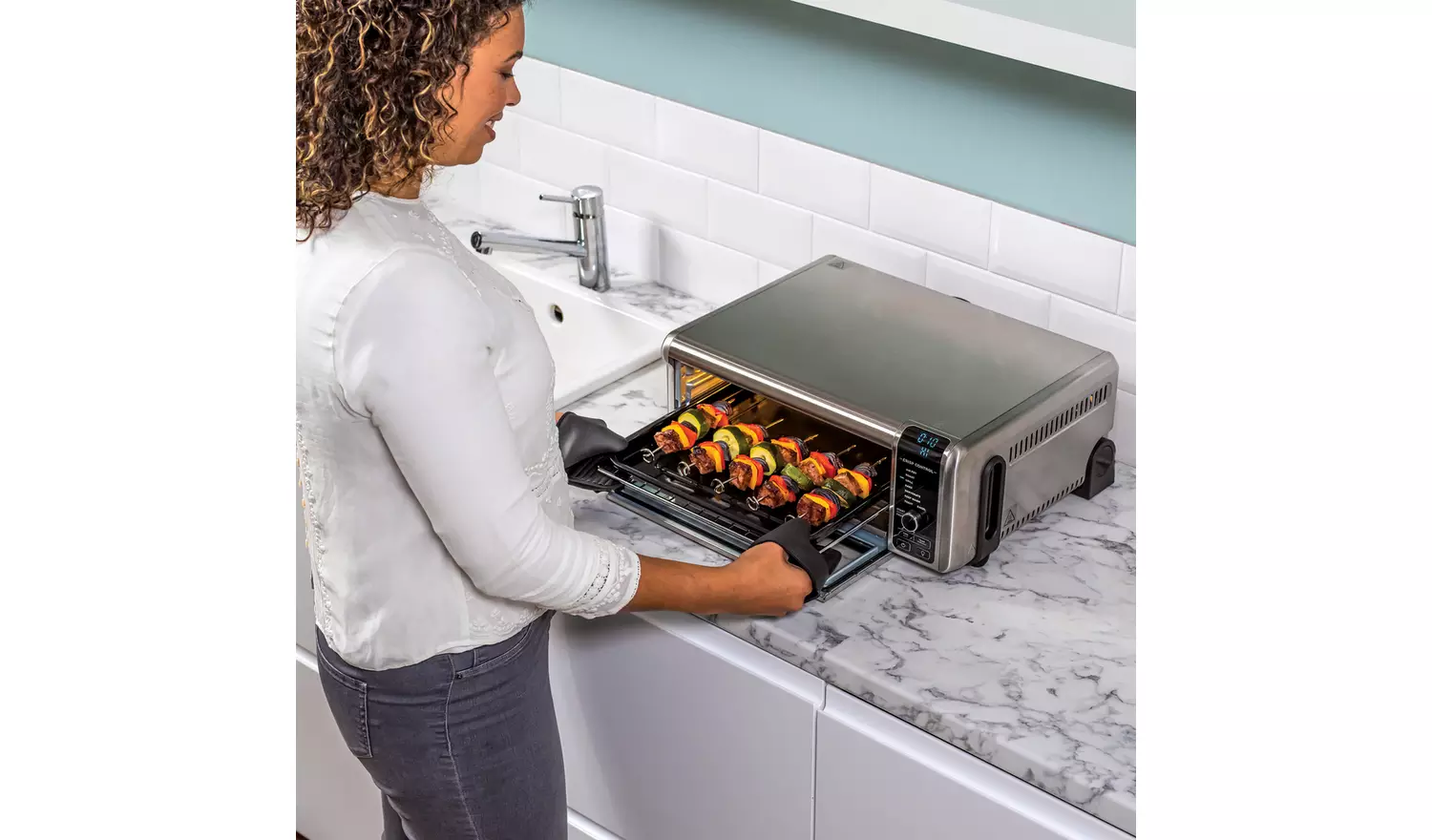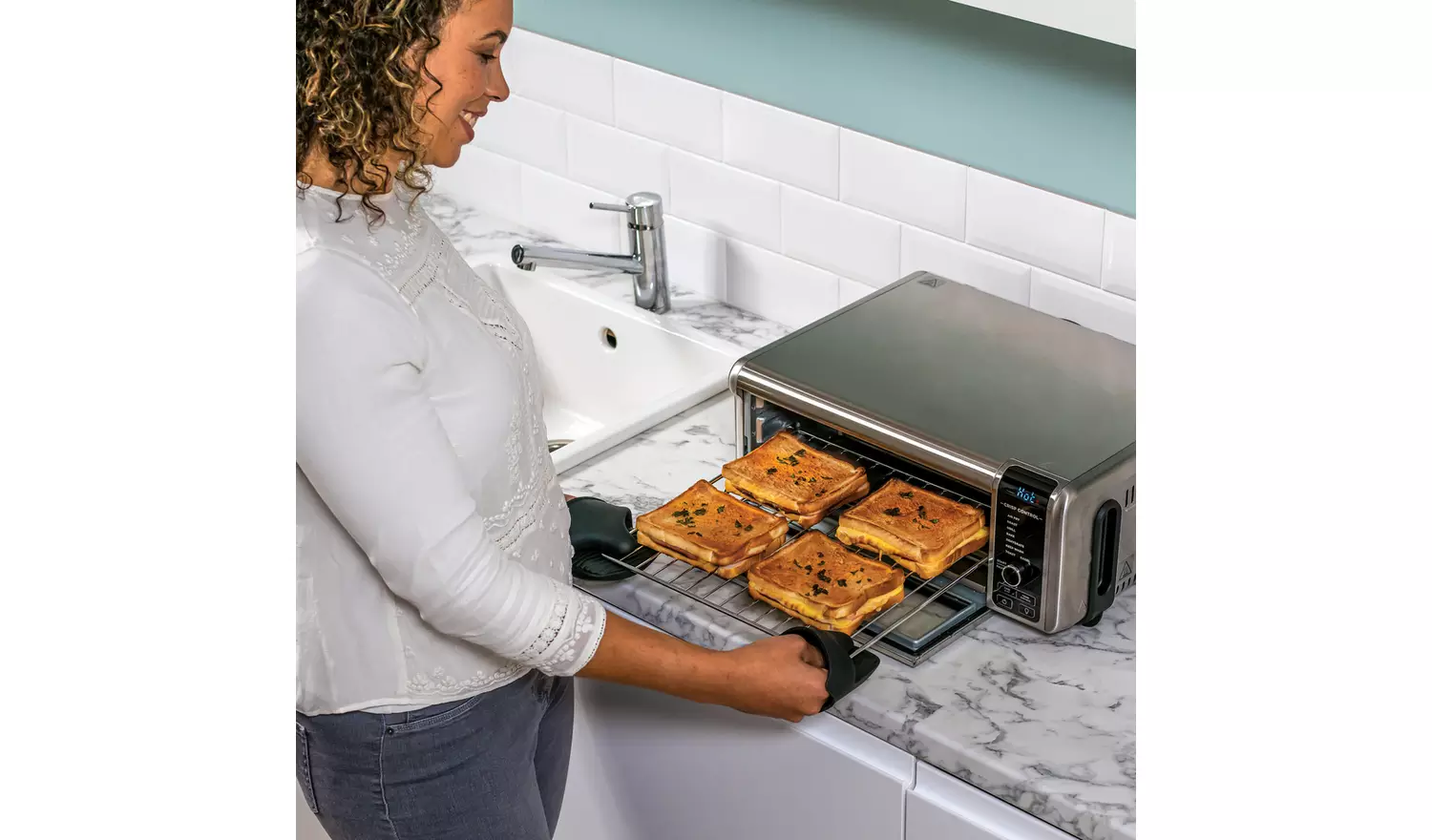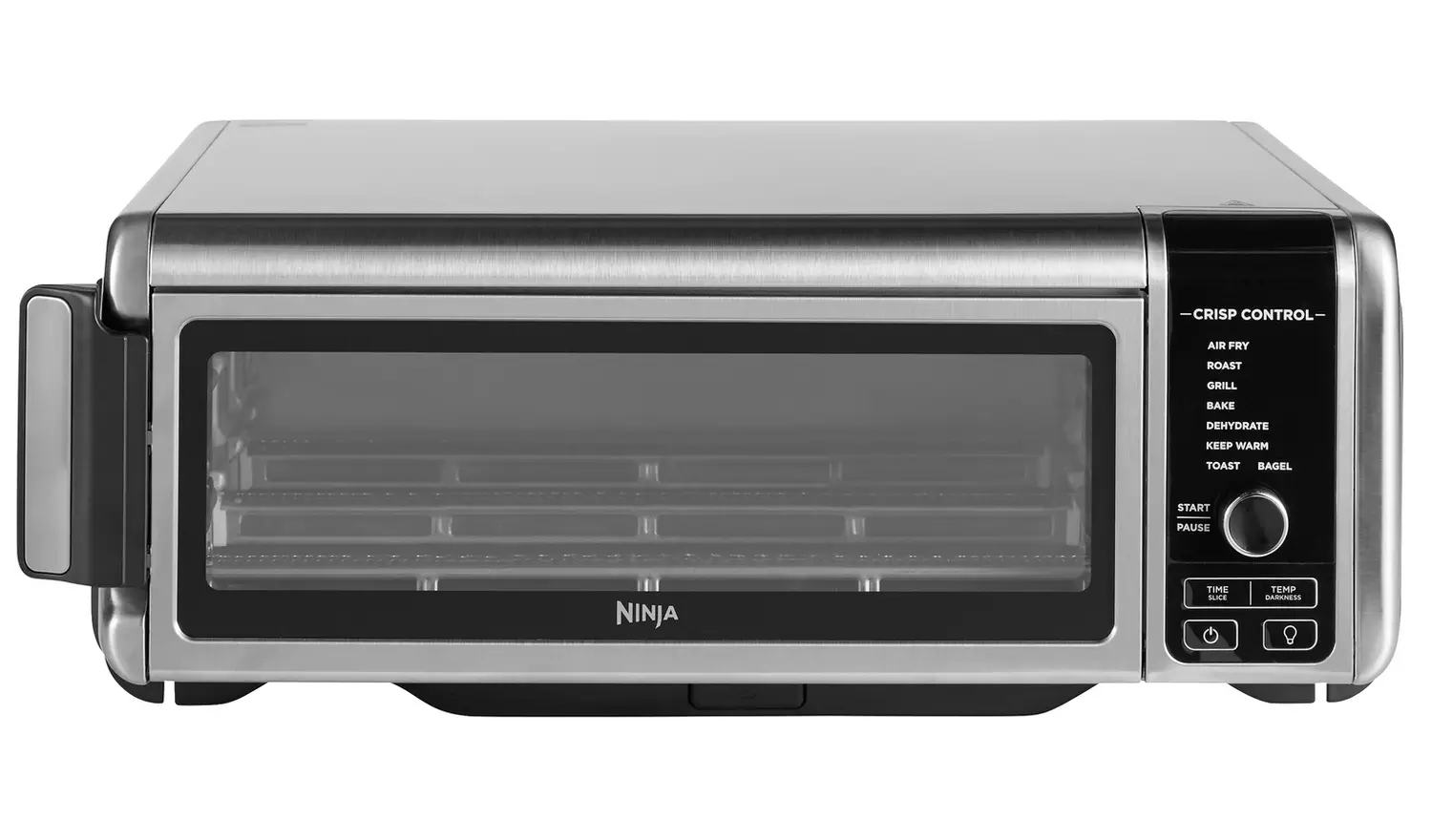 Ninja Foodi SP101UK 8-in-1 Flip Mini Oven
Description
Ninja Foodi SP101UK 8-in-1 Flip Mini Oven 
The 2400W oven that crisps and flips up and away. Quickly and easily create delicious family meals in as little as 20 minutes with the Ninja Foodi 8-in-1 Flip Mini Oven. Up to 50% faster than fan ovens*, with a super-quick 60-second preheat time.
More than a mini oven
Get creative with 8 cooking functions – Air Fry, Roast, Bake, Grill, Dehydrate, Toast, Bagel and Keep Warm. Purposefully designed for traybake meals, cook everything from tender salmon with Mediterranean vegetables to lemon and herb chicken breasts with crispy potatoes. Enjoy cheese-topped nachos, homemade pizza, toasted sandwiches, freshly baked biscuits and more. With a 10L capacity, its perfect for food and dishes up to 5cm in height.
Up to 75% less fat than traditional frying**
Air Fry using little or no added oil to enjoy guilt-free fried food, from golden French fries to crispy chicken goujons.
Digital Crisp Control Technology
For a perfectly cooked inside and crispy outside. 6 infrared heating elements and variable airflow circulate hot air around your food at different speeds for quick and even cooking and crisping.
Flip away for compact storage
Reclaim your counterspace – the unique design flips away to store on its side, taking up 50% less space.
Easy to use & clean
Digital display, timer and interior light for easy viewing. Cleaning is simple with a removable crumb tray and accessible back panel. Includes a Baking Tray, Air Fry Basket, Wire Rack and inspiring Chef-created recipe guide.
Accessories included
1 x Air Fry Basket, 1 x Oven Tray, 1 x Wire Rack, 1 x Removable Crumb Tray.
| Winner Name | Ticket Number | Draw Date |
| --- | --- | --- |
| Jane Olding | 23 | 05/09/2022 |
| Ticket Number | Date | Name |
| --- | --- | --- |
| 2 | 2022-09-05 18:50:20 | Lisa Sayers |
| 3 | 2022-09-04 16:44:14 | Trina . |
| 4 | 2022-09-04 16:44:14 | Trina . |
| 5 | 2022-09-05 14:03:04 | Debs A T |
| 6 | 2022-09-05 13:49:54 | Sharon Hobday |
| 7 | 2022-09-05 10:59:38 | David Orrey |
| 8 | 2022-09-04 22:23:12 | Jodie Forrest |
| 9 | 2022-09-02 14:20:14 | Michael O'connor |
| 10 | 2022-09-05 20:16:17 | Jennifer Chappell |
| 11 | 2022-09-04 16:44:14 | Trina . |
| 12 | 2022-09-04 14:35:42 | Jane Hasni |
| 13 | 2022-09-01 11:15:03 | Julia Kuhn |
| 14 | 2022-09-04 16:44:14 | Trina . |
| 15 | 2022-09-04 08:43:01 | Catherine Marsh |
| 16 | 2022-09-04 21:33:13 | Jodie Ellis |
| 17 | 2022-09-05 10:12:11 | Elizabeth Hill |
| 18 | 2022-09-04 23:34:34 | Christine Swift |
| 19 | 2022-09-02 14:20:14 | Michael O'connor |
| 20 | 2022-09-01 11:15:03 | Julia Kuhn |
| 21 | 2022-09-02 19:54:14 | Usher Prowse |
| 22 | 2022-09-04 07:22:17 | Laurette Howard |
| 23 | 2022-09-02 19:59:53 | Jane Olding |
| 24 | 2022-09-05 19:49:44 | Gary King |
| 25 | 2022-09-05 19:44:36 | Jodie Ellis |
| 26 | 2022-09-04 16:44:14 | Trina . |
| 27 | 2022-09-04 11:08:13 | Paula Wood |
| 28 | 2022-09-05 20:16:33 | Claire Medworth |
| 29 | 2022-09-03 20:24:36 | Rachael Pearson |
| 30 | 2022-09-05 20:54:38 | Grace de Young |
| 31 | 2022-09-04 23:34:34 | Christine Swift |
| 32 | 2022-09-05 16:39:55 | Clair Rudge |
| 33 | 2022-09-04 08:43:01 | Catherine Marsh |
| 34 | 2022-09-04 16:12:37 | Jayne Back |
| 35 | 2022-09-02 03:27:37 | Catherine Harding |
| 36 | 2022-09-05 18:36:43 | Dave Sadler |
| 37 | 2022-09-04 08:02:26 | Keira Bradford-jones |
| 38 | 2022-09-04 11:08:13 | Paula Wood |
| 39 | 2022-09-05 16:39:55 | Clair Rudge |
| 40 | 2022-09-05 16:39:55 | Clair Rudge |
| 41 | 2022-09-02 19:54:14 | Usher Prowse |
| 42 | 2022-09-04 16:32:19 | Rachel Salloway |
| 44 | 2022-09-05 19:34:07 | g Mv |
| 45 | 2022-09-04 08:24:45 | Sarah Read |
| 46 | 2022-09-04 21:37:11 | Jodie Ellis |
| 47 | 2022-09-05 19:28:48 | Tracy Owen |
| 48 | 2022-09-03 21:55:32 | Joseph Sutherland |
| 49 | 2022-09-05 12:09:04 | Lauren Adamson |
| 50 | 2022-09-03 09:29:15 | Michael O'connor |
| 51 | 2022-09-05 16:48:50 | Lorraine Mcardle |
| 52 | 2022-09-03 17:18:53 | Fabian Farcas |
| 53 | 2022-09-04 08:02:26 | Keira Bradford-jones |
| 54 | 2022-09-05 20:25:35 | Kitty Cat |
| 55 | 2022-09-04 21:33:13 | Jodie Ellis |
| 56 | 2022-09-05 16:48:26 | Ann Emmess |
| 57 | 2022-09-02 14:20:14 | Michael O'connor |
| 58 | 2022-09-05 20:31:21 | Jackie Dyer |
| 59 | 2022-09-05 10:59:38 | David Orrey |
| 60 | 2022-08-31 22:36:37 | Sam Perrin |
| 61 | 2022-09-05 19:27:24 | Sian Stead |
| 62 | 2022-09-05 13:49:54 | Sharon Hobday |
| 63 | 2022-09-04 08:45:50 | Sally Furze |
| 64 | 2022-09-05 20:46:08 | melanie Burnay |
| 65 | 2022-09-05 17:34:57 | Keira Bradford-jones |
| 66 | 2022-09-05 18:53:52 | Holly Wherrett |
| 67 | 2022-09-05 14:51:36 | Kim Ayres |
| 68 | 2022-09-05 19:02:51 | Paul Painter |
| 69 | 2022-09-04 21:33:13 | Jodie Ellis |
| 70 | 2022-09-04 20:57:34 | Mark Higham |
| 71 | 2022-09-05 20:03:17 | Ricco Jenkins |
| 72 | 2022-09-05 14:03:04 | Debs A T |
| 73 | 2022-09-05 19:23:05 | Joanne Warner |
| 74 | 2022-09-04 16:25:40 | Paige Hammond |
| 75 | 2022-09-05 14:22:18 | Jodie Ellis |
| 76 | 2022-09-02 03:27:37 | Catherine Harding |
| 77 | 2022-09-05 10:12:11 | Elizabeth Hill |
| 78 | 2022-09-05 16:39:55 | Clair Rudge |
| 79 | 2022-09-05 08:52:03 | Natalie Roberts |
| 80 | 2022-09-05 20:45:59 | Sarah Pick |
| 81 | 2022-09-05 15:10:56 | Sam Perrin |
| 82 | 2022-09-05 20:46:08 | melanie Burnay |
| 83 | 2022-09-04 21:37:11 | Jodie Ellis |
| 84 | 2022-09-05 20:30:36 | Sally Furze |
| 85 | 2022-09-04 21:33:13 | Jodie Ellis |
| 86 | 2022-09-04 07:30:55 | Marie West |
| 87 | 2022-09-02 03:27:37 | Catherine Harding |
| 88 | 2022-09-05 19:12:01 | Marie Stuart |
| 89 | 2022-09-05 16:33:35 | jemma Vooght |
| 90 | 2022-09-05 14:18:30 | Daniel Mcmullan |
| 91 | 2022-09-05 20:26:45 | Nikki Keetch |
| 92 | 2022-09-05 18:57:14 | Lisa Cann |
| 93 | 2022-09-05 10:12:11 | Elizabeth Hill |
| 94 | 2022-09-05 20:07:35 | David Orrey |
| 95 | 2022-09-04 08:45:50 | Sally Furze |
| 96 | 2022-09-05 14:51:36 | Kim Ayres |
| 97 | 2022-09-05 19:05:48 | sarah creed |
| 98 | 2022-09-04 22:23:12 | Jodie Forrest |
| 99 | 2022-09-05 19:20:47 | Bev Dingeldein |
| 100 | 2022-09-05 19:43:31 | DANIEL STONELAKE |
| 101 | 2022-09-05 14:22:18 | Jodie Ellis |
| 102 | 2022-09-04 22:23:12 | Jodie Forrest |
| 103 | 2022-09-05 20:16:17 | Jennifer Chappell |
| 104 | 2022-09-05 20:46:08 | melanie Burnay |
| 105 | 2022-08-31 16:55:32 | Kyle Jago |
| 106 | 2022-09-05 16:26:52 | Emma Jones |
| 107 | 2022-09-05 15:10:16 | Catherine Highton |
| 108 | 2022-09-05 20:19:22 | Natasha Duncan |
| 109 | 2022-09-05 20:38:43 | Olivia Kennard |
| 110 | 2022-09-05 12:09:04 | Lauren Adamson |
| 111 | 2022-09-02 19:54:14 | Usher Prowse |
| 112 | 2022-09-05 20:08:25 | Emma Jones |
| 113 | 2022-09-04 08:39:35 | Rachel Gilbert |
| 114 | 2022-09-03 12:10:12 | Aimee Povey |
| 115 | 2022-09-05 14:44:55 | Kerry Camara |
| 116 | 2022-08-31 14:14:17 | Sarah Pridmore |
| 117 | 2022-09-05 09:37:37 | Lee Rae |
| 118 | 2022-09-05 11:49:21 | Julie Major |
| 119 | 2022-09-05 14:58:58 | Donna Heardson |
| 120 | 2022-09-05 20:15:07 | Debbie Brewer |
| 121 | 2022-09-05 20:02:35 | lydia chadwick |
| 122 | 2022-09-04 22:35:29 | Kelvin Courtenay |
| 123 | 2022-09-04 23:34:34 | Christine Swift |
| 124 | 2022-09-05 20:46:08 | melanie Burnay |
| 125 | 2022-09-05 13:49:54 | Sharon Hobday |
| 126 | 2022-09-05 19:11:19 | Jodie Ellis |
| 127 | 2022-09-05 10:59:38 | David Orrey |
| 128 | 2022-09-05 20:46:08 | melanie Burnay |
| 129 | 2022-09-04 18:23:35 | Sharon Avery |
| 130 | 2022-09-04 16:43:24 | Sherrianne Cooke |
| 131 | 2022-09-05 19:34:07 | g Mv |
| 132 | 2022-09-05 08:32:39 | Alison Cass |
| 133 | 2022-09-03 09:29:15 | Michael O'connor |
| 134 | 2022-09-05 12:57:30 | Joeanne O'connor |
| 135 | 2022-09-04 19:18:41 | Naomi Turner |
| 136 | 2022-09-05 19:26:24 | Amy Leslie |
| 137 | 2022-08-31 22:36:37 | Sam Perrin |
| 138 | 2022-09-05 19:15:54 | Debbie Rhodes |
| 139 | 2022-09-05 08:49:33 | Jodie Ellis |
| 140 | 2022-09-05 20:29:16 | Donna Wilson |
| 141 | 2022-09-05 11:22:33 | Carly King |
| 142 | 2022-09-05 10:59:38 | David Orrey |
| 143 | 2022-09-05 16:39:55 | Clair Rudge |
| 144 | 2022-09-05 18:52:23 | Samuel Woodford |
| 145 | 2022-09-05 08:52:03 | Natalie Roberts |
| 146 | 2022-09-05 19:20:06 | kimberley mcadam |
| 148 | 2022-09-03 21:55:32 | Joseph Sutherland |
| 149 | 2022-08-30 21:05:07 | Sandra Stevens |
| 150 | 2022-09-05 17:34:57 | Keira Bradford-jones |
| 151 | 2022-09-05 11:43:26 | Sharon White |
| 152 | 2022-09-05 08:58:32 | Marie West |
| 153 | 2022-09-05 16:33:35 | jemma Vooght |
| 154 | 2022-09-04 08:02:26 | Keira Bradford-jones |
| 155 | 2022-09-05 19:02:51 | Paul Painter |
| 156 | 2022-09-05 14:51:36 | Kim Ayres |
| 157 | 2022-09-05 20:57:25 | Jemma Bentham |
| 158 | 2022-09-05 14:51:36 | Kim Ayres |
| 159 | 2022-09-05 16:39:55 | Clair Rudge |
| 160 | 2022-09-04 09:10:32 | Caroline FairClough |
| 161 | 2022-09-05 13:15:35 | Holly Kemp |
| 162 | 2022-09-05 20:51:42 | Ashley Evans |
| 163 | 2022-09-05 20:52:18 | Sian Beer |
| 164 | 2022-09-05 19:20:06 | kimberley mcadam |
| 165 | 2022-09-05 08:52:03 | Natalie Roberts |
| 166 | 2022-09-05 14:22:18 | Jodie Ellis |
| 167 | 2022-09-05 20:24:39 | Tracey Rea |
| 168 | 2022-09-03 12:10:12 | Aimee Povey |
| 169 | 2022-09-05 14:51:36 | Kim Ayres |
| 170 | 2022-09-05 20:51:34 | Judith Barnett |
| 171 | 2022-09-05 20:26:45 | Nikki Keetch |
| 172 | 2022-09-02 19:59:53 | Jane Olding |
| 173 | 2022-09-05 20:46:08 | melanie Burnay |
| 174 | 2022-09-05 16:35:15 | Lisa Johnston |
| 175 | 2022-09-05 17:34:57 | Keira Bradford-jones |
| 176 | 2022-09-04 16:25:40 | Paige Hammond |
| 177 | 2022-09-05 19:32:30 | Kimberley Dickson |
| 178 | 2022-09-05 19:06:40 | Michael O'connor |
| 179 | 2022-09-05 20:30:34 | Lynsey O'connor |
| 180 | 2022-09-03 20:37:48 | Vicci Del-Pizzo |
| 181 | 2022-09-05 08:52:03 | Natalie Roberts |
| 182 | 2022-09-05 20:59:26 | Ali Farquharson |
| 183 | 2022-09-05 19:32:13 | Justin Lashley |
| 184 | 2022-09-05 19:23:05 | Joanne Warner |
| 185 | 2022-09-02 20:47:37 | Stacey Windeatt |
| 186 | 2022-09-03 20:31:35 | Lea Painter |
| 187 | 2022-09-05 19:08:02 | Michelle Flood |
| 188 | 2022-09-03 20:01:38 | Siobhan Clifford |
| 189 | 2022-09-05 20:56:23 | Richard Broadbank |
| 190 | 2022-09-05 18:44:40 | Jodie Watson |
| 191 | 2022-09-05 11:02:25 | Carol Woodward |
| 193 | 2022-09-05 20:55:55 | Kealy Stalley |
| 195 | 2022-09-05 19:17:15 | Tina Stuart |
| 196 | 2022-09-05 10:58:11 | Lucky Ducky |
| 197 | 2022-09-05 19:46:41 | Michelle Eveson |
| 198 | 2022-09-03 08:14:44 | Anthony Joseph Smith |
| 199 | 2022-09-05 20:51:42 | Ashley Evans |
| 200 | 2022-09-05 20:03:17 | Ricco Jenkins |