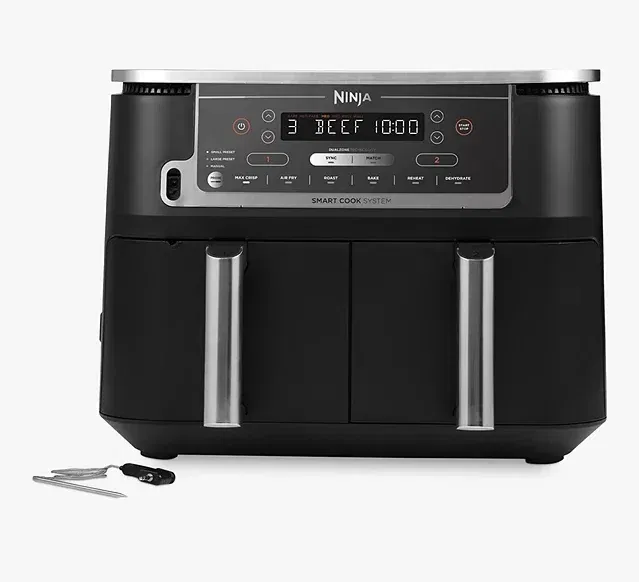 Ninja Foodi MAX Dual Zone Smart Cook Air Fryer, Black
Description
Ninja Foodi MAX Dual Zone Smart Cook Air Fryer, Black
The large capacity air fryer that cooks 2 foods, 2 ways, and finishes at the same time – with perfect results. With 2 independent cooking zones, you can mix and match cooking programs, times and temperatures across both drawers to create delicious meals in one appliance.
Smart Cook System
How do you like your steak? From rare to well done, simply choose your desired finish and Ninja's Smart Cook System does all the work. The Digital Cooking Probe precisely monitors your food's temperature during cooking, for perfectly cooked meat and fish with no guesswork. The air fryer lets you know when your food is ready to remove. You can fit a whole 2kg chicken in one drawer and cook it to perfection with the probe, no need to worry about it being underdone or overcooked.
2 independent cooking zones
Cook two different foods at the same time. Use a different cooking function, temperature and time in each drawer – perfect for roasting chicken and air frying wedges at the same time, or baked salmon with roast vegetables. With the SYNC feature, both zones finish cooking at exactly the same time, so you can enjoy freshly-cooked mains and sides together or easily cater for two different tastes. Up to 75% faster than fan ovens*, you can have food on the table quickly.
Perfect for families and large households
Use the MATCH feature to double your serving size, using the same cooking program and time in each drawer. This large capacity 9.5L air fryer can fit a 2kg chicken or up to 1.4kg of fries in each 4.75L drawer, perfect for feeding 8+ people.
Use little to no oil
Air Fry fried food with a delicious golden finish – up to 75% less fat than traditional frying methods**.
6 cooking functions
More than an air fryer, get creative with Air Fry, Max Crisp, Roast, Bake, Reheat and Dehydrate functions. Enjoy everything from homemade fish and chips to calzone, baked salmon fillets to spicy potato wedges, freshly baked bread and cakes to homemade dried fruit, and even reheat leftovers to a fresh-out-of-the-oven finish. Cook from frozen to crispy in minutes.
Easy to clean
Washing up is easy thanks to non-stick, dishwasher-safe parts. Includes a recipe guide so you can get started straight away.
*Tested against fish fingers and sausages, including pre-heat.
**Tested against deep fried, hand-cut French fries.
| Winner Name | Ticket Number | Draw Date |
| --- | --- | --- |
| Rebecca Potter | 233 | 20/11/2023 |
1-100
101-200
201-300
301-400
| Ticket Number | Date | Name |
| --- | --- | --- |
| 1 | 2023-11-20 17:00:09 | Ryan Saunders |
| 2 | 2023-11-20 18:26:07 | Sarah Widdop |
| 3 | 2023-11-20 16:55:44 | Lisa Lee |
| 4 | 2023-11-20 18:12:02 | Roxanne Cane |
| 5 | 2023-11-18 19:40:37 | Ma Roberts |
| 6 | 2023-11-20 11:43:12 | Stevie Williams |
| 7 | 2023-11-20 14:13:41 | JMS S |
| 8 | 2023-11-19 18:58:56 | Emma Palmer |
| 9 | 2023-11-18 16:07:57 | Ross Couch |
| 10 | 2023-11-20 11:17:19 | Shannon Hale |
| 11 | 2023-11-15 18:13:54 | A.T W. |
| 12 | 2023-11-20 12:45:10 | Juliette King |
| 13 | 2023-11-20 09:00:06 | LL BB |
| 14 | 2023-11-20 11:17:19 | Shannon Hale |
| 15 | 2023-11-20 19:27:50 | Kimberley Morton |
| 16 | 2023-11-20 15:31:25 | A Somerset |
| 17 | 2023-11-17 23:18:38 | tony Baker |
| 18 | 2023-11-20 18:35:10 | Jenny King |
| 19 | 2023-11-15 17:13:30 | Elaine Frewin |
| 20 | 2023-11-20 19:53:21 | Rebecca Potter |
| 21 | 2023-11-19 18:46:35 | Sophie Murch |
| 22 | 2023-11-20 10:28:38 | Katrina Densham |
| 23 | 2023-11-20 18:56:16 | Amelia Yeomans |
| 24 | 2023-11-20 19:25:08 | Natalie Webb |
| 25 | 2023-11-20 19:57:31 | Sarah Melton |
| 26 | 2023-11-20 18:35:10 | Jenny King |
| 27 | 2023-11-20 17:00:09 | Ryan Saunders |
| 28 | 2023-11-20 18:36:45 | Miss Kimberley Sharman |
| 29 | 2023-11-20 18:49:30 | Richard Legge |
| 30 | 2023-11-20 14:01:46 | Paul Kelly |
| 31 | 2023-11-19 14:30:29 | christine a webber |
| 32 | 2023-11-20 08:46:26 | Elaine Lipscombe |
| 33 | 2023-11-18 15:26:01 | Juliette King |
| 34 | 2023-11-19 18:46:35 | Sophie Murch |
| 35 | 2023-11-20 13:30:24 | Emma & lee |
| 36 | 2023-11-20 18:43:08 | Andrew Willcocks |
| 37 | 2023-11-20 19:00:56 | Daniel Paddington |
| 38 | 2023-11-17 23:18:38 | tony Baker |
| 39 | 2023-11-20 08:54:27 | Hayley Whitbread |
| 40 | 2023-11-20 19:00:56 | Daniel Paddington |
| 41 | 2023-11-20 15:47:35 | Tammy Caven |
| 42 | 2023-11-20 19:38:05 | Katherine Povey |
| 43 | 2023-11-20 10:28:38 | Katrina Densham |
| 44 | 2023-11-20 19:38:05 | Katherine Povey |
| 45 | 2023-11-20 18:40:24 | Lisa Darragh |
| 46 | 2023-11-19 13:32:16 | Tom P Skinner |
| 47 | 2023-11-20 10:45:01 | Victoria Brownlow |
| 48 | 2023-11-20 15:30:05 | Catherine Lush |
| 49 | 2023-11-20 10:49:57 | Iain Thomas |
| 50 | 2023-11-20 19:05:41 | Michelle Mellor-Smith |
| 51 | 2023-11-20 13:11:46 | nicola o'rourke |
| 52 | 2023-11-20 18:28:51 | Michelle Teague |
| 53 | 2023-11-20 19:38:05 | Katherine Povey |
| 54 | 2023-11-20 18:43:08 | Andrew Willcocks |
| 55 | 2023-11-18 14:33:14 | Paula Johans |
| 56 | 2023-11-20 19:07:26 | Adam Dimond |
| 57 | 2023-11-20 01:39:55 | Emilyn Lerwill |
| 58 | 2023-11-20 19:25:21 | Shirley Lumley |
| 59 | 2023-11-19 21:45:45 | Katrina Oliver |
| 60 | 2023-11-20 16:41:56 | Patrick Clayton |
| 61 | 2023-11-20 17:00:09 | Ryan Saunders |
| 62 | 2023-11-19 21:50:13 | Keira Dodd |
| 63 | 2023-11-19 07:32:49 | Cherie Johns |
| 64 | 2023-11-19 15:40:30 | Maddie Dray |
| 65 | 2023-11-20 19:51:30 | Cloi Chappell |
| 66 | 2023-11-16 17:39:05 | Marian Guest |
| 67 | 2023-11-19 18:46:35 | Sophie Murch |
| 68 | 2023-11-19 18:27:34 | Elliot White |
| 69 | 2023-11-18 14:33:14 | Paula Johans |
| 70 | 2023-11-19 13:32:16 | Tom P Skinner |
| 71 | 2023-11-20 09:55:24 | Linda Grimshaw |
| 72 | 2023-11-20 12:44:41 | Jo Boat |
| 73 | 2023-11-19 14:55:26 | Stentiford Sharon |
| 74 | 2023-11-20 19:25:27 | Sharon Chafer |
| 75 | 2023-11-18 05:11:55 | Sarah Smith |
| 76 | 2023-11-20 18:41:34 | Alison Thomson |
| 77 | 2023-11-20 18:27:06 | MANDY LANGDON |
| 78 | 2023-11-20 19:53:35 | Amanda Gallacher |
| 79 | 2023-11-19 18:46:35 | Sophie Murch |
| 80 | 2023-11-17 23:18:38 | tony Baker |
| 81 | 2023-11-20 18:49:30 | Richard Legge |
| 82 | 2023-11-20 15:32:32 | Lee Gable |
| 83 | 2023-11-20 17:00:09 | Ryan Saunders |
| 84 | 2023-11-20 19:00:56 | Daniel Paddington |
| 85 | 2023-11-19 08:35:40 | Alison Collins |
| 86 | 2023-11-20 11:16:56 | Hayley Batten |
| 87 | 2023-11-15 17:13:30 | Elaine Frewin |
| 88 | 2023-11-20 18:26:55 | Kelly jay Tarrant |
| 89 | 2023-11-17 23:18:38 | tony Baker |
| 90 | 2023-11-20 18:28:51 | Michelle Teague |
| 91 | 2023-11-20 19:39:36 | charlotte higman |
| 92 | 2023-11-20 19:00:56 | Daniel Paddington |
| 93 | 2023-11-20 18:56:18 | LL BB |
| 94 | 2023-11-20 11:34:13 | Amanda Lacey |
| 95 | 2023-11-17 08:25:34 | Alison Collins |
| 96 | 2023-11-19 13:32:16 | Tom P Skinner |
| 97 | 2023-11-20 18:27:52 | Jennifer Mccartney |
| 98 | 2023-11-20 18:43:08 | Andrew Willcocks |
| 99 | 2023-11-20 18:50:48 | Jamie Densham |
| 100 | 2023-11-20 18:29:45 | Nicholas Heath |