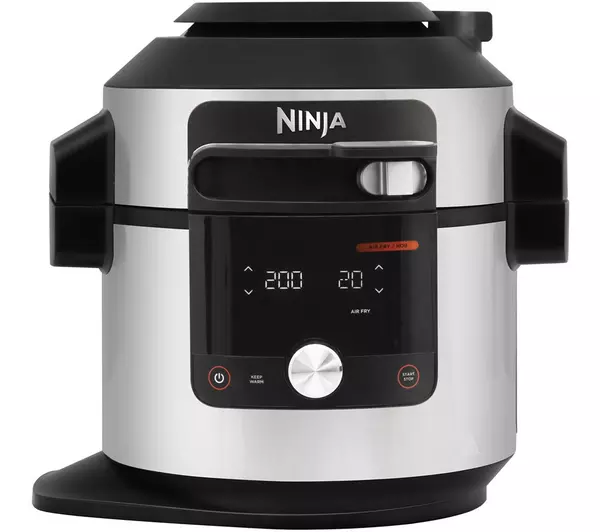 NINJA Foodi MAX 15-in-1 SmartLid OL750UK Multicooker
Description
NINJA Foodi MAX 15-in-1 SmartLid OL750UK Multicooker Enjoy endless cooking possibilities with the Ninja Foodi Max SmartLid OL750UK Multicooker.
Choose from 3 cooking modes and 15 functions. Grill tasty burgers, prove bread and pizza doughs. Slow cook tender meals for up to 12 hours. Sear steaks, sauté ingredients and caramelise onions. Or dehydrate ingredients to create vegetable crisps, dried fruit snacks or dried herbs.
Steam functions
Experiment with Combi-steam mode functions. They combine steam and conventional cooking, so you'll get juicy and crispy results. Steam Roast helps you create a perfect roast chicken and with the Steam Meals function, a healthy family dinner will be ready in no time. And there are even programs that let you bake a cake or bread.
Pressure cook and Air fry mode
Pressure Cook is a fast way to prepare dinner. And when your food is finished, the steam releases automatically.
Air Fry helps you create cripsy dishes using little to no oil, so you can prepare anything from golden chips to chicken wings.
Smart Cook System
Enjoy perfectly cooked meat and fish exactly as you like it thanks to the digital cooking probe. Simply insert the leave-in probe into your food and choose your desired outcome. The probe precisely monitors your food's temperature as it cooks, so you don't have to.
Generous capacity
The 7.5 litre cooking pot fits up to a 3 kg roast and the 4.7 litre Cook & Crisp Basket fits up to 2 kg of French fries, so there'll be enough food for everyone.
There's also a 2-tier reversible rack – perfect for layering mains and sides.
And when it's time to clean, both the non-stick cooking pot and Cook & Crisp basket are dishwasher-safe.
| Winner Name | Ticket Number | Draw Date |
| --- | --- | --- |
| Jordan Dobbin | 355 | 22/08/2022 |
| Ticket Number | Date | Name |
| --- | --- | --- |
| 1 | 2022-08-22 13:38:23 | Kelvin Courtenay |
| 2 | 2022-08-19 23:37:47 | Mark Pease |
| 3 | 2022-08-16 10:00:05 | Melanie Bussell |
| 4 | 2022-08-20 19:40:06 | Sharon Hobday |
| 5 | 2022-08-20 22:09:23 | Michelle Eveson |
| 6 | 2022-08-21 09:51:49 | Harriet Keeling |
| 7 | 2022-08-16 20:15:08 | Marie Goodwin |
| 8 | 2022-08-22 19:20:28 | Riddock Suzanne |
| 9 | 2022-08-22 10:51:52 | Debs Talbot |
| 10 | 2022-08-22 19:13:59 | Matthew Gore |
| 11 | 2022-08-16 20:15:08 | Marie Goodwin |
| 12 | 2022-08-22 16:04:10 | Jackie Loizides-Wright |
| 13 | 2022-08-22 13:04:24 | Sarah Pridmore |
| 14 | 2022-08-18 09:34:26 | Juliet Phillips |
| 15 | 2022-08-18 01:06:57 | Liz Morrison |
| 16 | 2022-08-22 18:59:46 | Sonya Tye |
| 17 | 2022-08-20 19:40:06 | Sharon Hobday |
| 18 | 2022-08-21 20:45:06 | Ali Pomeroy |
| 19 | 2022-08-22 19:24:54 | Nicky Winter |
| 20 | 2022-08-22 07:59:43 | Jackie Dibbs |
| 21 | 2022-08-15 23:07:45 | Lisa Roberts |
| 22 | 2022-08-15 23:07:45 | Lisa Roberts |
| 23 | 2022-08-15 23:07:45 | Lisa Roberts |
| 24 | 2022-08-18 19:45:50 | Julie Bouskill |
| 25 | 2022-08-22 19:20:28 | Riddock Suzanne |
| 26 | 2022-08-21 08:04:03 | Joanne Pennington |
| 27 | 2022-08-16 09:56:54 | Suzette Dodson-Rouse |
| 28 | 2022-08-22 19:02:01 | Joanne Warner |
| 29 | 2022-08-21 08:04:03 | Joanne Pennington |
| 30 | 2022-08-22 19:13:59 | Matthew Gore |
| 31 | 2022-08-22 19:29:24 | Gary King |
| 32 | 2022-08-20 07:51:45 | Richard Morris |
| 33 | 2022-08-22 13:16:53 | Lisa Roberts |
| 34 | 2022-08-22 14:13:32 | Diana Donald |
| 35 | 2022-08-22 13:58:55 | Becci Vayle |
| 36 | 2022-08-19 17:10:46 | Suzanne Pike |
| 37 | 2022-08-20 13:17:42 | Daniel Smith |
| 38 | 2022-08-22 18:59:46 | Sonya Tye |
| 39 | 2022-08-22 19:31:54 | marion clark |
| 40 | 2022-08-22 18:45:05 | Julie Aston |
| 41 | 2022-08-22 19:50:57 | Kelly jay Tarrant |
| 42 | 2022-08-22 08:58:07 | Darren Willis |
| 43 | 2022-08-21 14:52:34 | Paula Wood |
| 44 | 2022-08-21 09:31:01 | kerry b |
| 45 | 2022-08-19 23:37:47 | Mark Pease |
| 46 | 2022-08-22 19:41:27 | Beth Field |
| 47 | 2022-08-22 19:45:43 | Susan m Morrison |
| 48 | 2022-08-22 19:19:08 | Ian Garner |
| 49 | 2022-08-22 19:38:39 | Sarah Kallmeier |
| 50 | 2022-08-19 23:37:47 | Mark Pease |
| 51 | 2022-08-22 19:19:34 | Vicky McCormack |
| 52 | 2022-08-19 23:37:47 | Mark Pease |
| 53 | 2022-08-22 19:31:54 | marion clark |
| 54 | 2022-08-21 16:08:23 | Megan Barratt |
| 55 | 2022-08-22 18:03:20 | Paul Jones |
| 56 | 2022-08-21 14:52:34 | Paula Wood |
| 57 | 2022-08-20 17:30:48 | Emily Rapson |
| 58 | 2022-08-22 16:02:52 | Jodie Ellis |
| 59 | 2022-08-21 09:51:49 | Harriet Keeling |
| 60 | 2022-08-22 11:14:01 | Joanna Brailsford-Dunn |
| 61 | 2022-08-19 23:37:47 | Mark Pease |
| 62 | 2022-08-18 00:31:50 | Caralyn Moore |
| 63 | 2022-08-18 00:31:50 | Caralyn Moore |
| 64 | 2022-08-22 08:58:07 | Darren Willis |
| 65 | 2022-08-22 14:04:20 | Jodie Ellis |
| 66 | 2022-08-22 20:01:27 | Christine Swift |
| 67 | 2022-08-20 08:02:59 | Amy selman |
| 68 | 2022-08-19 23:37:47 | Mark Pease |
| 69 | 2022-08-22 12:19:34 | Fionna Winter |
| 70 | 2022-08-22 19:16:42 | Roxanne Hill |
| 71 | 2022-08-22 14:14:57 | jemma Vooght |
| 72 | 2022-08-21 19:27:38 | Sally Cox |
| 73 | 2022-08-22 16:55:26 | Tracy Owen |
| 74 | 2022-08-22 19:56:10 | Samantha Poll |
| 75 | 2022-08-22 15:47:38 | Danielle Trow |
| 76 | 2022-08-22 14:04:20 | Jodie Ellis |
| 77 | 2022-08-22 19:02:01 | Joanne Warner |
| 78 | 2022-08-22 19:24:54 | Nicky Winter |
| 79 | 2022-08-22 19:41:27 | Beth Field |
| 80 | 2022-08-22 19:22:27 | Meisha Williams |
| 81 | 2022-08-20 12:09:26 | Caroline Willoughby |
| 82 | 2022-08-22 08:58:07 | Darren Willis |
| 83 | 2022-08-22 18:56:10 | Leo pitman Pitman |
| 84 | 2022-08-22 19:02:27 | Ricky Walters |
| 85 | 2022-08-22 14:04:20 | Jodie Ellis |
| 86 | 2022-08-22 18:45:05 | Julie Aston |
| 87 | 2022-08-22 16:02:52 | Jodie Ellis |
| 88 | 2022-08-22 12:09:41 | Laura Godfrey |
| 89 | 2022-08-19 18:43:01 | Michelle Weller |
| 90 | 2022-08-22 17:27:31 | Kathy Moran |
| 91 | 2022-08-22 19:20:41 | Gordon Harris |
| 92 | 2022-08-18 19:45:50 | Julie Bouskill |
| 93 | 2022-08-22 07:30:16 | Louieaha Parle |
| 94 | 2022-08-22 14:26:29 | Catherine Marsh |
| 95 | 2022-08-22 19:25:45 | Victoria Johnston |
| 96 | 2022-08-22 19:56:10 | Samantha Poll |
| 97 | 2022-08-22 19:47:55 | Andrew Gardiner |
| 98 | 2022-08-22 19:19:34 | Vicky McCormack |
| 99 | 2022-08-22 19:20:28 | Riddock Suzanne |
| 100 | 2022-08-22 10:51:52 | Debs Talbot |
| 101 | 2022-08-19 23:37:47 | Mark Pease |
| 102 | 2022-08-22 18:45:05 | Julie Aston |
| 103 | 2022-08-22 19:17:13 | Martha Peart |
| 104 | 2022-08-21 19:12:24 | Natalie Roberts |
| 105 | 2022-08-22 19:40:16 | Joanne Noble |
| 106 | 2022-08-18 00:31:50 | Caralyn Moore |
| 107 | 2022-08-18 00:31:50 | Caralyn Moore |
| 108 | 2022-08-22 17:19:24 | Michelle Harvey |
| 109 | 2022-08-21 21:15:51 | Sophie Radford |
| 110 | 2022-08-22 16:37:31 | Lindsey Evans |
| 111 | 2022-08-22 14:13:42 | Kelly Hallett |
| 112 | 2022-08-20 16:54:16 | Sarah Langdon |
| 113 | 2022-08-16 10:00:05 | Melanie Bussell |
| 114 | 2022-08-22 08:58:07 | Darren Willis |
| 115 | 2022-08-20 08:16:17 | Jackie Dyer |
| 116 | 2022-08-22 17:28:52 | Lucy Gibson |
| 117 | 2022-08-22 18:06:51 | Claire Warren |
| 118 | 2022-08-15 19:11:44 | Jaque Shackleton |
| 119 | 2022-08-22 19:26:47 | Deanne Lovell |
| 120 | 2022-08-21 19:31:26 | Murray Abigail |
| 121 | 2022-08-22 08:58:07 | Darren Willis |
| 122 | 2022-08-22 15:46:17 | Jodie Ellis |
| 123 | 2022-08-22 19:56:10 | Samantha Poll |
| 124 | 2022-08-18 14:23:19 | Gabby Bellamy |
| 125 | 2022-08-16 17:32:39 | Joseph Young |
| 126 | 2022-08-22 19:51:45 | Jordan Dobbin |
| 127 | 2022-08-22 13:58:55 | Becci Vayle |
| 128 | 2022-08-22 09:40:42 | Kayleigh Barnard |
| 129 | 2022-08-22 09:30:47 | Jade La'moon |
| 130 | 2022-08-22 07:57:19 | Kimberley Hallett |
| 131 | 2022-08-19 23:37:47 | Mark Pease |
| 132 | 2022-08-19 23:37:47 | Mark Pease |
| 133 | 2022-08-22 19:35:58 | Mica Jay |
| 134 | 2022-08-18 00:31:50 | Caralyn Moore |
| 135 | 2022-08-18 00:31:50 | Caralyn Moore |
| 136 | 2022-08-22 19:58:13 | Christine Hodgson |
| 137 | 2022-08-16 17:32:39 | Joseph Young |
| 138 | 2022-08-22 18:41:05 | Ben Griggs |
| 139 | 2022-08-22 12:19:34 | Fionna Winter |
| 140 | 2022-08-22 19:03:29 | Zoe Budd |
| 141 | 2022-08-21 16:42:43 | Margaret Windeatt |
| 142 | 2022-08-22 08:58:07 | Darren Willis |
| 143 | 2022-08-22 19:18:25 | Justin Lashley |
| 144 | 2022-08-22 14:45:44 | Nicola Bush |
| 145 | 2022-08-22 18:55:52 | Steven Wheway |
| 146 | 2022-08-22 14:46:56 | Suzanne Robinson |
| 147 | 2022-08-22 18:18:12 | Jo Butcher |
| 148 | 2022-08-22 08:58:07 | Darren Willis |
| 149 | 2022-08-19 17:03:07 | Mark Davenport |
| 150 | 2022-08-20 19:40:06 | Sharon Hobday |
| 151 | 2022-08-19 23:19:41 | Jo Brodie |
| 152 | 2022-08-22 19:31:54 | marion clark |
| 153 | 2022-08-22 14:04:20 | Jodie Ellis |
| 154 | 2022-08-18 00:31:50 | Caralyn Moore |
| 155 | 2022-08-18 00:31:50 | Caralyn Moore |
| 156 | 2022-08-22 16:49:29 | Scott Parnell |
| 157 | 2022-08-22 19:29:46 | Jenny Simmonds |
| 158 | 2022-08-22 16:55:26 | Tracy Owen |
| 159 | 2022-08-22 19:50:45 | Amanda Moore |
| 160 | 2022-08-22 18:48:01 | Ashleigh Lowman |
| 161 | 2022-08-22 16:49:29 | Scott Parnell |
| 162 | 2022-08-22 19:20:34 | Kate Holder |
| 163 | 2022-08-22 19:27:43 | Laura Barnes |
| 164 | 2022-08-19 23:37:47 | Mark Pease |
| 165 | 2022-08-21 19:27:38 | Sally Cox |
| 166 | 2022-08-19 23:37:47 | Mark Pease |
| 167 | 2022-08-22 19:35:58 | Mica Jay |
| 168 | 2022-08-19 17:03:07 | Mark Davenport |
| 169 | 2022-08-22 14:04:20 | Jodie Ellis |
| 170 | 2022-08-22 16:55:26 | Tracy Owen |
| 171 | 2022-08-22 08:58:07 | Darren Willis |
| 172 | 2022-08-21 11:00:05 | Terri Saunders |
| 173 | 2022-08-21 09:51:49 | Harriet Keeling |
| 174 | 2022-08-22 16:02:52 | Jodie Ellis |
| 175 | 2022-08-22 19:04:20 | Kylie collins |
| 176 | 2022-08-19 17:42:43 | Joseph Young |
| 177 | 2022-08-22 19:00:28 | Tia potter |
| 178 | 2022-08-22 19:31:54 | marion clark |
| 179 | 2022-08-22 19:26:33 | Kirsten Bader |
| 180 | 2022-08-22 14:26:29 | Catherine Marsh |
| 181 | 2022-08-21 19:27:38 | Sally Cox |
| 182 | 2022-08-22 19:00:08 | Sarah Vaughan |
| 183 | 2022-08-22 19:11:48 | Rebecca Virgin |
| 184 | 2022-08-22 19:34:27 | Michelle Rowles |
| 185 | 2022-08-22 18:07:20 | Gemma Osborn |
| 186 | 2022-08-18 00:31:50 | Caralyn Moore |
| 187 | 2022-08-18 00:31:50 | Caralyn Moore |
| 188 | 2022-08-22 10:02:54 | Lindsay Rowse |
| 189 | 2022-08-22 19:33:06 | Sebrina Robinson |
| 190 | 2022-08-22 19:39:34 | barbara warne |
| 191 | 2022-08-19 23:37:47 | Mark Pease |
| 192 | 2022-08-19 13:28:55 | Lisa Lea-tuffey |
| 193 | 2022-08-22 08:58:07 | Darren Willis |
| 194 | 2022-08-22 13:58:55 | Becci Vayle |
| 195 | 2022-08-16 09:58:48 | Melanie Bussell |
| 196 | 2022-08-22 19:58:36 | Daniel Hill |
| 197 | 2022-08-22 18:06:51 | Claire Warren |
| 198 | 2022-08-22 19:37:09 | Tia Richardson |
| 199 | 2022-08-22 08:58:07 | Darren Willis |
| 200 | 2022-08-20 19:40:06 | Sharon Hobday |