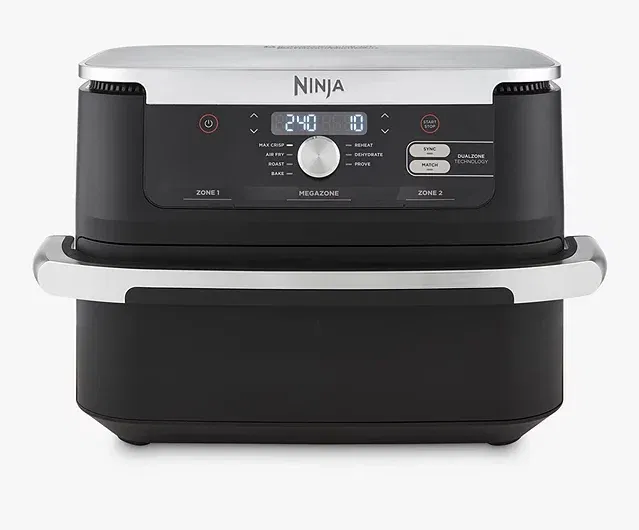 Ninja Foodi FlexDrawer AF500UK Air Fryer, 10.4L
Description
Ninja Foodi FlexDrawer AF500UK Air Fryer, 10.4L, Black
Ninja Foodi FlexDrawer adapts to fit every meal! Cook in 2 independent zones or transform them into one extra-large MegaZone for larger foods. Cook using up to 45% less energy than an oven†.
Cook 2 foods, 2 ways
With Dual Zone Technology you can mix and match different functions, times and temperatures across 2 independent cooking zones – both finish cooking at the same time! Enjoy freshly-cooked mains and sides together, or easily cater to 2 different tastes. Each 5.2L zone fits up to a 2kg chicken or up to 1.5kg of fries.
Unlock larger cooking capacity with the MegaZone
Remove the divider to create a large 10.4L MegaZone for larger foods – easily fit a whole 2kg leg of lamb with roast vegetables, a 2.3kg rolled shoulder of pork with crispy potatoes, traybake meals such as halloumi and butternut squash, garlic bread baguettes, and so much more.
Quickly create delicious meals for 8+ people
Up to 65% faster than fan ovens*, it's perfect for feeding a large household and entertaining – or just cook enough for yourself.
7 ways to cook
Air Fry using little to no oil – up to 75% less fat than traditional frying methods**. Cook from frozen with Max Crisp, cooking at 240°C for crispy, even results. Roast a whole chicken, leg of lamb, beef topside or vegan wellington alongside root vegetables for a family-size roast dinner. Customise your perfect traybake meal by combining any protein, vegetable and marinade. Bake bread and cakes, reheat leftovers, prove dough and even dehydrate ingredients for dried fruit, vegetable crisps and jerky.
The 10.4L MegaZone drawer, divider and 2x crisper plates are all non-stick and dishwasher safe for easy cleaning.
| Winner Name | Ticket Number | Draw Date |
| --- | --- | --- |
| Sarah Faulkner-lloyd | 8 | 22/09/2023 |
| Ticket Number | Date | Name |
| --- | --- | --- |
| 1 | 2023-09-20 23:56:18 | Kelly Powell |
| 2 | 2023-09-14 07:13:13 | Lorna Bright |
| 3 | 2023-09-14 22:48:12 | Nicola Kenny |
| 4 | 2023-09-21 19:48:03 | Adam Window |
| 5 | 2023-09-22 16:07:19 | Sarah Heal |
| 6 | 2023-09-22 11:22:50 | Susan Graham |
| 7 | 2023-09-12 21:06:46 | Catherine Thomson |
| 8 | 2023-09-22 15:02:14 | Sarah Faulkner-lloyd |
| 9 | 2023-09-22 11:55:57 | LL BB |
| 10 | 2023-09-22 15:06:08 | Miss Kimberley Sharman |
| 11 | 2023-09-22 17:59:19 | Jonny Boy |
| 12 | 2023-09-22 15:06:08 | Miss Kimberley Sharman |
| 13 | 2023-09-21 01:53:26 | Sarah Robinson |
| 14 | 2023-09-22 18:39:12 | Suzanne Riddock |
| 15 | 2023-09-22 07:20:31 | Laurence Dent |
| 16 | 2023-09-22 09:01:55 | Sharon Smith |
| 17 | 2023-09-16 20:54:27 | Michele Savva |
| 18 | 2023-09-12 14:00:13 | Jill Higham |
| 19 | 2023-09-20 23:24:40 | Mr M A Cuss |
| 20 | 2023-09-13 14:40:23 | rita lockett |
| 21 | 2023-09-22 17:40:16 | K Mills |
| 22 | 2023-09-20 08:36:31 | Simon Culley |
| 23 | 2023-09-13 14:40:23 | rita lockett |
| 24 | 2023-09-21 16:45:06 | Steve Cuff |
| 25 | 2023-09-14 10:34:08 | Debbie Brewer |
| 26 | 2023-09-16 20:54:27 | Michele Savva |
| 27 | 2023-09-20 23:24:40 | Mr M A Cuss |
| 28 | 2023-09-21 12:39:16 | Thomas Whirton |
| 29 | 2023-09-22 17:40:16 | K Mills |
| 30 | 2023-09-22 18:39:12 | Suzanne Riddock |
| 31 | 2023-09-22 10:37:27 | Deana Bristow |
| 32 | 2023-09-22 10:37:27 | Deana Bristow |
| 33 | 2023-09-22 18:39:12 | Suzanne Riddock |
| 34 | 2023-09-22 07:44:07 | jan blackler |
| 35 | 2023-09-13 19:22:29 | Marie Metcalfe |
| 36 | 2023-09-22 07:20:31 | Laurence Dent |
| 37 | 2023-09-14 10:34:08 | Debbie Brewer |
| 38 | 2023-09-20 23:24:40 | Mr M A Cuss |
| 39 | 2023-09-22 18:39:12 | Suzanne Riddock |
| 40 | 2023-09-22 18:39:12 | Suzanne Riddock |
| 41 | 2023-09-22 18:27:43 | Jamie Hext |
| 42 | 2023-09-22 18:39:12 | Suzanne Riddock |
| 43 | 2023-09-21 16:45:06 | Steve Cuff |
| 44 | 2023-09-22 18:39:12 | Suzanne Riddock |
| 45 | 2023-09-22 18:19:40 | James Price |
| 46 | 2023-09-22 18:29:40 | Kirsty Finnerty |
| 47 | 2023-09-20 20:51:51 | Elizabeth Spurrell |
| 48 | 2023-09-22 18:04:30 | Jodie Major |
| 49 | 2023-09-22 19:18:46 | June Sargeant |
| 50 | 2023-09-22 07:20:31 | Laurence Dent |
| 51 | 2023-09-22 16:11:49 | Dayna Vosper |
| 52 | 2023-09-22 18:52:17 | Theresa Copsey |
| 53 | 2023-09-22 17:06:47 | Marc Rowson |
| 54 | 2023-09-22 19:06:23 | Gary M Goswell-Munro |
| 55 | 2023-09-22 11:37:51 | Rebecca Tout |
| 56 | 2023-09-22 19:01:12 | Natalie Carey |
| 57 | 2023-09-22 19:21:34 | Suzanne Riddock |
| 58 | 2023-09-21 12:39:16 | Thomas Whirton |
| 59 | 2023-09-13 14:40:23 | rita lockett |
| 60 | 2023-09-21 19:48:03 | Adam Window |
| 61 | 2023-09-22 20:08:26 | Steven Wheway |
| 62 | 2023-09-21 16:45:06 | Steve Cuff |
| 63 | 2023-09-22 20:42:16 | Charlotte Davey |
| 64 | 2023-09-22 20:17:03 | LEE Cooper |
| 65 | 2023-09-22 03:01:19 | Iain Thomas |
| 66 | 2023-09-21 23:39:42 | E B |
| 67 | 2023-09-22 13:25:53 | Jamie Densham |
| 68 | 2023-09-22 07:44:07 | jan blackler |
| 69 | 2023-09-13 19:23:04 | Sacha Price |
| 70 | 2023-09-22 20:02:00 | Carol disbury |
| 71 | 2023-09-22 13:43:51 | Sally-ann Rollason |
| 72 | 2023-09-22 08:16:25 | Nicky Winter |
| 73 | 2023-09-22 20:42:50 | Mark Wade |
| 74 | 2023-09-22 20:48:37 | Crystal Corbiere |
| 75 | 2023-09-22 16:19:57 | Ew Mc |
| 76 | 2023-09-22 15:14:00 | Clare Keating |
| 77 | 2023-09-19 18:02:35 | Vikki Lee |
| 78 | 2023-09-22 11:32:08 | Lucy hek |
| 79 | 2023-09-22 20:48:37 | Crystal Corbiere |
| 80 | 2023-09-19 21:59:42 | Charleigh Bindon |
| 81 | 2023-09-22 20:48:37 | Crystal Corbiere |
| 82 | 2023-09-19 22:25:10 | Gemma Purchase |
| 83 | 2023-09-22 14:49:28 | Lorraine Williams |
| 84 | 2023-09-20 17:41:09 | Dean Nettleton |
| 85 | 2023-09-22 20:48:37 | Crystal Corbiere |
| 86 | 2023-09-22 20:17:03 | LEE Cooper |
| 87 | 2023-09-22 03:01:19 | Iain Thomas |
| 88 | 2023-09-22 16:24:16 | Michelle Mccourt |
| 89 | 2023-09-21 22:32:37 | Charlotte knight |
| 90 | 2023-09-22 20:33:22 | Jordan Gorman |
| 91 | 2023-09-22 18:29:22 | Cameron Thompson |
| 92 | 2023-09-22 20:48:37 | Crystal Corbiere |
| 93 | 2023-09-22 11:32:08 | Lucy hek |
| 94 | 2023-09-22 18:48:36 | Sally Campbell |
| 95 | 2023-09-22 08:37:30 | Carol Trick |
| 96 | 2023-09-22 19:48:31 | Liam PArker |
| 97 | 2023-09-22 17:25:06 | Kennedy Rory |
| 98 | 2023-09-22 11:49:15 | Charlene Kendall |
| 99 | 2023-09-20 23:24:40 | Mr M A Cuss |
| 100 | 2023-09-21 16:45:06 | Steve Cuff |
| 101 | 2023-09-21 01:16:50 | Abi Parnell |
| 103 | 2023-09-22 18:27:43 | Jamie Hext |
| 104 | 2023-09-22 20:39:06 | Mandy Blake-Burke |
| 105 | 2023-09-22 20:31:31 | Victoria Andrews |
| 106 | 2023-09-22 14:06:29 | Charlotte Gay |
| 107 | 2023-09-22 16:05:06 | Nicola Brown |
| 109 | 2023-09-22 19:06:23 | Gary M Goswell-Munro |
| 110 | 2023-09-22 14:06:29 | Charlotte Gay |
| 111 | 2023-09-22 07:20:31 | Laurence Dent |
| 112 | 2023-09-22 18:19:40 | James Price |
| 113 | 2023-09-22 15:31:11 | Christopher Wannell |
| 118 | 2023-09-22 17:59:19 | Jonny Boy |
| 120 | 2023-09-22 07:20:31 | Laurence Dent |
| 121 | 2023-09-22 20:40:21 | Lisa H |
| 122 | 2023-09-22 20:59:47 | Michelle Village |
| 123 | 2023-09-21 16:45:06 | Steve Cuff |
| 124 | 2023-09-22 18:09:44 | Nina Henton-Waller |
| 125 | 2023-09-21 19:54:23 | Kerry Mcveigh |
| 126 | 2023-09-22 20:32:25 | Hollie Hunt |
| 127 | 2023-09-22 10:15:50 | Rhianna Dornan |
| 128 | 2023-09-22 20:59:00 | Tanya Bridger |
| 129 | 2023-09-22 20:43:03 | Kirsty hancock Hancock |
| 130 | 2023-09-22 13:43:51 | Sally-ann Rollason |
| 131 | 2023-09-22 20:30:17 | Emily Smith |
| 132 | 2023-09-22 20:47:23 | Michele Dean |
| 133 | 2023-09-22 16:00:57 | Suzanne Faiers |
| 134 | 2023-09-22 20:56:40 | Courteney Stone |
| 135 | 2023-09-16 15:18:22 | Anne Willis |
| 136 | 2023-09-22 11:45:03 | Ben Pitts |
| 139 | 2023-09-22 17:59:40 | Kendra Brain |
| 140 | 2023-09-16 20:54:27 | Michele Savva |
| 142 | 2023-09-22 20:41:32 | Andy Hallums |
| 143 | 2023-09-21 21:25:31 | Susan Efeturk |
| 144 | 2023-09-22 07:20:31 | Laurence Dent |
| 145 | 2023-09-22 19:38:54 | Chevelle Hyndman |
| 147 | 2023-09-22 08:21:22 | Nadine Smallridge |
| 149 | 2023-09-21 17:42:20 | Mark Jarvis |
| 150 | 2023-09-22 18:30:00 | Mrs Bee |
| 151 | 2023-09-22 20:37:08 | Caroline Stemp |
| 152 | 2023-09-21 22:32:37 | Charlotte knight |
| 153 | 2023-09-22 14:04:00 | Angie C |
| 155 | 2023-09-21 01:53:26 | Sarah Robinson |
| 156 | 2023-09-22 20:39:12 | Ryan Chivers |
| 159 | 2023-09-22 20:58:49 | Bree Abbott |
| 161 | 2023-09-22 16:04:55 | Sarah Vece |
| 164 | 2023-09-20 07:59:18 | Andy Housley |
| 165 | 2023-09-12 22:25:43 | Marnie Griffiths |
| 167 | 2023-09-22 20:23:23 | Miss dee-ann marks |
| 168 | 2023-09-22 20:19:17 | Kim Murrell |
| 169 | 2023-09-22 20:08:08 | Nicky Winter |
| 171 | 2023-09-22 20:56:25 | Lucy Grant |
| 173 | 2023-09-22 20:31:31 | Victoria Andrews |
| 174 | 2023-09-22 08:40:07 | Tahlia Cook |
| 175 | 2023-09-22 17:21:57 | Lauren Rose |
| 176 | 2023-09-21 16:45:06 | Steve Cuff |
| 177 | 2023-09-22 20:59:07 | Paula Carter |
| 178 | 2023-09-22 17:25:06 | Kennedy Rory |
| 179 | 2023-09-22 20:56:40 | Courteney Stone |
| 180 | 2023-09-22 16:00:57 | Suzanne Faiers |
| 181 | 2023-09-22 08:23:18 | Kayleigh Wright |
| 182 | 2023-09-22 15:56:45 | Avril Wotton |
| 183 | 2023-09-22 20:43:58 | Cheryl James |
| 184 | 2023-09-22 20:19:17 | Kim Murrell |
| 185 | 2023-09-14 07:13:13 | Lorna Bright |
| 186 | 2023-09-22 07:20:31 | Laurence Dent |
| 187 | 2023-09-22 11:49:15 | Charlene Kendall |
| 188 | 2023-09-22 18:30:00 | Mrs Bee |
| 189 | 2023-09-22 16:11:49 | Dayna Vosper |
| 191 | 2023-09-22 18:07:17 | Claire Sheldon |
| 193 | 2023-09-22 19:53:10 | KIM S |
| 194 | 2023-09-22 11:14:10 | Mel knight |
| 195 | 2023-09-16 20:54:27 | Michele Savva |
| 196 | 2023-09-22 16:14:20 | Amanda C |
| 197 | 2023-09-15 12:10:27 | MELANIE Barrie |
| 198 | 2023-09-22 11:29:03 | Laura Kenny |
| 199 | 2023-09-20 23:24:40 | Mr M A Cuss |
| 200 | 2023-09-16 20:54:27 | Michele Savva |