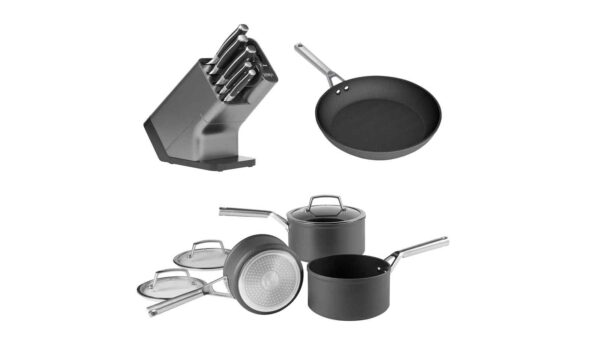 Ninja Foodi Cookware Bundle #2
Description
Ninja Foodi Cookware Bundle #2
Ninja Foodi Cookware Bundle
Ninja Foodi ZEROSTICK Cookware – zero chip, flake or peel! Exclusive to Ninja, ZEROSTICK pans are dishwasher safe, scratch resistant, metal utensil safe and oven safe up to 260°C.
They're built to last from hard-anodised aluminium and suitable for all hob types, including induction. This set includes:
16cm, 18cm & 20cm saucepans with heat-tempered glass lids
30cm frying pan
Ninja Foodi StaySharp Knives – starts sharp, stays sharp! Experience incredible performance and professional sharpening at home with this 6-piece knife set, featuring 5 durable stainless steel knives, a pair of precise kitchen scissors and an integrated knife sharpener conveniently built into the storage block – never experience the frustration of a blunt knife again.
| Winner Name | Ticket Number | Draw Date |
| --- | --- | --- |
| Laura Paton | 93 | 31/05/2022 |
| Ticket Number | Date | Name |
| --- | --- | --- |
| 1 | 2022-05-31 20:43:22 | Lucie Dobeer |
| 2 | 2022-05-31 08:42:43 | Alison Cass |
| 3 | 2022-05-31 19:30:47 | Oliver Keeler |
| 4 | 2022-05-28 01:37:14 | Helen Bryant |
| 5 | 2022-05-28 19:23:44 | Diane Rainbird |
| 7 | 2022-05-31 10:10:58 | Sam Perrin |
| 8 | 2022-05-29 11:27:17 | Lauren Mann |
| 9 | 2022-05-31 19:55:58 | Lee Mayo |
| 10 | 2022-05-31 18:56:51 | Craig Griffiths |
| 11 | 2022-05-30 22:48:55 | Alison Cass |
| 13 | 2022-05-26 22:10:58 | Bev Taylor |
| 14 | 2022-05-31 08:10:42 | Sally Cox |
| 16 | 2022-05-31 20:23:14 | Christina Doyle |
| 17 | 2022-05-31 18:26:05 | Gail Gilbert |
| 18 | 2022-05-27 06:21:26 | Christina Doyle |
| 19 | 2022-05-31 15:15:54 | Nina Henton-Waller |
| 20 | 2022-05-28 17:58:17 | Roxanne Hill |
| 21 | 2022-05-31 18:41:09 | Lisa Johnston |
| 22 | 2022-05-30 15:50:58 | Emma Davies |
| 24 | 2022-05-30 21:32:59 | Aidan White |
| 25 | 2022-05-31 19:42:21 | Tia potter |
| 26 | 2022-05-31 15:15:54 | Nina Henton-Waller |
| 28 | 2022-05-31 18:26:05 | Gail Gilbert |
| 29 | 2022-05-28 04:08:37 | Tim Hallam |
| 31 | 2022-05-31 17:41:13 | Sammy Lou |
| 32 | 2022-05-31 09:18:44 | Gail Gilbert |
| 33 | 2022-05-30 18:46:25 | Marc Baker |
| 34 | 2022-05-31 17:10:27 | Holly Kemp |
| 35 | 2022-05-31 17:59:26 | Paula Horrocks |
| 36 | 2022-05-31 19:47:42 | Anna Benney |
| 37 | 2022-05-31 18:18:07 | Nicola Walker |
| 38 | 2022-05-31 12:13:21 | Hannah Rogers |
| 39 | 2022-05-31 09:03:17 | Derek Cattermole |
| 40 | 2022-05-31 19:55:58 | Lee Mayo |
| 41 | 2022-05-31 15:14:19 | Usher Prowse |
| 42 | 2022-05-31 17:10:27 | Holly Kemp |
| 43 | 2022-05-31 19:30:47 | Oliver Keeler |
| 45 | 2022-05-28 21:33:02 | Charlie Brine |
| 46 | 2022-05-27 21:28:46 | Elliot White |
| 49 | 2022-05-31 08:42:43 | Alison Cass |
| 50 | 2022-05-31 15:15:54 | Nina Henton-Waller |
| 51 | 2022-05-31 20:15:14 | Tanya Sumner |
| 52 | 2022-05-30 10:09:04 | Marie West |
| 54 | 2022-05-31 09:03:17 | Derek Cattermole |
| 56 | 2022-05-31 07:40:58 | David Maddocks |
| 57 | 2022-05-27 21:28:46 | Elliot White |
| 62 | 2022-05-31 06:28:04 | Dave Sadler |
| 64 | 2022-05-31 08:06:33 | Lisa Head |
| 66 | 2022-05-31 19:55:58 | Lee Mayo |
| 67 | 2022-05-31 19:50:51 | Sian Bush |
| 68 | 2022-05-31 20:34:40 | Lisa Darragh |
| 69 | 2022-05-31 09:39:38 | Philip Lerendu |
| 70 | 2022-05-31 07:40:58 | David Maddocks |
| 72 | 2022-05-31 19:01:20 | Tim Hallam |
| 73 | 2022-05-31 20:42:51 | Teressa Barber |
| 75 | 2022-05-31 08:42:43 | Alison Cass |
| 76 | 2022-05-30 22:48:55 | Alison Cass |
| 77 | 2022-05-31 02:40:27 | Shirley Morris |
| 79 | 2022-05-31 09:47:39 | Jodie Southwell |
| 80 | 2022-05-31 19:55:58 | Lee Mayo |
| 81 | 2022-05-31 19:55:58 | Lee Mayo |
| 82 | 2022-05-26 23:34:54 | Roxanne Hill |
| 83 | 2022-05-31 20:35:36 | Louis Walker |
| 84 | 2022-05-31 15:15:54 | Nina Henton-Waller |
| 85 | 2022-05-31 07:58:32 | Mica Jay |
| 86 | 2022-05-31 19:33:22 | Rachelle Kimber |
| 91 | 2022-05-31 17:28:32 | Nick Stevens |
| 92 | 2022-05-31 07:40:58 | David Maddocks |
| 93 | 2022-05-31 08:41:44 | Laura Paton |
| 94 | 2022-05-30 22:48:55 | Alison Cass |
| 95 | 2022-05-31 08:22:46 | Helen Cottrell |
| 97 | 2022-05-30 08:16:19 | Sarah Broom |
| 99 | 2022-05-31 18:05:04 | josephine Stanek |