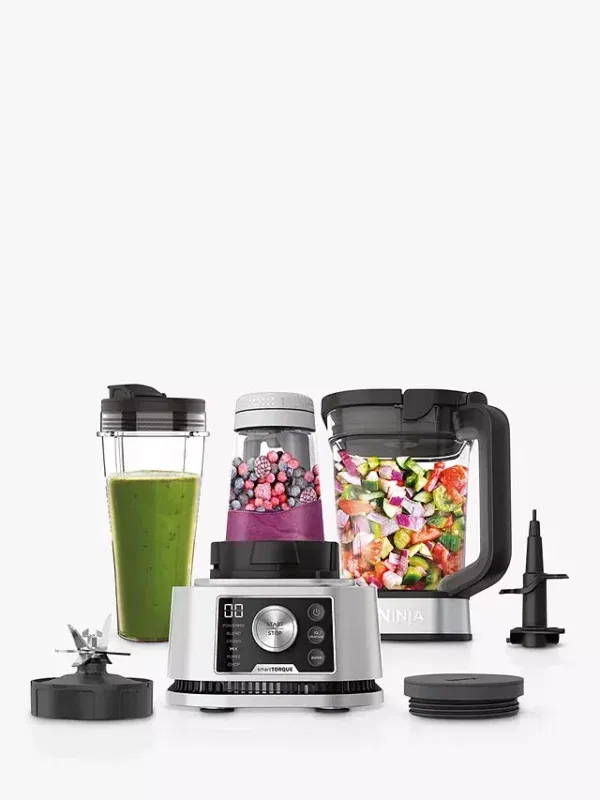 Ninja Foodi CB350UK Power Nutri Blender 3-in-1 with Smart Torque
Description
Ninja Foodi CB350UK Power Nutri Blender 3-in-1 with Smart Torque
Rethink what a blender can do. Create a variety of textures tailored to your taste with the Ninja Foodi Power Nutri Blender 3-in-1 – from light and silky to thick and spreadable, even homemade doughs and batters.Smart Torque
Some blenders can struggle with thick mixtures and can stall or even stop mid-blend. Designed for thick mixtures with less liquid, Ninja's 1200W Smart Torque motor maintains the high speed to deliver uninterrupted power and performance – no stalling, no stirring, no shaking. With Total Speed Control you can control the speed and texture of every blend for precise chopping and mixing.
2.1L Power Nutri Jug
Perfect for blending smoothies, sauces and drinks to share, you can also chop, mix, puree and process ingredients in the unique Power Nutri Jug – even make doughs and batters with the included Dough Tool. Create everything from pizza, bread and cookie dough to brownie batter, precisely chopped vegetables and homemade salsa.
700ml Power Nutri Cup
Blend in the Power Nutri Cup to easily create silky-smooth drinks, smoothies, crushed-ice cocktails and homemade milkshakes using your favourite fresh and frozen ingredients. Add the spout lid to take your drink on-the-go. Easily blend super-light dips and dressings. Finely crush nuts, seeds and ice to a super-smooth finish.
400ml Power Nutri Bowl
The revolutionary Power Nutri Bowl is purposefully designed to create luxuriously thick textures, from spoon-thick smoothie bowls to smooth and crunchy nut butters, pâté, frozen yoghurt and sorbet. The built-in Power Paddle pushes ingredients towards the blade, so there's no need to scrape or shake thick mixtures. With Smart Torque, easily create the perfect base for smoothie bowls, so thick they won't fall off your spoon.
Auto-iQ Technology
No more guesswork. 6 intelligent blending programs are specifically engineered for the cup and bowl. These unique pulse, pause and blend patterns deliver the results you want at the touch of a button. Blend, Crush, Mix, Puree, Chop and PowerMix.
Precision engineered
Ninja's precision-engineered blades are built to last, made from durable, high-quality stainless steel. With a sleek silhouette, this stylish blender is the perfect fit in any kitchen.
Easy to use & clean
Dishwasher-safe parts make cleaning easy, simply rinse under the tap or pop in the dishwasher. Includes a recipe guide to kick-start your imagination.
| Winner Name | Ticket Number | Draw Date |
| --- | --- | --- |
| jemma Vooght | 61 | 10/05/2022 |
1-100
101-200
201-300
301-400
| Ticket Number | Date | Name |
| --- | --- | --- |
| 1 | 2022-05-10 20:32:32 | Alison Cass |
| 2 | 2022-05-09 21:36:52 | Alison Cass |
| 3 | 2022-05-10 20:30:40 | Joanne Stewart |
| 4 | 2022-05-09 21:36:52 | Alison Cass |
| 7 | 2022-05-10 09:15:44 | Melanie Rowe |
| 9 | 2022-05-10 20:30:40 | Joanne Stewart |
| 10 | 2022-05-08 16:54:18 | Nicola Thompson |
| 11 | 2022-05-07 18:17:25 | Stefanie Gross |
| 13 | 2022-05-06 06:44:24 | Julie Webb |
| 15 | 2022-05-10 18:55:08 | Jessica Wallis |
| 16 | 2022-05-07 21:06:00 | Julie Webb |
| 17 | 2022-05-10 20:31:07 | Emma Sproston |
| 26 | 2022-05-10 20:30:33 | Jodie Ellis |
| 27 | 2022-05-06 06:44:24 | Julie Webb |
| 28 | 2022-05-10 08:31:00 | Megan Barratt |
| 29 | 2022-05-06 18:46:54 | Chantelle Scales |
| 33 | 2022-05-10 01:09:54 | Marc Baker |
| 34 | 2022-05-08 16:54:18 | Nicola Thompson |
| 35 | 2022-05-10 19:36:23 | N C |
| 36 | 2022-05-06 19:33:03 | Holly Ring |
| 37 | 2022-05-10 20:12:38 | Michael O'connor |
| 41 | 2022-05-10 20:26:56 | Phil Masters |
| 42 | 2022-05-10 20:39:47 | Gary Wilson |
| 43 | 2022-05-10 19:17:09 | Tara Finn |
| 45 | 2022-05-09 21:36:52 | Alison Cass |
| 49 | 2022-05-09 21:36:52 | Alison Cass |
| 55 | 2022-05-10 15:56:16 | Joanne Phillips |
| 56 | 2022-05-06 18:46:54 | Chantelle Scales |
| 61 | 2022-05-10 19:15:49 | Jem V |
| 69 | 2022-05-10 11:33:35 | Sharon Longbottom |
| 70 | 2022-05-10 20:32:32 | Alison Cass |
| 76 | 2022-05-09 21:36:52 | Alison Cass |
| 77 | 2022-05-08 16:54:18 | Nicola Thompson |
| 78 | 2022-05-10 17:57:16 | Claire Allen |
| 79 | 2022-05-10 19:17:09 | Tara Finn |
| 80 | 2022-05-10 20:19:47 | Sharon Holmes |
| 82 | 2022-05-09 21:36:52 | Alison Cass |
| 85 | 2022-05-10 19:22:48 | Lekel North |
| 86 | 2022-05-10 20:18:36 | Jayne Patten |
| 87 | 2022-05-10 14:41:18 | Sally Cox |
| 88 | 2022-05-10 16:32:40 | Ivana Plankova |
| 90 | 2022-05-10 18:40:12 | Emily Joyce |
| 92 | 2022-05-10 20:36:18 | Jenn ifer |
| 93 | 2022-05-10 20:30:40 | Joanne Stewart |
| 99 | 2022-05-10 20:32:32 | Alison Cass |
| 100 | 2022-05-09 12:48:03 | Jess Louise |