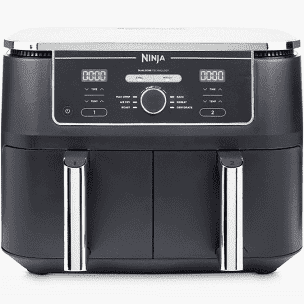 Ninja Foodi AF400UK 9.5L Dual-Zone Air Fryer
Description
Ninja Foodi AF400UK 9.5L Dual-Zone Air Fryer
Use the MATCH feature to double your serving size, using the same cooking program and time in each drawer. This large capacity 9.5L air fryer can fit a 2kg chicken or up to 1.4kg of fries in each 4.75L drawer, perfect for feeding 8+ people.
Use little to no oil.
Air Fry guilt-free fried food with a delicious golden finish – up to 75% less fat than traditional frying methods**.
More than an air fryer.
Get creative with 6 customisable cooking functions – Air Fry, Max Crisp, Roast, Bake, Reheat and Dehydrate. Enjoy everything from homemade fish and chips to beef koftas, baked salmon fillets to spicy potato wedges, freshly baked bread and cakes to homemade dried herky, and even reheat leftovers to a fresh-out-of-the-oven finish. Cook from frozen to crispy in minutes.
Easy to clean.
Washing up is easy thanks to non-stick, dishwasher-safe parts. Includes a recipe guide so you can get started straight away.
| Winner Name | Ticket Number | Draw Date |
| --- | --- | --- |
| Crook Brittany | 408 | 17/06/2022 |
1-100
101-200
201-300
301-400
401-500
| Ticket Number | Date | Name |
| --- | --- | --- |
| 1 | 2022-06-15 19:55:10 | Suzi Gooding |
| 2 | 2022-06-15 19:55:10 | Suzi Gooding |
| 3 | 2022-06-16 15:34:46 | Lisa Freer |
| 4 | 2022-06-16 16:12:12 | Simon Soper |
| 5 | 2022-06-16 15:16:05 | Mrs Trudi Snee |
| 6 | 2022-06-16 18:54:14 | Thomas Whirton |
| 7 | 2022-06-15 08:37:37 | Kate Upsher |
| 8 | 2022-06-16 10:15:06 | Becca Hirst |
| 9 | 2022-06-16 16:33:24 | D T |
| 10 | 2022-06-13 20:23:16 | Jill Higham |
| 11 | 2022-06-16 16:56:10 | Tina Jones |
| 12 | 2022-06-16 16:00:26 | Emily Lott |
| 13 | 2022-06-15 08:21:38 | Martin Hall |
| 14 | 2022-06-15 08:21:38 | Martin Hall |
| 15 | 2022-06-13 21:34:15 | Jackie Dyer |
| 16 | 2022-06-15 22:26:21 | D M Dumbreck |
| 17 | 2022-06-13 18:52:01 | barbara warne |
| 18 | 2022-06-15 15:52:05 | Anna Benney |
| 19 | 2022-06-16 22:13:06 | Jo Pennington |
| 20 | 2022-06-16 22:13:06 | Jo Pennington |
| 21 | 2022-06-14 20:12:15 | Lisa Roberts |
| 22 | 2022-06-16 15:44:31 | Emma & lee |
| 23 | 2022-06-14 12:47:53 | Jo Pennington |
| 24 | 2022-06-16 14:55:38 | Donna Mitchell |
| 25 | 2022-06-16 15:51:34 | Claire dipple |
| 26 | 2022-06-16 16:32:03 | Keira Bradford-jones |
| 27 | 2022-06-16 16:20:23 | Aim P |
| 28 | 2022-06-15 20:24:09 | Tracy Mcdonald |
| 29 | 2022-06-16 21:54:24 | Tina Frazer |
| 30 | 2022-06-13 22:09:21 | Adele Terry |
| 31 | 2022-06-16 22:52:37 | Shellie Pouladdej |
| 32 | 2022-06-17 13:11:38 | Heather Baker |
| 33 | 2022-06-16 22:01:43 | Siobhan Wilcock |
| 34 | 2022-06-15 20:33:14 | Jaz Moys |
| 35 | 2022-06-14 07:13:08 | Tina Frazer |
| 36 | 2022-06-15 15:52:05 | Anna Benney |
| 37 | 2022-06-13 12:36:23 | Suzette Dodson-Rouse |
| 38 | 2022-06-15 11:04:41 | Linda Beer |
| 39 | 2022-06-17 12:44:25 | Heidi Richards |
| 40 | 2022-06-13 20:23:16 | Jill Higham |
| 41 | 2022-06-16 17:37:09 | hayley gillam |
| 42 | 2022-06-13 18:52:01 | barbara warne |
| 43 | 2022-06-15 21:36:22 | Lea Painter |
| 44 | 2022-06-17 12:59:03 | Jennifer Wilde |
| 45 | 2022-06-17 09:31:56 | Terri Hurren |
| 46 | 2022-06-17 13:48:13 | Beth Eason |
| 47 | 2022-06-15 21:36:22 | Lea Painter |
| 48 | 2022-06-16 18:56:26 | Jodie Southwell |
| 49 | 2022-06-14 11:31:53 | |
| 50 | 2022-06-13 20:11:16 | Joanne Maunder |
| 51 | 2022-06-16 20:08:31 | Mrs J Blatchford |
| 52 | 2022-06-17 15:22:32 | Samantha Grice |
| 53 | 2022-06-17 16:02:10 | Kelly Mason |
| 54 | 2022-06-16 15:07:52 | Claire Darby |
| 55 | 2022-06-16 10:39:16 | Mandy Cove |
| 56 | 2022-06-16 17:31:14 | Michael O'connor |
| 57 | 2022-06-16 22:41:26 | Jenny Harris |
| 58 | 2022-06-15 18:56:57 | Aim P |
| 59 | 2022-06-16 18:11:52 | Sharron Birds |
| 60 | 2022-06-17 16:52:13 | Sam Ashelford |
| 61 | 2022-06-17 09:59:28 | Laura Godfrey |
| 62 | 2022-06-17 15:44:19 | Rachel Smith |
| 63 | 2022-06-16 14:34:23 | Lisa Burgess |
| 64 | 2022-06-16 15:07:52 | Claire Darby |
| 65 | 2022-06-17 16:54:43 | Philip Hardy |
| 66 | 2022-06-15 15:52:05 | Anna Benney |
| 67 | 2022-06-16 22:13:06 | Jo Pennington |
| 68 | 2022-06-15 16:36:58 | Helen Clarke |
| 69 | 2022-06-15 08:21:38 | Martin Hall |
| 70 | 2022-06-15 06:14:52 | Nikki Keetch |
| 71 | 2022-06-15 18:42:51 | Kirsten Pearce |
| 72 | 2022-06-17 06:50:21 | Adam Bowman |
| 73 | 2022-06-16 16:37:52 | Alison Thomson |
| 74 | 2022-06-17 16:36:53 | Carole Beasley |
| 75 | 2022-06-17 13:14:57 | Charlotte Warner |
| 76 | 2022-06-16 16:45:07 | Marc Baker |
| 77 | 2022-06-15 21:05:07 | Hayley Baxter |
| 78 | 2022-06-16 15:08:50 | Karen Harman |
| 79 | 2022-06-16 14:59:50 | Amanda Harper |
| 80 | 2022-06-17 12:38:39 | Keith Coles |
| 81 | 2022-06-17 11:52:21 | Lucinda Massey |
| 82 | 2022-06-17 07:02:39 | Diana Donald |
| 83 | 2022-06-15 11:20:34 | David Hart |
| 84 | 2022-06-16 08:06:10 | Zoë Morinhart |
| 85 | 2022-06-17 16:11:54 | Victoria PritchardDavies |
| 86 | 2022-06-17 16:17:14 | Charlotte Timberlake |
| 87 | 2022-06-17 15:03:08 | Gemma Bishop |
| 88 | 2022-06-17 00:37:39 | Roxanne Hill |
| 89 | 2022-06-13 17:00:50 | Jo Clarke |
| 90 | 2022-06-17 07:52:11 | Sophie Purkiss |
| 91 | 2022-06-17 06:55:18 | Sally Cox |
| 92 | 2022-06-16 16:33:24 | D T |
| 93 | 2022-06-13 20:36:02 | Emma Luscombe |
| 94 | 2022-06-14 10:36:42 | Bruce Traquair |
| 95 | 2022-06-16 18:34:59 | Crystal Taylor |
| 96 | 2022-06-13 17:13:04 | Rachel Paine |
| 97 | 2022-06-17 10:59:13 | Sharon Bray |
| 98 | 2022-06-17 05:23:04 | Victoria Sealey |
| 99 | 2022-06-14 13:14:41 | Pauline Bowers |
| 100 | 2022-06-15 08:37:37 | Kate Upsher |