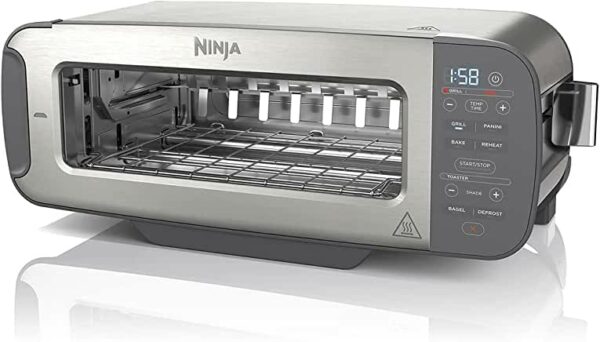 Ninja Foodi 3-in-1 Toaster, Grill & Panini Press [Stainless Steel] ST202UK
Description
Ninja Foodi 3-in-1 Toaster, Grill & Panini Press [Stainless Steel] ST202UK
Introducing the Ninja Foodi 3-in-1 Toaster, Grill & Panini Press, combining the performance of a slot toaster with the versatility of a grill and the convenience of a panini press – all in one space-saving design.
Enjoy even, edge-to-edge toasting in Toaster mode with 7 shade settings and a long, wide slot that easily fits 2 slices of bread.
More than a toaster, simply flip to transform into Grill mode to easily create meals for the family in minutes – from golden cheese on toast, loaded bagels, buttery croissants and breakfast muffins to café-style paninis and toasted sandwiches using the clever Panini Press accessory.
Get creative with 7 cooking functions – Toast, Bagel, Defrost, Grill, Panini, Bake, and Reheat.
| Winner Name | Ticket Number | Draw Date |
| --- | --- | --- |
| Juliet Phillips | 14 | 14/07/2022 |
| Ticket Number | Date | Name |
| --- | --- | --- |
| 1 | 2022-07-11 19:14:17 | Lisa Darragh |
| 2 | 2022-07-14 15:49:56 | Sharon Bray |
| 3 | 2022-07-14 20:23:15 | Lisa Sayers |
| 4 | 2022-07-14 18:42:48 | Michelle Rowles |
| 6 | 2022-07-14 20:39:54 | Amanda Bowden |
| 7 | 2022-07-12 21:21:23 | Kate Upsher |
| 8 | 2022-07-14 16:20:52 | Mark Pease |
| 9 | 2022-07-14 16:20:52 | Mark Pease |
| 11 | 2022-07-14 16:20:52 | Mark Pease |
| 12 | 2022-07-14 19:14:20 | Suzanne Hart |
| 13 | 2022-07-14 07:14:09 | Rachel Salloway |
| 14 | 2022-07-12 15:11:30 | Juliet Phillips |
| 15 | 2022-07-14 13:25:32 | Soph Sayer |
| 17 | 2022-07-14 18:11:28 | Lynn Hill |
| 18 | 2022-07-13 18:21:55 | Juliet Phillips |
| 19 | 2022-07-13 16:07:15 | Nina Henton-Waller |
| 20 | 2022-07-14 11:45:34 | g Mv |
| 21 | 2022-07-14 19:26:29 | Soph Sayer |
| 24 | 2022-07-12 21:56:36 | Jacqueline Sandford |
| 26 | 2022-07-13 09:56:56 | ASHLEY Smith |
| 28 | 2022-07-12 15:55:26 | Aimee Povey |
| 29 | 2022-07-11 09:23:34 | Soph Sayer |
| 32 | 2022-07-11 14:02:11 | Riley Bishop |
| 33 | 2022-07-14 16:20:52 | Mark Pease |
| 34 | 2022-07-11 18:09:47 | Michael O'connor |
| 36 | 2022-07-11 09:23:34 | Soph Sayer |
| 38 | 2022-07-14 16:20:52 | Mark Pease |
| 39 | 2022-07-14 10:18:26 | Holly Ring |
| 40 | 2022-07-13 20:35:48 | Jane Clarke |
| 42 | 2022-07-14 18:10:03 | Dave Hill |
| 43 | 2022-07-14 16:20:52 | Mark Pease |
| 44 | 2022-07-14 16:20:52 | Mark Pease |
| 46 | 2022-07-14 15:49:56 | Sharon Bray |
| 47 | 2022-07-14 10:15:52 | Lisa Darragh |
| 48 | 2022-07-14 18:16:43 | Matt Joyce |
| 49 | 2022-07-14 14:14:59 | Sian Savage |
| 50 | 2022-07-13 11:02:43 | Roxanne Hill |
| 51 | 2022-07-14 11:45:34 | g Mv |
| 52 | 2022-07-13 18:22:04 | Marie West |
| 53 | 2022-07-12 06:43:07 | Shanna Warner |
| 58 | 2022-07-11 09:23:34 | Soph Sayer |
| 59 | 2022-07-14 13:17:14 | lucy bowen |
| 61 | 2022-07-14 16:20:52 | Mark Pease |
| 63 | 2022-07-13 21:45:03 | Chelsea Quaintance |
| 64 | 2022-07-14 13:29:10 | Wendy Bowman |
| 65 | 2022-07-14 18:10:03 | Dave Hill |
| 67 | 2022-07-14 16:20:52 | Mark Pease |
| 68 | 2022-07-14 15:46:28 | Gemma Osborn |
| 70 | 2022-07-11 19:14:17 | Lisa Darragh |
| 71 | 2022-07-13 16:07:15 | Nina Henton-Waller |
| 72 | 2022-07-14 16:20:52 | Mark Pease |
| 73 | 2022-07-13 19:21:17 | Sharon Jerwood |
| 74 | 2022-07-14 13:25:32 | Soph Sayer |
| 77 | 2022-07-14 16:20:52 | Mark Pease |
| 78 | 2022-07-13 21:10:05 | Richard Broadbank |
| 79 | 2022-07-14 08:40:48 | Candy Light |
| 82 | 2022-07-14 16:20:52 | Mark Pease |
| 83 | 2022-07-14 18:42:48 | Michelle Rowles |
| 85 | 2022-07-13 21:11:50 | Tracy Mills |
| 87 | 2022-07-11 15:51:41 | Sally Cox |
| 88 | 2022-07-12 06:43:07 | Shanna Warner |
| 89 | 2022-07-12 06:43:07 | Shanna Warner |
| 90 | 2022-07-14 16:20:52 | Mark Pease |
| 91 | 2022-07-13 19:58:29 | Sharon Bray |
| 92 | 2022-07-12 06:43:07 | Shanna Warner |
| 94 | 2022-07-13 19:58:29 | Sharon Bray |
| 95 | 2022-07-13 16:07:15 | Nina Henton-Waller |
| 96 | 2022-07-14 16:20:52 | Mark Pease |
| 97 | 2022-07-11 15:51:41 | Sally Cox |
| 99 | 2022-07-11 18:09:47 | Michael O'connor |
| 100 | 2022-07-13 18:34:27 | Lisa Donoghue |
| 101 | 2022-07-12 15:55:26 | Aimee Povey |
| 102 | 2022-07-14 18:31:20 | Jenna Bott |
| 103 | 2022-07-13 13:29:01 | Wendy Kelsall |
| 104 | 2022-07-14 17:40:56 | Helen Veitch |
| 105 | 2022-07-14 16:20:52 | Mark Pease |
| 106 | 2022-07-14 16:20:52 | Mark Pease |
| 107 | 2022-07-14 16:36:43 | Terri Hurren |
| 108 | 2022-07-13 19:58:29 | Sharon Bray |
| 110 | 2022-07-14 13:17:14 | lucy bowen |
| 113 | 2022-07-14 10:15:52 | Lisa Darragh |
| 114 | 2022-07-14 16:20:52 | Mark Pease |
| 116 | 2022-07-14 18:35:08 | cheryl Brown |
| 118 | 2022-07-11 15:51:41 | Sally Cox |
| 120 | 2022-07-14 18:19:48 | Rebecca Howse |
| 121 | 2022-07-12 06:43:07 | Shanna Warner |
| 124 | 2022-07-14 09:10:45 | Emma Davies |