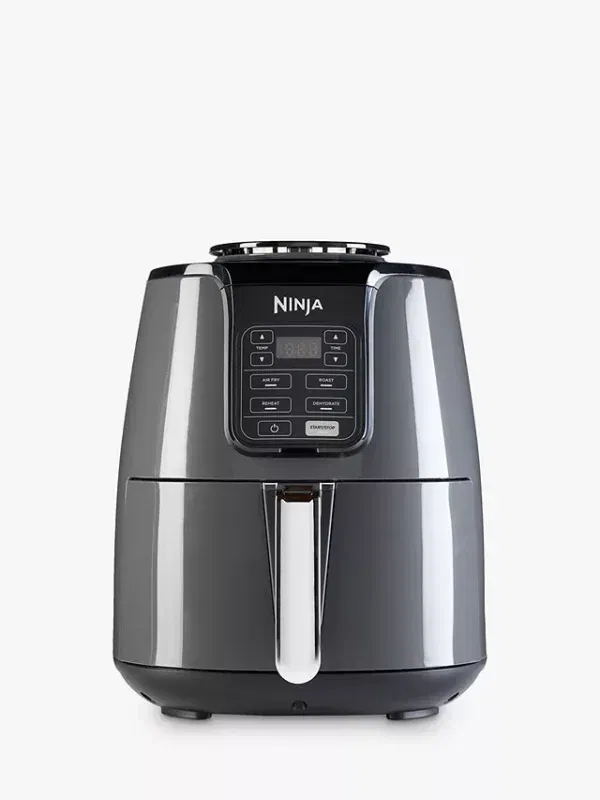 Ninja AF100UK Air Fryer, Grey
Description
Ninja AF100UK Air Fryer, Grey
The Ninja Air Fryer offers a quick and easy way to cook meals and snacks – from perfectly cooked chips and crispy chicken wings to delicate fish and golden vegetables using little to no oil.Up to 75% less fat than traditional frying methods*.
*Tested against deep-fried, hand-cut French fries.
4 cooking functions
Air Fry, roast, reheat and dehydrate – not only can you create delicious mains and side dishes, you can also reheat leftovers to restore that fresh-out-of-the-oven taste and texture – perfect for pizza. You can even gently dehydrate ingredients to enjoy dried fruit and herbs, vegetable crisps and homemade beef jerky.
From frozen
Cook from frozen for deliciously crispy results, without the need to defrost food first.
One-touch controls and fast airflow
Engineered for accuracy, precision temperature control ensures your food is cooked to perfection. Choose from variable heat settings and 2 fan speeds.
| Winner Name | Ticket Number | Draw Date |
| --- | --- | --- |
| Mrs .. | 153 | 22/06/2022 |
| Ticket Number | Date | Name |
| --- | --- | --- |
| 1 | 2022-06-20 21:09:56 | Emma Davies |
| 2 | 2022-06-21 15:04:10 | Amy Lee |
| 3 | 2022-06-21 23:09:02 | Rach Stevens |
| 4 | 2022-06-20 21:50:46 | Rachel Salloway |
| 5 | 2022-06-21 19:33:26 | Joseph Critchell |
| 6 | 2022-06-21 19:01:35 | Emma Vann-sawicka |
| 7 | 2022-06-21 15:44:51 | Audrey Smith |
| 8 | 2022-06-20 13:38:17 | Becky Titchard |
| 9 | 2022-06-22 07:50:52 | Denise Kennedy |
| 10 | 2022-06-21 19:30:42 | Naomi Warren |
| 11 | 2022-06-20 20:56:02 | Grace Leathem |
| 12 | 2022-06-22 12:46:43 | Emma Davies |
| 13 | 2022-06-22 01:09:57 | Cherry HANNA |
| 14 | 2022-06-21 13:56:44 | Sharon Hobday |
| 15 | 2022-06-20 20:06:18 | Keri Bayles |
| 16 | 2022-06-21 13:56:44 | Sharon Hobday |
| 17 | 2022-06-19 20:36:40 | Kayleigh Barnard |
| 18 | 2022-06-19 20:36:40 | Kayleigh Barnard |
| 19 | 2022-06-20 13:08:07 | Hellen Braybrook |
| 20 | 2022-06-20 13:21:12 | Aimee Povey |
| 21 | 2022-06-20 19:39:03 | Lisa Roberts |
| 22 | 2022-06-22 06:53:48 | Clive Mitchell |
| 23 | 2022-06-20 22:26:54 | Debbie Brewer |
| 24 | 2022-06-21 16:31:05 | Erin Milligan |
| 25 | 2022-06-20 13:08:07 | Hellen Braybrook |
| 26 | 2022-06-22 07:50:52 | Denise Kennedy |
| 27 | 2022-06-21 11:22:05 | Louise White |
| 28 | 2022-06-21 10:04:53 | Jodie Ravenhill |
| 29 | 2022-06-21 17:03:19 | Amanda Ruddenham |
| 30 | 2022-06-22 01:02:25 | Roxanne Hill |
| 31 | 2022-06-20 22:37:25 | Sharon Bray |
| 32 | 2022-06-21 19:32:50 | Tia potter |
| 33 | 2022-06-21 10:56:59 | Roxanne Hill |
| 34 | 2022-06-21 18:15:09 | Amy Hitchen |
| 35 | 2022-06-20 21:46:02 | Sian Grimshaw |
| 36 | 2022-06-21 19:32:50 | Tia potter |
| 37 | 2022-06-22 01:09:57 | Cherry HANNA |
| 38 | 2022-06-22 03:10:24 | Glen Morrison |
| 39 | 2022-06-21 16:32:32 | Amelia Hart |
| 40 | 2022-06-20 20:11:38 | Jill Higham |
| 41 | 2022-06-21 23:03:16 | Lindsey Smith |
| 42 | 2022-06-21 20:37:03 | Becky Head |
| 43 | 2022-06-21 20:39:21 | Liz Morrison |
| 44 | 2022-06-20 18:17:04 | John Huteson |
| 45 | 2022-06-22 13:00:42 | Julie Bickerstaffe |
| 46 | 2022-06-21 22:20:26 | Rachael Dummett |
| 47 | 2022-06-20 08:16:35 | Chelsea Quaintance |
| 48 | 2022-06-21 20:49:24 | Rebecca vaughan |
| 49 | 2022-06-20 21:32:56 | Chloe Kershaw |
| 50 | 2022-06-22 11:20:25 | Alan Gowland |
| 51 | 2022-06-22 11:31:19 | Julie Hale |
| 52 | 2022-06-19 23:47:32 | Jenny Pinnegar |
| 53 | 2022-06-22 08:45:05 | Mandi Brown |
| 54 | 2022-06-20 17:43:17 | Lisa Dockree |
| 55 | 2022-06-21 16:05:30 | Kerry Eldred |
| 56 | 2022-06-21 11:20:39 | Pauline Bowers |
| 57 | 2022-06-21 19:06:35 | Lucie Warren |
| 58 | 2022-06-22 09:06:43 | Jackie Dyer |
| 59 | 2022-06-22 07:12:13 | Zoey Hinchcliffe |
| 60 | 2022-06-21 19:32:50 | Tia potter |
| 61 | 2022-06-21 20:51:51 | Gail Gilbert |
| 62 | 2022-06-20 14:47:06 | Nikki Keetch |
| 63 | 2022-06-21 20:51:51 | Gail Gilbert |
| 64 | 2022-06-22 13:05:56 | Michelle Harvey |
| 65 | 2022-06-22 10:02:53 | Sian Bush |
| 66 | 2022-06-21 19:33:26 | Joseph Critchell |
| 67 | 2022-06-20 13:21:12 | Aimee Povey |
| 68 | 2022-06-22 06:53:48 | Clive Mitchell |
| 69 | 2022-06-22 11:20:25 | Alan Gowland |
| 70 | 2022-06-21 20:23:22 | Charlotte Ager |
| 71 | 2022-06-22 06:53:48 | Clive Mitchell |
| 72 | 2022-06-22 01:09:57 | Cherry HANNA |
| 73 | 2022-06-21 13:58:09 | Karyn Laing |
| 74 | 2022-06-21 17:56:15 | Amanda Harper |
| 75 | 2022-06-21 19:39:33 | Joanne Warner |
| 76 | 2022-06-22 12:58:15 | Dawn SOLECKI |
| 77 | 2022-06-21 20:03:43 | Angela Cowlard |
| 78 | 2022-06-22 03:10:24 | Glen Morrison |
| 79 | 2022-06-22 13:05:56 | Michelle Harvey |
| 80 | 2022-06-22 06:53:48 | Clive Mitchell |
| 81 | 2022-06-22 09:31:32 | Zoey-Anne Marr-Hayes |
| 82 | 2022-06-22 03:10:24 | Glen Morrison |
| 83 | 2022-06-21 21:43:46 | Jimmy Saunders |
| 84 | 2022-06-19 20:36:40 | Kayleigh Barnard |
| 85 | 2022-06-19 21:33:45 | Rachel Salloway |
| 86 | 2022-06-20 19:18:20 | Shannon Jones |
| 87 | 2022-06-21 21:08:22 | Aimee Povey |
| 88 | 2022-06-21 17:52:57 | Sharon Bray |
| 89 | 2022-06-21 19:37:37 | Sally Townsend |
| 90 | 2022-06-20 22:37:25 | Sharon Bray |
| 91 | 2022-06-21 23:09:02 | Rach Stevens |
| 92 | 2022-06-21 19:37:37 | Sally Townsend |
| 93 | 2022-06-22 03:10:24 | Glen Morrison |
| 94 | 2022-06-20 13:21:12 | Aimee Povey |
| 95 | 2022-06-20 22:37:25 | Sharon Bray |
| 96 | 2022-06-21 21:08:22 | Aimee Povey |
| 97 | 2022-06-22 04:24:32 | Lauren Robins |
| 98 | 2022-06-22 03:10:24 | Glen Morrison |
| 99 | 2022-06-21 16:39:25 | Rick Colledge |
| 100 | 2022-06-21 19:30:42 | Naomi Warren |