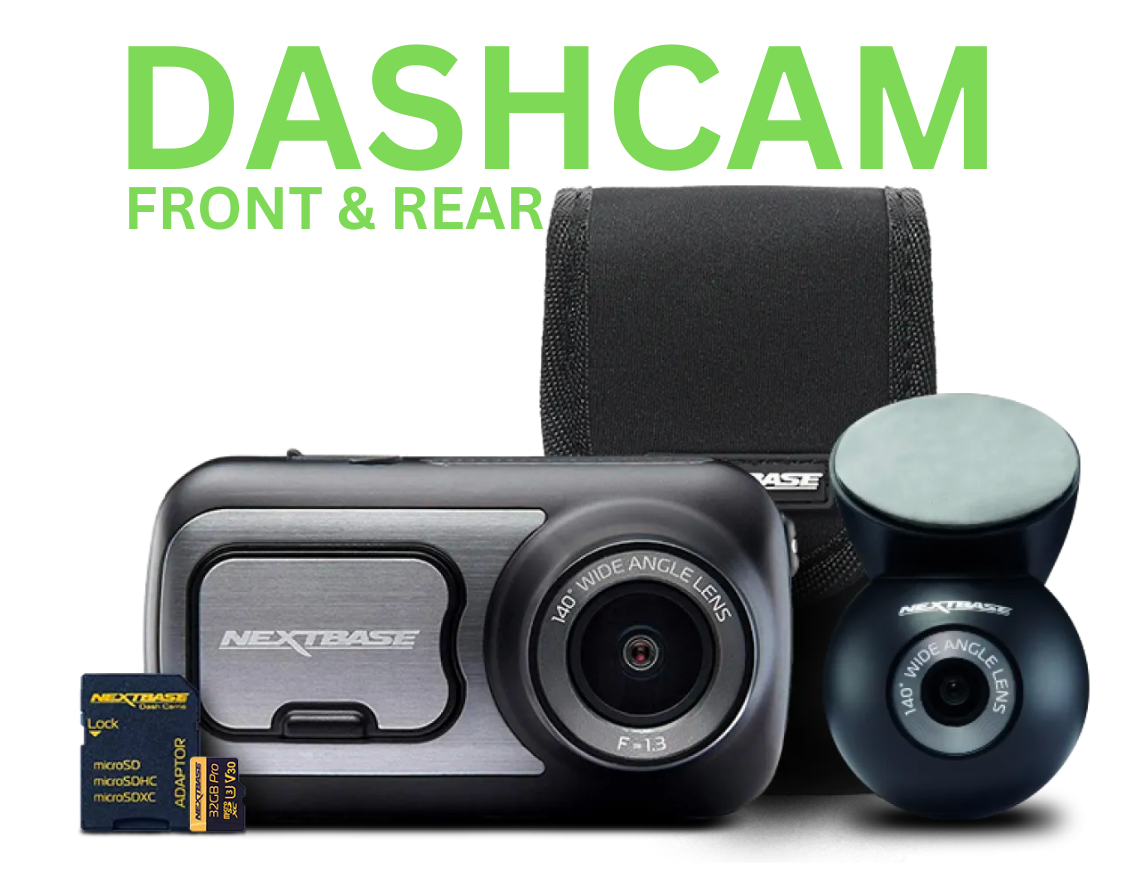 Nextbase 522GW Front & Rear Dash Cam Bundle – 20/07
Description
Nextbase 522GW Front & Rear Dash Cam Bundle – 20/07
What's in the Box
Nextbase 522GW dash cam
32GB U3 microSD card
Wired rear window camera
Carry case
Adhesive mount
USB cable
Car power cable
Quick start guide
Nextbase 522GW Front & Rear Dash Cam Bundle at a Glance
Type: Front & Rear
Resolution: 1440p
Wifi: Yes
Night Time Recording: Intelligent
Bluetooth: Yes
Emergency SOS: Yes
Alexa Enabled: Yes
Bluetooth: Yes
Micro SD Included: Yes
GPS: Yes
HIGH QUALITY RECORDING AND CONNECTIVITY
The award-winning Nextbase 522GW dash cam is one of the best dash cams on the market. It comes with 1440p Quad HD recording, a 140-degree viewing angle and an inbuilt polarising filter to dramatically reduce windscreen glare and reflection, offering crystal clear footage.
Connectivity features include Bluetooth 4.2 and Wi-Fi to automatically send crash footage to your Bluetooth-enable phone, and a high accuracy 10x GPS module for speed and location.
AMAZON ALEXA
The 522GW is the world's first 1440p dash cam with Alexa built in. This means you can use full Alexa commands to play music, check the weather and control smart home devices, while also having direct communication with your dash cam to protect footage, start/stop recordings, send recordings to your phone and take a picture.
EMERGENCY SOS
The 522GW also includes the revolutionary safety feature Emergency SOS. In the event of an accident, an alert can be sent to emergency services with your location to make it easier for them to find you.
This alert can also include important medical data such as blood type and medical history to allow for more efficient treatment.
BUNDLE BENEFITS
With the Nextbase 522GW Front and Rear Dash Cam Bundle, you not only get the Nextbase 522GW dash cam, but also a 32GB U3 microSD card, a wired rear window camera to record the road behind and a carry case to protect your dash cam.
It's everything you need to power and protect your dash cam in one neat package. Dash Cam Fitting – Take advantage of our dash cam fitting service to ensure that your dash cam is fitted safely and securely.
One of our talented technicians will hardwire your dash cam into your vehicle, doing away with messy trailing wires and ensuring that your 12V socket remains free to charge other in-car tech.
| Winner Name | Ticket Number | Draw Date |
| --- | --- | --- |
| Peter Britton | 91 | 20/07/2023 |
| Ticket Number | Date | Name |
| --- | --- | --- |
| 1 | 2023-07-20 20:20:46 | C J |
| 5 | 2023-07-20 19:26:40 | Karen Roberts |
| 10 | 2023-07-20 20:32:18 | Lisa Burgess |
| 11 | 2023-07-20 20:51:22 | Mandy Morris |
| 14 | 2023-07-15 15:37:58 | Steven Evers |
| 15 | 2023-07-20 18:21:17 | Jackie Clark |
| 25 | 2023-07-20 20:23:14 | Scott Wooll |
| 29 | 2023-07-20 20:39:06 | Pauline Mills |
| 30 | 2023-07-20 14:02:43 | Claire Amor |
| 31 | 2023-07-20 19:26:40 | Karen Roberts |
| 32 | 2023-07-20 19:26:40 | Karen Roberts |
| 35 | 2023-07-19 20:31:02 | David Pemberton |
| 36 | 2023-07-20 19:26:40 | Karen Roberts |
| 39 | 2023-07-20 10:58:54 | emma mccauley |
| 41 | 2023-07-20 10:58:54 | emma mccauley |
| 44 | 2023-07-15 12:02:07 | Valerie Boatwright |
| 58 | 2023-07-20 16:30:44 | Emma & lee |
| 59 | 2023-07-20 18:44:16 | Lorna Poblocki |
| 62 | 2023-07-20 18:56:12 | Sarah Williams |
| 63 | 2023-07-20 20:38:03 | LEE Cooper |
| 65 | 2023-07-20 20:39:06 | Pauline Mills |
| 66 | 2023-07-20 20:51:22 | Mandy Morris |
| 68 | 2023-07-16 02:02:25 | Gail Whitman |
| 70 | 2023-07-20 06:37:48 | Amanda Royal |
| 73 | 2023-07-20 20:27:38 | Mirelle Harper |
| 74 | 2023-07-15 12:32:47 | Cheryl White |
| 79 | 2023-07-20 19:16:20 | Sue G |
| 80 | 2023-07-20 20:38:03 | LEE Cooper |
| 82 | 2023-07-20 20:40:53 | S S |
| 86 | 2023-07-20 20:55:53 | Rebecca Gillard |
| 88 | 2023-07-20 11:03:14 | Claire M |
| 91 | 2023-07-20 20:11:38 | Peter Britton |
| 92 | 2023-07-15 12:10:14 | Maria West |
| 94 | 2023-07-20 20:38:03 | LEE Cooper |
| 95 | 2023-07-20 18:12:26 | Clare Keating |
| 97 | 2023-07-20 13:37:08 | Tanya Sumner |
| 98 | 2023-07-20 20:51:22 | Mandy Morris |
| 99 | 2023-07-20 17:09:49 | Keith Moore |
| 101 | 2023-07-20 19:30:47 | Martin Newton |
| 104 | 2023-07-20 18:56:17 | Joyce Hope |
| 105 | 2023-07-20 20:38:03 | LEE Cooper |
| 107 | 2023-07-20 18:21:17 | Jackie Clark |