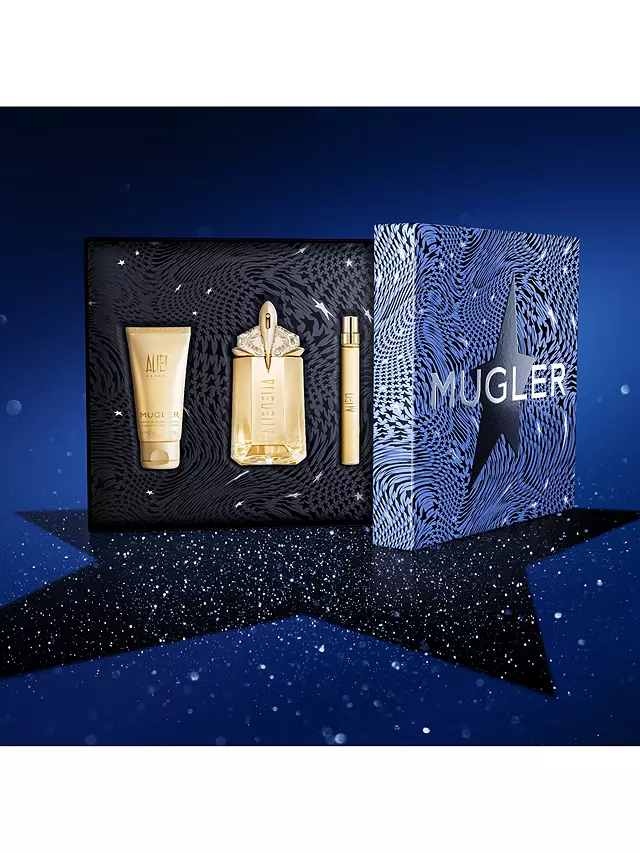 Mugler Alien Goddess Refillable Eau de Parfum 60ml Fragrance Gift Set
Description
This year, the traditional holiday season is distorted into a psychedelic star show.​
Under the spotlights, the new gift set collection will captivate your senses and fascinate all the people you love. ​Reach the stars with the new Alien Goddess bewitching set.
Alien Goddess Eau de Parfum by Mugler is an ambery woody floral fragrance for women. It pairs a divine base of Bourbon vanilla perfume with jasmine Grandiflorum super-infusion overlaid by a burst of fresh Italian bergamot, creating a radiant floral bouquet of notes fit for a solar Goddess.​
A divine solar twist on the original Alien fragrance, this warm floral encourages you to embrace your inner goddess and unlock new possibilities as you create the extraordinary. Alien Goddess is a sacred promise of femininity and hope. An incandescent perfume to shine in the light of the sun and celebrate your femininity.Alien Goddess, a universal call to all women. Create the Extraordinary.​
Bottle: The iconic refillable gem-inspired bottle is dressed in a soft golden gradient accented by metallic gold, reflective of the warm floral women's perfume encapsulated within. Alien Goddess perfume bottle is refillable with the sleek Mugler Refills. Replenish your Alien Goddess perfume at home and cherish your bottle forever.​
Set contains:
Alien Goddess Refillable Eau de Parfum, 60ml
Alien Goddess Perfuming Body Lotion, 50ml
Alien Goddess Eau de Parfum, 10ml
| Winner Name | Ticket Number | Draw Date |
| --- | --- | --- |
| Linda Mcgillivray | 5 | 29/11/2023 |
| Ticket Number | Date | Name |
| --- | --- | --- |
| 1 | 2023-11-28 14:52:15 | Jacqueline Sandford |
| 2 | 2023-11-28 23:57:46 | Emma & lee |
| 3 | 2023-11-29 18:54:54 | Jane Pitman |
| 4 | 2023-11-29 17:34:15 | Laura Smith |
| 5 | 2023-11-28 21:35:38 | Linda Mcgillivray |
| 6 | 2023-11-27 21:34:41 | Amanda Chidgey |
| 7 | 2023-11-29 16:57:11 | Mrs Sally J Davies |
| 8 | 2023-11-29 10:34:29 | Rachel Dixon |
| 9 | 2023-11-28 22:48:51 | Brittany Ramsay |
| 10 | 2023-11-29 20:55:59 | Shazzy Mazzy |
| 11 | 2023-11-29 10:28:49 | D Dixon |
| 12 | 2023-11-29 10:34:29 | Rachel Dixon |
| 13 | 2023-11-29 16:57:11 | Mrs Sally J Davies |
| 14 | 2023-11-29 19:31:49 | Jez Terry |
| 15 | 2023-11-27 21:34:41 | Amanda Chidgey |
| 16 | 2023-11-28 21:14:41 | Jackie Dyer |
| 17 | 2023-11-29 04:32:50 | D Dixon |
| 18 | 2023-11-29 17:35:00 | Deana Bristow |
| 19 | 2023-11-29 18:54:24 | Kendra Brain |
| 20 | 2023-11-29 20:52:24 | T S |
| 21 | 2023-11-29 16:54:25 | Hannah Essam |
| 22 | 2023-11-29 04:32:50 | D Dixon |
| 23 | 2023-11-29 10:28:49 | D Dixon |
| 24 | 2023-11-24 20:38:35 | Rachel Dixon |
| 25 | 2023-11-29 20:57:10 | Amy Kelly |
| 26 | 2023-11-24 20:38:35 | Rachel Dixon |
| 27 | 2023-11-29 16:57:11 | Mrs Sally J Davies |
| 28 | 2023-11-29 20:06:06 | Emily Connie |
| 29 | 2023-11-29 20:58:39 | Kerry Davies |
| 30 | 2023-11-28 22:25:04 | JMS S |
| 31 | 2023-11-29 14:11:22 | Lee Gable |
| 32 | 2023-11-29 20:33:31 | Ross Newham |
| 33 | 2023-11-29 20:45:50 | Sam Heath |
| 34 | 2023-11-29 18:48:40 | Jane Gale |
| 35 | 2023-11-29 18:45:28 | Julie Croskerry |
| 36 | 2023-11-29 17:07:08 | Claire Allen |
| 37 | 2023-11-29 20:57:52 | Jade heathman |
| 38 | 2023-11-29 20:00:05 | Sharon Williams |
| 39 | 2023-11-29 13:44:18 | Xavier Marchena Stanciu |
| 40 | 2023-11-29 20:35:19 | Anne-Marie Daniels |
| 41 | 2023-11-29 19:18:22 | Western Western |
| 42 | 2023-11-29 18:17:37 | Kerry McLean |
| 43 | 2023-11-29 20:52:24 | T S |
| 44 | 2023-11-29 16:30:55 | Peter Cockbain |
| 45 | 2023-11-29 19:54:41 | Joanne Smith |
| 46 | 2023-11-29 20:27:19 | Lisa Burgess |
| 47 | 2023-11-29 18:53:14 | Karen Cannon |
| 48 | 2023-11-29 17:43:54 | Brenda Poole |
| 49 | 2023-11-29 14:22:26 | Charlotte Polkinghorne |
| 50 | 2023-11-29 19:34:39 | Kelly Goodyear |
| 51 | 2023-11-29 16:57:11 | Mrs Sally J Davies |
| 52 | 2023-11-29 20:27:19 | Lisa Burgess |
| 53 | 2023-11-29 18:53:14 | Karen Cannon |
| 54 | 2023-11-29 20:59:35 | Lois Lovering |
| 55 | 2023-11-29 10:28:49 | D Dixon |
| 56 | 2023-11-29 16:30:55 | Peter Cockbain |
| 57 | 2023-11-29 19:05:11 | Thomas Halfyard |
| 58 | 2023-11-28 23:14:52 | Jade heathman |
| 59 | 2023-11-29 14:22:26 | Charlotte Polkinghorne |
| 60 | 2023-11-29 14:22:26 | Charlotte Polkinghorne |
| 61 | 2023-11-27 21:34:41 | Amanda Chidgey |
| 62 | 2023-11-29 20:10:46 | Kerry McLean |
| 63 | 2023-11-29 10:37:38 | Alison Collins |
| 64 | 2023-11-29 18:06:17 | Clair Squire |
| 65 | 2023-11-29 19:40:32 | Jo B |
| 66 | 2023-11-29 00:28:32 | Karen Sprules |
| 67 | 2023-11-29 20:57:10 | Amy Kelly |
| 68 | 2023-11-29 20:38:36 | Martin Smith |
| 69 | 2023-11-29 20:55:56 | Angela Wykes |
| 70 | 2023-11-29 19:12:30 | Marsha Garrard |
| 71 | 2023-11-29 19:39:28 | Brad davies |
| 72 | 2023-11-29 20:30:28 | Lorraine Williams |
| 73 | 2023-11-28 21:40:30 | Zoë fogden |
| 74 | 2023-11-29 13:50:43 | Callum Breach |
| 75 | 2023-11-28 22:03:10 | Beth Mappin |
| 76 | 2023-11-29 18:17:37 | Kerry McLean |
| 77 | 2023-11-29 19:18:33 | Sas D |
| 78 | 2023-11-29 19:21:32 | Becci Vayle |
| 79 | 2023-11-29 20:52:24 | T S |
| 80 | 2023-11-29 09:08:59 | Lee Gable |
| 81 | 2023-11-29 20:59:26 | Kirsty Westwood |
| 82 | 2023-11-29 13:50:43 | Callum Breach |
| 83 | 2023-11-29 20:29:20 | Will L |
| 84 | 2023-11-29 20:33:36 | Jamie Knight |
| 85 | 2023-11-24 20:38:35 | Rachel Dixon |
| 86 | 2023-11-29 19:47:51 | Roxy P |
| 87 | 2023-11-29 20:27:19 | Lisa Burgess |
| 88 | 2023-11-29 20:57:02 | sue fogarty |
| 89 | 2023-11-29 18:17:37 | Kerry McLean |
| 90 | 2023-11-29 20:53:06 | Holly Kemp |