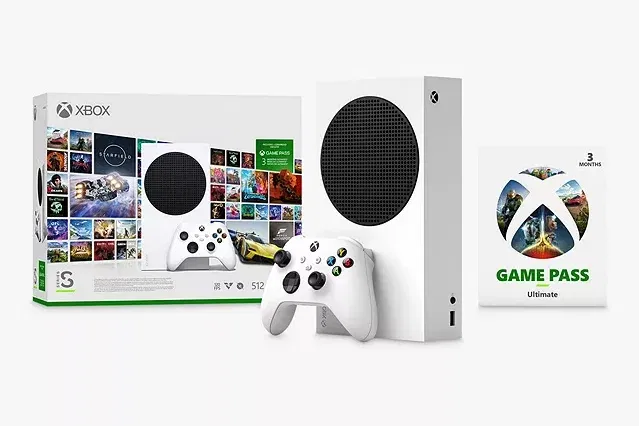 Microsoft Xbox Series S Digital Edition Console, 512GB, with Wireless Controller & 3 Months of Game Pass Ultimate, White
Description
Microsoft Xbox Series S Digital Edition Console, 512GB, with Wireless Controller & 3 Months of Game Pass Ultimate, White
Xbox Series S Digital Edition Console
The sleek and stylish Xbox Series S Digital Edition Console has been created to provide fast, smooth, digital only gameplay. Thanks to a custom-built SSD with integrated software, you'll receive reduced load times, fast, streamlined gameplay, along with the ability to play thousands of titles from four generations of consoles.
Download and play
Xbox Series S provides next-gen gaming via a vast digital launch library. Handily, all your games, saves and backups are stored safely in the cloud. Additionally, you can enjoy the ability to pre-order and pre-install upcoming games so you're ready to play the moment they launch.
Small, yet powerful
Even though Xbox Series S is the smallest Xbox ever, it still packs a punch, offering more dynamic worlds, and faster load times. Housing AMD's Zen 2 and RDNA 2 architectures, Xbox Series S delivers DirectX Ray tracing, true-to-life lighting, shadows and accurate reflections to create dynamic living worlds.
Be immersed
Xbox Series S offers up to 120 frames per second at a resolution of 1440p, whilst Dolby TrueHD with Atmos technology provides you with a premiere sound experience that puts you in the centre of a rich, 3D spatial soundscape.
Quick start
Jump seamlessly between multiple games in next to no time, thanks to Quick Resume – meaning you'll now always have time to jump back in and have one more go with that end of level boss.
More ways to play
Xbox Series S also works with Xbox Live, the most advanced multiplayer network. With millions of players around the world, and more than a decade of multiplayer experience, Xbox Live is the proven place to play. And now, everyone is invited to experience smarter matchmaking, less waiting, and better performance with Xbox Live on Xbox Series S. You can even record, share and broadcast your moments of glory.
*4K streaming with select apps, see Xbox.com. Some apps require app provider-specific subscriptions and/or other requirements.
Please note: an Xbox Live Gold subscription is required to access online multiplayer.
Xbox Wireless Controller
Experience the enhanced and modernised Xbox Wireless Controller that features sculpted surfaces and refined geometry – providing enhanced comfort during gameplay, and get ready to take on the competition in style.
The hybrid D-pad and textured grip on the triggers, bumpers, and back case will ensure you stay on target, whilst the Share button will enable you to seamlessly capture and share content such as screenshots, recordings.
We all have our own gaming preferences and style, so fire up the Xbox Accessories app to remap buttons and create custom controller profiles for your favourite games.
| Winner Name | Ticket Number | Draw Date |
| --- | --- | --- |
| K W | 181 | 22/11/2023 |
1-100
101-200
201-300
301-400
| Ticket Number | Date | Name |
| --- | --- | --- |
| 1 | 2023-11-21 21:14:53 | Tracy Morrod |
| 2 | 2023-11-22 08:33:06 | Jamail Akhtar |
| 3 | 2023-11-21 21:14:53 | Tracy Morrod |
| 4 | 2023-11-22 17:46:20 | Darren Mclean |
| 5 | 2023-11-21 16:53:52 | Retha Munro |
| 6 | 2023-11-21 21:43:43 | Dan Weir |
| 7 | 2023-11-22 00:26:38 | K W |
| 8 | 2023-11-21 21:14:53 | Tracy Morrod |
| 9 | 2023-11-21 16:53:52 | Retha Munro |
| 10 | 2023-11-22 11:29:04 | JMS S |
| 11 | 2023-11-21 16:53:52 | Retha Munro |
| 12 | 2023-11-21 20:32:20 | David Iglesias San Martin |
| 13 | 2023-11-22 07:53:58 | Teresa Williams |
| 14 | 2023-11-21 16:53:52 | Retha Munro |
| 15 | 2023-11-22 08:17:24 | Alan Geary |
| 16 | 2023-11-22 17:46:20 | Darren Mclean |
| 17 | 2023-11-22 08:24:22 | Lee Gable |
| 18 | 2023-11-22 01:52:27 | Amy Hyde |
| 19 | 2023-11-21 14:40:24 | Sharon Howe |
| 20 | 2023-11-22 18:40:04 | James Cozens |
| 21 | 2023-11-22 09:38:40 | Samantha Scrace |
| 22 | 2023-11-22 18:58:36 | sue fogarty |
| 23 | 2023-11-21 20:32:20 | David Iglesias San Martin |
| 24 | 2023-11-22 17:45:45 | Danny Down |
| 25 | 2023-11-22 08:28:26 | Jenny Burkett |
| 26 | 2023-11-22 12:30:34 | Georgina Robins |
| 27 | 2023-11-21 21:14:53 | Tracy Morrod |
| 28 | 2023-11-22 15:32:24 | Matilda Reynolds |
| 29 | 2023-11-21 21:14:53 | Tracy Morrod |
| 30 | 2023-11-22 19:32:21 | Victoria Browring |
| 31 | 2023-11-21 21:14:53 | Tracy Morrod |
| 32 | 2023-11-22 17:46:20 | Darren Mclean |
| 33 | 2023-11-22 17:07:47 | Mike Penny |
| 34 | 2023-11-22 16:56:24 | d k J |
| 35 | 2023-11-22 19:32:21 | Victoria Browring |
| 36 | 2023-11-22 13:55:10 | Victor Chappell |
| 37 | 2023-11-21 22:06:22 | christine a webber |
| 38 | 2023-11-22 12:38:22 | K W |
| 39 | 2023-11-22 19:13:37 | Sophie Hodge |
| 40 | 2023-11-22 17:40:50 | Debbie Sneap |
| 41 | 2023-11-22 12:41:31 | Keith Moore |
| 42 | 2023-11-21 16:53:52 | Retha Munro |
| 43 | 2023-11-22 18:27:47 | Scott Milton |
| 44 | 2023-11-22 18:54:32 | Melanie Biagott |
| 45 | 2023-11-22 19:33:40 | CORRINA STINSON |
| 46 | 2023-11-22 18:59:04 | Martin Campbell |
| 47 | 2023-11-22 19:21:55 | Deborah Boyd |
| 48 | 2023-11-22 17:57:44 | Matthew Gore |
| 49 | 2023-11-22 16:54:55 | Claire Grimes |
| 50 | 2023-11-22 17:46:20 | Darren Mclean |
| 51 | 2023-11-22 08:45:15 | Richard Legge |
| 52 | 2023-11-22 19:22:58 | Hannah Lewis |
| 53 | 2023-11-22 12:15:36 | Iain Thomas |
| 54 | 2023-11-22 18:28:34 | Nathan Scott |
| 55 | 2023-11-22 12:15:36 | Iain Thomas |
| 56 | 2023-11-21 21:37:33 | Sam Pollexfen |
| 57 | 2023-11-22 11:32:08 | Shiobhan Westcott |
| 58 | 2023-11-22 08:45:15 | Richard Legge |
| 59 | 2023-11-22 19:03:28 | Lucy Mugford |
| 60 | 2023-11-22 08:17:24 | Alan Geary |
| 61 | 2023-11-22 17:50:15 | julie tucker |
| 62 | 2023-11-22 19:10:31 | Kyle Watterson |
| 63 | 2023-11-21 22:16:24 | Jeremy Carter |
| 64 | 2023-11-22 18:23:17 | Laura Smith |
| 65 | 2023-11-22 14:59:10 | Emma & lee |
| 66 | 2023-11-21 21:14:53 | Tracy Morrod |
| 67 | 2023-11-22 15:32:24 | Matilda Reynolds |
| 68 | 2023-11-22 16:04:28 | Troy T |
| 69 | 2023-11-22 19:23:47 | Nicky Winter |
| 70 | 2023-11-22 19:36:32 | James Rockey |
| 71 | 2023-11-22 17:17:36 | Jessica Roxanne |
| 72 | 2023-11-22 15:28:43 | Chloe Raisey |
| 73 | 2023-11-22 17:17:36 | Jessica Roxanne |
| 74 | 2023-11-22 00:26:38 | K W |
| 75 | 2023-11-22 18:07:30 | Sarah Brickland |
| 76 | 2023-11-22 00:29:03 | Jayne Wood |
| 77 | 2023-11-22 12:18:15 | K W |
| 78 | 2023-11-22 17:54:32 | Wayne West |
| 79 | 2023-11-21 21:14:53 | Tracy Morrod |
| 80 | 2023-11-22 08:45:15 | Richard Legge |
| 81 | 2023-11-21 21:14:53 | Tracy Morrod |
| 82 | 2023-11-22 19:09:17 | Nicholas Bond |
| 83 | 2023-11-22 19:13:37 | Sophie Hodge |
| 84 | 2023-11-22 14:57:12 | Kirsty Messenger |
| 85 | 2023-11-22 18:57:05 | Mandy Adams |
| 86 | 2023-11-22 12:29:36 | Siobhan Timblin |
| 87 | 2023-11-22 08:17:24 | Alan Geary |
| 88 | 2023-11-22 18:54:32 | Melanie Biagott |
| 89 | 2023-11-22 13:55:10 | Victor Chappell |
| 90 | 2023-11-22 12:53:24 | Nicola Kenny |
| 91 | 2023-11-22 08:44:26 | Jack Delves |
| 92 | 2023-11-22 02:17:32 | Wayne Mills |
| 93 | 2023-11-22 12:38:32 | Leah Smith |
| 94 | 2023-11-21 21:14:53 | Tracy Morrod |
| 95 | 2023-11-22 01:52:27 | Amy Hyde |
| 96 | 2023-11-22 15:29:42 | Will Wellings |
| 97 | 2023-11-22 19:23:25 | Julia Goldspink |
| 98 | 2023-11-22 08:45:15 | Richard Legge |
| 99 | 2023-11-22 12:40:09 | Mike Penny |
| 100 | 2023-11-22 19:08:35 | Miranda Stone |