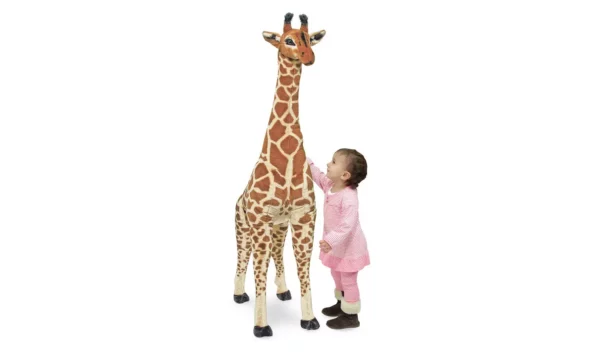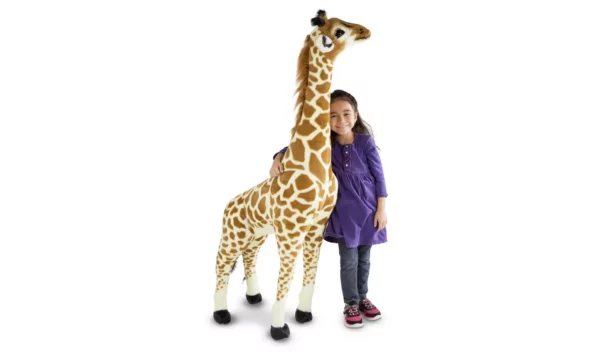 Melissa & Doug Giraffe Plush Soft Toy
Description
We all need a friend we can look up to and at over four feet tall we think this cute and cuddly plush soft toy fits the bill!
This gentle giant brings a touch of the exotic into any environment. They're the perfect accessory in any nursery and a great addition to the family!
A sweet expression, long eyelashes, soft horns, and a tufted tail make this stuffed animal impossible to resist and sure to be a treasured member of any adventurers menagerie! For an added catalyst to spark imagination, create a friendly family by pairing the classic four-foot-tall giraffe with the sweet Melissa & Doug baby plush!
| Winner Name | Ticket Number | Draw Date |
| --- | --- | --- |
| Emily Dyke | 29 | 11/07/2022 |
| Ticket Number | Date | Name |
| --- | --- | --- |
| 1 | 2022-07-07 19:54:59 | Max Hornewood |
| 2 | 2022-07-11 11:07:18 | g Mv |
| 3 | 2022-07-11 11:42:05 | David Hall |
| 4 | 2022-07-08 16:22:31 | Vicki Dunstone |
| 5 | 2022-07-07 19:50:37 | Lisa Edwards |
| 6 | 2022-07-11 12:19:35 | Emma Davies |
| 7 | 2022-07-10 15:01:16 | Dean O'Connor |
| 8 | 2022-07-09 15:06:59 | Kevin Hayes |
| 9 | 2022-07-11 11:42:05 | David Hall |
| 10 | 2022-07-07 15:09:41 | Jeanette Anderson |
| 11 | 2022-07-07 12:06:28 | Jeanette Anderson |
| 12 | 2022-07-11 15:14:19 | Justin Lashley |
| 13 | 2022-07-06 08:18:14 | Nicola Bird |
| 14 | 2022-07-09 11:48:51 | Holly Ring |
| 15 | 2022-07-08 22:18:21 | Nicola Bird |
| 16 | 2022-07-07 12:06:28 | Jeanette Anderson |
| 17 | 2022-07-06 08:37:49 | g Mv |
| 18 | 2022-07-10 15:01:16 | Dean O'Connor |
| 19 | 2022-07-06 10:21:22 | Rebecca Vinson |
| 20 | 2022-07-05 22:34:44 | Dean O'Connor |
| 21 | 2022-07-08 08:01:18 | Rachel Stevens |
| 22 | 2022-07-10 13:30:35 | Sharon Williams |
| 23 | 2022-07-06 21:54:15 | Frances Whates |
| 24 | 2022-07-07 21:14:45 | Michelle Fewings |
| 25 | 2022-07-11 12:36:03 | Joseph Clifford |
| 26 | 2022-07-07 15:09:41 | Jeanette Anderson |
| 27 | 2022-07-09 10:17:13 | g Mv |
| 28 | 2022-07-06 08:37:49 | g Mv |
| 29 | 2022-07-05 22:58:27 | Emily Dyke |
| 30 | 2022-07-11 17:25:28 | Dean O'Connor |
| 31 | 2022-07-07 19:38:54 | Amber Rice |
| 32 | 2022-07-11 13:18:26 | Sarah Smith |
| 33 | 2022-07-09 11:48:51 | Holly Ring |
| 34 | 2022-07-10 14:32:19 | g Mv |
| 35 | 2022-07-06 22:16:05 | Sarah Gerry |
| 36 | 2022-07-06 21:54:15 | Frances Whates |
| 37 | 2022-07-10 20:39:40 | Kirsty Westy |
| 38 | 2022-07-11 17:40:17 | Nicky Winter |
| 39 | 2022-07-06 09:59:33 | Amanda Ruddenham |
| 40 | 2022-07-11 15:49:25 | Aimee Povey |
| 41 | 2022-07-06 21:54:15 | Frances Whates |
| 42 | 2022-07-10 13:30:35 | Sharon Williams |
| 43 | 2022-07-11 14:16:23 | Hannah bowden |
| 44 | 2022-07-08 14:37:24 | Molly Elnaugh |
| 45 | 2022-07-05 22:58:27 | Emily Dyke |
| 46 | 2022-07-05 22:58:27 | Emily Dyke |
| 47 | 2022-07-10 16:12:08 | Lavinia Gonthier |
| 48 | 2022-07-11 17:40:17 | Nicky Winter |
| 49 | 2022-07-09 07:29:23 | Carrie Thornton |
| 50 | 2022-07-11 17:40:17 | Nicky Winter |
| 51 | 2022-07-10 14:32:19 | g Mv |
| 52 | 2022-07-10 21:13:39 | Chloe Anning |
| 53 | 2022-07-06 08:37:49 | g Mv |
| 54 | 2022-07-06 21:54:15 | Frances Whates |
| 55 | 2022-07-10 14:42:07 | Lou Lister |
| 56 | 2022-07-06 23:06:14 | Shane Gent |
| 57 | 2022-07-07 19:50:37 | Lisa Edwards |
| 58 | 2022-07-09 07:04:57 | Lisa Riordan |
| 59 | 2022-07-11 11:42:05 | David Hall |
| 60 | 2022-07-11 14:17:53 | Jodie Joyce |
| 61 | 2022-07-08 13:23:55 | Thalia Heard |
| 62 | 2022-07-08 22:18:21 | Nicola Bird |
| 63 | 2022-07-11 13:27:46 | Jacqueline Morgan |
| 64 | 2022-07-06 23:06:14 | Shane Gent |
| 65 | 2022-07-10 15:48:51 | Usher Prowse |
| 66 | 2022-07-06 08:37:49 | g Mv |
| 67 | 2022-07-11 15:05:31 | Natasha Bourne |
| 68 | 2022-07-06 22:16:05 | Sarah Gerry |
| 69 | 2022-07-09 11:49:47 | Sarah Heal |
| 70 | 2022-07-06 22:16:05 | Sarah Gerry |
| 71 | 2022-07-09 10:17:13 | g Mv |
| 72 | 2022-07-11 16:41:38 | Nicola Bird |
| 73 | 2022-07-09 10:17:13 | g Mv |
| 74 | 2022-07-11 14:39:08 | Joanne Pennington |
| 75 | 2022-07-11 14:16:23 | Hannah bowden |
| 76 | 2022-07-11 15:49:25 | Aimee Povey |
| 77 | 2022-07-09 09:01:01 | Amanda Ruddenham |
| 78 | 2022-07-11 15:02:28 | Lianne Butler |
| 79 | 2022-07-11 16:11:52 | Marc Baker |
| 80 | 2022-07-11 13:50:40 | Emma Louise |
| 81 | 2022-07-10 13:30:35 | Sharon Williams |
| 82 | 2022-07-11 17:25:28 | Dean O'Connor |
| 83 | 2022-07-07 22:09:11 | Catherine Moslehi |
| 84 | 2022-07-11 14:58:21 | Kelly Clarke-booth |
| 85 | 2022-07-07 22:28:31 | Joanne Pennington |
| 86 | 2022-07-11 15:49:25 | Aimee Povey |
| 87 | 2022-07-05 22:34:44 | Dean O'Connor |
| 88 | 2022-07-09 15:27:32 | Julie Wrigley |
| 89 | 2022-07-11 11:07:18 | g Mv |
| 90 | 2022-07-10 15:01:16 | Dean O'Connor |
| 91 | 2022-07-05 22:34:44 | Dean O'Connor |
| 92 | 2022-07-06 08:29:21 | Rachel Gilbert |
| 93 | 2022-07-05 22:45:04 | Philippa Smith |
| 94 | 2022-07-07 22:09:11 | Catherine Moslehi |
| 95 | 2022-07-11 14:39:08 | Joanne Pennington |
| 96 | 2022-07-11 14:39:08 | Joanne Pennington |
| 97 | 2022-07-10 13:30:35 | Sharon Williams |
| 98 | 2022-07-11 16:50:07 | Andrew Del-pizzo |
| 99 | 2022-07-10 08:31:21 | Amanda Callard |
| 100 | 2022-07-09 16:48:49 | Rachel Gilbert |
| 101 | 2022-07-11 16:50:07 | Andrew Del-pizzo |
| 102 | 2022-07-11 15:43:08 | Alan Gowland |
| 103 | 2022-07-06 22:49:11 | Nicola Bird |
| 104 | 2022-07-10 15:01:16 | Dean O'Connor |
| 105 | 2022-07-11 17:08:58 | Ann Emmess |
| 106 | 2022-07-11 14:58:21 | Kelly Clarke-booth |
| 107 | 2022-07-11 17:25:28 | Dean O'Connor |
| 108 | 2022-07-08 13:23:55 | Thalia Heard |
| 109 | 2022-07-10 13:30:35 | Sharon Williams |
| 110 | 2022-07-11 11:44:52 | Gerry Blue |
| 111 | 2022-07-06 08:18:14 | Nicola Bird |
| 112 | 2022-07-07 19:38:54 | Amber Rice |
| 113 | 2022-07-07 19:50:37 | Lisa Edwards |
| 114 | 2022-07-10 16:00:40 | Katrina IķStevens |
| 115 | 2022-07-11 14:43:58 | Chis west |
| 116 | 2022-07-07 21:14:45 | Michelle Fewings |
| 117 | 2022-07-11 14:43:58 | Chis west |
| 118 | 2022-07-10 22:29:32 | Emma Louise |
| 119 | 2022-07-11 14:43:58 | Chis west |
| 120 | 2022-07-11 09:10:30 | Emma Jones |
| 121 | 2022-07-07 12:06:28 | Jeanette Anderson |
| 122 | 2022-07-11 14:43:58 | Chis west |
| 123 | 2022-07-06 21:54:15 | Frances Whates |
| 124 | 2022-07-09 15:27:32 | Julie Wrigley |
| 125 | 2022-07-10 08:31:21 | Amanda Callard |
| 126 | 2022-07-06 08:37:49 | g Mv |
| 127 | 2022-07-09 17:17:37 | Karren Blatchford |
| 128 | 2022-07-06 19:23:53 | Lavinia Gonthier |
| 129 | 2022-07-06 22:16:05 | Sarah Gerry |
| 130 | 2022-07-06 19:23:53 | Lavinia Gonthier |
| 131 | 2022-07-11 07:47:59 | Peter Hunter |
| 132 | 2022-07-11 14:33:00 | John Faulkner-Lloyd |
| 133 | 2022-07-07 19:50:37 | Lisa Edwards |
| 134 | 2022-07-11 09:38:08 | Lindsey Evans |
| 135 | 2022-07-07 22:28:31 | Joanne Pennington |
| 136 | 2022-07-08 18:53:18 | Wendy Swindells |
| 137 | 2022-07-10 20:39:40 | Kirsty Westy |
| 138 | 2022-07-10 13:30:35 | Sharon Williams |
| 139 | 2022-07-11 14:43:58 | Chis west |
| 140 | 2022-07-05 22:58:27 | Emily Dyke |