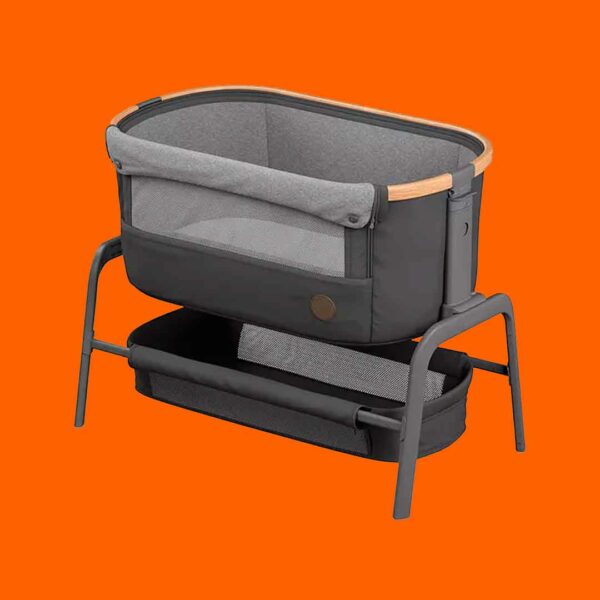 Maxi-Cosi Iora Co-Sleeper Bedside Crib, Essential Graphite
Description
Maxi-Cosi Iora Co-Sleeper Bedside Crib, Essential Graphite
The benefits of side- sleeping:
Suitable from birth – 9kg or 6 months
It helps the new born to adjust sleeping-awake times.
It helps with breastfeeding for mothers.
It reassures parents and makes the child feel safe.
It strengthens the bond between child and parents and it helps the child to grow more self-confident and sociable.
| Winner Name | Ticket Number | Draw Date |
| --- | --- | --- |
| Sarah Deakin | 152 | 19/04/2022 |
| Ticket Number | Date | Name |
| --- | --- | --- |
| 1 | 2022-04-14 10:36:16 | Michaela Nodwell |
| 4 | 2022-04-19 14:36:11 | Emma Davies |
| 5 | 2022-04-19 19:07:33 | Chloe wood |
| 6 | 2022-04-19 12:58:19 | valerie Parnell |
| 8 | 2022-04-19 12:45:53 | Natalie Parkes |
| 9 | 2022-04-19 19:07:33 | Chloe wood |
| 10 | 2022-04-18 16:40:03 | valerie Parnell |
| 11 | 2022-04-13 22:07:41 | Jeanette Anderson |
| 13 | 2022-04-13 21:33:32 | Julie Webb |
| 15 | 2022-04-18 16:40:03 | valerie Parnell |
| 16 | 2022-04-13 22:07:41 | Jeanette Anderson |
| 18 | 2022-04-18 08:42:56 | Emma Fox |
| 19 | 2022-04-18 20:44:55 | Beth Eason |
| 20 | 2022-04-19 20:01:13 | Shannon Patten |
| 21 | 2022-04-16 16:12:41 | Michael O'connor |
| 23 | 2022-04-19 20:08:36 | Samantha Collett |
| 24 | 2022-04-14 17:07:51 | Julie Webb |
| 26 | 2022-04-14 19:20:25 | Charlotte Ager |
| 27 | 2022-04-13 21:33:32 | Julie Webb |
| 30 | 2022-04-18 16:40:03 | valerie Parnell |
| 31 | 2022-04-19 19:59:41 | Sarah Widdop |
| 35 | 2022-04-19 20:01:13 | Shannon Patten |
| 36 | 2022-04-19 20:08:36 | Samantha Collett |
| 38 | 2022-04-18 12:43:22 | Tom Whitehead |
| 39 | 2022-04-16 16:12:41 | Michael O'connor |
| 41 | 2022-04-16 15:24:01 | Usher Prowse |
| 42 | 2022-04-14 10:36:16 | Michaela Nodwell |
| 43 | 2022-04-19 20:08:36 | Samantha Collett |
| 44 | 2022-04-19 10:38:04 | Chloe Wills |
| 45 | 2022-04-19 16:30:39 | Katie Leszman |
| 48 | 2022-04-18 09:11:03 | Kim Ellis |