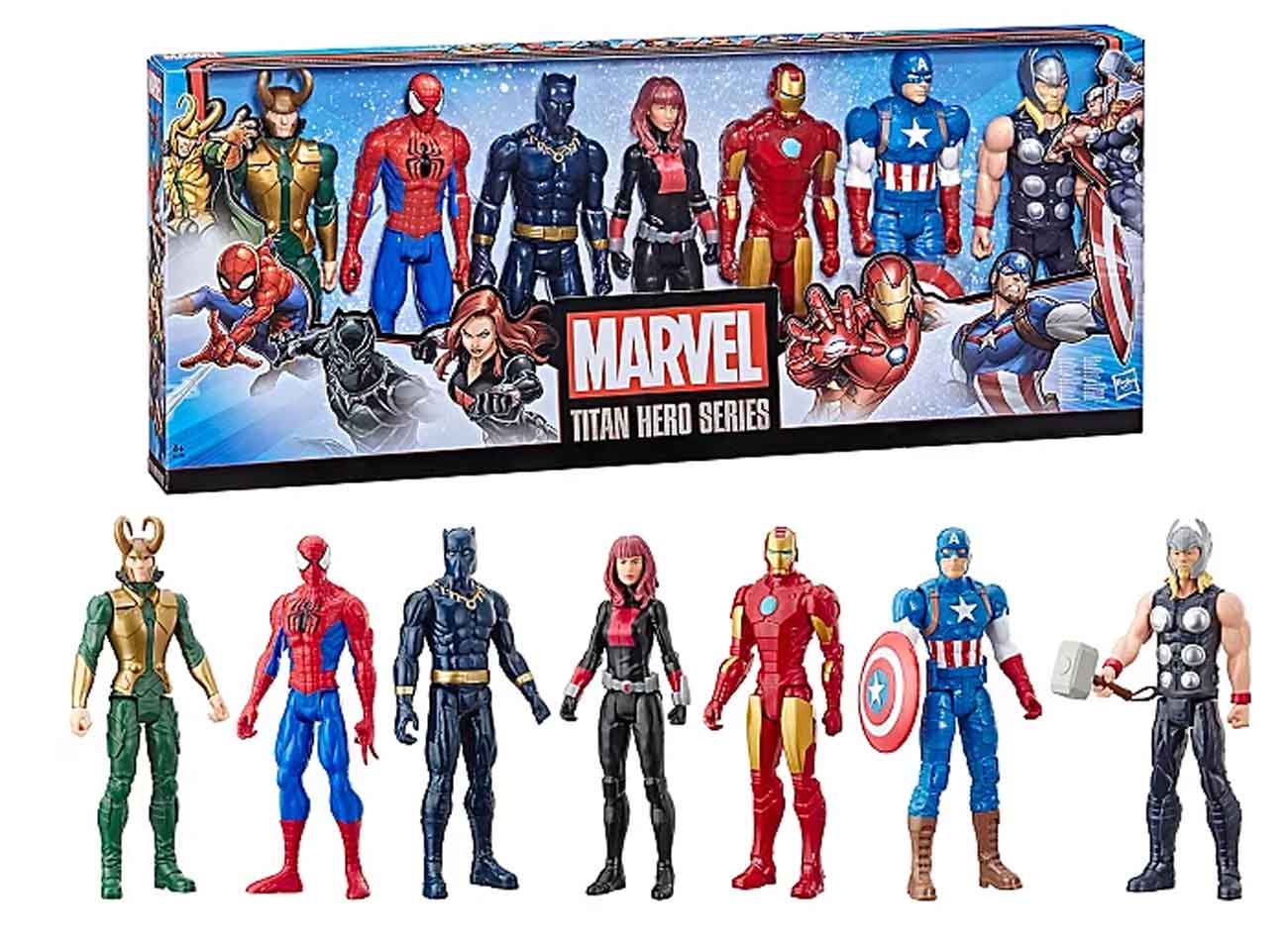 Marvel Titan Hero Series 7 Figure Pack
Description
Marvel Titan Hero Series 7 Figure Pack
1x Marvel Titan Hero 7-Figure Pack
Includes: 7x Marvel Superhero figures, 5x Accessories
Figures include Captain America, Black Panther, Loki, Thor, Iron Man, Spider-Man & Black Widow
Premium design and details for display
Recreate epic scenes from Avengers comics
Dimensions: 30H cm
Product Description
Captain America, Black Panther, Loki, Thor, Iron Man, Spider-Man, and Black Widow all play significant roles in the battle for control of the universe in Marvel's Avengers comics. With this 7-pack of Marvel Titan Heroes Series action figures, fans of the Marvel Universe can recreate epic adventures.
Collectible Marvel Figures
These large-scale Marvel action figures feature multiple points of articulation. They also have a classic-inspired design, making them ideal for anyone who can't get enough of their favorite Marvel Super Heroes!
| Winner Name | Ticket Number | Draw Date |
| --- | --- | --- |
| Danielle Benn | 78 | 13/09/2022 |
| Ticket Number | Date | Name |
| --- | --- | --- |
| 1 | 2022-09-12 23:14:21 | Gemma Pelley |
| 2 | 2022-09-13 18:44:33 | Chantelle Amphlett |
| 3 | 2022-09-09 20:03:48 | David Smith |
| 4 | 2022-09-13 09:32:33 | Jodie Ellis |
| 5 | 2022-09-13 17:10:14 | Ricci Smith |
| 6 | 2022-09-13 12:41:37 | Claire Allen |
| 7 | 2022-09-13 16:32:14 | Nicola Copley |
| 8 | 2022-09-13 11:02:36 | Jayne Lofthouse |
| 9 | 2022-09-08 20:10:47 | Kelly Richards |
| 10 | 2022-09-13 18:05:10 | Amber Roberts |
| 11 | 2022-09-12 05:57:08 | Michelle Stanyon |
| 12 | 2022-09-13 19:39:04 | Amber Smithers |
| 13 | 2022-09-07 18:27:24 | Zoey-Anne Marr-Hayes |
| 14 | 2022-09-13 08:41:43 | Sophie Hodge |
| 15 | 2022-09-13 10:58:39 | Mike Furness |
| 16 | 2022-09-13 15:33:11 | Claire Lang |
| 17 | 2022-09-09 08:11:43 | Clare Keating |
| 18 | 2022-09-13 12:01:46 | Danielle Benn |
| 19 | 2022-09-09 11:25:51 | Vicki Benn |
| 20 | 2022-09-13 11:05:33 | Jodie Ellis |
| 21 | 2022-09-13 11:05:33 | Jodie Ellis |
| 22 | 2022-09-13 20:13:35 | Soph Sayer |
| 23 | 2022-09-13 09:40:26 | Tanya Sherlock |
| 24 | 2022-09-13 10:58:39 | Mike Furness |
| 25 | 2022-09-12 05:57:08 | Michelle Stanyon |
| 26 | 2022-09-13 01:03:40 | Jodie Ellis |
| 27 | 2022-09-13 20:17:27 | Benjamin Cook |
| 28 | 2022-09-13 20:18:58 | Stacey Roberts |
| 29 | 2022-09-09 11:25:51 | Vicki Benn |
| 30 | 2022-09-12 13:36:55 | Michelle Stanyon |
| 31 | 2022-09-13 16:19:12 | Nathan White |
| 32 | 2022-09-13 20:02:14 | Alysha Jones |
| 33 | 2022-09-13 12:12:52 | Candy Light |
| 34 | 2022-09-09 11:25:51 | Vicki Benn |
| 35 | 2022-09-13 16:19:12 | Nathan White |
| 36 | 2022-09-13 12:01:46 | Danielle Benn |
| 37 | 2022-09-12 11:20:56 | Tasha Cox |
| 38 | 2022-09-13 10:58:39 | Mike Furness |
| 39 | 2022-09-13 07:03:01 | Soph Sayer |
| 40 | 2022-09-12 13:36:55 | Michelle Stanyon |
| 41 | 2022-09-13 12:12:48 | Amy Hardware |
| 42 | 2022-09-12 21:03:07 | Amy Heryet |
| 43 | 2022-09-13 09:40:26 | Tanya Sherlock |
| 44 | 2022-09-13 12:01:46 | Danielle Benn |
| 45 | 2022-09-13 19:49:43 | Joanne Stewart |
| 46 | 2022-09-09 08:11:43 | Clare Keating |
| 47 | 2022-09-13 10:58:39 | Mike Furness |
| 48 | 2022-09-09 13:17:06 | Thomas Whirton |
| 49 | 2022-09-13 09:17:16 | Jane Hasni |
| 50 | 2022-09-13 10:58:39 | Mike Furness |
| 51 | 2022-09-12 13:36:55 | Michelle Stanyon |
| 52 | 2022-09-13 15:51:51 | Joseph Clifford |
| 53 | 2022-09-13 16:46:25 | Sharon marie Williams |
| 54 | 2022-09-13 18:44:33 | Chantelle Amphlett |
| 55 | 2022-09-13 01:03:40 | Jodie Ellis |
| 56 | 2022-09-13 11:59:17 | Jodie Ellis |
| 57 | 2022-09-13 12:12:48 | Amy Hardware |
| 58 | 2022-09-13 19:23:16 | Kelly Call |
| 59 | 2022-09-13 12:12:48 | Amy Hardware |
| 60 | 2022-09-13 19:57:54 | Di Hodge |
| 61 | 2022-09-13 20:11:37 | Emily Connie |
| 62 | 2022-09-13 17:32:48 | Lou Lister |
| 63 | 2022-09-13 10:58:39 | Mike Furness |
| 64 | 2022-09-13 10:58:39 | Mike Furness |
| 65 | 2022-09-13 09:32:33 | Jodie Ellis |
| 66 | 2022-09-13 12:12:48 | Amy Hardware |
| 67 | 2022-09-09 22:57:35 | Kerry Tyrrell |
| 68 | 2022-09-13 16:46:25 | Sharon marie Williams |
| 69 | 2022-09-13 06:40:40 | Justine Buckley |
| 70 | 2022-09-13 20:30:48 | Emma-lee Wilson |
| 71 | 2022-09-09 19:35:18 | Tyler Ward |
| 72 | 2022-09-13 20:00:01 | Lindsay Singh |
| 73 | 2022-09-09 19:35:18 | Tyler Ward |
| 74 | 2022-09-13 20:27:34 | L G M |
| 75 | 2022-09-13 12:01:46 | Danielle Benn |
| 76 | 2022-09-12 23:46:23 | Jade Hulme |
| 77 | 2022-09-13 08:41:43 | Sophie Hodge |
| 78 | 2022-09-13 12:01:46 | Danielle Benn |
| 79 | 2022-09-13 20:23:29 | Michelle Fennell |
| 80 | 2022-09-12 05:57:08 | Michelle Stanyon |
| 81 | 2022-09-13 09:17:16 | Jane Hasni |
| 82 | 2022-09-12 05:57:08 | Michelle Stanyon |
| 83 | 2022-09-13 12:12:52 | Candy Light |
| 84 | 2022-09-13 12:12:48 | Amy Hardware |
| 85 | 2022-09-13 20:26:30 | Lesley Jones |
| 86 | 2022-09-13 13:47:32 | Amanda Harrill |
| 87 | 2022-09-13 18:14:34 | David Orrey |
| 88 | 2022-09-10 18:24:45 | Anne-Marie Daniels |
| 89 | 2022-09-13 19:47:53 | Marc Baker |
| 90 | 2022-09-12 13:36:55 | Michelle Stanyon |
| 91 | 2022-09-12 05:57:08 | Michelle Stanyon |
| 92 | 2022-09-13 19:49:43 | Joanne Stewart |
| 93 | 2022-09-12 05:57:08 | Michelle Stanyon |
| 94 | 2022-09-12 13:36:55 | Michelle Stanyon |
| 95 | 2022-09-09 08:11:43 | Clare Keating |
| 96 | 2022-09-13 11:05:33 | Jodie Ellis |
| 97 | 2022-09-13 20:17:27 | Benjamin Cook |
| 98 | 2022-09-09 11:35:35 | Kim Moon |
| 99 | 2022-09-10 06:49:23 | Jonny Davies |
| 100 | 2022-09-13 17:10:14 | Ricci Smith |