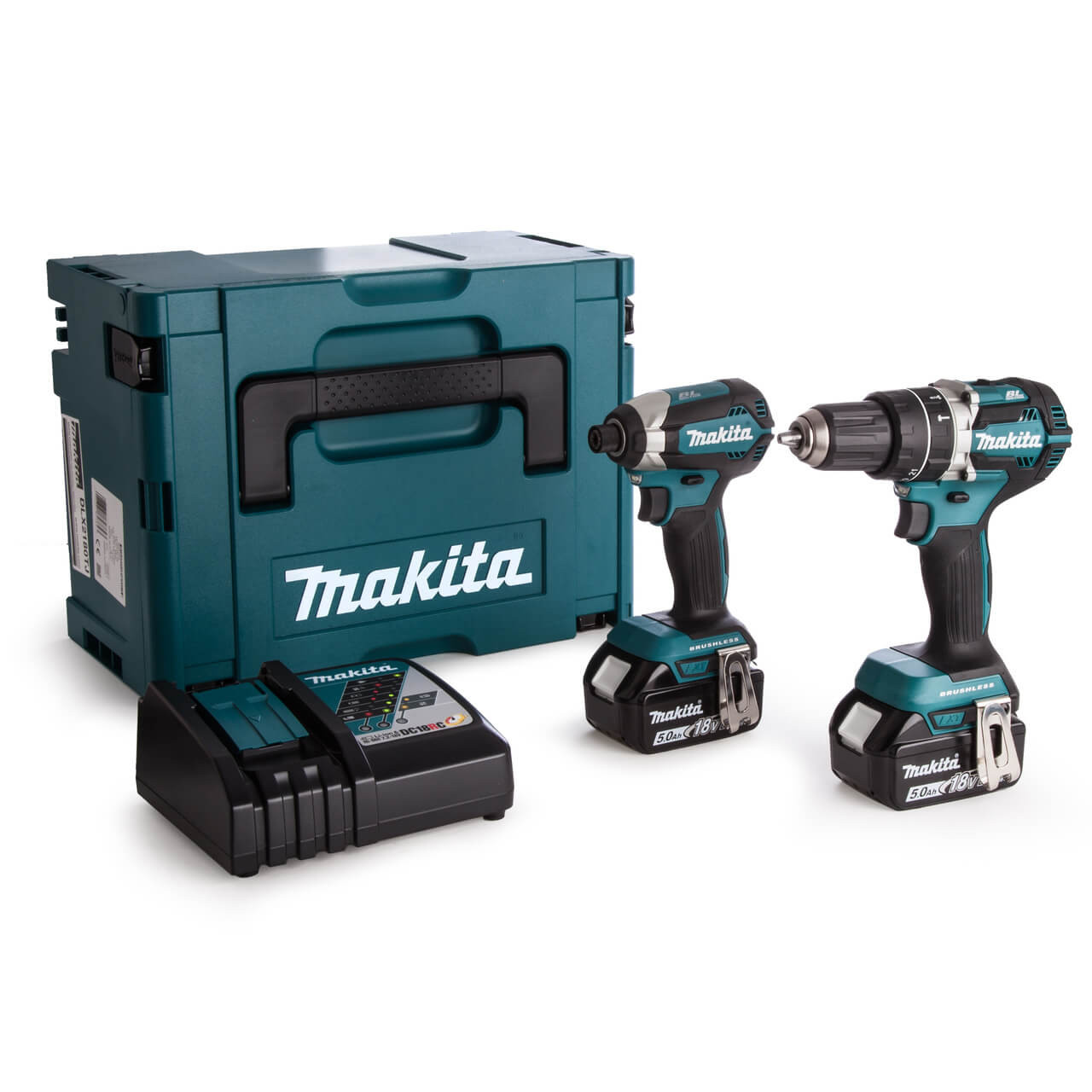 Makita DLX2180TJ 18V Brushless Drill & Driver Twin Kit with 2x 5.0Ah Batteries – 10/11
Description
Makita DLX2180TJ 18V Brushless Drill & Driver Twin Kit with 2x 5.0Ah Batteries
The Makita DLX2180TJ Twin kit contains the DHP484Z 18V LXT Brushless Combi Drill and the DTD153Z 18V brushless impact driver. The kit comes suppled with 2 x 5.0Ah Batteries, 1 x DC18RC Fast Battery Charger and a Makpac Size 3 Carry Case.
The DHP484 is a Cordless Combi Drill that features Makita's Brushless motor, precision engineered to be up to 50% more efficient than a comparative model. Without brushes in place to apply friction a Brushless motor can produce a greater measure of torque per weight. With more torque at your disposal less power is required for day to day use, adding to the motors efficiency and extending the products overall lifetime as maintenance becomes less of an issue.
The DTD153Z 18V brushless impact driver is ideal for use in outdoor or harsh environments. The outer case design and enhanced dust and drip proof performance makes it much more reliable in comparison to previous models. The DTD153 brushless impact driver features high operation efficiency with a 170Nm max torque, 4 pole motor, keyless single sleeve ¼" hex chuck, accepting M5 – M16 standard bolts, M4 – M8 machine screws making it ideal for repetitive screwdriving.
| Winner Name | Ticket Number | Draw Date |
| --- | --- | --- |
| Ashley Thorne | 252 | 10/11/2023 |
| Ticket Number | Date | Name |
| --- | --- | --- |
| 1 | 2023-11-10 17:47:26 | Julie Evans |
| 2 | 2023-11-10 19:51:13 | Mark Bradley |
| 3 | 2023-11-10 19:52:20 | Lynne Deeley |
| 4 | 2023-11-10 20:11:03 | Josh Robins |
| 5 | 2023-11-10 17:24:04 | Andrew Clarke |
| 6 | 2023-11-10 17:50:00 | Karen Gardner |
| 7 | 2023-11-08 21:17:15 | Richard O'Neill |
| 8 | 2023-11-09 21:08:45 | Donna lloyd |
| 9 | 2023-11-10 19:44:01 | Paul Smith |
| 10 | 2023-11-10 16:48:47 | Kathryn Budd |
| 11 | 2023-11-10 13:05:18 | Helen Holloway |
| 12 | 2023-11-09 21:08:45 | Donna lloyd |
| 13 | 2023-11-04 20:32:49 | Dave Lander |
| 15 | 2023-11-10 19:51:13 | Mark Bradley |
| 16 | 2023-11-10 20:11:03 | Josh Robins |
| 17 | 2023-11-07 22:02:29 | Cain Brockington |
| 18 | 2023-11-09 21:08:45 | Donna lloyd |
| 19 | 2023-11-10 20:55:24 | Jason Brown |
| 20 | 2023-11-10 08:51:55 | Nico Looze |
| 21 | 2023-11-09 21:50:36 | Scarlett Bennett |
| 22 | 2023-11-10 19:02:21 | Siobhan Clifford |
| 23 | 2023-11-10 13:59:36 | Lucy Grant |
| 24 | 2023-11-09 22:15:22 | Emma Lou |
| 25 | 2023-11-10 13:32:44 | Julia Barrett |
| 27 | 2023-11-10 13:05:18 | Helen Holloway |
| 28 | 2023-11-10 07:26:52 | Helen Holloway |
| 30 | 2023-11-10 17:05:08 | Karen Mclean |
| 31 | 2023-11-10 16:58:51 | Anthony Boult |
| 33 | 2023-11-10 14:47:08 | William Sanders |
| 34 | 2023-11-09 22:10:34 | Jamie Parr |
| 35 | 2023-11-10 08:51:55 | Nico Looze |
| 36 | 2023-11-10 18:11:29 | JOSEPH PARTINGTON |
| 38 | 2023-11-10 20:47:52 | Tyler Hickman |
| 40 | 2023-11-10 20:10:59 | Tara West |
| 42 | 2023-11-10 06:33:05 | Tracey Rowe |
| 45 | 2023-11-10 19:16:57 | Shanon Jonas |
| 48 | 2023-11-10 19:06:02 | Sarah Brickland |
| 49 | 2023-11-10 20:40:49 | Lisa Roberts |
| 50 | 2023-11-10 20:56:12 | SJ Wilson |
| 51 | 2023-11-10 13:59:36 | Lucy Grant |
| 52 | 2023-11-10 17:47:26 | Julie Evans |
| 54 | 2023-11-10 17:21:38 | Katy Dromey |
| 56 | 2023-11-10 10:45:28 | Xavier Marchena Stanciu |
| 57 | 2023-11-10 10:30:35 | Cherry Pearson |
| 59 | 2023-11-10 10:30:35 | Cherry Pearson |
| 60 | 2023-11-10 16:30:20 | Ashley Thorne |
| 61 | 2023-11-10 17:47:26 | Julie Evans |
| 63 | 2023-11-10 13:54:13 | Paul Jonas |
| 64 | 2023-11-10 07:32:36 | Natasha Davies |
| 65 | 2023-11-10 08:51:55 | Nico Looze |
| 67 | 2023-11-04 20:32:49 | Dave Lander |
| 68 | 2023-11-10 19:22:19 | Katie Legg |
| 69 | 2023-11-10 17:00:16 | Mark Wilson |
| 72 | 2023-11-09 11:46:43 | Ashley Thorne |
| 74 | 2023-11-10 13:32:44 | Julia Barrett |
| 75 | 2023-11-10 17:47:26 | Julie Evans |
| 77 | 2023-11-10 08:51:55 | Nico Looze |
| 79 | 2023-11-10 19:06:02 | Sarah Brickland |
| 80 | 2023-11-10 19:22:45 | Helen Lock |
| 81 | 2023-11-10 20:36:14 | Richard O'Neill |
| 82 | 2023-11-10 08:51:55 | Nico Looze |
| 84 | 2023-11-10 09:04:57 | Andrew Lees |
| 85 | 2023-11-08 21:38:37 | Bridgit Hepworth-Kybert |
| 86 | 2023-11-10 15:56:36 | Bruce Evans |
| 88 | 2023-11-10 15:31:22 | Pru Parnell |
| 90 | 2023-11-10 20:03:26 | Kev Hale |
| 92 | 2023-11-10 19:02:21 | Siobhan Clifford |
| 93 | 2023-11-10 14:17:27 | Natalie Holding |
| 94 | 2023-11-10 20:43:04 | Rachael Irvine |
| 95 | 2023-11-10 20:36:14 | Richard O'Neill |
| 96 | 2023-11-10 19:16:57 | Shanon Jonas |
| 98 | 2023-11-10 20:55:24 | Jason Brown |
| 99 | 2023-11-10 17:47:26 | Julie Evans |
| 100 | 2023-11-10 20:00:04 | Drew Worthington |