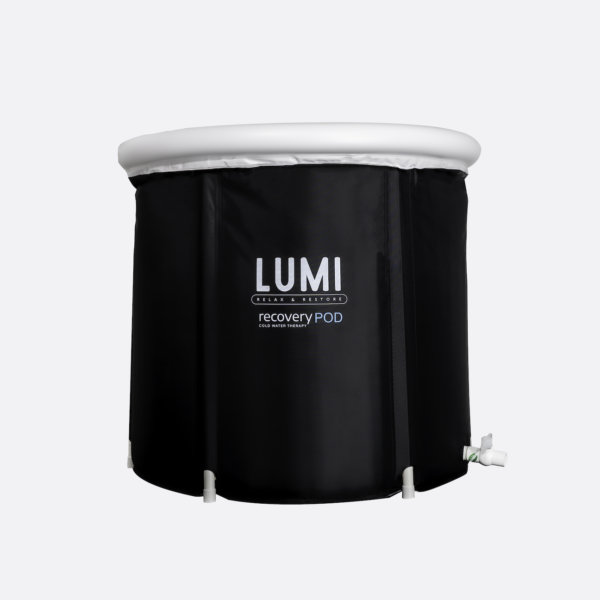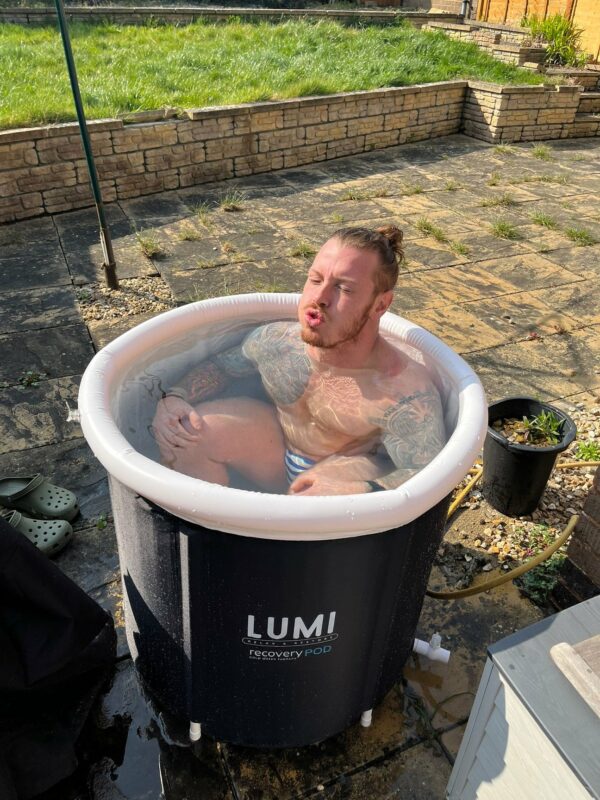 Lumi Recovery Pod – Ice Bath
Description
Lumi Recovery Pod – Ice Bath
The ultimate Portable Recovery Ice Bath, this is a game changer no longer do you need to use your old bathtub, Chest Freezer or spend £1000's on a custom ice bath, we have designed a simple effective way to enjoy Cold water therapy LITERALLY anywhere from your House, Patio, Garden, Balcony, Work, Holiday, Apartment… you name it you can take.
Our Ice bath is a insulated giant cool bag so keeps your water super cold infact after testing using cold tap water we realised you don't even need to add ice as its still cold enough to get the benefits from Cold water therapy which is 15 degrees and below.
What are the benefits of cold water therapy
Boost the immune system.
Improve circulation.
Deepen sleep.
Boost energy levels.
Reduce inflammation.
Improve metabolic function.
Improve mood.
How long should you do cold water therapy?
Whichever method you choose, you'll need to stay in cold water, that's below 58 degrees, for three to eight minutes. Cold water therapy works best with the right combination of time and temperature. For example, if you're in a 38 degree river, we'd recommend a three minute session.
| Winner Name | Ticket Number | Draw Date |
| --- | --- | --- |
| Joanne Bonfiglio | 10 | 25/07/2022 |
| Ticket Number | Date | Name |
| --- | --- | --- |
| 4 | 2022-07-22 08:11:14 | Danielle Hooper |
| 5 | 2022-07-25 19:56:58 | Michelle Butler |
| 6 | 2022-07-25 19:31:58 | Adam OConnor |
| 8 | 2022-07-25 17:54:46 | Emily Dyke |
| 9 | 2022-07-25 07:59:05 | Ami Laskey |
| 10 | 2022-07-25 20:12:23 | Joanne Bonfiglio |
| 11 | 2022-07-25 00:53:06 | Jack Evans |
| 12 | 2022-07-25 19:44:04 | kelly donnelly |
| 13 | 2022-07-25 18:47:26 | Rachel Salloway |
| 14 | 2022-07-22 14:23:21 | Juliet Phillips |
| 16 | 2022-07-25 19:56:58 | Michelle Butler |
| 18 | 2022-07-23 17:31:44 | Ami Laskey |
| 21 | 2022-07-21 19:46:41 | Lisa Roberts |
| 24 | 2022-07-25 11:11:33 | Emma Louise |
| 28 | 2022-07-23 17:31:44 | Ami Laskey |
| 29 | 2022-07-25 17:33:29 | Kelly Yeo |
| 30 | 2022-07-25 19:56:58 | Michelle Butler |
| 31 | 2022-07-25 17:33:29 | Kelly Yeo |
| 34 | 2022-07-25 13:40:32 | Emma Davies |
| 35 | 2022-07-25 11:12:45 | Nick Miller |
| 36 | 2022-07-25 20:42:11 | Nathan Scott |
| 37 | 2022-07-25 07:59:05 | Ami Laskey |
| 38 | 2022-07-24 10:00:55 | Rachel Salloway |
| 40 | 2022-07-25 11:12:45 | Nick Miller |
| 42 | 2022-07-25 20:21:53 | Chloe Kershaw |
| 43 | 2022-07-23 17:31:44 | Ami Laskey |
| 45 | 2022-07-25 20:12:23 | Joanne Bonfiglio |
| 48 | 2022-07-25 19:56:14 | James Martin |
| 49 | 2022-07-21 11:13:22 | Julie Formby-booth |
| 50 | 2022-07-25 20:41:31 | Lauren Robins |
| 54 | 2022-07-25 20:41:28 | Victoria Meredith |
| 55 | 2022-07-25 14:17:55 | Kate Coley |
| 56 | 2022-07-25 11:12:45 | Nick Miller |
| 61 | 2022-07-25 19:34:16 | Sarah Dennis |
| 62 | 2022-07-25 19:56:14 | James Martin |
| 66 | 2022-07-25 19:56:14 | James Martin |
| 67 | 2022-07-25 11:12:45 | Nick Miller |
| 68 | 2022-07-25 20:12:23 | Joanne Bonfiglio |
| 69 | 2022-07-23 13:26:43 | Hannah Lancaster |
| 72 | 2022-07-23 13:26:43 | Hannah Lancaster |
| 73 | 2022-07-25 12:23:13 | Ellie Donald |
| 77 | 2022-07-25 19:26:08 | Nicoleta Chirita |
| 78 | 2022-07-25 20:12:23 | Joanne Bonfiglio |
| 81 | 2022-07-25 19:26:08 | Nicoleta Chirita |
| 82 | 2022-07-20 13:24:23 | Sarah Jones |
| 83 | 2022-07-25 11:12:45 | Nick Miller |
| 84 | 2022-07-25 19:56:58 | Michelle Butler |
| 86 | 2022-07-25 19:26:08 | Nicoleta Chirita |
| 90 | 2022-07-25 20:12:23 | Joanne Bonfiglio |
| 92 | 2022-07-25 19:56:58 | Michelle Butler |
| 93 | 2022-07-25 08:12:18 | Victoria Cassidy |
| 94 | 2022-07-24 21:53:25 | Katrina Bennett |