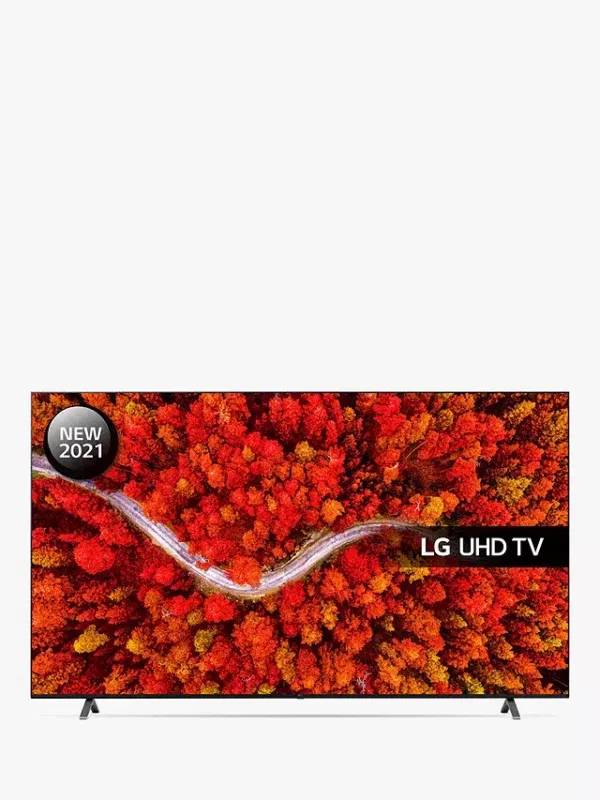 LG LED HDR 4K Ultra HD Smart TV, 82 inch
Description
LG LED HDR 4K Ultra HD Smart TV, 82 inch
Enjoy incredible 4K HDR picture vibrancy, colour and depth, with LG's UP80 TV. It's driven by the brand's a7 Gen4 AI processor 4K for enhanced Ultra HD visuals, with Dolby Vision IQ and immersive Dolby Atmos sound for brilliantly vivid cinematics. Use LG's award-winning webOS smart platform to stream shows from such apps as Netflix and Prime Video*, and you can interact by voice with both the Google Assistant and Alexa built in.
4K UHD resolution with HDR
This screen has four times the number of pixels than Full HD TVs, delivering stunning realism, natural motion and incredible detail. High Dynamic Range expands light, dark, and every colour in between for a picture that's closer to real life. This set supports multiple HDR formats including HDR10 & HLG.
a7 Gen4 AI processer 4K
LG's processsor ensures outstanding picture and sound quality whatever you watch or play.
Cinematic viewing
HDR and FILMMAKER mode turns any room into a cinema, adding depth and richness, just as the director intended.
Dolby Vision IQ and Dolby Atmos sound
Together, Dolby Vision IQ and Dolby Atmos audio ensure even more immersive entertainment, providing supreme clarity, depth and excitement.
webOS smart platform
LG's award-winning webOS platform revolutionises how you experience your entertainment. With quick and easy content discovery and switching, there's more entertainment available than ever before. You can stream from all the most popular services like Netflix, NOW TV, Prime Video, Disney+, Twitch, and more.*
Voice control & smart compatibility
This TV has the Google Assistant and Alexa built in, so you can get answers to questions while you're watching TV, and control compatible smart home devices.
Freeview Play
Freeview Play combines catch-up TV, on-demand services and live television, so watching what you want, when you want, is now easier than ever. It's free from subscription and is compatible with existing broadband services too. Services such as BBC iPlayer, ITV Hub, All 4 and My5 are also available without having to open specific applications. This gives effortless scroll back so you never miss a second of your favourite shows.
Sleek design with Two-pole stand
The design of this TV is beautifully sleek and slim, supported by an attractive two-pole stand.
| Winner Name | Ticket Number | Draw Date |
| --- | --- | --- |
| Kirstie Darragh | 275 | 30/05/2022 |
1-100
101-200
201-300
301-400
401-500
501-600
| Ticket Number | Date | Name |
| --- | --- | --- |
| 1 | 2022-05-30 18:07:54 | Tasha Rowlands |
| 2 | 2022-05-30 18:31:41 | Tina Shannon |
| 3 | 2022-05-30 15:29:26 | Jackie Clifford |
| 4 | 2022-05-30 16:51:11 | Mike Smart |
| 5 | 2022-05-30 13:47:28 | Alan Gowland |
| 6 | 2022-05-25 08:39:51 | Michaela Nodwell |
| 7 | 2022-05-30 18:16:18 | Brett Ansell |
| 8 | 2022-05-30 18:48:36 | Daniel Cobain |
| 9 | 2022-05-30 14:56:44 | Gail Gilbert |
| 10 | 2022-05-30 19:14:45 | Emma Brooks |
| 11 | 2022-05-30 10:35:03 | Alison Cass |
| 12 | 2022-05-30 19:44:24 | Thomas Birch |
| 13 | 2022-05-29 16:09:25 | Imogen Howes |
| 14 | 2022-05-29 20:35:02 | Andrew Stockley |
| 15 | 2022-05-30 09:24:24 | Daniels Jenna |
| 16 | 2022-05-30 00:18:11 | Emma Jones |
| 17 | 2022-05-30 16:58:21 | Daniel Cobain |
| 18 | 2022-05-27 21:00:40 | Susan Chalk |
| 19 | 2022-05-30 10:44:20 | Marie Sandford |
| 20 | 2022-05-29 12:13:47 | Gail Gilbert |
| 21 | 2022-05-24 11:40:40 | Fanny Fu |
| 22 | 2022-05-30 11:29:09 | Emma Davies |
| 23 | 2022-05-24 10:18:15 | William Kerslake |
| 24 | 2022-05-24 11:40:40 | Fanny Fu |
| 25 | 2022-05-29 16:11:46 | Imogen Howes |
| 26 | 2022-05-30 19:51:14 | Samantha Bailey |
| 27 | 2022-05-24 10:49:31 | Shan Brown |
| 28 | 2022-05-30 20:24:34 | David Smith |
| 30 | 2022-05-29 19:37:56 | Amy Lee |
| 31 | 2022-05-30 12:59:38 | Julie Rae |
| 32 | 2022-05-30 12:31:03 | Andrew Stockley |
| 33 | 2022-05-30 18:36:16 | Rachel Setter |
| 34 | 2022-05-30 17:56:55 | Lauren Turner |
| 35 | 2022-05-30 18:50:13 | Ben Melsome |
| 36 | 2022-05-30 19:16:19 | Nathan Scott |
| 37 | 2022-05-26 19:05:04 | Billy Eldred |
| 38 | 2022-05-30 19:23:27 | Sharon Williams |
| 39 | 2022-05-30 20:43:28 | Kevin Bradbury |
| 40 | 2022-05-30 20:15:31 | Lee Jones |
| 41 | 2022-05-29 14:18:39 | Usher Prowse |
| 42 | 2022-05-29 16:11:46 | Imogen Howes |
| 44 | 2022-05-30 13:41:45 | marie winnard |
| 45 | 2022-05-29 16:09:25 | Imogen Howes |
| 46 | 2022-05-30 19:48:06 | Natasha Court |
| 47 | 2022-05-30 13:10:58 | Sharon White |
| 48 | 2022-05-30 14:50:00 | Patricia Mcculloch |
| 50 | 2022-05-29 16:09:25 | Imogen Howes |
| 51 | 2022-05-25 19:13:15 | Alex Small |
| 52 | 2022-05-30 19:14:04 | Nicholas Warnes |
| 55 | 2022-05-27 22:42:05 | Daniel Matthews |
| 56 | 2022-05-30 13:47:28 | Alan Gowland |
| 57 | 2022-05-30 18:16:18 | Brett Ansell |
| 58 | 2022-05-30 13:47:28 | Alan Gowland |
| 60 | 2022-05-30 15:58:31 | Joseph Clifford |
| 61 | 2022-05-29 16:09:25 | Imogen Howes |
| 62 | 2022-05-27 21:00:40 | Susan Chalk |
| 63 | 2022-05-30 19:47:25 | Vanessa Gale |
| 64 | 2022-05-29 17:08:10 | Billy Eldred |
| 65 | 2022-05-30 16:51:11 | Mike Smart |
| 67 | 2022-05-30 20:31:43 | Abbi Carne |
| 68 | 2022-05-30 20:32:39 | Alison Cass |
| 69 | 2022-05-24 10:55:24 | Kiera-Jo Reed |
| 70 | 2022-05-30 12:31:03 | Andrew Stockley |
| 71 | 2022-05-29 16:09:25 | Imogen Howes |
| 72 | 2022-05-24 10:04:31 | Sarah Dennis |
| 73 | 2022-05-24 13:02:15 | Barbara Coles |
| 74 | 2022-05-30 17:24:56 | Jane Evans |
| 76 | 2022-05-30 10:35:03 | Alison Cass |
| 77 | 2022-05-30 17:25:21 | Richard Stonelake |
| 78 | 2022-05-30 18:42:33 | Lesleyann Roberts |
| 79 | 2022-05-30 12:22:57 | Tania Johns |
| 80 | 2022-05-30 20:06:57 | Lee Mayo |
| 82 | 2022-05-30 19:14:45 | Emma Brooks |
| 84 | 2022-05-24 11:43:59 | Tim Duxbury |
| 85 | 2022-05-30 16:51:11 | Mike Smart |
| 86 | 2022-05-30 12:52:03 | J m Blackmore |
| 87 | 2022-05-27 20:11:49 | Gemma Hutton |
| 88 | 2022-05-30 19:52:52 | Tom de Young |
| 90 | 2022-05-30 10:18:34 | Joanna Brailsford-Dunn |
| 91 | 2022-05-30 19:14:04 | Nicholas Warnes |
| 92 | 2022-05-30 20:21:50 | Deborah Talbot |
| 93 | 2022-05-30 11:31:52 | Louise Nickels |
| 94 | 2022-05-30 19:26:43 | Courtney Leek |
| 96 | 2022-05-30 15:24:47 | Raymond Burgess |
| 97 | 2022-05-30 19:16:19 | Nathan Scott |
| 98 | 2022-05-27 21:00:40 | Susan Chalk |
| 99 | 2022-05-29 16:09:25 | Imogen Howes |
| 100 | 2022-05-30 18:50:22 | Jacey Doyle |