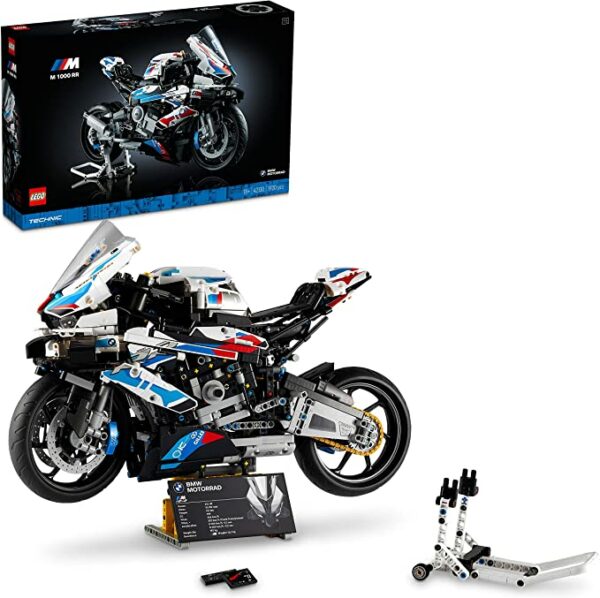 LEGO Technic 42130 BMW M 1000 RR
Description
LEGO Technic 42130 BMW M 1000 RR
Ideal for any off-road lovers, speed demons and LEGO fans looking for a challenge
Fully assembled, the bike measures over 27cm high, 45cm long and 17cm wide
Contains 1920 pieces and features a 3-speed (+ neutral) gearbox, suspension and 4-piston engine
The LEGO Technic universe opens up the world of engineering for LEGO fans ready for their next building challenge
Developed in sports racing and perfected for the road, the BMW M 1000 RR has captured the hearts of motorsport and motorcycle fans. Now you can enjoy a mindful build crafting your own LEGO version of the ultimate motorcycle.
Packed With authentic features, the model looks and moves just like the real thing. Explore the functional 3-speed (+ neutral) gearbox, steering, front and rear suspension, chain transmission and inline 4-piston engine.
With iconic BMW branding, this motorcycle model offers builders of any age an insight into engineering combined with a relaxing building project.
| Winner Name | Ticket Number | Draw Date |
| --- | --- | --- |
| PYHLLIS STEER | 18 | 08/07/2022 |
| Ticket Number | Date | Name |
| --- | --- | --- |
| 2 | 2022-07-08 20:26:44 | JOnathan ball |
| 5 | 2022-07-07 14:07:43 | Julie Bouskill |
| 6 | 2022-07-06 22:23:50 | Simon Worth |
| 11 | 2022-07-07 20:56:49 | Tia potter |
| 14 | 2022-07-08 20:40:57 | Sharon Hobday |
| 15 | 2022-07-07 07:37:33 | Tania Blackmore |
| 16 | 2022-07-08 02:57:47 | Annette M |
| 17 | 2022-07-08 19:06:25 | g Mv |
| 18 | 2022-07-04 19:05:25 | phyllis steer |
| 19 | 2022-07-08 19:44:55 | Nicola Daubeney |
| 22 | 2022-07-08 08:22:18 | Emma Davies |
| 23 | 2022-07-06 22:23:50 | Simon Worth |
| 25 | 2022-07-06 22:23:50 | Simon Worth |
| 27 | 2022-07-07 10:43:40 | Natalie Elliott |
| 28 | 2022-07-08 19:06:25 | g Mv |
| 29 | 2022-07-06 22:07:21 | Jodie Ellis |
| 30 | 2022-07-08 19:02:10 | Lisa Walker |
| 35 | 2022-07-07 20:56:49 | Tia potter |
| 36 | 2022-07-08 20:26:44 | JOnathan ball |
| 40 | 2022-07-08 18:41:29 | Lea Painter |
| 41 | 2022-07-08 19:37:40 | Samuel Edwards |
| 42 | 2022-07-07 20:56:49 | Tia potter |
| 45 | 2022-07-07 20:30:54 | Jess Ellis |
| 46 | 2022-07-08 11:53:49 | Ian Anslow |
| 47 | 2022-07-01 23:33:17 | Jeanette Glynn |
| 49 | 2022-07-08 20:27:48 | Sam Foster |
| 50 | 2022-07-06 22:23:50 | Simon Worth |
| 54 | 2022-07-06 22:23:50 | Simon Worth |
| 57 | 2022-07-08 20:35:26 | Amy Collier |
| 58 | 2022-07-08 11:53:49 | Ian Anslow |
| 59 | 2022-07-06 22:23:50 | Simon Worth |
| 62 | 2022-07-06 22:23:50 | Simon Worth |
| 63 | 2022-07-08 20:09:42 | Chelsea Quaintance |
| 69 | 2022-07-08 19:08:12 | Kirsty Beckett |
| 71 | 2022-07-08 17:02:05 | Nicola Green |
| 76 | 2022-07-05 22:23:04 | Graeme Archer |
| 78 | 2022-07-06 22:07:21 | Jodie Ellis |
| 84 | 2022-07-08 20:22:44 | Ian Lipscombe |
| 85 | 2022-07-01 23:33:17 | Jeanette Glynn |
| 87 | 2022-07-07 23:56:10 | Sam Walsh |
| 88 | 2022-07-06 20:30:48 | Gary Thompson |
| 92 | 2022-07-07 11:05:09 | Annette M |
| 93 | 2022-07-08 09:00:49 | Lisa Johnston |
| 96 | 2022-07-04 19:05:25 | phyllis steer |
| 97 | 2022-07-06 22:23:50 | Simon Worth |
| 103 | 2022-07-06 22:23:50 | Simon Worth |
| 104 | 2022-07-07 20:56:49 | Tia potter |
| 107 | 2022-07-08 17:15:05 | Jess Ellis |
| 108 | 2022-07-08 12:33:36 | Samantha Sedgbeer |
| 110 | 2022-07-07 14:04:46 | Amy Summers |
| 111 | 2022-07-07 20:56:49 | Tia potter |
| 113 | 2022-07-01 23:33:17 | Jeanette Glynn |
| 117 | 2022-07-01 23:33:17 | Jeanette Glynn |
| 119 | 2022-07-08 08:46:32 | Sophie Walsh |
| 125 | 2022-07-08 19:44:55 | Nicola Daubeney |
| 127 | 2022-07-08 18:54:32 | Amy Stephens |
| 128 | 2022-07-08 20:26:44 | JOnathan ball |
| 129 | 2022-07-08 20:26:44 | JOnathan ball |
| 132 | 2022-07-06 22:23:50 | Simon Worth |
| 134 | 2022-07-08 20:36:00 | becky roots |
| 138 | 2022-07-08 20:00:16 | Annette M |
| 143 | 2022-07-08 20:26:44 | JOnathan ball |
| 144 | 2022-07-08 06:36:12 | Andrea Sikorjakova |
| 148 | 2022-06-29 10:38:49 | Zoey-Anne Marr-Hayes |