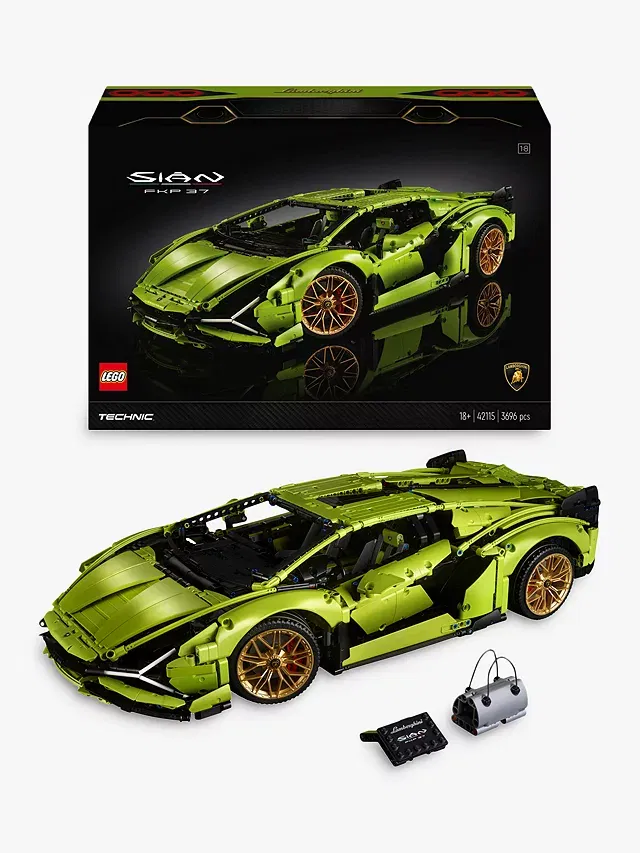 LEGO Technic 42115 Lamborghini Sián FKP 37
Description
LEGO Technic 42115 Lamborghini Sián FKP 37
Ideal for any future race car drivers, four-wheel fanatics, and lambogini lovers
Fully assembled, the car measures over 13cm high, 25cm wide and 60cm long.
Contains 3696 pieces and includes an 8-speed sequential transmission, movable rear spoiler, opening front and rear hood, detailed disc brakes and golden rims
No batteries required – this lamborghini offers an immersive build with LEGO® bricks only. Powered by passion, forget your worries, find your building zen and become one with the car
Experience the unmistakable power and looks of the Lamborghini Sián FKP 37 as you become immersed in this LEGO® Technic™ set. With superb detailing, the model is a faithful representation of the original Sián in eye-catching lime green with golden rims.
The beauty is in the details
Authentic features include the 8-speed transmission, activated by the movable paddle gearshift, V12 engine with moving pistons, and 4-wheel drive. Use the steering wheel to position the car, then check out the front and rear suspension. Just like the full-size super sports car, this model features classic scissor opening doors.
Luxurious features
This LEGO set lets you enjoy quality downtime as you bring one of Lamborghini's most iconic motors to life. Presented in a luxury box, it includes an exclusive coffee-table-quality book with building instructions, images and behind-the-scenes interviews. Open the hood to discover your unique serial number and unlock special online content.
| Winner Name | Ticket Number | Draw Date |
| --- | --- | --- |
| Cloi Chappell | 311 | 20/11/2023 |
1-300
301-600
601-900
901-1200
1201-1500
1501-1800
| Ticket Number | Date | Name |
| --- | --- | --- |
| 1 | 2023-11-20 18:47:56 | Claire Potts |
| 2 | 2023-11-20 01:39:26 | Carol Chappell |
| 3 | 2023-11-20 01:39:26 | Carol Chappell |
| 4 | 2023-11-19 22:38:30 | Zoe Bowden |
| 5 | 2023-11-20 16:20:16 | Jade Blight |
| 6 | 2023-11-16 22:17:03 | Zoe Chapman |
| 7 | 2023-11-19 21:07:33 | Lee Gable |
| 8 | 2023-11-20 18:35:10 | Jenny King |
| 9 | 2023-11-20 16:20:16 | Jade Blight |
| 10 | 2023-11-20 01:39:26 | Carol Chappell |
| 11 | 2023-11-18 20:42:18 | Lee Gable |
| 12 | 2023-11-18 19:57:54 | R W |
| 13 | 2023-11-16 22:17:03 | Zoe Chapman |
| 14 | 2023-11-20 01:39:26 | Carol Chappell |
| 15 | 2023-11-20 17:05:43 | Amy G |
| 16 | 2023-11-20 12:02:29 | Oliver Lucas |
| 17 | 2023-11-16 22:17:03 | Zoe Chapman |
| 18 | 2023-11-16 22:17:03 | Zoe Chapman |
| 19 | 2023-11-20 18:00:44 | Kim Furze |
| 20 | 2023-11-20 19:44:32 | Jade Hulme |
| 21 | 2023-11-19 22:54:31 | Shelly Edwards |
| 22 | 2023-11-15 22:01:10 | Carole Chick |
| 23 | 2023-11-20 01:39:26 | Carol Chappell |
| 24 | 2023-11-20 20:01:58 | Jodie Ravenhill |
| 25 | 2023-11-20 08:36:40 | James Rowan |
| 26 | 2023-11-18 19:57:54 | R W |
| 27 | 2023-11-18 18:51:52 | Lee Sandey |
| 28 | 2023-11-20 20:33:23 | Nichola Brown |
| 29 | 2023-11-20 20:30:06 | Casey Neal |
| 30 | 2023-11-20 19:51:13 | Sam Fitzgerald |
| 31 | 2023-11-18 20:42:18 | Lee Gable |
| 32 | 2023-11-20 20:33:03 | Anthony Boult |
| 33 | 2023-11-20 20:33:50 | Charlotte Chappell |
| 36 | 2023-11-16 20:22:12 | Rebecca Foot |
| 37 | 2023-11-20 19:22:59 | Michelle W |
| 38 | 2023-11-20 15:48:55 | Jade Haley |
| 40 | 2023-11-20 19:44:32 | Jade Hulme |
| 41 | 2023-11-20 17:32:35 | Keith Moore |
| 42 | 2023-11-20 19:47:29 | Abbie Clarke |
| 44 | 2023-11-20 19:15:24 | Samuel Bullen |
| 45 | 2023-11-20 20:33:50 | Charlotte Chappell |
| 47 | 2023-11-20 19:01:25 | Samanth Mitchell |
| 48 | 2023-11-20 08:36:40 | James Rowan |
| 51 | 2023-11-20 17:32:35 | Keith Moore |
| 52 | 2023-11-17 19:47:37 | Kerry Jones |
| 53 | 2023-11-19 13:26:56 | Gary Guard |
| 54 | 2023-11-20 18:33:14 | Justine Cooper |
| 55 | 2023-11-20 08:36:40 | James Rowan |
| 56 | 2023-11-17 22:09:03 | S S |
| 57 | 2023-11-20 19:25:21 | Shirley Lumley |
| 58 | 2023-11-18 18:51:52 | Lee Sandey |
| 59 | 2023-11-20 19:09:11 | Eve Skipp |
| 60 | 2023-11-20 08:07:40 | Jonathan Mooney |
| 61 | 2023-11-20 18:04:46 | Sally-ann Aplin |
| 62 | 2023-11-20 10:15:35 | Tracey Osborn |
| 63 | 2023-11-20 20:33:50 | Charlotte Chappell |
| 64 | 2023-11-16 16:09:38 | Mandy Cove |
| 65 | 2023-11-19 22:54:31 | Shelly Edwards |
| 66 | 2023-11-20 20:33:50 | Charlotte Chappell |
| 67 | 2023-11-20 19:39:44 | kerry germon |
| 68 | 2023-11-20 20:35:23 | Karen Bumby |
| 69 | 2023-11-17 22:09:03 | S S |
| 71 | 2023-11-20 18:46:44 | Rob Rendle |
| 73 | 2023-11-20 18:37:40 | Emma Henning |
| 74 | 2023-11-20 20:14:06 | Donna Bowden |
| 76 | 2023-11-20 18:35:59 | Callum Weir |
| 78 | 2023-11-20 11:02:48 | A.T W. |
| 79 | 2023-11-20 19:51:13 | Sam Fitzgerald |
| 80 | 2023-11-16 22:17:03 | Zoe Chapman |
| 81 | 2023-11-20 19:39:22 | Carita Widdicombe |
| 84 | 2023-11-16 22:17:03 | Zoe Chapman |
| 86 | 2023-11-20 18:42:04 | Amber Weller |
| 87 | 2023-11-20 18:19:15 | M Elizabeth |
| 88 | 2023-11-20 17:29:03 | Ashley Pinnock |
| 89 | 2023-11-20 12:02:29 | Oliver Lucas |
| 91 | 2023-11-20 14:33:58 | Shiobhan Westcott |
| 92 | 2023-11-20 20:33:50 | Charlotte Chappell |
| 93 | 2023-11-20 18:10:36 | Hannah Fuller |
| 98 | 2023-11-20 17:29:03 | Ashley Pinnock |
| 99 | 2023-11-16 20:22:12 | Rebecca Foot |
| 100 | 2023-11-15 17:40:39 | Zoe Chapman |
| 102 | 2023-11-20 19:08:33 | Claire Sullivan |
| 104 | 2023-11-18 18:51:52 | Lee Sandey |
| 108 | 2023-11-20 20:11:18 | Julie Smith |
| 111 | 2023-11-20 19:15:24 | Samuel Bullen |
| 113 | 2023-11-20 20:30:06 | Casey Neal |
| 116 | 2023-11-20 08:07:40 | Jonathan Mooney |
| 122 | 2023-11-20 20:33:50 | Charlotte Chappell |
| 123 | 2023-11-20 19:51:13 | Sam Fitzgerald |
| 124 | 2023-11-20 20:33:50 | Charlotte Chappell |
| 125 | 2023-11-20 18:04:46 | Sally-ann Aplin |
| 127 | 2023-11-20 12:02:29 | Oliver Lucas |
| 128 | 2023-11-20 19:39:10 | Cloi Chappell |
| 134 | 2023-11-20 19:15:24 | Samuel Bullen |
| 135 | 2023-11-20 20:33:50 | Charlotte Chappell |
| 136 | 2023-11-20 18:35:08 | Danielle Lindsay |
| 137 | 2023-11-20 18:37:40 | Emma Henning |
| 138 | 2023-11-20 19:43:03 | Lana Birkinshaw |
| 139 | 2023-11-20 18:18:32 | Sam Rossiter |
| 140 | 2023-11-20 18:29:10 | Gemma Horn |
| 142 | 2023-11-20 20:39:58 | Jill Higham |
| 144 | 2023-11-20 13:07:29 | adam biggs |
| 145 | 2023-11-20 20:26:29 | Phillip Drew |
| 149 | 2023-11-20 19:51:13 | Sam Fitzgerald |
| 155 | 2023-11-20 20:33:50 | Charlotte Chappell |
| 156 | 2023-11-20 20:49:23 | Gavin Argyle |
| 157 | 2023-11-20 18:50:42 | Darren Callard |
| 161 | 2023-11-20 19:44:00 | Jodie Webb |
| 163 | 2023-11-20 17:23:24 | Michael Harvey |
| 168 | 2023-11-20 18:04:46 | Sally-ann Aplin |
| 170 | 2023-11-20 20:18:15 | Christopher Saunders |
| 172 | 2023-11-17 19:47:37 | Kerry Jones |
| 174 | 2023-11-20 20:09:21 | Stephanie Payne |
| 177 | 2023-11-20 19:09:38 | Andrea White |
| 179 | 2023-11-20 10:24:59 | rafał janas |
| 180 | 2023-11-20 19:49:08 | Emma Coker |
| 181 | 2023-11-20 18:23:54 | sadie fisher-woodall |
| 182 | 2023-11-20 19:15:24 | Samuel Bullen |
| 183 | 2023-11-20 19:51:13 | Sam Fitzgerald |
| 184 | 2023-11-19 18:53:33 | Marie Tucker |
| 187 | 2023-11-20 20:23:38 | Stephen Cross |
| 188 | 2023-11-20 18:59:01 | Rebecca Binmore |
| 193 | 2023-11-20 09:52:30 | Georgina Bourne |
| 195 | 2023-11-19 21:07:33 | Lee Gable |
| 196 | 2023-11-20 20:42:21 | Darren Wright |
| 197 | 2023-11-20 18:59:01 | Rebecca Binmore |
| 198 | 2023-11-20 20:26:29 | Phillip Drew |
| 204 | 2023-11-20 17:04:37 | Shiobhan Westcott |
| 207 | 2023-11-20 08:07:40 | Jonathan Mooney |
| 210 | 2023-11-20 19:15:58 | Claire Fieldhouse |
| 211 | 2023-11-20 20:11:18 | Julie Smith |
| 217 | 2023-11-16 21:02:39 | Sarah & Michael Walshe |
| 219 | 2023-11-20 18:39:13 | Kelly Dalton |
| 224 | 2023-11-20 18:23:54 | sadie fisher-woodall |
| 226 | 2023-11-20 20:26:29 | Phillip Drew |
| 228 | 2023-11-20 19:58:13 | Hussey4 Stella |
| 233 | 2023-11-20 19:44:59 | Claire Thomas |
| 240 | 2023-11-20 20:00:54 | Carly Matthews |
| 241 | 2023-11-20 20:28:02 | Beckie Sellick |
| 242 | 2023-11-20 17:29:03 | Ashley Pinnock |
| 243 | 2023-11-20 19:08:33 | Claire Sullivan |
| 245 | 2023-11-20 20:02:49 | Kathleen Brolan |
| 246 | 2023-11-17 19:47:37 | Kerry Jones |
| 248 | 2023-11-20 18:42:04 | Amber Weller |
| 250 | 2023-11-16 12:57:07 | A S |
| 251 | 2023-11-20 19:50:19 | Claire Adams |
| 254 | 2023-11-20 18:50:42 | Darren Callard |
| 260 | 2023-11-20 08:07:40 | Jonathan Mooney |
| 261 | 2023-11-20 18:41:34 | Alison Thomson |
| 265 | 2023-11-20 08:07:40 | Jonathan Mooney |
| 266 | 2023-11-20 20:33:50 | Charlotte Chappell |
| 269 | 2023-11-20 20:23:38 | Stephen Cross |
| 271 | 2023-11-20 18:19:15 | M Elizabeth |
| 272 | 2023-11-20 12:02:29 | Oliver Lucas |
| 275 | 2023-11-20 18:47:56 | Claire Potts |
| 277 | 2023-11-20 20:44:26 | SJ Wilson |
| 279 | 2023-11-20 08:07:40 | Jonathan Mooney |
| 280 | 2023-11-20 18:19:50 | Sadie Courtier |
| 281 | 2023-11-20 20:42:27 | Charlotte Pollitt |
| 284 | 2023-11-20 20:50:29 | Mr Egon Longish |
| 286 | 2023-11-20 20:10:59 | Jade Waghorne |
| 287 | 2023-11-19 18:53:33 | Marie Tucker |
| 288 | 2023-11-19 18:41:02 | jamie-leigh mills |
| 289 | 2023-11-20 20:50:29 | Mr Egon Longish |
| 290 | 2023-11-19 18:53:33 | Marie Tucker |
| 291 | 2023-11-20 19:08:33 | Russell Ogden |
| 292 | 2023-11-20 20:01:58 | Jodie Ravenhill |
| 295 | 2023-11-20 16:29:02 | William Harvey |