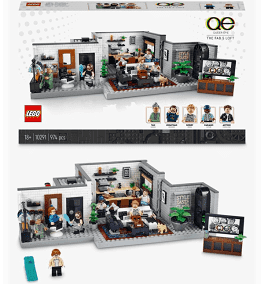 LEGO Ideas 10291 Queer Eye – The Fab 5 Loft
Description
LEGO Ideas 10291 Queer Eye – The Fab 5 Loft
Ideal for adults, fashionistas and any fan of the TV show!
Fully assembled, the set measures over 9cm high, 35cm wide and 23cm deep
Contains 974 pieces and includes minifigure versions of each of the Fab 5, plus a Bruley figure. There are also 2 Kathi Dooley minifigures, showing her before and after her makeover
Uncover a host of details reflecting each of the Fab 5's talents, including a kitchen island for Antoni, a clothing rack for Tan, Jonathan's salon chair, Karamo's couch and Bobby's interior scheme
Calling all fans of the Queer Eye TV show on Netflix! Get ready to be your true self as you join the Fab 5 for a rewarding building project with this LEGO® Queer Eye set!
As you recreate all the details that make up the interior of the Fab 5's original Atlanta loft, you'll discover lots of features from the show with tributes to each of the Fab 5's special talents. There's a kitchen island for Antoni, a clothing rack for Tan, Jonathan's swivel salon chair and Karamo's couch and scrapbook. And this space is Bobby-approved as he helped design this very special LEGO interior.
No episode of Queer Eye would be complete without a makeover though. So, as well as including minifigure versions of each of the Fab 5 (plus Bruley the dog), this buildable model includes 2 Kathi Dooley (a very special guest from a very special episode!) minifigures. There's also a transformation chamber feature to recreate Kathi's emotional 'before and 'after' reveals.
| Winner Name | Ticket Number | Draw Date |
| --- | --- | --- |
| Leah Hackman | 71 | 06/09/2022 |
| Ticket Number | Date | Name |
| --- | --- | --- |
| 1 | 2022-09-05 20:02:35 | lydia chadwick |
| 3 | 2022-09-06 07:41:14 | g Mv |
| 5 | 2022-09-06 20:40:23 | Bree Abbott |
| 6 | 2022-09-06 16:41:12 | Tanya Roberts |
| 7 | 2022-09-06 13:45:36 | Alexandria Bates |
| 12 | 2022-09-06 19:04:34 | Leah Hackman |
| 13 | 2022-09-06 20:39:29 | Katie Reddaway |
| 16 | 2022-09-06 17:39:04 | Tia potter |
| 17 | 2022-09-06 08:55:03 | Emma Davies |
| 20 | 2022-09-06 07:41:14 | g Mv |
| 21 | 2022-09-06 19:14:09 | Lisa Roberts |
| 24 | 2022-09-05 16:06:04 | Jane Hasni |
| 26 | 2022-09-06 20:16:07 | Marcel Massey |
| 27 | 2022-09-05 20:02:35 | lydia chadwick |
| 29 | 2022-09-06 19:30:45 | Lucy Roberts |
| 31 | 2022-09-06 17:39:04 | Tia potter |
| 32 | 2022-09-06 17:39:04 | Tia potter |
| 33 | 2022-09-06 16:41:12 | Tanya Roberts |
| 34 | 2022-09-06 18:40:18 | Kelvin Courtenay |
| 35 | 2022-09-06 17:39:04 | Tia potter |
| 36 | 2022-09-06 20:16:07 | Marcel Massey |
| 37 | 2022-09-03 20:47:34 | Jeanette Glynn |
| 38 | 2022-09-06 17:14:06 | Jane Netherway |
| 41 | 2022-09-06 20:43:10 | Alisha Hackman |
| 42 | 2022-09-03 20:47:34 | Jeanette Glynn |
| 48 | 2022-09-05 23:13:39 | Chantelle Amphlett |
| 49 | 2022-09-06 18:40:18 | Kelvin Courtenay |
| 51 | 2022-09-06 19:43:04 | Samantha Sedgbeer |
| 57 | 2022-09-06 20:43:10 | Alisha Hackman |
| 61 | 2022-09-06 18:38:24 | g Mv |
| 62 | 2022-09-06 20:40:23 | Bree Abbott |
| 63 | 2022-09-06 17:39:04 | Tia potter |
| 66 | 2022-09-06 20:43:10 | Alisha Hackman |
| 71 | 2022-09-06 19:04:34 | Leah Hackman |
| 75 | 2022-09-05 20:02:35 | lydia chadwick |
| 76 | 2022-09-06 19:43:04 | Samantha Sedgbeer |
| 77 | 2022-09-06 20:40:23 | Bree Abbott |
| 78 | 2022-08-29 14:31:53 | Paula Horrocks |
| 79 | 2022-09-05 16:06:04 | Jane Hasni |
| 80 | 2022-09-06 20:39:29 | Katie Reddaway |
| 83 | 2022-09-05 19:07:30 | Joanne Ison |
| 85 | 2022-09-03 20:47:34 | Jeanette Glynn |
| 86 | 2022-09-06 20:39:29 | Katie Reddaway |
| 88 | 2022-09-06 07:42:39 | Sarah Youlden |
| 90 | 2022-09-06 20:40:23 | Bree Abbott |