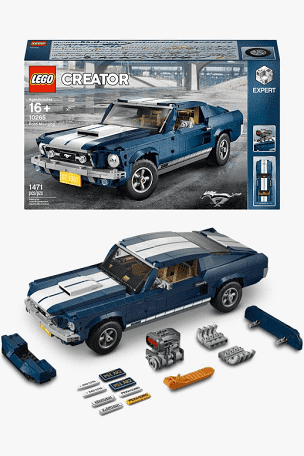 LEGO Creator 10265 Expert Ford Mustang Collector's Car
Description
LEGO Creator 10265 Expert Ford Mustang Collector's Car
Suitable for ages 16 and upwards
Authentic exclusive replica of a 1960s Ford Mustang with dark-blue bodywork and white racing stripes
Special elements include 5-spoke rims, 2×8 brick with bow, 1×3 mustang logo tile, 2×4 bow with 'GT' mark and Ford Mustang V8 engine with many details
Customisable with the included supercharger, rear ducktail spoiler, beefy exhaust pipes, front chin spoiler, a nitrous oxide tank and more
Removable roof panel or door to access the detailed interior with handsome seats, radio, mid-console gearshift and working steering
Adjustable rear axle for a real mean look, plus a printed mustang grill badge, 2 GT emblems and a selection of license plates
A meaty 1960s icon of American culture, this LEGO Creator Ford Mustang GT model comes complete with all the details that made the original such a classic.
Featuring a bonnet scoop, printed mustang grille badge and GT emblems, the 5-spoke rims with road-gripping tyres were developed with input from Ford for that extra touch of authenticity. The bonnet lifts to reveal a big block 390 V8 engine with battery, hoses and air filter detailing, while the inside comes fitted with vintage seats, working steering and a mid-console gearshift.
This advanced building set has been designed to provide a challenging and rewarding building experience full of nostalgia and makes a great centrepiece for the home or office. An ideal gift for Ford Mustang fans.
| Winner Name | Ticket Number | Draw Date |
| --- | --- | --- |
| K K | 64 | 14/06/2022 |
| Ticket Number | Date | Name |
| --- | --- | --- |
| 1 | 2022-06-10 17:35:20 | Hermon Gosling |
| 2 | 2022-06-14 19:48:41 | Graham Rabbitts |
| 3 | 2022-06-14 10:31:59 | Karen Collins |
| 5 | 2022-06-14 19:51:06 | Lisah Brooking |
| 6 | 2022-06-14 14:13:52 | Kirsty Westwood |
| 8 | 2022-06-10 16:08:27 | Harriet Clarke |
| 9 | 2022-06-10 16:08:27 | Harriet Clarke |
| 10 | 2022-06-10 16:27:25 | Lisa Johnston |
| 11 | 2022-06-13 21:34:05 | Jeanette Anderson |
| 13 | 2022-06-11 23:55:19 | Sophie Lintern |
| 14 | 2022-06-13 23:06:27 | Sharon H |
| 15 | 2022-06-12 21:25:46 | Mandy Cove |
| 16 | 2022-06-13 21:34:05 | Jeanette Anderson |
| 18 | 2022-06-10 16:08:27 | Harriet Clarke |
| 21 | 2022-06-13 20:36:47 | Lee Mayo |
| 22 | 2022-06-14 09:45:08 | Emma & lee |
| 24 | 2022-06-13 20:11:57 | Jamie Radmore |
| 25 | 2022-06-14 20:38:50 | Steve Archer |
| 26 | 2022-06-13 08:31:57 | Kim Bickham |
| 27 | 2022-06-14 11:22:08 | A S |
| 28 | 2022-06-10 16:08:27 | Harriet Clarke |
| 29 | 2022-06-14 18:31:13 | Gemma Herrington |
| 30 | 2022-06-14 11:50:48 | Jennifer White |
| 33 | 2022-06-10 16:08:27 | Harriet Clarke |
| 34 | 2022-06-10 19:23:56 | Martyn Down |
| 35 | 2022-06-14 19:36:45 | Harriet Clarke |
| 38 | 2022-06-10 17:35:20 | Hermon Gosling |
| 39 | 2022-06-14 17:20:34 | Gemma Pring |
| 40 | 2022-06-14 20:40:32 | John Fishacre |
| 41 | 2022-06-14 19:44:34 | Sandra Phare |
| 42 | 2022-06-14 19:51:06 | Lisah Brooking |
| 43 | 2022-06-14 20:09:31 | Sam Fitzgerald |
| 44 | 2022-06-13 20:36:47 | Lee Mayo |
| 46 | 2022-06-14 12:05:42 | S s |
| 47 | 2022-06-10 16:08:27 | Harriet Clarke |
| 48 | 2022-06-13 00:09:54 | David Binmore |
| 49 | 2022-06-14 20:09:31 | Sam Fitzgerald |
| 50 | 2022-06-10 17:35:20 | Hermon Gosling |
| 51 | 2022-06-13 20:11:57 | Jamie Radmore |
| 52 | 2022-06-13 20:36:47 | Lee Mayo |
| 55 | 2022-06-10 16:08:27 | Harriet Clarke |
| 62 | 2022-06-14 18:38:12 | K K |
| 63 | 2022-06-14 19:48:41 | Graham Rabbitts |
| 64 | 2022-06-14 14:35:03 | K K |
| 65 | 2022-06-14 13:20:35 | Lorraine Tandy |
| 66 | 2022-06-14 19:36:45 | Harriet Clarke |
| 68 | 2022-06-14 09:45:08 | Emma & lee |
| 71 | 2022-06-14 19:44:40 | H K |
| 73 | 2022-06-14 20:40:32 | John Fishacre |
| 74 | 2022-06-10 16:08:27 | Harriet Clarke |
| 76 | 2022-06-13 10:39:27 | Andrea Sikorjakova |
| 77 | 2022-06-14 20:05:10 | Samantha Davies |
| 78 | 2022-06-14 09:45:08 | Emma & lee |
| 79 | 2022-06-14 18:38:12 | K K |
| 81 | 2022-06-12 13:14:02 | Amy Collier |
| 82 | 2022-06-14 18:04:03 | Amber Lawrence |
| 85 | 2022-06-14 19:51:50 | Lekel North |
| 86 | 2022-06-14 19:36:45 | Harriet Clarke |
| 88 | 2022-06-14 18:35:09 | Jenny King |
| 91 | 2022-06-10 19:23:56 | Martyn Down |
| 92 | 2022-06-14 19:14:13 | D T |
| 93 | 2022-06-10 16:08:27 | Harriet Clarke |
| 94 | 2022-06-14 20:40:32 | John Fishacre |
| 96 | 2022-06-14 20:40:41 | A S |