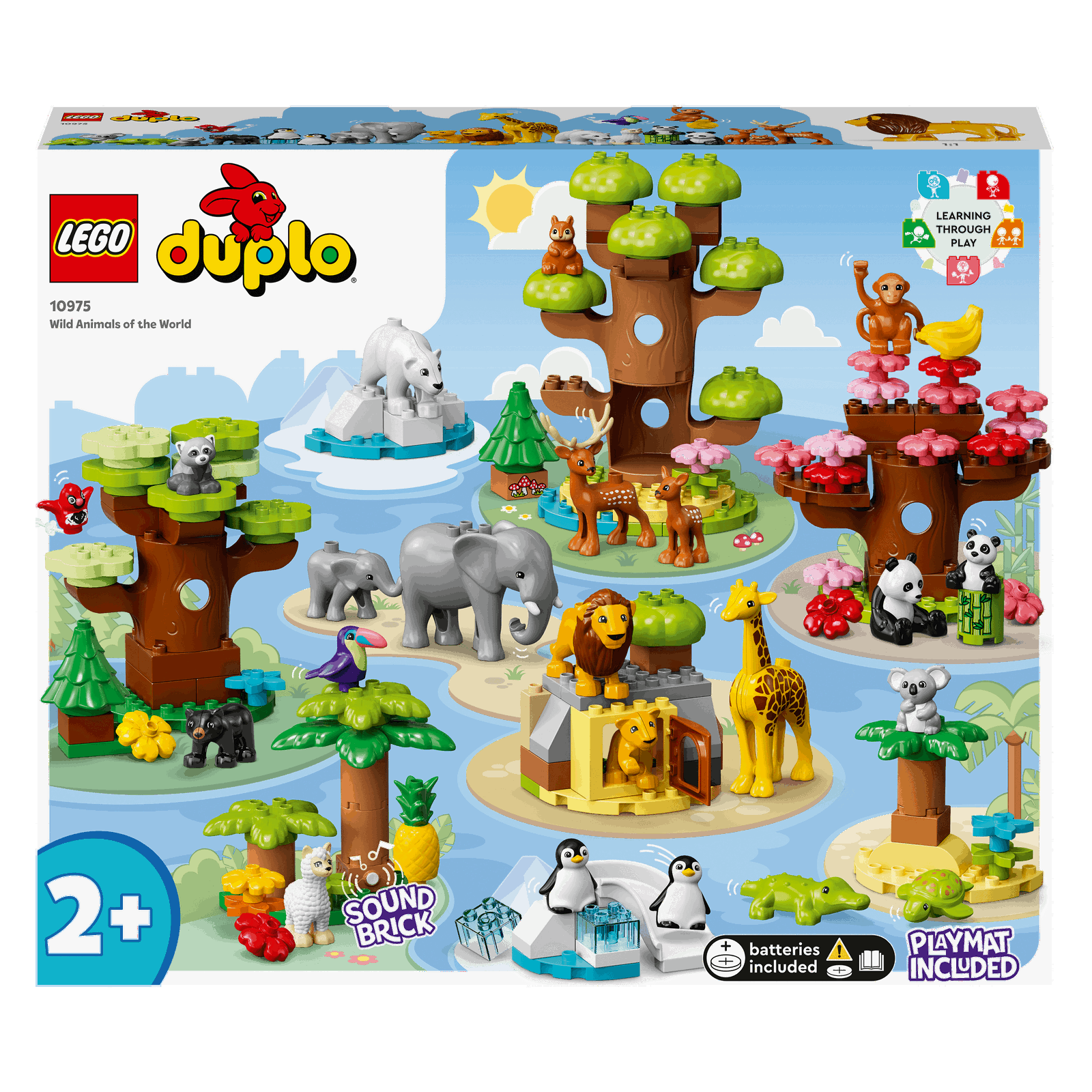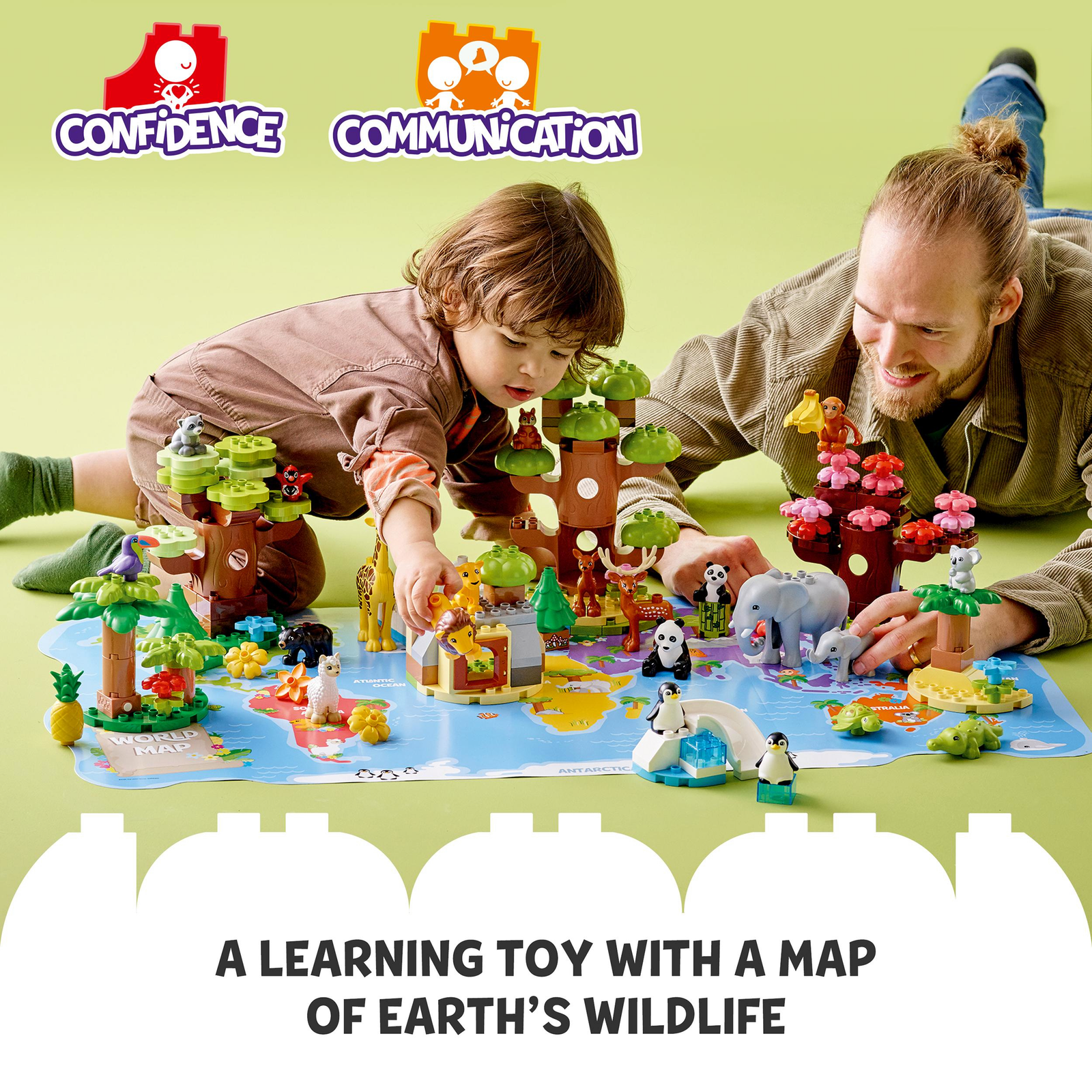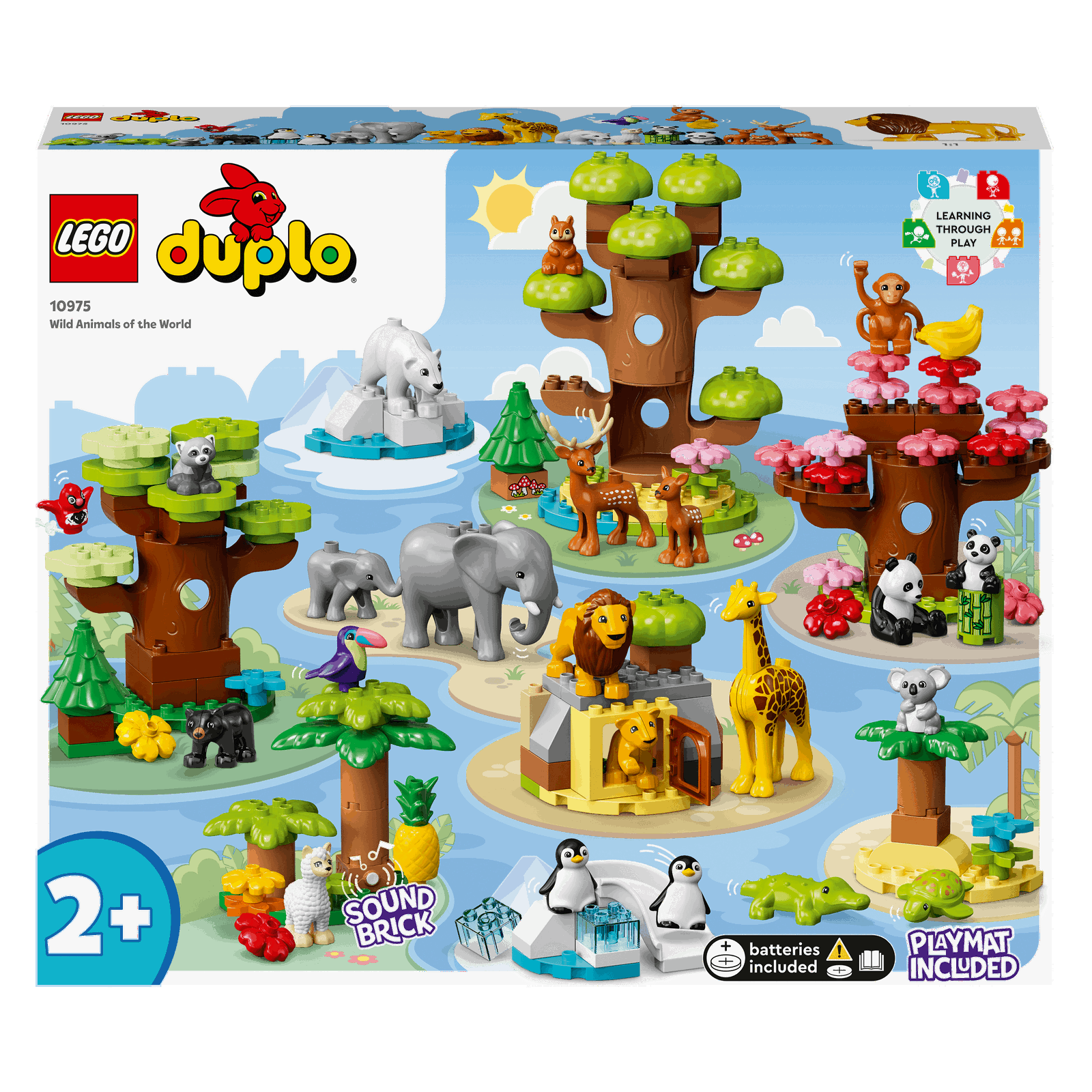 LEGO 10975 DUPLO Wild Animals of the World Toy Animal Figures
Description
LEGO 10975 DUPLO Wild Animals of the World Toy Animal Figures
Contents: 22 animals from all 7 continents of the world, including, pandas, lions, deer, alpacas, bears, koalas, penguins.
Contains 142 pieces.
The playmat map measures over 99 cm long and 50 cm wide.
The European section measures over 25 cm high, 20 cm long and 17 cm wide
A wild, natural-world, build-and-play toy with a foldable playmat
Young animal lovers learn and build skills as they have endless, imaginative fun
Give animal-loving kids aged 2 and over a special gift
All LEGO DUPLO sets are designed to give little learners a big start in life
Product Description
Young animal fans can experience the world of wildlife with the LEGO DUPLO Wild Animals of the World (10975) toy set. This educational Zoo animals' toy for toddlers is packed with animal figures for kids to play with in their natural habitats. The building set is filled with authentic details and bursting with opportunities for kids to play and learn.
With this big DUPLO set you can take your preschool-age child on a wildlife tour of the world, stopping off at all 7 continents! They'll discover toy pandas in Asia, lions in Africa, deer in Europe, an alpaca in South America, a bear in North America, a koala in Australia, penguins in the Antarctic… and lots more! With a sound brick to play animal and ambient noises, and a foldable map of the world playmat, it's a wild and wonderful gift for nature-loving kids.
LEGO DUPLO animals sets are playful learning toys for kids aged 2-5 years old. They are designed with fun narratives, bright colours, diverse characters and lots of details to give your little learner a BIG start in life.
| Winner Name | Ticket Number | Draw Date |
| --- | --- | --- |
| Hayden Baillie | 14 | 15/09/2022 |
| Ticket Number | Date | Name |
| --- | --- | --- |
| 1 | 2022-09-09 13:28:20 | Lucy Carter |
| 2 | 2022-09-09 12:51:47 | Jenny Alford |
| 3 | 2022-09-07 19:32:45 | Caitlin Dawkins |
| 4 | 2022-09-13 20:13:02 | Emma Church |
| 5 | 2022-09-09 12:51:47 | Jenny Alford |
| 6 | 2022-09-12 20:34:14 | Megan Sharland |
| 7 | 2022-09-09 11:46:47 | Alison Avis |
| 8 | 2022-09-14 20:45:43 | Abigail Bowles |
| 9 | 2022-09-14 00:16:08 | Jodie Ellis |
| 10 | 2022-09-15 15:30:56 | Susan m Morrison |
| 11 | 2022-09-15 15:30:56 | Susan m Morrison |
| 12 | 2022-09-09 13:28:20 | Lucy Carter |
| 13 | 2022-09-15 14:35:35 | Shirley Lumley |
| 14 | 2022-09-15 15:00:18 | Hayden Baillie |
| 15 | 2022-09-11 19:13:11 | g Mv |
| 16 | 2022-09-13 17:33:33 | Moira stokes |
| 17 | 2022-09-09 12:03:29 | Danielle Hern |
| 18 | 2022-09-15 19:12:18 | g Mv |
| 19 | 2022-09-09 12:51:47 | Jenny Alford |
| 20 | 2022-09-09 12:51:47 | Jenny Alford |
| 21 | 2022-09-12 20:34:14 | Megan Sharland |
| 22 | 2022-09-09 11:50:35 | Molly Watkins |
| 23 | 2022-09-09 11:46:47 | Alison Avis |
| 24 | 2022-09-09 18:30:30 | Laura-jayne Mortimer |
| 25 | 2022-09-07 21:47:49 | Claire Leworthy |
| 26 | 2022-09-14 22:55:39 | Lisa Roberts |
| 27 | 2022-09-15 14:35:35 | Shirley Lumley |
| 28 | 2022-09-10 19:04:19 | Sarah Heal |
| 29 | 2022-09-09 13:02:11 | Hannah Del-pizzo |
| 30 | 2022-09-15 16:18:21 | Mrs Sally J Davies |
| 31 | 2022-09-15 16:18:21 | Mrs Sally J Davies |
| 32 | 2022-09-09 19:00:13 | Carrie Thornton |
| 33 | 2022-09-09 19:07:01 | Patricia Mcculloch |
| 34 | 2022-09-09 19:07:01 | Patricia Mcculloch |
| 35 | 2022-09-09 19:07:01 | Patricia Mcculloch |
| 36 | 2022-09-09 19:07:01 | Patricia Mcculloch |
| 37 | 2022-09-15 16:17:15 | Emma Davies |
| 38 | 2022-09-15 09:24:52 | Victoria Roberts |
| 39 | 2022-09-15 09:24:52 | Victoria Roberts |
| 40 | 2022-09-08 10:15:31 | Jill Higham |
| 41 | 2022-09-15 14:04:29 | Naomi Mason |
| 42 | 2022-09-15 14:37:49 | Rebecca vaughan |
| 43 | 2022-09-15 15:35:22 | Mandy Moore |
| 44 | 2022-09-15 19:25:11 | Rees Sam |
| 45 | 2022-09-15 19:53:34 | Hayley P |
| 46 | 2022-09-09 11:53:59 | Amber Smithers |
| 47 | 2022-09-15 20:32:02 | Daisy Read |
| 48 | 2022-09-07 17:18:35 | Stacey Roberts |
| 49 | 2022-09-15 14:53:23 | Michelle Teague |
| 50 | 2022-09-15 20:40:45 | Charlotte Webber |
| 51 | 2022-09-14 20:22:36 | Kealy Stalley |
| 52 | 2022-09-15 19:45:42 | Tidey Gemma |
| 53 | 2022-09-15 15:43:50 | Sharon Longbottom |
| 55 | 2022-09-15 19:18:20 | Lisa Clements |
| 56 | 2022-09-15 18:42:12 | Nathan White |
| 57 | 2022-09-14 21:42:43 | Leanne Gunn |
| 58 | 2022-09-15 08:17:23 | Jo Butcher |
| 59 | 2022-09-15 19:50:10 | Tracy Langridge |
| 60 | 2022-09-09 13:02:11 | Hannah Del-pizzo |
| 61 | 2022-09-15 19:12:18 | g Mv |
| 62 | 2022-09-14 22:19:17 | Stacey Roberts |
| 63 | 2022-09-15 19:51:29 | Tania Langford |
| 64 | 2022-09-15 19:28:29 | Joanne Warner |
| 65 | 2022-09-15 14:35:35 | Shirley Lumley |
| 66 | 2022-09-15 10:59:56 | David Orrey |
| 67 | 2022-09-14 09:46:45 | Donna Walters |
| 68 | 2022-09-15 12:29:54 | Amy Leslie |
| 69 | 2022-09-09 13:02:11 | Hannah Del-pizzo |
| 70 | 2022-09-09 12:28:04 | Stacey Roberts |
| 71 | 2022-09-15 19:44:31 | jeanette rich |
| 72 | 2022-09-15 20:41:50 | Roxanne McIntyre |
| 73 | 2022-09-07 17:18:35 | Stacey Roberts |
| 74 | 2022-09-15 14:37:49 | Rebecca vaughan |
| 75 | 2022-09-15 19:25:11 | Rees Sam |
| 76 | 2022-09-15 14:35:35 | Shirley Lumley |
| 77 | 2022-09-15 20:14:48 | Kim Dudley |
| 78 | 2022-09-09 11:46:47 | Alison Avis |
| 79 | 2022-09-15 05:26:34 | Amanda Gerry-O'Connor |
| 80 | 2022-09-15 18:08:25 | Rachel Scott |
| 81 | 2022-09-15 19:28:29 | Joanne Warner |
| 82 | 2022-09-15 18:24:22 | Kathleen Starling |
| 83 | 2022-09-14 20:22:36 | Kealy Stalley |
| 84 | 2022-09-15 20:42:55 | Charlotte Bruckshaw |
| 85 | 2022-09-15 16:54:17 | Shelley Clewes |
| 86 | 2022-09-15 14:57:58 | Donna Donnelly |
| 87 | 2022-09-08 12:26:26 | ZARA-ROSE WALTERS |
| 88 | 2022-09-15 19:36:32 | Karen Garratley |
| 89 | 2022-09-12 21:10:48 | Steve Rowley |
| 90 | 2022-09-15 20:30:36 | Katrina IķStevens |
| 91 | 2022-09-15 18:42:12 | Nathan White |
| 92 | 2022-09-15 08:56:32 | Kerry Jacobs |
| 93 | 2022-09-14 14:17:39 | KIM SMITH |
| 94 | 2022-09-09 13:02:11 | Hannah Del-pizzo |
| 95 | 2022-09-14 16:07:25 | Luisa Holmes |
| 96 | 2022-09-07 21:34:55 | Kirsty Haughton |
| 97 | 2022-09-15 14:35:35 | Shirley Lumley |
| 98 | 2022-09-09 11:53:59 | Amber Smithers |
| 99 | 2022-09-15 17:37:10 | faye Willicott |
| 100 | 2022-09-15 20:32:28 | Daniel Bateman |