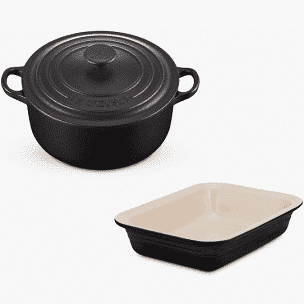 Le Creuset Cast Iron 20cm Casserole and 29cm Stoneware Dish Set, 2 Piece, Satin Black #2
Description
Le Creuset Cast Iron 20cm Casserole and 29cm Stoneware Dish Set, 2 Piece, Satin Black #2
This set contains two Le Creuset favourites – experience the benefits of cooking in cast iron as well as stoneware.
The set includes:
Cast iron 20cm round casserole
Stoneware 29cm deep rectangular dish
Stoneware dish
The stoneware dish is truly an all-in-one piece that you can use for baking, roasting, serving and storage. It's oven, microwave, fridge, freezer and dishwasher safe and can be used under the grill. The durable finish resists chipping, scratching and staining. Very hygienic and easy to clean, it will not absorb odours or flavours. It can go directly from the oven to the table, retaining heat and making an impressive presentation.
Cast iron round casserole
A kitchen favourite for generations, the Cast Iron Round Casserole from Le Creuset is an iconic piece of cookware. It's endlessly versatile and ideal for anything from quick and easy meals to slow-cooked aromatic stews and baked bread served as a table centrepiece.
Key features of the casserole:
Versatile use in the oven, under the grill and on the hob, including induction
Lightest cast iron on the market
Exceptional heat retention saves energy
Tight-fitting domed lid helps retain moisture
Easy-grip side handles
Heat-resistant phenolic and ergonomic lid knob
Resists chipping, cracking and colour fading
Handcrafted, unique piece
Lifetime guarantee included
Versatile all-rounder
Perfect for one-pot recipes for busy lives, as well as casseroles cooked over time, this all-rounder makes fragrant pilaf dishes, stuffed and roasted vegetables, fish dishes and roast meats. The tight-fitting lid keeps the oven clean and is perfect when proving dough to create family-sized loaves. The easy-release interior suits baking. Use on the hob, including induction, in the oven, on an Aga and even under the grill.
Retains heat and moisture
Made from robust cast iron, this casserole's weight is its strength. A solid performer, it distributes heat evenly and retains heat to save energy; it best operates on a low to medium setting. Transfer from oven to table and it will keep dishes warm for longer. The domed lid increases space and returns moisture to the pot to prevent dishes drying out. You need only a little oil for cooking thanks to the sand enamel interior that prevents sticking and burning. Adding a touch of water makes it ideal for steaming too.
Easy to carry and clean
The lightest cast iron on the market, this much-loved kitchen staple features large handles that are easy to grip with oven gloves. Stabilisers under the lid give a secure, no-slide fit while the lid's knob is ergonomically shaped for the hand. Almost like non-stick, the toughened enamel interior is easy to wipe clean. It's also hygienic and won't absorb odours and flavours.
Built to last
Designed for longevity, this quality kitchen favourite makes a wonderful wedding gift, to be enjoyed for many memorable meals to come. Handcrafted by skilled artisans at the original Le Creuset foundry in France since 1925, each piece is made from its own sand mould, making it entirely unique. It resists chipping and cracking and retains its colour over time. All Le Creuset cast iron comes with a lifetime guarantee.
| Winner Name | Ticket Number | Draw Date |
| --- | --- | --- |
| Rachel Salloway | 94 | 21/09/2022 |
| Ticket Number | Date | Name |
| --- | --- | --- |
| 1 | 2022-09-21 16:23:17 | Kirsty Westy |
| 3 | 2022-09-21 12:11:24 | Wendy Bailey |
| 5 | 2022-09-21 11:26:22 | Emma Jones |
| 9 | 2022-09-21 18:38:07 | Darren Willis |
| 10 | 2022-09-21 16:34:25 | April Lelliott |
| 11 | 2022-09-21 19:47:44 | Kelly Wilson |
| 12 | 2022-09-21 20:02:12 | Samantha Elleray |
| 14 | 2022-09-21 07:39:00 | Lucie Dobeer |
| 17 | 2022-09-21 18:38:07 | Darren Willis |
| 20 | 2022-09-21 17:36:02 | Moira stokes |
| 21 | 2022-09-21 19:58:24 | Ashley Clark |
| 26 | 2022-09-21 16:11:52 | Annette M |
| 27 | 2022-09-20 23:19:52 | Sian Carnell |
| 29 | 2022-09-21 14:52:16 | Sharon Williams |
| 31 | 2022-09-21 18:38:07 | Darren Willis |
| 33 | 2022-09-20 15:46:16 | Holly Gawrel |
| 36 | 2022-09-21 14:52:16 | Sharon Williams |
| 41 | 2022-09-21 20:17:24 | Melanie Hackett |
| 48 | 2022-09-21 16:57:13 | Rebecca McCabe |
| 50 | 2022-09-21 14:32:05 | Jane Olding |
| 51 | 2022-09-21 20:16:33 | Debbie Brewer |
| 55 | 2022-09-21 18:38:07 | Darren Willis |
| 58 | 2022-09-21 20:38:29 | Kayleigh Walker |
| 60 | 2022-09-21 18:38:07 | Darren Willis |
| 62 | 2022-09-21 18:38:07 | Darren Willis |
| 63 | 2022-09-21 20:34:58 | Dan Pitty |
| 64 | 2022-09-21 14:35:43 | Emma Davies |
| 66 | 2022-09-21 20:33:20 | Lacey Tombs |
| 67 | 2022-09-21 10:42:31 | Laura Lees |
| 69 | 2022-09-21 19:35:42 | Charlotte Ager |
| 71 | 2022-09-21 10:53:27 | phyllis steer |
| 74 | 2022-09-21 17:08:14 | Sarah Kallmeier |
| 76 | 2022-09-20 22:41:09 | Judi Vallance-Marks |
| 77 | 2022-09-21 19:41:05 | J L |
| 79 | 2022-09-21 19:47:44 | Kelly Wilson |
| 80 | 2022-09-21 18:52:28 | charlotte higman |
| 81 | 2022-09-21 17:50:27 | Leah Knight |
| 83 | 2022-09-21 16:11:52 | Annette M |
| 84 | 2022-09-21 20:38:29 | Kayleigh Walker |
| 85 | 2022-09-21 20:26:48 | Emma-lee Wilson |
| 87 | 2022-09-21 15:34:02 | Roxanne Hill |
| 88 | 2022-09-21 19:58:24 | Ashley Clark |
| 92 | 2022-09-21 12:00:55 | Emma Harris |
| 93 | 2022-09-21 16:57:05 | Lauren Boswell |
| 94 | 2022-09-21 11:21:28 | Rachel Salloway |
| 96 | 2022-09-21 20:38:29 | Kayleigh Walker |
| 97 | 2022-09-21 19:58:24 | Ashley Clark |
| 99 | 2022-09-21 17:08:14 | Sarah Kallmeier |
| 100 | 2022-09-21 20:37:18 | Paul Hodgson |