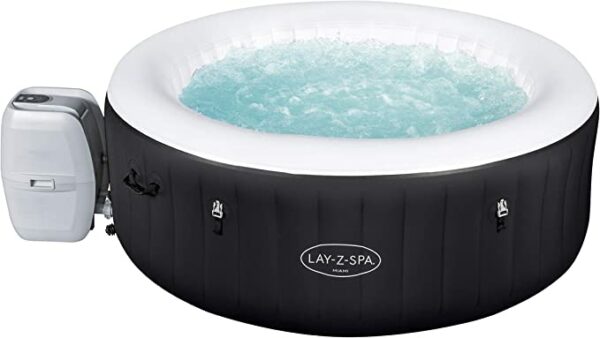 Lay-Z-Spa Miami Hot Tub,
Description
Lay-Z-Spa Miami Hot Tub,
The Lay-Z-Spa Miami AirJet can seat up to 4 people making it ideal for couples and families. Its envigorating all-surrounding 120 AirJet massage system is accompanied by a rapid heating system so you can enjoy water of up to 40°C. It benefits from a digitally controlled pump with cup holders, power-saving timer and Freeze Shield™ so you can enjoy relaxing in the outdoors any day of the year. Made of a sturdy Duraplus™ construction it includes an insulating inflatable lid and a leatheroid clip-on cover, a ChemConnect dispenser, and even repair patches. This compact and easy-to-setup Lay-Z-Spa is sure to impress whilt complementing any modern garden or outdoor living area.
Comfortably Fits Up To 4 People
120 AirJets™ Massage System
40°C Rapid Heating System
Freeze Shield™ Technology for use all year
Black & White Design DuraPlus™ & Beam Construction
| Winner Name | Ticket Number | Draw Date |
| --- | --- | --- |
| Holly Gawrel | 101 | 14/07/2022 |
| Ticket Number | Date | Name |
| --- | --- | --- |
| 1 | 2022-07-11 19:14:17 | Lisa Darragh |
| 2 | 2022-07-14 15:09:01 | Hannah Goldrick |
| 3 | 2022-07-12 17:51:57 | Debbie Hands Hands |
| 4 | 2022-07-14 14:35:58 | Katie-Louise Chalk |
| 5 | 2022-07-14 02:38:56 | Jade Blight |
| 6 | 2022-07-13 19:25:36 | Dudley Rae |
| 7 | 2022-07-13 20:32:22 | Maria Shout |
| 8 | 2022-07-14 06:32:32 | Kevin Hayes |
| 9 | 2022-07-11 16:52:52 | Richard Whatman |
| 10 | 2022-07-11 18:43:42 | Chloe Cheese |
| 11 | 2022-07-11 16:52:52 | Richard Whatman |
| 12 | 2022-07-14 15:43:29 | Vikki Forward |
| 13 | 2022-07-12 18:03:29 | Gemma Hubbard |
| 14 | 2022-07-13 20:54:03 | James Camp |
| 15 | 2022-07-13 20:54:03 | James Camp |
| 16 | 2022-07-13 21:41:41 | Jeanette Anderson |
| 17 | 2022-07-14 09:12:11 | Gemma Skett |
| 18 | 2022-07-12 20:08:22 | Wendy Morgan |
| 19 | 2022-07-12 12:02:40 | Lucy Barrett |
| 20 | 2022-07-14 15:36:12 | Sharon Smith |
| 21 | 2022-07-12 17:50:59 | Becky Woodland |
| 22 | 2022-07-11 17:50:03 | Emma Burns |
| 23 | 2022-07-13 20:54:03 | James Camp |
| 24 | 2022-07-11 18:43:42 | Chloe Cheese |
| 26 | 2022-07-11 15:20:43 | Becky Edge |
| 27 | 2022-07-13 16:00:59 | Clare Jamieson |
| 28 | 2022-07-13 21:43:38 | Simon Allen |
| 29 | 2022-07-14 20:01:27 | Lucy Roberts |
| 30 | 2022-07-13 20:54:03 | James Camp |
| 32 | 2022-07-12 14:13:53 | Rebecca Fowler |
| 33 | 2022-07-14 18:32:42 | Georgia L |
| 34 | 2022-07-14 20:06:47 | Nathan Scott |
| 35 | 2022-07-11 19:14:17 | Lisa Darragh |
| 36 | 2022-07-14 15:36:12 | Sharon Smith |
| 37 | 2022-07-13 18:52:16 | Gary Guard |
| 38 | 2022-07-14 09:12:11 | Gemma Skett |
| 39 | 2022-07-13 19:25:36 | Dudley Rae |
| 40 | 2022-07-14 20:32:29 | Ray Burgess |
| 42 | 2022-07-14 20:25:53 | Jordan Doulin |
| 43 | 2022-07-11 15:51:41 | Sally Cox |
| 44 | 2022-07-14 19:56:32 | Emma Louise |
| 45 | 2022-07-14 12:48:16 | Claire Jopson |
| 47 | 2022-07-14 15:49:56 | Sharon Bray |
| 48 | 2022-07-14 11:42:04 | David Binmore |
| 50 | 2022-07-14 17:25:11 | Matthew Widdop |
| 51 | 2022-07-14 10:29:48 | Andrea Liddell |
| 52 | 2022-07-13 13:36:35 | Nicola Bird |
| 53 | 2022-07-14 14:07:45 | Kirsty Kilkenny |
| 56 | 2022-07-13 18:21:44 | Lucy Barrett |
| 57 | 2022-07-14 17:03:54 | Karagon Squires |
| 58 | 2022-07-13 19:57:08 | Sally Cox |
| 59 | 2022-07-13 23:01:48 | Hope Acton |
| 60 | 2022-07-14 13:28:05 | Lucy Barrett |
| 62 | 2022-07-11 16:00:22 | Victoria Sealey |
| 63 | 2022-07-13 22:39:10 | Emma Louise |
| 64 | 2022-07-14 13:17:54 | Megan Lloyd |
| 66 | 2022-07-14 18:48:18 | Nikki Stephens |
| 68 | 2022-07-14 10:26:56 | Rachel cassidy |
| 71 | 2022-07-14 20:18:04 | Deborah Carling |
| 72 | 2022-07-12 12:00:39 | Natasha Hawkins |
| 73 | 2022-07-13 23:01:48 | Hope Acton |
| 74 | 2022-07-13 20:57:32 | Sarah Monaghan |
| 75 | 2022-07-14 13:28:05 | Lucy Barrett |
| 77 | 2022-07-12 12:02:40 | Lucy Barrett |
| 79 | 2022-07-11 16:52:52 | Richard Whatman |
| 80 | 2022-07-14 13:28:05 | Lucy Barrett |
| 81 | 2022-07-14 16:33:29 | John Faulkner-Lloyd |
| 82 | 2022-07-14 15:36:12 | Sharon Smith |
| 83 | 2022-07-14 14:49:56 | Patricia Mcculloch |
| 85 | 2022-07-13 22:14:41 | Lekel North |
| 86 | 2022-07-12 14:13:53 | Rebecca Fowler |
| 87 | 2022-07-11 08:00:55 | Helen Primmett |
| 88 | 2022-07-14 13:11:14 | Sarah Highbury |
| 89 | 2022-07-14 13:28:05 | Lucy Barrett |
| 90 | 2022-07-14 11:57:45 | Jane Hasni |
| 91 | 2022-07-14 17:25:11 | Matthew Widdop |
| 95 | 2022-07-13 16:37:24 | Darren Lawson |
| 96 | 2022-07-12 14:13:53 | Rebecca Fowler |
| 97 | 2022-07-14 20:19:31 | Jessica Stevenson |
| 98 | 2022-07-13 21:01:46 | Shelley McCormick |
| 100 | 2022-07-12 14:13:53 | Rebecca Fowler |
| 101 | 2022-07-11 16:34:38 | Holly Gawrel |
| 102 | 2022-07-11 19:14:17 | Lisa Darragh |
| 104 | 2022-07-13 19:18:58 | Jackie bowman |
| 106 | 2022-07-14 11:40:35 | John Sproston |
| 107 | 2022-07-12 15:03:29 | Erin Williams |
| 108 | 2022-07-14 20:24:17 | Melonie Jeffery |
| 109 | 2022-07-14 12:48:16 | Claire Jopson |
| 110 | 2022-07-14 12:14:14 | Laura Topps |
| 112 | 2022-07-13 22:17:42 | Bree Abbott |
| 113 | 2022-07-14 09:43:29 | Matt Tilley |
| 115 | 2022-07-14 15:39:12 | Chris Carr |
| 116 | 2022-07-14 20:19:31 | Jessica Stevenson |
| 118 | 2022-07-11 18:43:42 | Chloe Cheese |
| 120 | 2022-07-12 14:13:53 | Rebecca Fowler |
| 122 | 2022-07-14 00:52:15 | Vikki Gyde |
| 123 | 2022-07-14 17:52:53 | Loz Walker |
| 124 | 2022-07-13 18:38:17 | Mark Buck |
| 125 | 2022-07-13 08:39:03 | Jacob Robins |
| 127 | 2022-07-14 09:36:14 | Jonathan Holloway |
| 128 | 2022-07-13 19:03:04 | Candi Wigmore |
| 129 | 2022-07-14 11:40:35 | John Sproston |
| 130 | 2022-07-14 20:27:33 | Gillian Ronchetti |
| 131 | 2022-07-14 15:46:28 | Gemma Osborn |
| 133 | 2022-07-13 08:39:03 | Jacob Robins |
| 134 | 2022-07-14 19:00:20 | Mica Jay |
| 135 | 2022-07-14 15:49:56 | Sharon Bray |
| 136 | 2022-07-13 16:07:15 | Nina Henton-Waller |
| 137 | 2022-07-14 15:36:28 | g Mv |
| 138 | 2022-07-11 16:00:22 | Victoria Sealey |
| 139 | 2022-07-14 19:34:44 | Mica Jeremiah |
| 140 | 2022-07-12 16:02:44 | Gemma Syms |
| 141 | 2022-07-14 07:53:05 | Zoeyy Jane |
| 142 | 2022-07-14 20:01:07 | Liam Zoric |
| 143 | 2022-07-14 12:06:18 | Sonia Holden |
| 144 | 2022-07-14 13:17:54 | Megan Lloyd |
| 145 | 2022-07-13 18:21:44 | Lucy Barrett |
| 147 | 2022-07-14 13:11:14 | Sarah Highbury |
| 148 | 2022-07-14 10:26:56 | Rachel cassidy |
| 149 | 2022-07-14 15:52:31 | Rebecca Hingston |
| 150 | 2022-07-12 14:13:53 | Rebecca Fowler |
| 151 | 2022-07-14 11:48:07 | Laura Wright |
| 152 | 2022-07-14 11:31:10 | Jade Ballard |
| 154 | 2022-07-11 10:24:31 | Katie Deane |
| 155 | 2022-07-12 14:13:53 | Rebecca Fowler |
| 156 | 2022-07-12 13:59:09 | Tiffany Pike |
| 157 | 2022-07-14 07:14:09 | Rachel Salloway |
| 158 | 2022-07-14 20:33:56 | Bryony Rice |
| 159 | 2022-07-14 17:27:44 | Natalie Clarke |
| 160 | 2022-07-12 15:03:29 | Erin Williams |
| 161 | 2022-07-12 15:03:29 | Erin Williams |
| 163 | 2022-07-14 20:32:29 | Ray Burgess |
| 164 | 2022-07-12 12:02:40 | Lucy Barrett |
| 165 | 2022-07-14 20:37:26 | Fiona Winyard |
| 166 | 2022-07-14 15:36:12 | Sharon Smith |
| 167 | 2022-07-14 08:39:53 | Julie Smith |
| 170 | 2022-07-13 22:39:10 | Emma Louise |
| 171 | 2022-07-12 20:08:22 | Wendy Morgan |
| 172 | 2022-07-14 12:48:16 | Claire Jopson |
| 173 | 2022-07-13 16:37:24 | Darren Lawson |
| 175 | 2022-07-14 15:49:56 | Sharon Bray |
| 177 | 2022-07-14 15:43:29 | Vikki Forward |
| 178 | 2022-07-12 13:59:09 | Tiffany Pike |
| 179 | 2022-07-13 20:16:53 | Sinead Morgan |
| 180 | 2022-07-14 12:48:16 | Claire Jopson |
| 181 | 2022-07-14 10:26:56 | Rachel cassidy |
| 182 | 2022-07-14 20:39:44 | Glenn Bowden |
| 183 | 2022-07-13 20:03:59 | Louise Webb |
| 184 | 2022-07-13 19:17:53 | Steve Gratton |
| 185 | 2022-07-11 15:51:41 | Sally Cox |
| 186 | 2022-07-14 19:38:40 | Karen Lee |
| 187 | 2022-07-14 18:39:47 | Broom Rebecca |
| 189 | 2022-07-12 15:03:29 | Erin Williams |
| 190 | 2022-07-14 15:39:12 | Chris Carr |
| 191 | 2022-07-13 21:41:41 | Jeanette Anderson |
| 192 | 2022-07-14 09:12:11 | Gemma Skett |
| 193 | 2022-07-14 17:01:46 | A V |
| 194 | 2022-07-14 20:20:29 | Naomi Davis |
| 195 | 2022-07-14 17:35:48 | Matthew Gore |
| 197 | 2022-07-12 18:20:48 | Dan Estlick |
| 199 | 2022-07-13 20:54:03 | James Camp |
| 200 | 2022-07-12 11:18:10 | Kerry Packer |