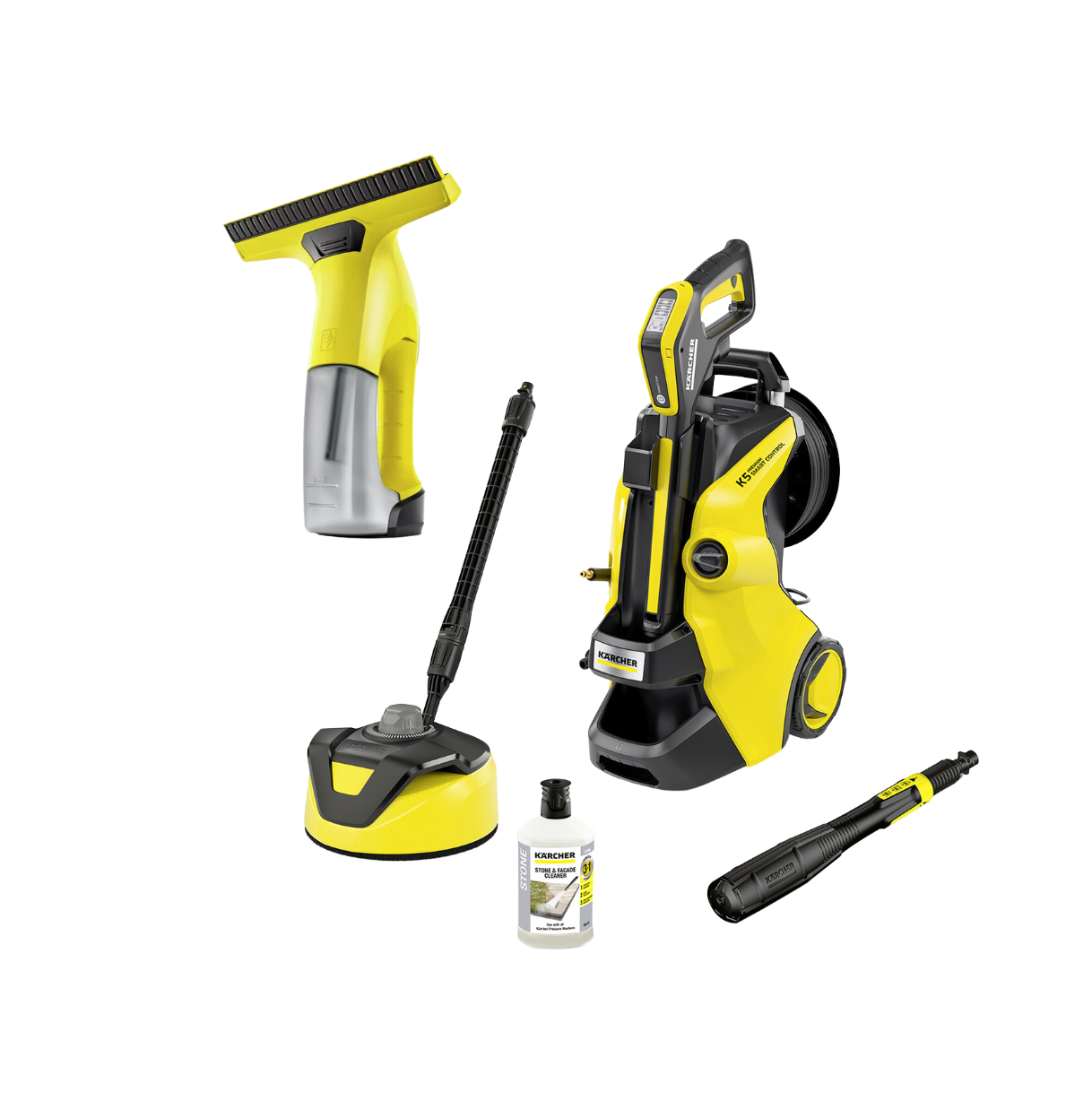 Karcher K5 Premium Smart Control Home Pressure Washer & Karcher W V 6 Plus N Window Vacuum
Description
Karcher K5 Premium Smart Control Home Pressure Washer & Karcher W V 6 Plus N Window Vacuum
Karcher K5 Premium Smart Control Home Pressure Washer
Features & Benefits:
Kärcher Always On Hand – To help you get the job done our specifically designed app is full of useful hints and tips. From setting up the machine to step by step application tips.
Easy-wind Hose – Quickly wind the high-pressure hose onto the built-in hose reel to store it neatly away
Everything You Need For Outdoor Cleaning – An accessory kit including a T 5 Patio Cleaner and Stone & Façade 3-in-1 detergent helps you clean large outdoor areas quickly and easily
Ready When You Are – Simply connect your pressure washer to your phone via a Bluetooth connection, and control the pressure and settings from your phone
Boost Mode – Increased cleaning performance with an extra 15 bar power with the boost mode, for a deeper clean on stubborn dirt
Perfect Pressure Every Time – Effortlessly select the right pressure for the job at the touch of a button with the Intelligent LCD Trigger Gun
Easy Mode Selection – Whether you're shifting dirt or applying detergent, the 3-in-1 Multi Jet lance lets you select the mode you need with a quick twist
Cleaning Made Simple – Make light work of applying detergent with the Plug 'n' Clean system – just click in the bottle and you're good to go
Application:
Bicycles
For cleaning gardening machines and tools
Garden/terrace/balcony furniture
For cleaning fences and smaller garden paths or flagstones
For cleaning motorcycles and scooters
For cleaning small cars
For cleaning external staircases and larger garden paths
For cleaning medium-sized vehicles and estate cars
Garden walls and stone walls
Karcher W V 6 Plus N Window Vacuum
The WV 6 Plus N is Karcher's top of the range window vac, with new silicone lip technology providing streak-free cleaning results right up to the edges throughout your home. Boasting an impressive 100 minute battery life, the WV 6 Plus N can clean up to 300m in a single charge. The minute-by-minute LED display means you can confidently and effectively plan your cleaning tasks accordingly. It also comes equipped with a 280mm and 170mm exchangeable heads, premium spray bottle with microfibre cloth and sachet of 20ml window cleaning concentrate.
Liquid Silicone Technology – The New lip-technology with the use of 'liquid silicone' allows cleaning from the upper edge to the ground without interruption ensuring perfect streak-free cleaning result right up the edge.
100 Minute Battery Run-Time – The rechargeable lithium-ion battery cleans up to 300 m on a single charge, that's up to 215 windows.
LED Battery Indicator – Plan you cleaning task confidently and effectively thanks to the minute-by-minute LED indicator, continuously displaying the remaining battery life of your window vac.
Fast Charging – The fast charger ensures that there is less charging time for an even longer performance.
Larger Dirty Water Tank – The dirty water tank is 50% bigger than previous models allowing even more cleaning tasks .
Sucks up spills.
240 volts.
100 mins running time on full charge.
Charging time: 170 minutes.
Low battery indicator.
Total capacity 0.15 litre.
Includes 1 x 280mm Suction Head, 1 x 170mm Suction Head, 1 x Fast Charger, 1 x Spray Bottle with Microfibre Cloth, 1 x 20ml Sachet of Detergent .
Size H31, W28, D12.6cm.
Weight 0.76kg.
Maximum tickets per user: 100
1-100
101-200
201-300
301-400
401-500
501-600
601-700
701-800
801-900
| Ticket Number | Date | Name |
| --- | --- | --- |
| 2 | 2023-03-23 16:12:42 | jeanette rich |
| 4 | 2023-03-23 08:31:33 | Mike Furness |
| 7 | 2023-03-18 22:24:50 | Fay Lees |
| 8 | 2023-03-21 13:48:29 | Sara Pritchard |
| 9 | 2023-03-22 23:01:39 | Mr Peter Beal |
| 10 | 2023-03-23 09:39:59 | Mandy Cove |
| 11 | 2023-03-20 23:32:32 | Stephanie Pickford |
| 12 | 2023-03-20 11:34:34 | Ms Christina Beard |
| 13 | 2023-03-23 15:29:42 | Kathryn Gladman |
| 14 | 2023-03-23 15:29:42 | Kathryn Gladman |
| 15 | 2023-03-21 11:28:15 | Jenna Daniels |
| 17 | 2023-03-22 23:01:39 | Mr Peter Beal |
| 18 | 2023-03-21 11:28:15 | Jenna Daniels |
| 20 | 2023-03-23 09:13:27 | Julie Muncaster |
| 21 | 2023-03-23 12:42:21 | Lisa Roberts |
| 22 | 2023-03-18 22:24:50 | Fay Lees |
| 24 | 2023-03-22 21:49:17 | Cheyenne Parrott |
| 27 | 2023-03-23 16:21:14 | Gavin Miller |
| 30 | 2023-03-23 13:15:34 | Alison Thomson |
| 33 | 2023-03-22 20:26:59 | Karen Taylor |
| 36 | 2023-03-20 21:51:32 | Anna Benney |
| 38 | 2023-03-21 18:02:29 | Donna Ellis |
| 42 | 2023-03-19 09:31:33 | Jill Higham |
| 47 | 2023-03-22 19:27:52 | Joe Browse |
| 50 | 2023-03-23 16:21:14 | Gavin Miller |
| 52 | 2023-03-23 09:13:27 | Julie Muncaster |
| 54 | 2023-03-22 21:15:44 | Lucinda Moore |
| 56 | 2023-03-22 19:52:51 | Lee Taylor |
| 59 | 2023-03-22 19:27:52 | Joe Browse |
| 64 | 2023-03-23 08:31:33 | Mike Furness |
| 65 | 2023-03-22 19:04:49 | Scott Wyatt |
| 68 | 2023-03-21 20:12:21 | Charlotte Shaw |
| 69 | 2023-03-22 19:27:52 | Joe Browse |
| 76 | 2023-03-21 19:04:18 | Darren Chamberlain |
| 78 | 2023-03-23 15:44:21 | Joanne Sadler |
| 80 | 2023-03-21 11:28:15 | Jenna Daniels |
| 84 | 2023-03-22 19:27:52 | Joe Browse |
| 86 | 2023-03-22 21:15:44 | Lucinda Moore |
| 87 | 2023-03-21 11:28:15 | Jenna Daniels |
| 88 | 2023-03-23 16:30:22 | stephen cowley |
| 95 | 2023-03-22 21:39:24 | Freya Greenwood |
| 96 | 2023-03-22 20:20:35 | Jacob Cobley |
| 99 | 2023-03-19 21:08:44 | Karen Alder |
| 100 | 2023-03-23 16:12:42 | jeanette rich |