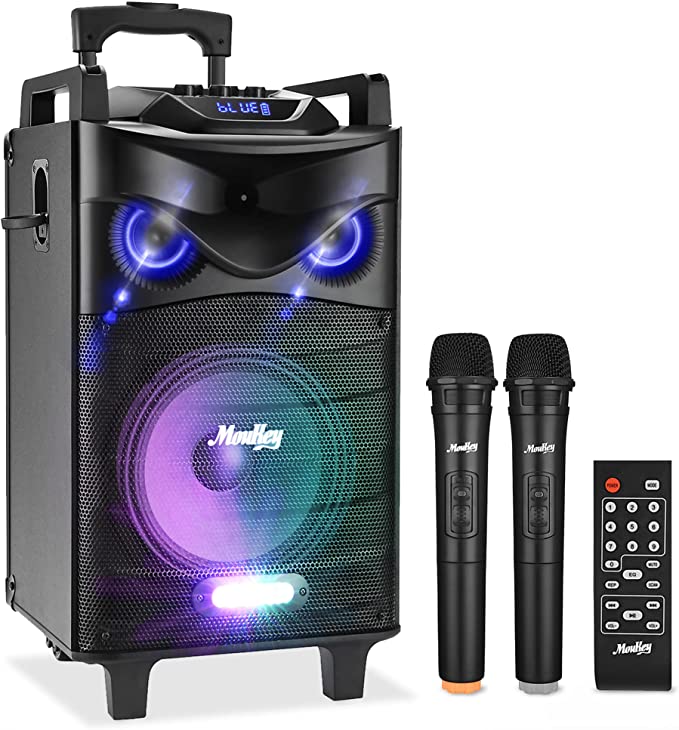 Karaoke Machine
Description
Karaoke Machine 
Moukey MTs12-1 karaoke machine is equipped with 12" subwoofer and 3" tweeters for stereo sound reproduction. RMS 200W and its peak power up to 650W, which makes the bass stronger and better sound quality, plus it does not distort the audio even at higher volumes.

🎉【Flashing Disco Lights】There are a variety of color combinations DJ lights on the MTs12-1 outdoor speaker, which can change color with the beat of music. It is perfect for gathering/party/karaoke/speech/outdoor&indoor activities. (Note: The DJ lights can be turned off.)

🎉【Play in Multiple Ways】Our MTs12-1 karaoke machine supports a variety of using ways: Built in Bluetooth 5.0, you are able to play music from most Bluetooth device (such as mobile phone, laptop and tablets); Micro TF card playing (below 32G); Flash USB playing (below 32G); AUX IN, play by aux cable; FM radio, search fm channel to play.

🎉【Powerful TWS Function】Moukey MTs12-1 karaoke system own the latest TWS function which can connect two MTs12-1 in series with Bluetooth, allowing you to arrange two speakers in the same area to build your own PA System. (Note: The unit price of the product is one piece.)

🎉【Rechargeable Battery】The powerful rechargeable battery of MTs12-1 party speaker could provide you a long non-stop music playing. So that you can rock out to your favorite songs without the restrictive cords whether it's at an indoor dance or outdoor gathering. (If you keep the machine charged, it can be used all day long.
| Winner Name | Ticket Number | Draw Date |
| --- | --- | --- |
| Maria Rawlings | 51 | 14/09/2022 |
1-100
101-200
201-300
301-400
| Ticket Number | Date | Name |
| --- | --- | --- |
| 1 | 2022-09-06 17:20:28 | Kelly Parker |
| 3 | 2022-09-06 17:20:28 | Kelly Parker |
| 4 | 2022-09-14 19:01:25 | Michael O'connor |
| 5 | 2022-09-13 07:55:37 | Debs A T |
| 7 | 2022-09-06 17:20:28 | Kelly Parker |
| 9 | 2022-09-13 21:38:10 | Patricia Clarkson |
| 10 | 2022-09-14 18:17:47 | Vikki Forward |
| 11 | 2022-09-14 19:01:25 | Michael O'connor |
| 12 | 2022-09-14 19:51:19 | Charlotte Addison |
| 13 | 2022-09-14 20:20:53 | Debs A T |
| 14 | 2022-09-14 18:17:47 | Vikki Forward |
| 16 | 2022-09-13 21:38:10 | Patricia Clarkson |
| 17 | 2022-09-06 16:13:11 | Debs A T |
| 18 | 2022-09-14 17:14:30 | Vanessa Hibble |
| 19 | 2022-09-14 19:01:25 | Michael O'connor |
| 21 | 2022-09-06 22:34:27 | Lisa Roberts |
| 22 | 2022-09-14 19:41:22 | Lisa Roberts |
| 23 | 2022-09-14 20:25:34 | Lisa Morgan |
| 24 | 2022-09-14 20:23:07 | M E |
| 26 | 2022-09-13 21:38:10 | Patricia Clarkson |
| 27 | 2022-09-14 18:17:47 | Vikki Forward |
| 30 | 2022-09-08 08:58:12 | jan blackler |
| 31 | 2022-09-14 20:44:16 | Aimee Matthews |
| 33 | 2022-09-13 21:38:10 | Patricia Clarkson |
| 34 | 2022-09-14 20:25:34 | Lisa Morgan |
| 36 | 2022-09-13 21:38:10 | Patricia Clarkson |
| 37 | 2022-09-14 19:01:46 | Leanne Smith |
| 38 | 2022-09-14 13:32:04 | Danielle Hooper |
| 45 | 2022-09-14 20:53:24 | Mike Furness |
| 46 | 2022-09-14 18:17:47 | Vikki Forward |
| 47 | 2022-09-14 20:53:24 | Mike Furness |
| 51 | 2022-09-14 20:49:28 | Maria Rawlings |
| 57 | 2022-09-14 13:32:04 | Danielle Hooper |
| 58 | 2022-09-13 00:11:45 | Vikki Major |
| 60 | 2022-09-06 20:59:23 | Danielle Benn |
| 64 | 2022-09-14 19:47:53 | Roxanne McIntyre |
| 67 | 2022-09-14 19:48:54 | Emma-lee Wilson |
| 69 | 2022-09-14 03:23:48 | Amanda Gerry-O'Connor |
| 72 | 2022-09-06 16:13:11 | Debs A T |
| 73 | 2022-09-14 19:18:58 | Jackie Stone |
| 75 | 2022-09-06 20:59:23 | Danielle Benn |
| 76 | 2022-09-13 16:25:07 | Hannah Harrison-scott |
| 80 | 2022-09-14 19:50:23 | Kate Nicholas |
| 82 | 2022-09-14 12:08:26 | Lauren Ryding |
| 83 | 2022-09-14 20:54:24 | Tia potter |
| 84 | 2022-09-14 20:25:34 | Lisa Morgan |
| 90 | 2022-09-14 20:44:16 | Aimee Matthews |
| 91 | 2022-09-14 20:20:49 | Nicola Mchugh |
| 94 | 2022-09-09 21:24:47 | Emily Billing |
| 99 | 2022-09-06 16:13:11 | Debs A T |